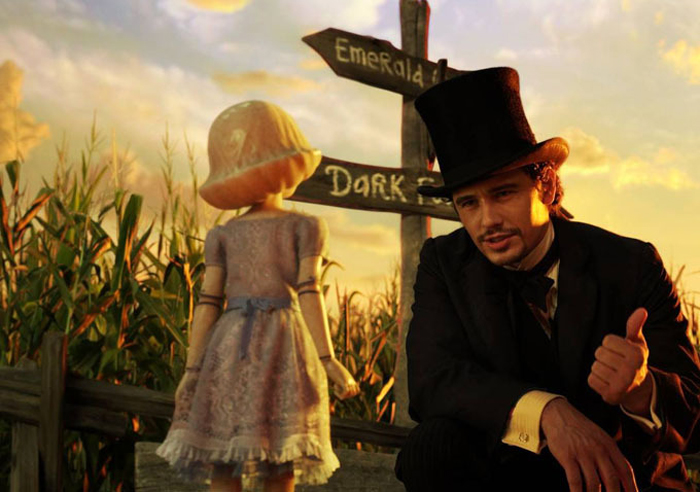 Here are some stills from Sam Raimi's upcoming Oz: The Great And Powerful, which is supposed to hit theaters next March, and I've got to make a prediction here — this is one $200+ million budget behemoth that could very well crash and burn once it hits theaters. Do we really need yet another reimagining of a classic movie? Let alone the Wizard of Oz as reimagined without the Scarecrow, Tin Man, or Cowardly Lion. The Tin Man miniseries from a few years ago already did a great job with updating the story for contemporary times, but this new movie revolves around the likes of James Franco, who plays the titular Oz, a struggling musician who ends up being transported from Kansas to the land of Oz and gets mistaken for the king of Emerald City. On the way, he must defend against two evil witches (Mila Kunis and Rachel Weisz), and then he finds an ally in a good wich (Michelle Williams).
The one interesting thing about this movie is that it will feature the Chinatown that appears in the original Wizard of Oz book, but this film still seems like a CGI-laden, over-budgeted mess. If you're really interested in the topic, USA Today has a new interview with Raimi, who discusses the massive scale of the project that currently boasts 700 artists busily working to wrap up production on time. All for a Disney movie starring James Franco.
Of course, Franco only agreed to star in Oz (much like his begrudging appearance in Planet of the Apes) for the large paycheck, which is a means to fund all of his artsy fartsy projects. Franco is already a college professor who still manages to find time to study at three universities (and not attend class but still get a prof fired for giving him a "D" grade), plus a director of commercials short films, musician, douchebag extraordinaire, and all sorts of other things, but James wants to remind us again how wonderful he is with his latest pretentious HuffPo column, which follows a serialized format in which he writes letters to an imaginary friend about how wonderful he finds himself to be. In this installment, James reminds us that he now teaches SIX classes and has now been nominated for a blogging awards, which is why we must all hate him: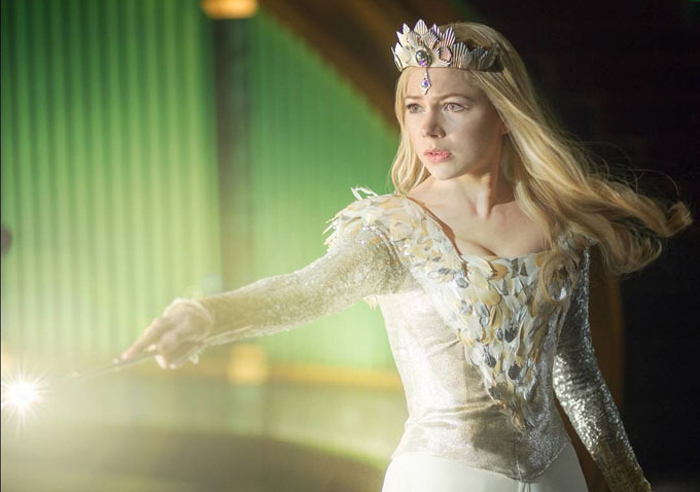 Dear R________________,

I'm on a plane flying from New Orleans to Los Angeles, my weekly trip. I have to say I love this teaching thing. I guess I love the purity of the situation, the smaller, bite-sized egos instead of the huge gorilla egos of the professional world. Of course there are a few in every bunch who don't understand how hard it is to make it in the professional world, who think they're better than they are because they are still in the sheltered world of the university, untried in the realm of professional competition. I find more of the latter type among undergrads, but among this younger crowd I also find more students who are open to suggestions. But the flip side of this situation is when one finds a student who is truly talented, one who is doing incredible work at such a young age. I don't know if I have any of those among my current undergrads; maybe, they're pretty keen. I think there are some graduate students in the film programs that will go on to have careers (if they are in a MFA program they have already been vetted to an extent). So, in these cases, the super-talented weird ones, I suppose the key is knowing when and how to stand out of their way and how to guide material that has tons of potential but is slightly askew.

Anyway, I am teaching six classes in all different kinds of disciplines, on both coasts. And I have turned all of the classes — whether they are performance classes, directing classes, art classes, or writing classes — into production-oriented, class-wide collaborations. I love when they make stuff because I can frame each class in such a way that the work can go out into the world. The level of work doesn't matter because it is an honest portrait of the students. The honesty is primary; the portrait quality of the work makes it feel like a kid's drawing framed by an adult's concept. It's also nice to be able to control the material studied and how it's talked about. I had so many classes, especially creative ones, where I hated what we were doing or the kinds of material my peers were interested in. In my current position I can guide the subject matter, especially in the classes where I bring in the source material to be adapted.

Hmmmm, what else? My first chapbook came out, Strongest of the Litter, but people seem to be more interested in who I'm dating than poetry. Oh yeah, I got nominated for a National Entertainment Journalism award for these HuffPost blogs, but no other outlet is going to run that story, right? Hahaha — why would Gawker or the New York Post want to publicize that an actor/Yale doctoral candidate is nominated for an award for something that they are doing themselves? I'm pretty proud of it, but I can see why they must hate me.
[From HuffPo]
Naturally, Franco takes issue with anyone who doesn't bow down before his imagined Loki likeness. Oh, but Franco is no Tom Hiddleston, who is quite humble in his own life; instead, Franco must always be praised, and I have to wonder why he requires so much positive reinforcement in his life to a degree where he must constantly remind us all of his doctoral candidacy. Is his life really that empty that he must constantly seek to fill it up with accomplishments that are really only for bragging rights? He must be such a sad person inside, and I'm starting to almost feel sorry for him.
By the way, here's the trailer for Oz: The Great And Powerful, which Kaiser has posted before in the context of Michelle Williams, but Franco is. so. annoying.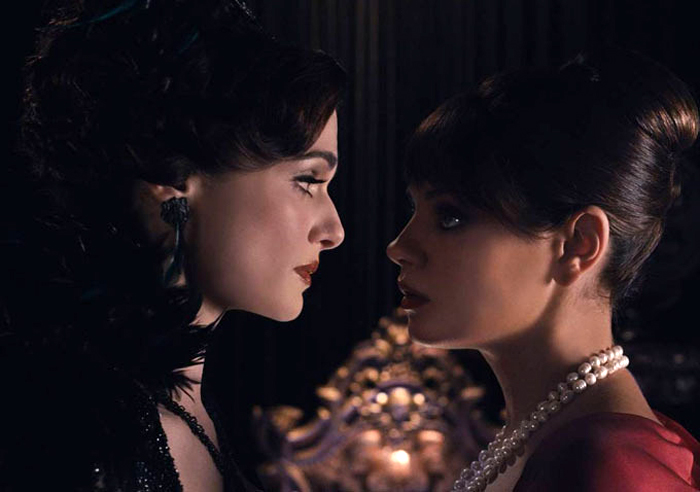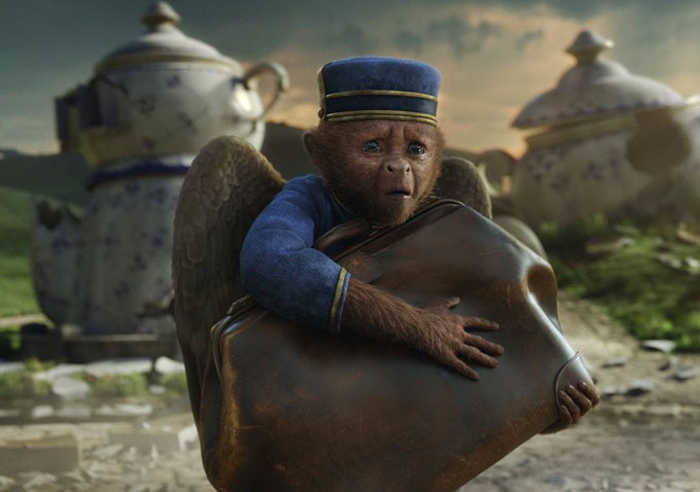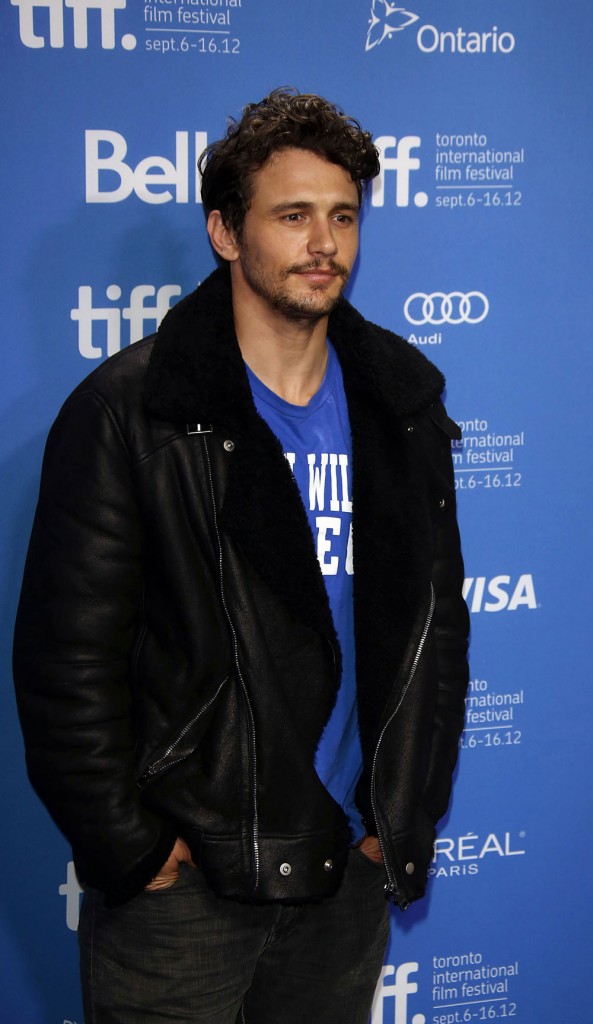 Photos courtesy of USA Today, WENN.com