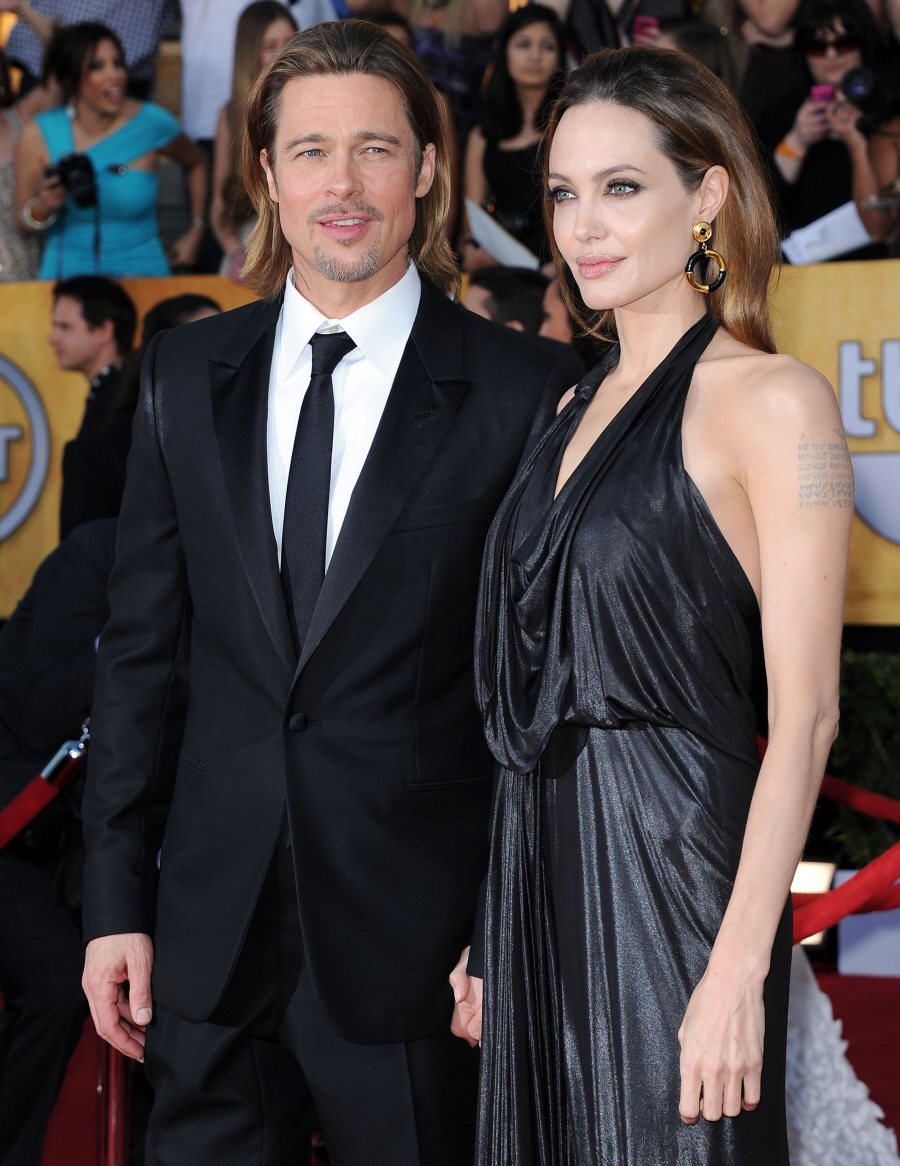 For whatever reason, I just found this Us Weekly story interesting and funny. Us Weekly compiled a list of aliases used by celebrities and published them online. Meaning that these probably aren't the celebrities' aliases anymore. Some of the aliases are just kind of dumb (Jay-Z = Frank Sinatra? RLY?) but there are a few cool ones. I kind of think Brangelina's aliases are supremely uncool, though. Brad Pitt is Bryce Pilaf? Angelina is Jasmine Pilaf? NOoooo.
Ever heard of Bryce and Jasmine Pilaf? They're only two of the biggest stars in the world. Bryce is an Oscar-nominated leading man in Hollywood, known for movies like Ocean's Eleven, Fight Club, and Moneyball. Jasmine is his longtime love and the mother of his children — not to mention a successful actress with roles in Mr. & Mrs. Smith, Changeling, and A Mighty Heart.

Sound familiar? It should — because Bryce and Jasmine Pilaf are actually Brad Pitt and Angelina Jolie. The megastar couple, who have been together for more than seven years, use Bryce and Jasmine as their boring cover identities when checking into hotels. It helps to protect their privacy so they can travel incognito.

In fact, as the Oct. 22 issue of Us Weekly revealed, many A-listers use aliases when checking into hotels or making dinner reservations. Justin Timberlake, for example, goes by Mr. Woodpond — which makes new wife Jessica Biel, whom he married in Italy Oct. 19, Mrs. Woodpond.

Twilight star Kristen Stewart has a mock moniker, too: Chuck Steak. And Johnny Depp often registers as Mr. Drip Noodle. Hip hop star Jay-Z uses the alias Frank Sinatra, whom he raps about — "I'm the new Sinatra" — in his Big Apple anthem "Empire State of Mind."

Justin Bieber, meanwhile, checks in under the name Chandler Bing, a.k.a. Matthew Perry's character on Friends, while Fergie goes by Penny Lane, a street in Liverpool made famous by the Beatles in their song of the same name.

Other silly secret identities? Tom Cruise's Cage Hunt, Usher's Mr. Dinero, Mila Kunis' Senor Pants, Ben Stiller's Clyde Tibenus, Chris Rock's Slappy White, Steven Tyler's I.K. Malone, and Kate Beckinsale's Sigourney Beaver.

Perhaps the best alias, though, belongs to Bryce and Jasmine Pilaf's pal George Clooney, who has been known to check in as Arnold Schwarzenegger, the real-life former governor of California and Clooney's co-star in the movie Batman & Robin.
My absolute favorites on this list are Sigourney Beaver (excellent!) and CAGE HUNT. OMG. Tom Cruise demands that even his hotel aliases sound like action heroes and/or "games played on David Miscaviage's pleasure yacht." Tom could have gone for humor or realism, like Squee McFancyPants or Lipo Brazilian, but no. Cage Hunt!!!! Mr. and Mrs. Woodpond are dorky names, of course, but are those names cooler than Mr. and Mrs. Pilaf? Yes. Yes, they are.
In other Brangelina news, People Mag had this nice story about the Jolie-Pitt kids sending their letters to Santa:
Santa Claus can look forward to receiving something special himself this Christmas – six handcrafted letters from Angelina Jolie and her children from the heart of rural Kent, England.

Jolie and all six of her children – Maddox, 11, Pax, 8, Zahara, 7, Shiloh, 6, and 4-year-old twins Knox and Vivienne – made a special visit to the village of Littlebourne in Kent to send Santa their Christmas letters on Friday. And locals were thrilled to catch a glimpse of the famous family.

"It was so cute. All the children sent messages to Father Christmas and were absolutely beautifully behaved," Littlebourne post office assistant Fiona Lindsay tells PEOPLE. "Just like any other kids in a sweet shop they were excited, but Angelina controlled them perfectly."

"It was lovely," she adds. "They were all very polite. They were just a bunch of gorgeous, happy kids."

Brad Pitt and Jolie have been staying in Kent while he films the final scenes for zombie thriller World War Z.

Staying in a luxury converted barn in the nearby village of Ickham called The Treasury, the brood managed to keep a low profile for their entire week-plus stay, enjoying visits to nearby Howletts Wild Animal Park and Waterstones bookshop in Canterbury.

Pitt was also spotted taking Maddox to a screening of Skyfall at the Vue Cinema in Broadstairs – home of English writer Charles Dickens.

The family has since moved on from the area, but their visit has left an indelible mark on the locals in the sleepy English town.

"[Jolie] was so polite and a really nice person," Lindsay says. "I was quite shocked at first but Angelina was so lovely I soon relaxed."

"The children bought a packet of sweets each, plus a few toys and some magazines, and we ended up having a general chat about how they all were and what they were going to eat that night," she adds. "I suggested they pop over to the fish and chip shop across the road as it is a shame to come to England and not have some. I just hoped they liked them!"
One, if you're old enough to watch Skyfall, you're old enough to know there's no (SPOILER) Santa. Two, I cannot believe Brad is STILL filming scenes for World War Z. Poor Brad. Three, I would love to see Zahara's letter to Santa. And Shiloh's. I imagine Z's letter is all, "Dear Santa, I would like a pink tutu, a white pony and world domination. Yours, Z." Shiloh's letter is probably: "Yo Santa, I want a dirt bike, a machete and a flak vest! Thanx, Shilox."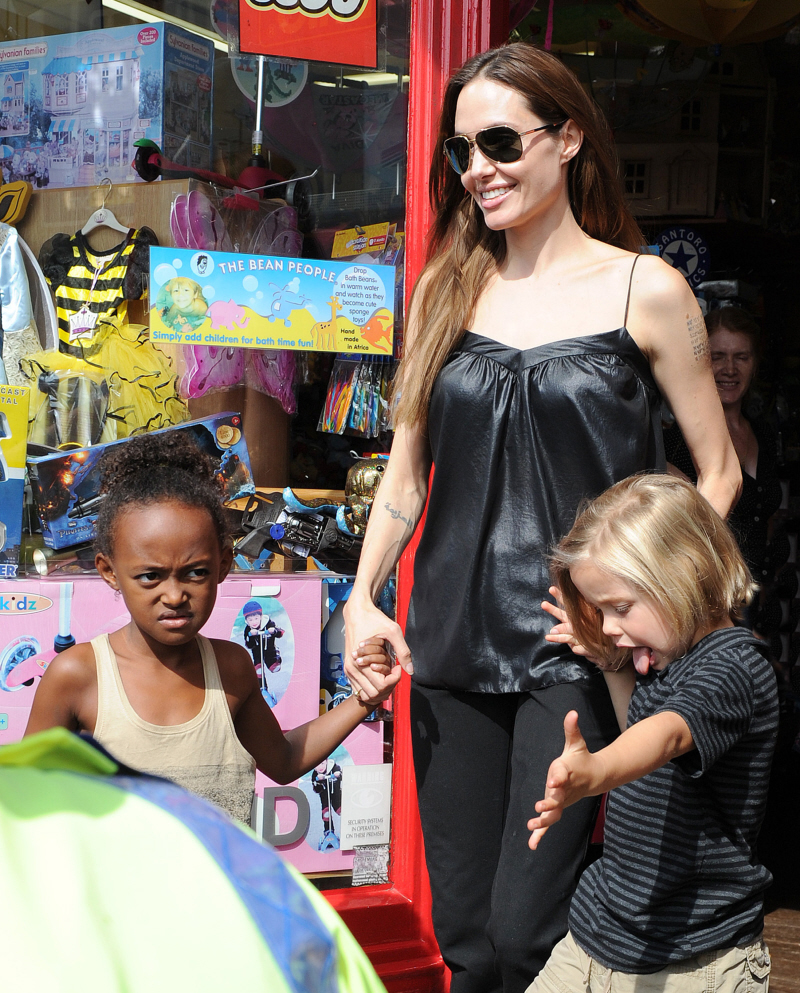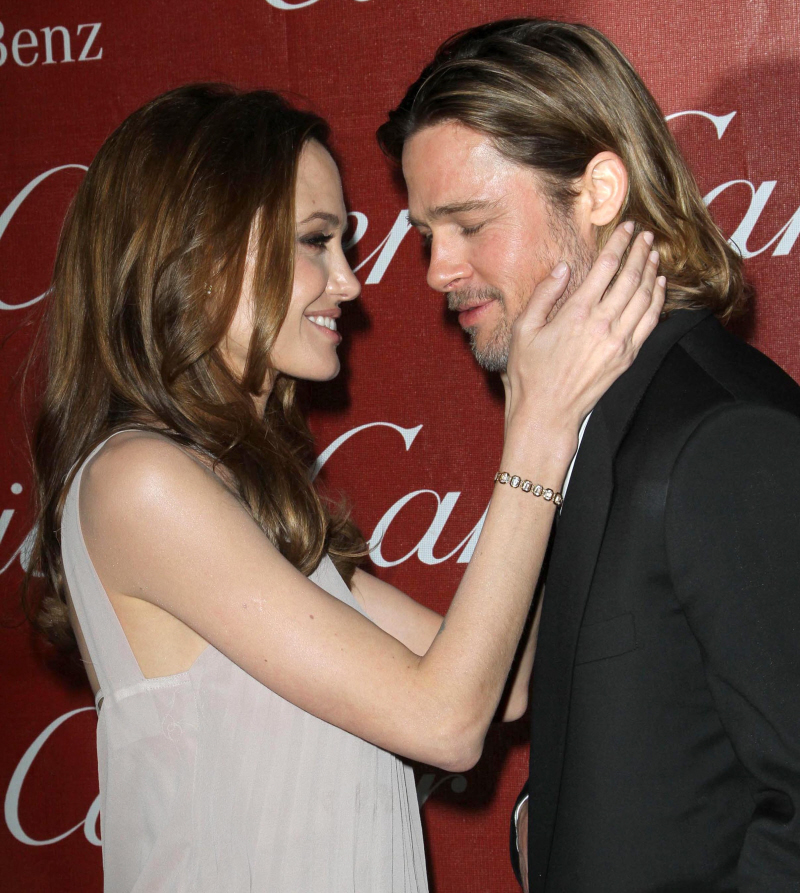 Photos courtesy of WENN.