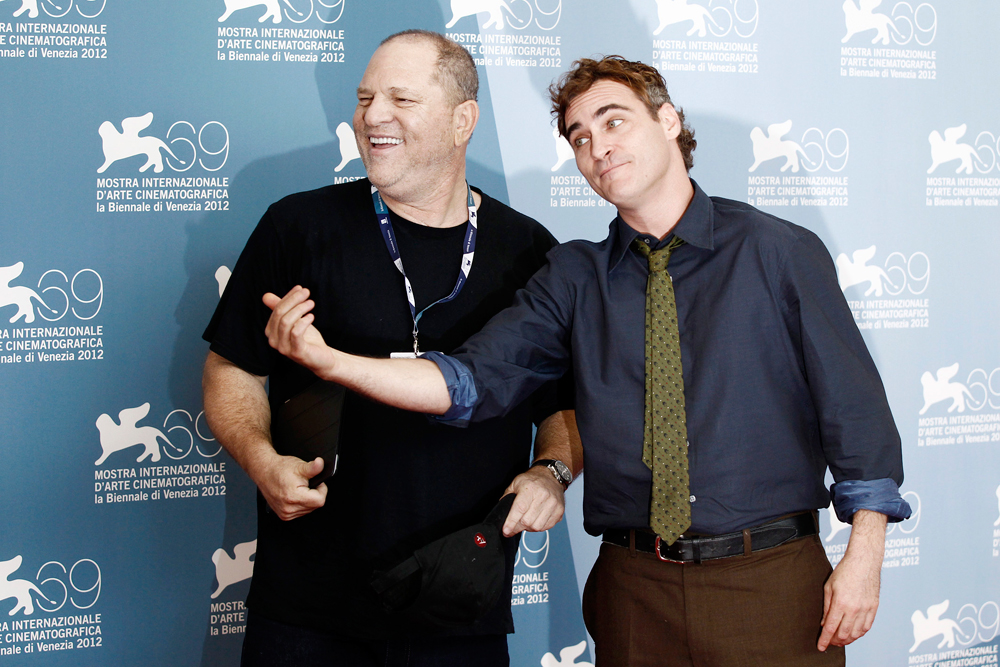 First off, I want to apologize for (once again) recycling these Venice Film Festival photos of Joaquin Phoenix, who really needs to get himself papped more often. Exactly where does this dude hide? He either must be a raging hermit or one of the only celebrities who doesn't call the paparazzi whenever he heads out to dinner. I don't know which is the case (probably both), but I could certainly use some new candid Joaquin photos. Preferably shirtless ones.
Joaquin is still doing his job though by promoting The Master as it readies itself to premiere in Australia, and he recently did a phone interview with the Sydney Morning Herald. The journalist seems to have particularly enjoyed the way Joaquin began the interview: "I think you should just write the interview that you'd like and I approve it." Joking aside, that option was not in the cards for many reasons. Most obviously, the journo wanted to get Joaquin's official take on everyone's reaction to his slightly inflammatory comments during an Interview magazine discussion in which he stated, in reference to the Oscars, "I think it's bullsh-t. I think it's total, utter bullsh-t, and I don't want to be a part of it. I don't believe in it. It's a carrot, but it's the worst-tasting carrot I've ever tasted in my whole life." Here are some excerpts from the interview: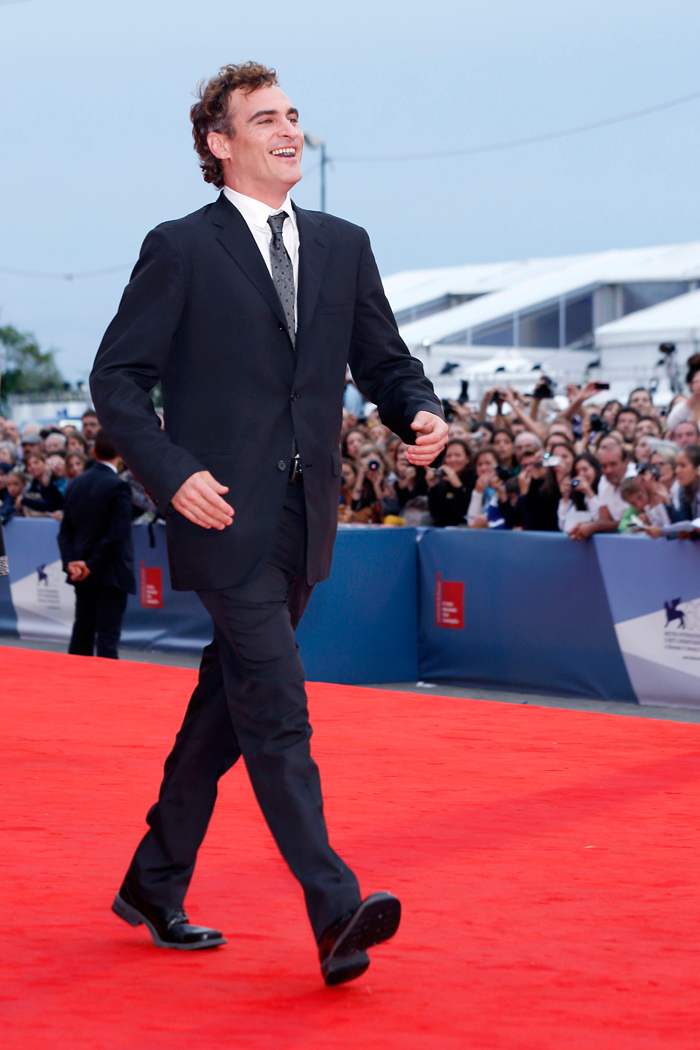 What he did on election day: "Oh, who cares? No, I don't mean who cares about that. I mean, who cares what I'm doing? I'm not sure I'm well-spoken enough to handle that kind of stuff. I imagine that I'll just be walking around in two days and my publicist will go, 'You idiot, why did you say that?'"

Clarification on his Oscars thoughts: Phoenix says he was surprised the comments made such a splash. "You know what it's like, you sit and you bullsh-t for a couple of hours. You just miss so much of what someone says when it's written down." Pause. "I guess I sound like a d-ck."

Will his Oscar remarks "cost" him? "I didn't even know that I was in a position to do something that would cost me something. But I know that first of all, I wouldn't have the career that I have if it weren't for the Oscars. I haven't been in a lot of movies that have made a lot of money … And getting nominated for a movie has probably helped my career tremendously. But in some ways it's the antithesis of what you want to be as an actor. You're always trying to free yourself of the artifice, which is really difficult. Especially when you suck, like me."

Would he attend if nominated for The Master? "Come on man, you know that it's more complex than that. It's not like I f#%&ing hate the Oscars … It doesn't occupy my time to where I can build up hate. What I was reacting to was sometimes the reverence that we have about these things. I don't want to revere it."

Captive animals inspired his Freddie Quell performance: "Gnarly, nasty zoos where there's a gorilla or a pound where you see dogs that are skinny and broken and look like they have mange and are half-crazy and mostly terrified. We really just wanted to capture that."

He can't watch his own movies: "For me it's just loaded with memories. When a scene comes up, you just go 'oh I remember that day: we were out on the boat. I can't really have a pure experience when watching it." Pause. "Do you just hate me? Does it sound like horseshit?"

On coming back after I'm Still Here: "I wanted to work probably six months before I met Paul but there was nothing that I really liked. I knew that I'd just have to wait. I'm very fortunate that I'm in these really amazing situations with great directors," Phoenix says cheerfully. "And I'm still crap."
[From Sydney Morning Herald]
Joaquin seems rather befuddled that everyone made a big deal about his previously expressed attitude toward the Oscars, and he's not only clarified his remarks but also expressed gratitude on how the Academy has helped his career. However, he certainly did not backtrack on what he said, which I appreciate. In my mind, there are few things worse than someone who talks out of both sides of their mouth, and Joaquin hasn't done that at all here. Also, I like how he can refer to himself "a d-ck" and "crap," both of which are not really true, but it shows how lightly he takes the topic of himself. You know, unlike James Franco.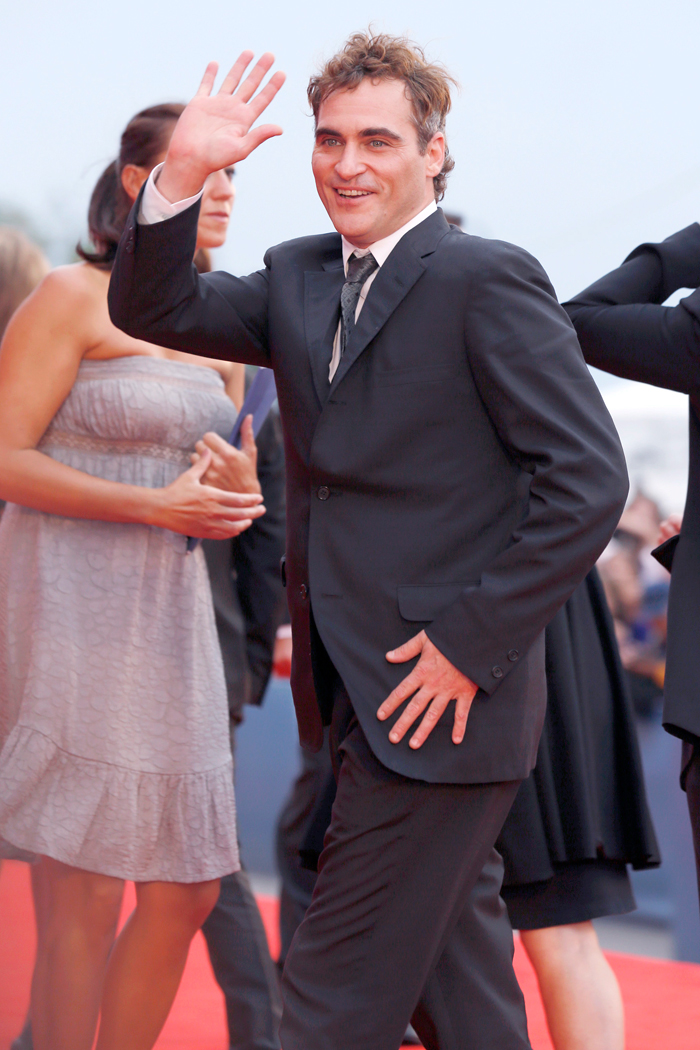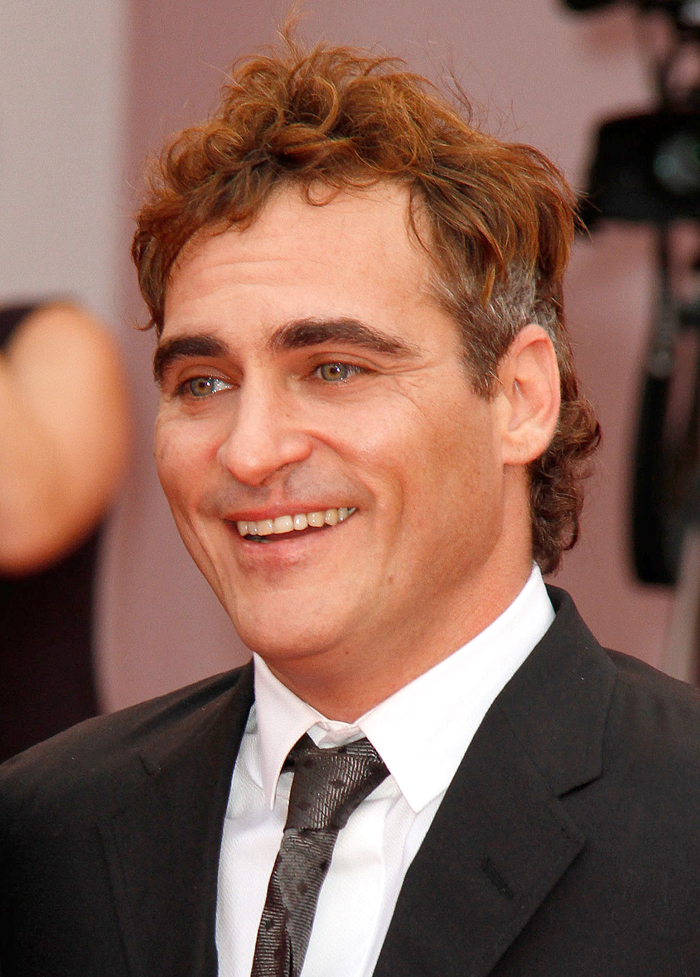 Photos courtesy of WENN