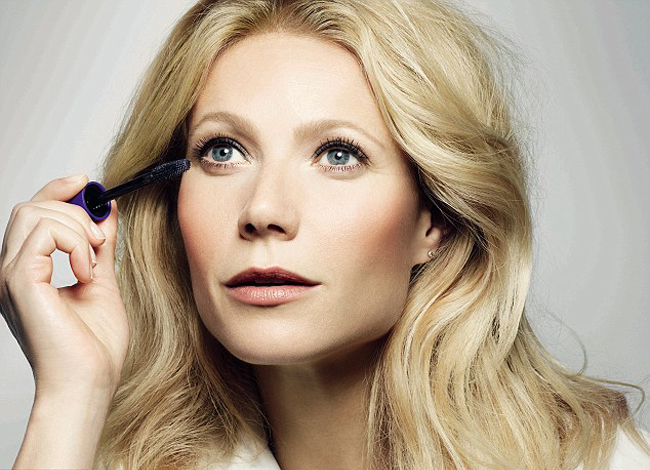 As Kaiser reported in September, Gwyneth Paltrow has gone downmarket by signing on as the face of Max Factor cosmetics. In addition to the obvious slumming that Goop is doing for the quick buck endorsement, it's also worth noting that she's not a makeup person at all. In fact, Gwyneth has been known to attend events sans makeup because, basically, she can't do her own makeup. So for whatever reason (the almighty Goop dollar), Gwyneth decided to sign on to tell all of the peasants exactly how they should do their makeup. Yeah, I don't get it either, but let's just humor her anyway.
Did you know that there are "seven sides of Gwyneth Paltrow"? That's what Max Factor would have us believe about Goop, who has apparently inspired (through her illustrious, divine life) seven different make-up looks to inspire seven respective different aspects of their advertising campaign. Let's see if I can come up with seven different reflections of Goop: shopper, traveller, shopper, woodburning-oven pizza baker, shopper. Ahhh, I give up. Luckily for the unimaginative sorts like me, Max Factor has already dreamt up seven different occupations for the "multi-tasking" Gwyneth, and they've already started with the most unlikely: writer!
Uh, writer? That's an odd place to start considering that each of Goop's newsletters generally consist of one paragraph of lofty, thesaurus-driven prose followed by a guest writer. She even used a ghostwriter for last year's cookbook, My Father's Daughter, in which Gwyneth was found to have actually written (all by herself), "I basically love anything that comes in a hot dog bun… except hot dogs (sorry, Dad)." Well, Max Factor still seems to think that Goop is a real writer, and so they've interviewed her as part of their advertising campaign. Here's what she had to say in her defense: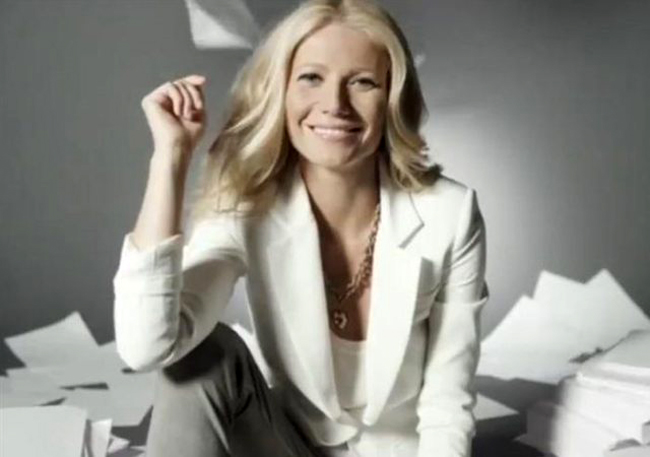 On her "writer" persona: "The writer persona is me going into town for a lunch or into London for a meeting or going to a friend's house for dinner. Or me when I'm most myself, doing something creative, having a look that says, confidence, creativity but still very much who I am."

She's not really a make-up girl: "I have a funny relationship with make-up, in my own life I wear very little of it. It's huge part of my professional life and I have been getting it done since I was 18 for films and attending premieres. It's been important for the professional aspects of my life. As I'm getting older I'm trying to experiment with make up more myself and use it more myself around the house. My make-up routine is very simple. I'm big into mascara and blusher and that's about as far as I get when I'm running around at home."

She's learned so much from this campaign: "It's been interesting doing the shoot and I'm starting to pay attention more to what the make-up artists do and how I can do it in my own life. I think maybe I can try this trick at home – maybe I can be a bit more brave and try a red lipstick or something."
[From Max Factor]
Oh Gwyneth, hahaha. Her "writer" persona is nothing like the vast majority of people who actually write for a living. My friends don't normally throw dinner parties as part of our profession — we meet at Panera Bread. But that doesn't involve vintage wine and, therefore, is too gauche for Goop. I think the main part of the problem with the Goop's "writer" persona is that she doesn't speak at all about the actual writing process. Instead, she thinks it's all about going out in London for dinner and meetings, which doesn't really speak to the solitary process of a writer. Those differences aside, Goop doesn't have any interest in doing her own makeup, and even if she did, she wouldn't realize that a lot of writers stay at home and don't put on makeup just to do their jobs. Still, I know how to do my own makeup, even if it usually only involves some minimal eyeliner and lip gloss.
Here's a behind-the-scenes video (thanks to the Telegraph) of Gwyneth spouting off about makeup. She's making far too much money for this.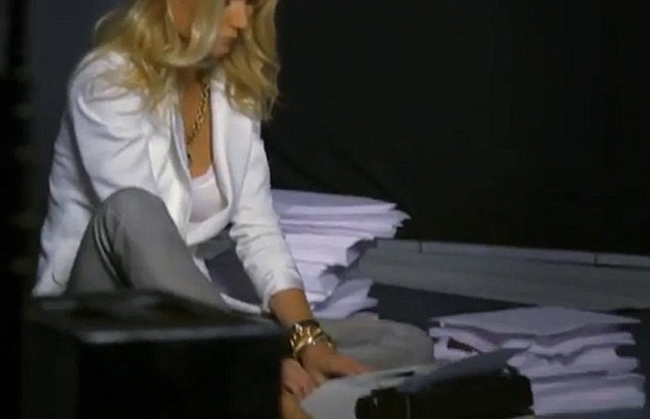 Screencaps courtesy of Max Factor