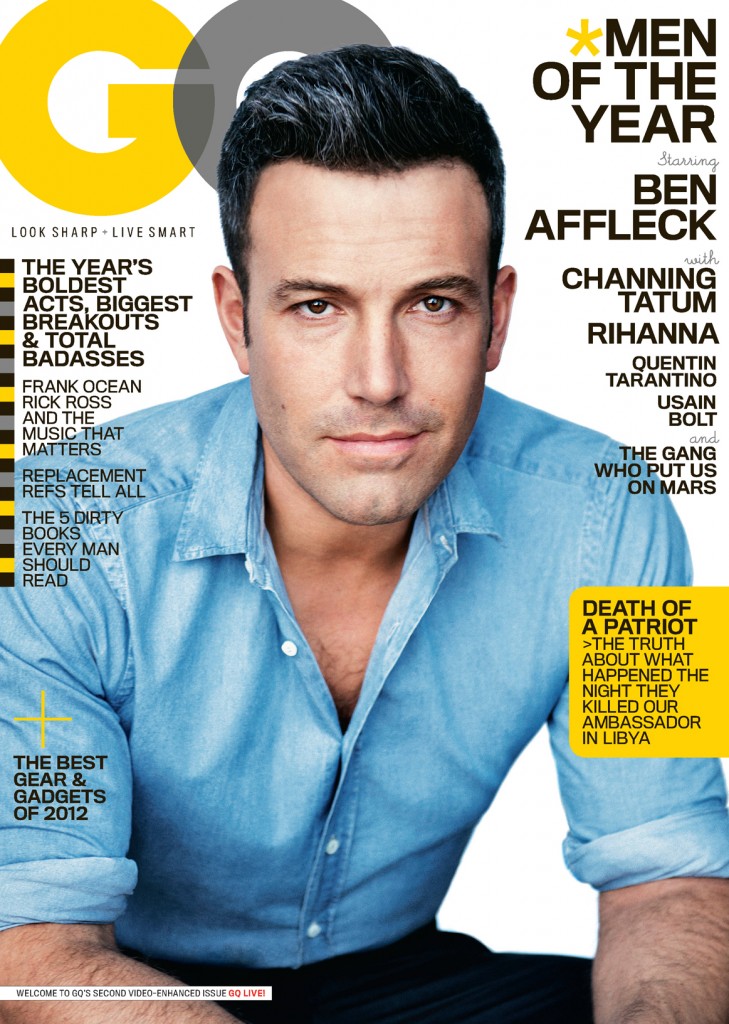 Ben Affleck has a new interview and profile in GQ Magazine as part of their "Men of The Year" December issue. We've already seen Channing Tatum and pantsless Rihanna's profiles, and now we're on to Ben. It's a lot of the same from this guy, frankly. To be fair, he did this interview around the time he was ramping up promotion for Argo a few weeks back. He was telling the same story to multiple outlets in slightly different ways. He has a personal narrative that he needs to talk about and promote as part of his Oscar bid. A lot of actors do this with their press, but with Ben I'm kind of rolling my eyes at him. I'd like to hear him switch it up a little.
On how the press vilified him around 2003 and 2004
"What was that guy's name who killed his wife and dumped her off the side of a boat? Peterson. I remember thinking he actually gets slightly better treatment than I do in the press. At least they had to say 'alleged killer.' Unfortunately there's an aspect of that that's like one of those fights you see on YouTube where one of them falls down and then a bunch of people who were standing around come over and kick the person. They don't know them, they have no involvement in the fight, but they recognize a moment that they can get a free shot in, and for some people it's just too much to resist. And that was definitely me at that point. I was the guy. I was the designated person to loathe.

"The amount of venom—I must have touched some specific little place in the consciousness. I don't believe I didn't deserve any negative judgment for anything, but it was just way out of whack. People decided that I was the frat guy, even though I've never been inside a fraternity, or the guy who beat them up at school, even though that wasn't me at all.

"The most pernicious illusion, myth, was that this is something that this guy wants, 'He's wanting this much coverage.' That's the most unappealing thing that you can say about somebody. And I knew how disastrous it was. It was the last thing I wanted, and I could tell it was damaging me, and I tried to get away from it, but there was still this idea: This is what this guy wants, he's a shallow guy, a camera whore or whatever. And there was no convincing people that that wasn't the case.

"There were ways I did contribute to it, still kind of naively. Like these car dealerships would often say, 'Hey, do you want to drive around a car? Go take it as long as you like. You can drive this Rolls-Royce for nothing, for free.' The Boston kid in me thought, 'This is great! What a deal! I can just drive this car around. Let my friends drive it.' But then this image of a young guy in a Rolls-Royce was very off-putting to people. Probably be off-putting to me now if I saw it. And I didn't quite have the wherewithal to be smart about that at the time."

On his kids
"There's going to be three maniacs screaming and running around the house. But it's sweet, and washes away all the other stuff."

On his wife
"It was a really, really good thing that happened to me around the time that it was nice to have something good happen. And she's just a great woman and a great friend. She has such wise and certain stewardship over these three characters that I love so much."

On his life now
"I'm in a place where I feel a bit more like I felt after Good Will Hunting, but with a sort of added perspective. I feel like I've gone round a loop once. And for this lap, it's more measured. I'm not the most loathsome man in the world. I've dropped to number nine."
OH Ben, where to start? You know, I still like him! I really like this guy and I've heard that Argo is awesome. (I haven't seen it and keep meaning to, my time is limited as a mom and it's hard for me to get two hours outside of the house to watch an adult movie. It's been over six months since I've seen something in the theater.)
BUT – Ben knows what he did to get so roundly criticized. He knows it. It wasn't one thing like driving around in a free luxury car – it was caressing J.Lo's ass in that annoying video, it was buying her a ginormous pink diamond ring, it was giving interviews with her at home as if they were an old married couple. It was starring as the lead in some awful action movies and multiple cringe-worthy romcoms. As Kaiser wrote to me it's "like someone held a gun to his head and forced him to take 8-digit paychecks for total crap movies." Yet he's still talking about his victimhood at the time as if he barely contributed to it and it was the worst thing ever. I'm still rooting for him, and I still find him to be a hot dad and a devoted father. I don't see him as a devoted husband, particularly in the way he continues to describe his wife as someone who helped him out and is a great mom. Maybe that's Ben's problem – he's just too transparent. When he was on top of the world he acted like it, and then the press did their part to knock him down. He still doesn't get it.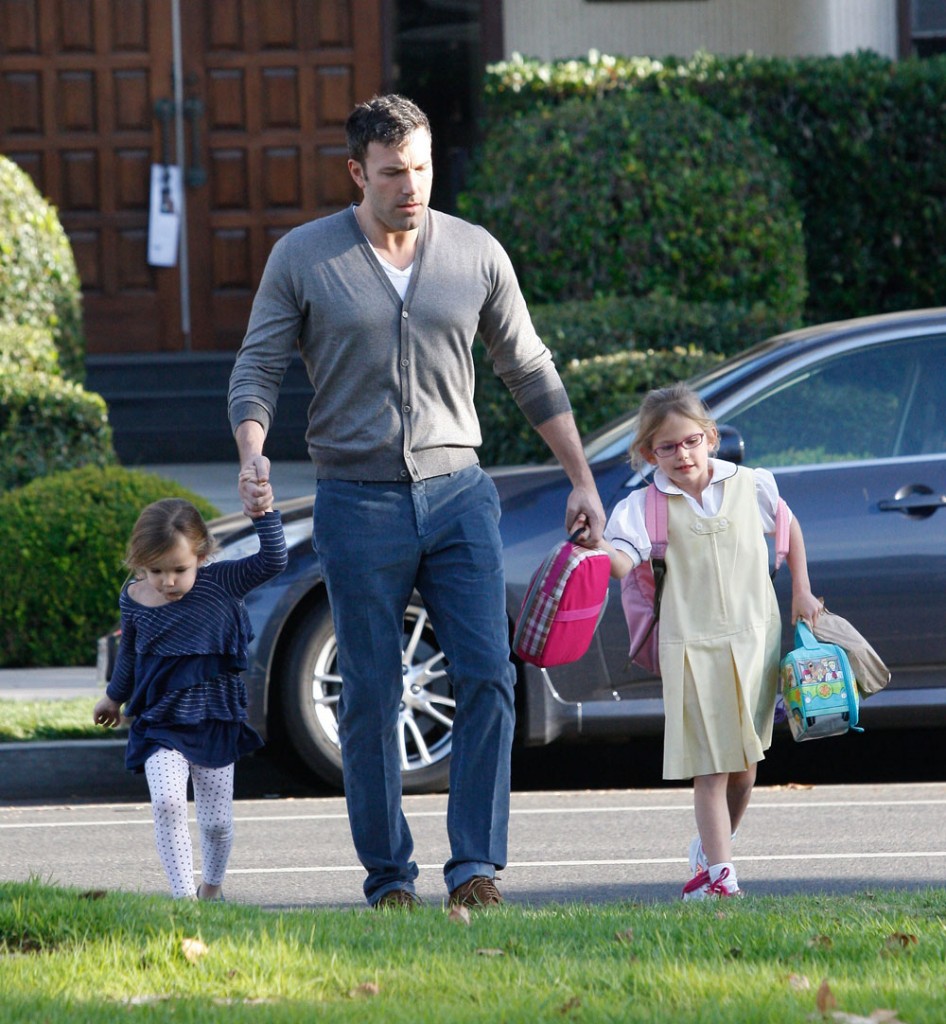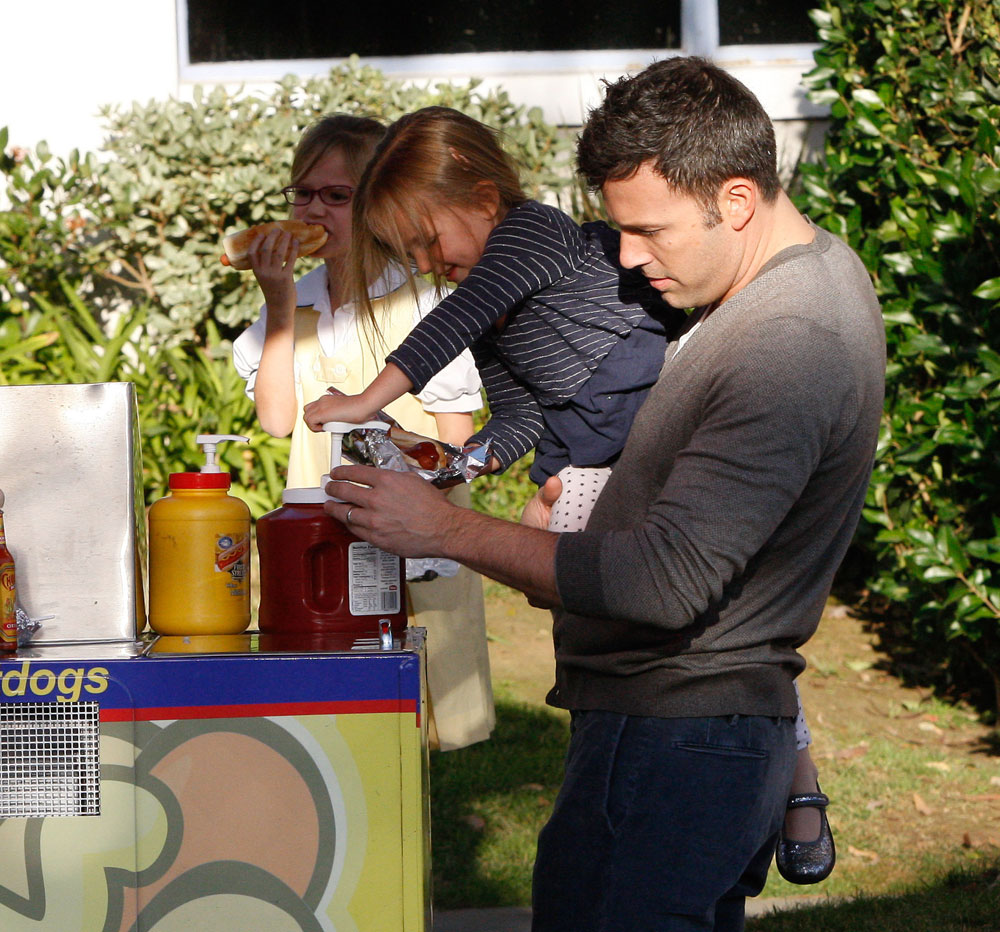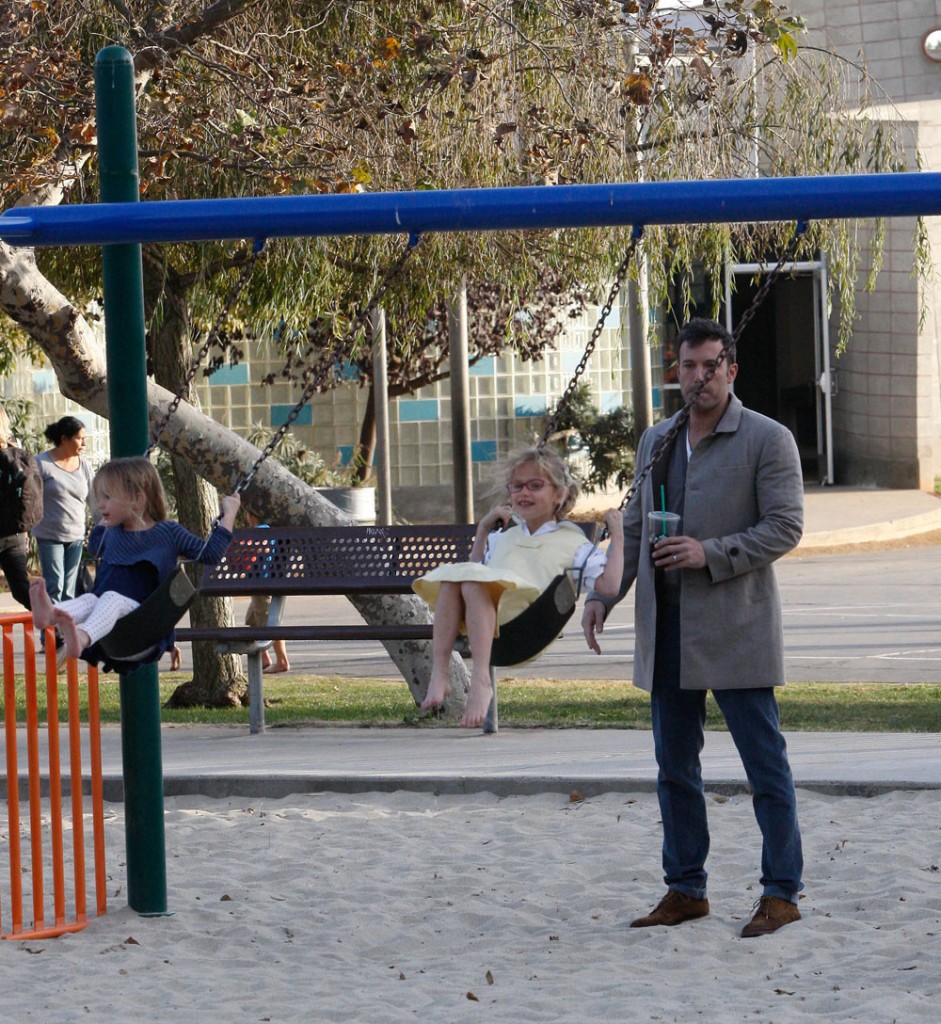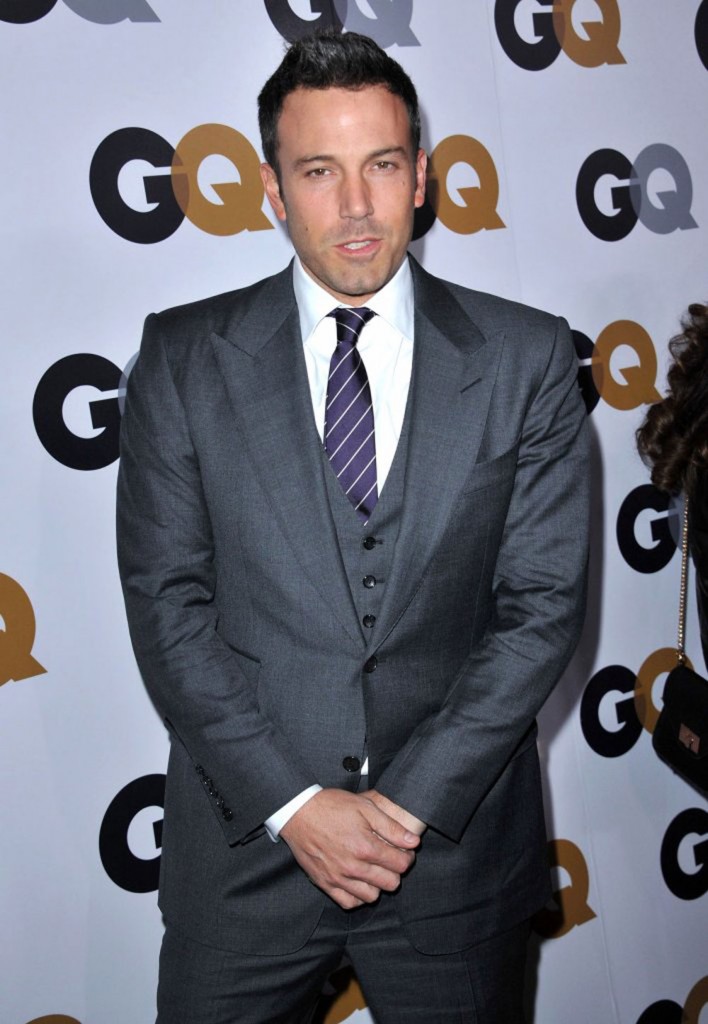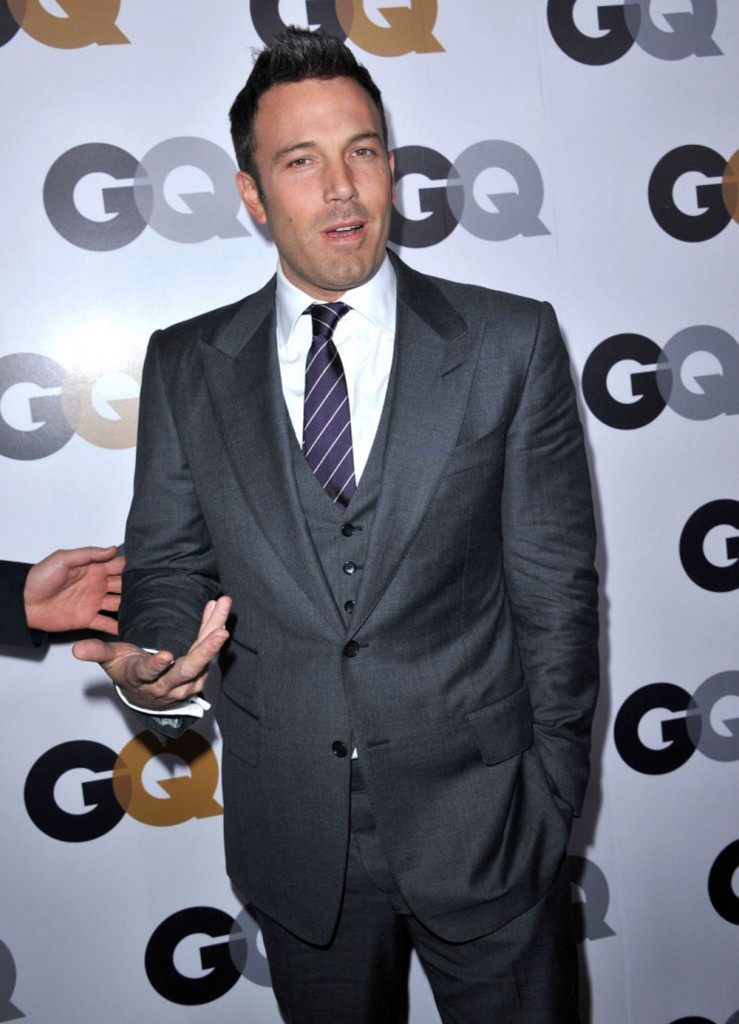 Photo credit: Sebastian Kim / GQ. Ben is also shown with his daughters yesterday at the park and at the GQ Men of The Year awards on 11-13. Credit: WENN.com and FameFlynet