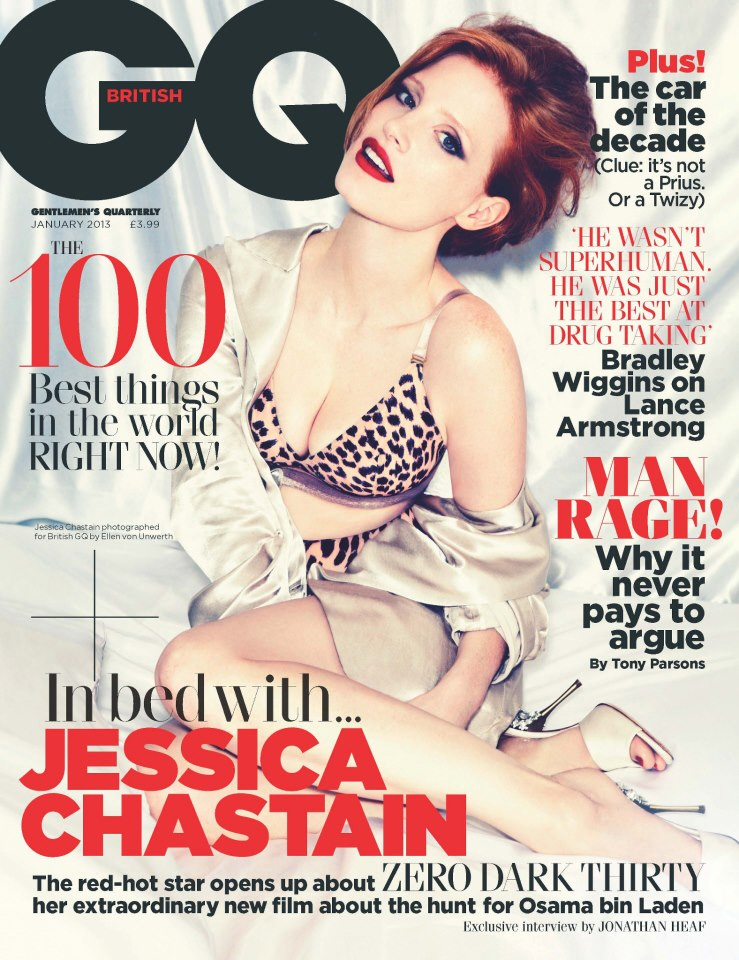 Personally, I think Jessica Chastain's entire vibe is too "classy" to appear semi-naked in a GQ UK pictorial. It feels wrong and like an unexpectedly trashy move from an actress who has no need to rely on her "sexy" photo shoots to sell her extraordinary work. Like, this photo shoot is more of an Ashley Greene or Jessica Biel move. However, the last time Chastain appeared on a women's magazine, it was Marie Claire and that photo shoot was TERRIBLE. At least Jessica actually looks pretty in this shoot.
Jessica appears on the January cover of GQ UK to promote Zero Dark Thirty, the Kathryn Bigelow film about the hunt for Osama Bin Laden. Bigelow was trying to make this film for years, even before Navy Seals raided the Pakistani compound where Bin Laden had been living for years. Apparently, Bigelow got help from the Obama administration so that the half-true, half-fictional film would be more realistic. Chastain plays one of the CIA operatives searching for Bin Laden, and there's lots of buzz that Chastain could be up for her second Oscar nomination for the role. Here are some highlights from Chastain's GQ interview:
On Zero Dark Thirty and Bin Laden: 'This film will make news. We all think we know how it ended. We don't. And this movie is about how it really ended. It is shocking. When I first read the script, I was blown away by this woman. The sacrifices she made and what she had to do. It's something I still get very emotional about. What happens when you live for this one goal? And then you achieve it.'

Relating to CIA agents: 'I can relate to those aspects of being in the CIA. For the last three years, my life has been work and only work. I do miss my family. I do feel cut off from my friends. Listen, I know being in the CIA is a lot more important that being an actress, but I do feel some empathy with the loneliness: you give away yourself.'

Ginger angst: 'You Brits are usually so mean to your redheads. Why is that? In America it's seen as a good thing. Look at Julia Roberts – she's cool, right? I was working in Thailand and I'd be walking down the street and people – British people – would stop the car and scream, "ginger!" at me.'

On working with Brad Pitt in Tree of Life: 'He didn't have a huge entourage, nothing like that. He just showed up on his motorcycle on the very first day and went, "Hi, I'm Brad." You just heard the rumbling of his bike and he'd appear like James Dean, or Marlon Brando from The Wild One. He was kind, he was generous, he'd never heard of me but he never made me feel less.'

Sex symbol status? 'I always find sex scenes embarrassing. But at times they are necessary – I get that. It's a huge compliment when someone says you're attractive, especially when I was such an awkward kid – I was very tomboyish, with very short red hair, running around with cowboy boots on. So when someone tells me I'm a sex symbol I'm like, "what?". But I'll take what I can get. That'll teach all those boys back in Junior High! In fact, I hope my very first boyfriend, the guy I dated for one month and who broke up with me at the Valentine's Day Dance – I hope that boy reads this article.'
The anti-ginger thing is so crazy to me. Gingers are awesome! I don't understand how a supposedly modern culture can have such anti-ginger bigotry. Of course, I've also wondered if Jessica is a real redhead… I guess she is?
Also: I should note that within the GQ article and all of the press for Zero Dark Thirty, Chastain is being identified as "35 years old". I do think that's probably right – Jessica never tells her real age, but a year ago, she was widely identified as "around 30 years old".