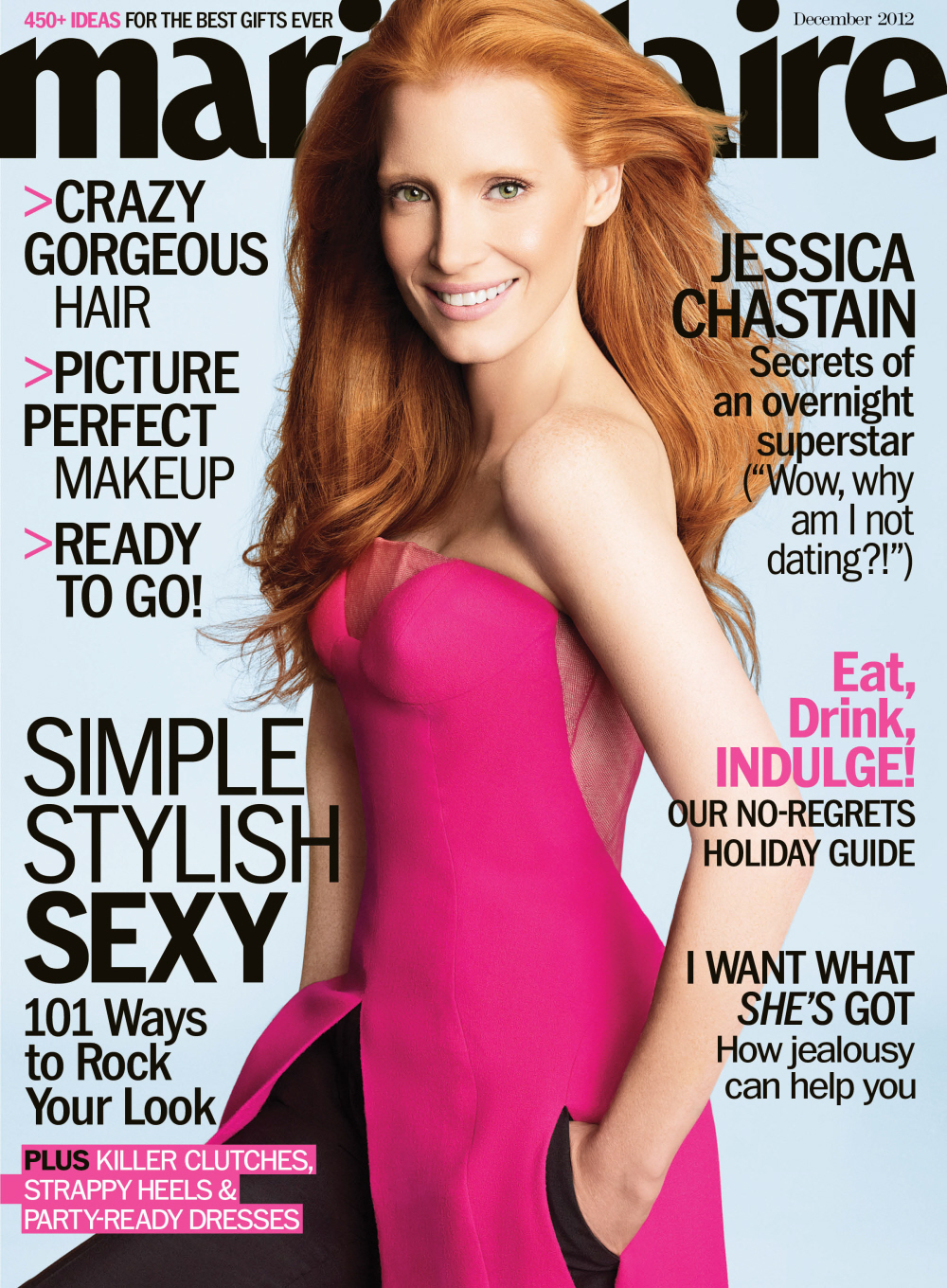 Oh. Dear. God. WTF did they do to poor Jessica Chastain? I like her so much, and I think she's a very beautiful woman, and this Marie Claire cover is doing her no favors. Is it just a really awful photo (that was made into a cover?!) or is this a Photoshop disaster? I'm siding more on "Photoshop disaster". It might be the Curse of the Pale Redheads too. I've noticed that again and again with pictorials of Christina Hendricks and Emma Stone (when she was a redhead): magazines are absolutely clueless as to how to style and light and photograph pale redheads. Emma almost always looks strung out. Christina almost always looks like a corpse. And now they've made poor Jessica Chastain look like a gnome who lives in a padlocked basement. She looks like Powder in a ginger wig.
Anyway, Jessica scored the cover of Marie Claire because she's got Zero Dark Thirty coming out – that's the "catching Osama bin Laden movie" directed by Kathryn Bigelow. It looks good, and when Jessica said yes to this film, she had to say no to several others, so we'll see if her instincts were good. The film has been very, very secretive – Republicans whined about the possibility that this could be "pro-Obama propaganda," so the studio had to push back the release until after the election. You can read part of MC's story here, and here are some highlights:
On her focus while attending Julliard: "I never wanted to be a movie star. I wanted to be an actor. I don't really drink, and I've never been to a rave. I used to cut school to read Shakespeare, not to make out in the park."

On how success has not changed her lifestyle: "I used to have a lot of anxiety about how I was going to stay afloat, because as soon as I graduated, I never asked my parents for money. I always supported myself through acting and would make money last a long time. I understand the value of money, and I'm not an impulsive buyer. I bought a new laptop three years ago, and before I bought it, I spent a month thinking about buying it. So my lifestyle hasn't changed, except my anxiety about paying the rent is gone."

On meeting men: "I'm very shy when it comes to guys." One of her friends said to her, 'Now that you're successful, you have to be more overt with men, you have to make it very clear that you're interested, otherwise they won't [approach you].' Jessica says, "I like to be wooed, but I've had to be more outwardly available, I guess."

She and Michelle Williams appeared in summer stock 8 years ago: "We became like sisters," Chastain says of that period.

Family secrets and her age: Her age has been variously reported as anywhere between 30 and 35 (the truth is closer to the latter), and has skillfully kept under wraps the name of her hometown in Northern California, if only because her family — her mom is a chef, her dad a firefighter; she is the eldest of five still lives there and her youngest siblings attend the local high school. "The two of them get to go and have a normal high school experience without people going, 'Oh, your sister is in this movie' or 'Can your sister hook me up with Brad Pitt?'" she explains.
The fact that she still won't come out and say her real age annoys me to no end. I get that it's her business and a lot of people outright lie about their ages, but it feels like we – as a society, as womanity at large – shouldn't still be playing these coy games about a hard number (side-eye at Beyonce). So what if Jessica's 34 or 35 years old? I guess we should be happy that she's not making journalists run with "30" anymore.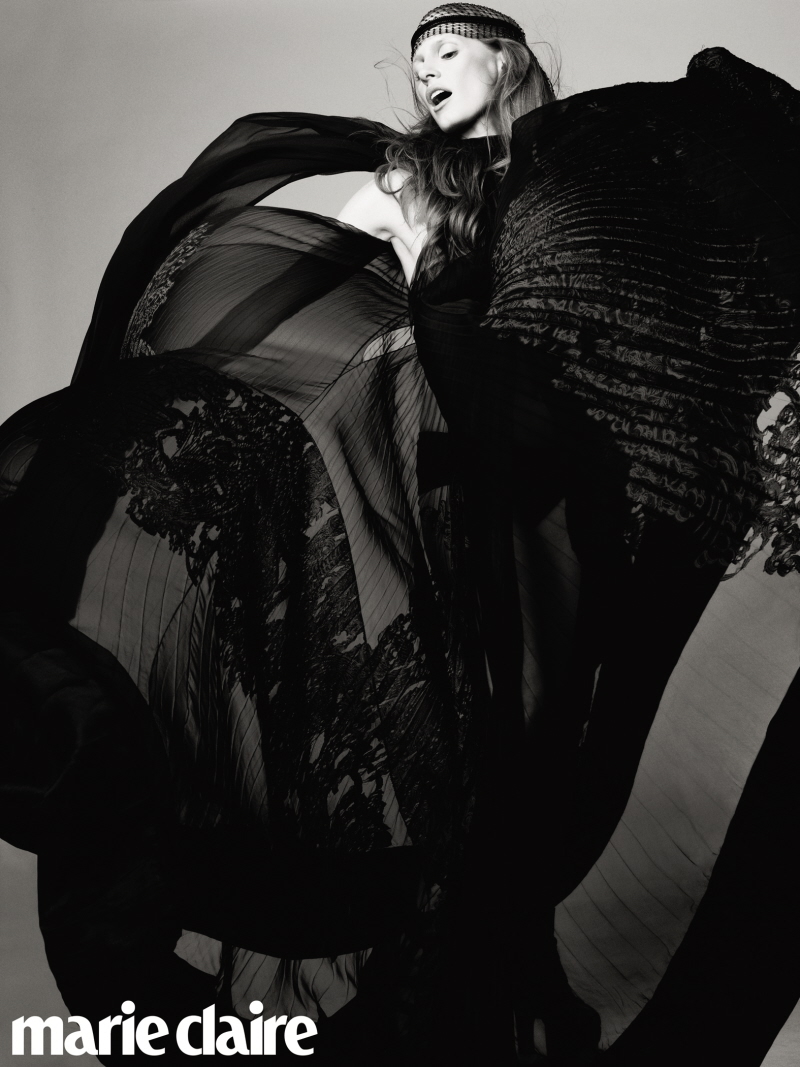 Photos courtesy of Marie Claire.