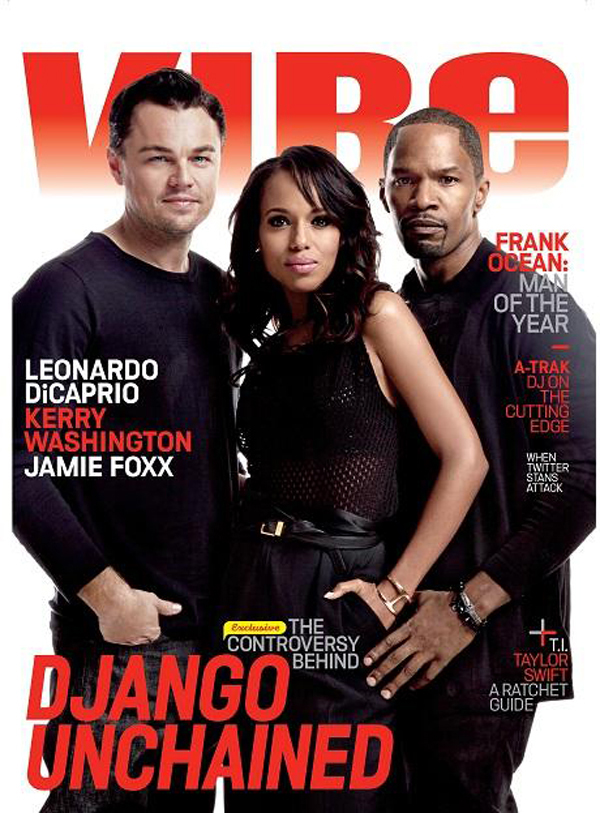 Three of the main players of Django Unchained — Leonardo DiCaprio, Kerry Washington, and Jamie Foxx — cover the December issue of Vibe magazine to discuss the upcoming (and already controversial) movie directed by Quentin Tarantino. This, of course, follows Leo's rather bland statements (excepting the ones that concerned phrenology) on the movie from this week's discussion of Leo's "intense" face on the cover of next month's Details issue. I will admit to being an exceptionally rabid fan of Quentin Tarantino's movies, but something about the Django trailer rubbed me the wrong way. Sure, the movie seems to have QT's usual revenge motif going on in a huge manner, but the movie (especially Leo) just seemed so campy. Now Vibe describes Leo as "the most revered actor of our time" (who, incidentally, smokes electronic ciggies), and the trio pictured on the cover have given a joint interview. Here are some excerpts: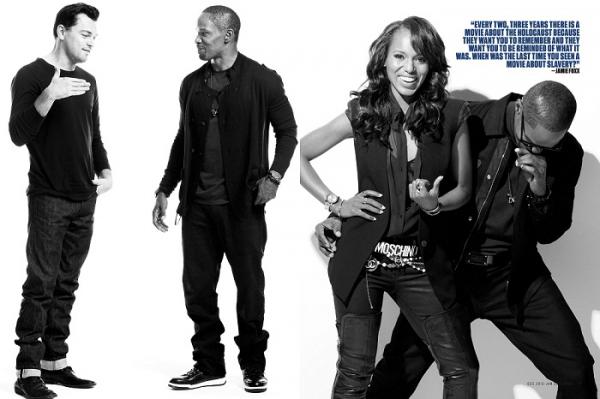 Leo on tackling Django: "I wanted to go in there and try to embody somebody and an attitude that is so foreign to me and go the distance. I think it took me to places I didn't even imagine. It really took on a life of its own. We knew there was going to be controversy. The question is: What is not a realistic depiction? I would argue that it is. It is Quentin's re-creation; this character doesn't exist. There's nobody that is documented to do what Jamie's character has done at the time. But the documentaries I saw went even further."

Jamie's response to Leo: "Put it this way: I completely understand what you're saying. 'Cause as black folks we're always sensitive. As a black person it's always racial. I come into this place to do a photo shoot and they got Ritz crackers and cheese. I'll be like, ain't this a bitch. Y'all didn't know black people was coming. What's with all this white sh-t? By the same token, if there is fried chicken and watermelon I'll say ain't this a bitch? So, no matter what we do as black people it's always gonna be that. Every single thing in my life is built around race. I don't necessarily speak it because you can't."

Jamie on Tyler Perry's thoughts: "When you're talking about the script, of course it's going to be controversy. I remember talking to Tyler Perry about it. [In Perry's very serious voice] 'Ah man, the script, man. Have you read it?' When I finally read it, I called Tyler and we had a conversation. I said, 'I got a different take on it than you did.' And we shared. And I called Tyler while we were shooting it. I said, 'Do you know that Quentin Tarantino knows all of your sh-t on TV. I don't even watch all of your shit.' He said, 'Really?' The difference is the Quentin Tarantino Effect. I ran into Spike Lee at the BET Awards. You know Spike, he'll let you have it whether it's good, bad or ugly. And he said, 'I'm not going to say anything bad about this film. It looks like y'all are getting it.'"

Kerry on her research process: "This is not a doc. This is a Quentin Tarantino film. But I remember there was this one moment in the script where Jamie's character was put in an awful crazy medieval metal mask. I said, 'That's some sick thing Quentin thought up.' And when I went to the production office to meet about my wardrobe, I saw into the research office. Twenty photos of real masks like that. It made me sad. I realized as much as my degrees and everything I've read on slave narratives [should have informed me], I didn't even know that they wore masks like that, that people did that to us. It took a Tarantino movie for me to know that that's not some crazy thing out of his imagination. That's how it went down."

Leo on playing the bad guy, finally: "Playing a bad guy opens you up to not having as many rules or restraints. I think actors have gravitated to that because it frees you up in a way. It takes you to the darkest place of where you are as a person and lets you indulge in that and give in to that and be as horrible as you possibly can without the conflicting side of what's good and what's right. This is the first legit bad guy I've ever had to play, and it is a f'king horrible [character]; the worst display of humanity I've ever read in my entire life. Not even just because of who he was and the racism, but because he is just the most self-indulgent bastard I've ever read."

Leo on Oscar screenplay talk: "For me, the initial thing obviously was playing someone so disreputable and horrible whose ideas I obviously couldn't connect with on any level. I remember our first read through, and some of my questions were about the amount of violence, the amount of racism, the explicit use of certain language. It was hard for me to wrap my head around it. My initial response was, 'Do we need to go this far?" Quentin pushes the envelope, you know, much like Inglourious Basterds was about World War II, a heightened reality. His depiction or retelling of that time. This is his retelling of this era. But my immediate question was, 'Are we going too far?'"
[From Vibe]
Okay, I'm officially sold on watching Django Unchained in the theater. At first (and at second) glance, the trailers seemed too campy to deal with the subject of slavery in a respectful manner. But I remember being slightly skeptical at the onset of casting for Inglourious Basterds too. Then I read the script for that movie (before watching the trailers) and I was similarly sold. While I haven't read the script for Django yet, I will place my faith in QT. He hasn't led me astray yet, although I remain amused at the scores of critics who claimed to love Death Proof upon its release and then changed their minds a few years later. Death Proof was only meant to be a throwaway exploitation flick and nothing more, but QT returned to fine form with Basterds, and hopefully he is here to stay.
Here are a few candid shots of Leo getting tackled by the "FBI" on the set of Martin Scorsese's Wolf of Wall Street set. Is it just me, or does he really look like Ray Liotta in these photos? Perhaps that's intentional, but we'll have to wait until the movie comes out to judge for sure.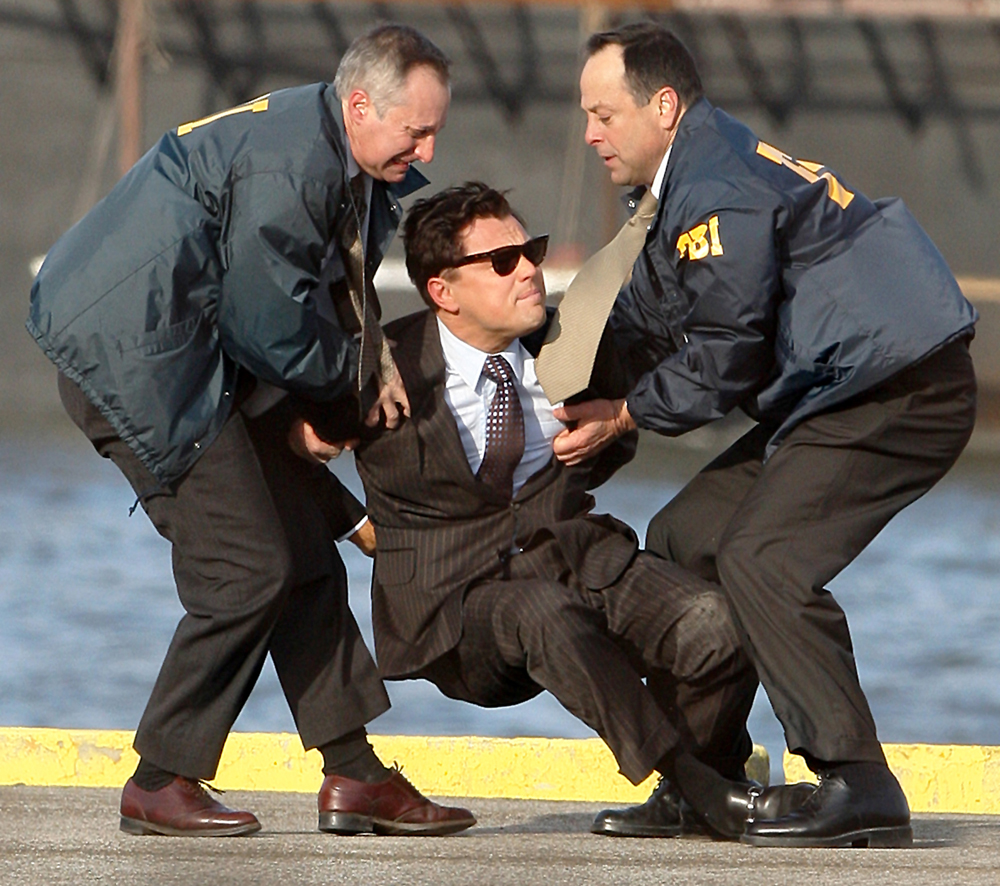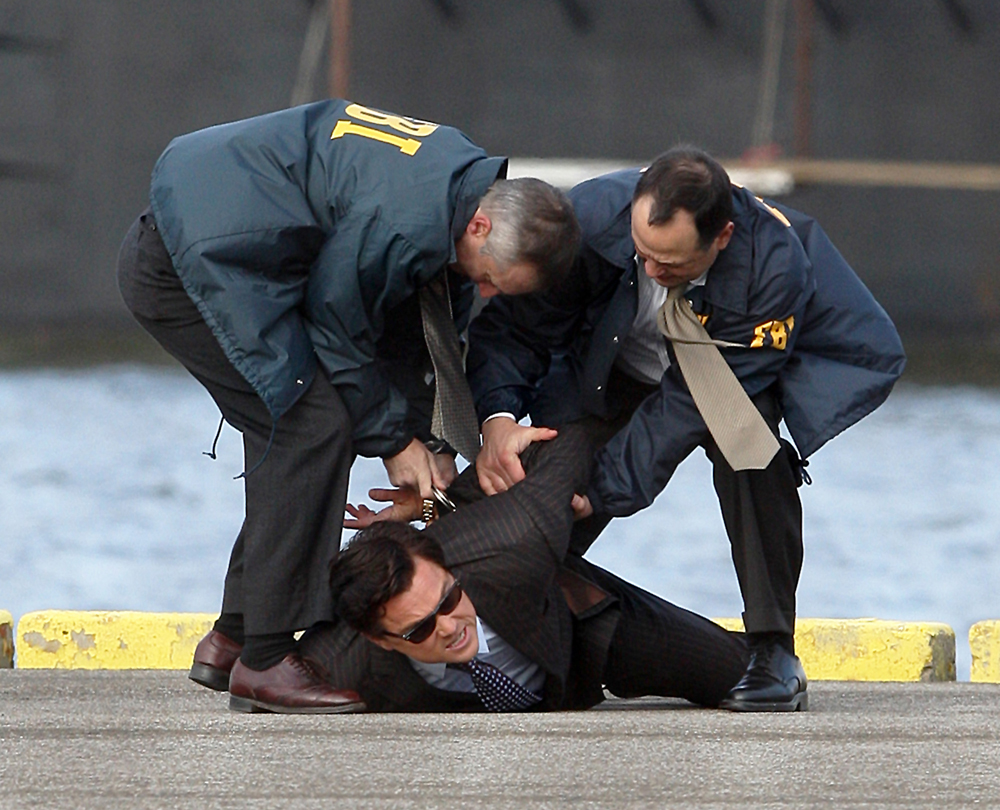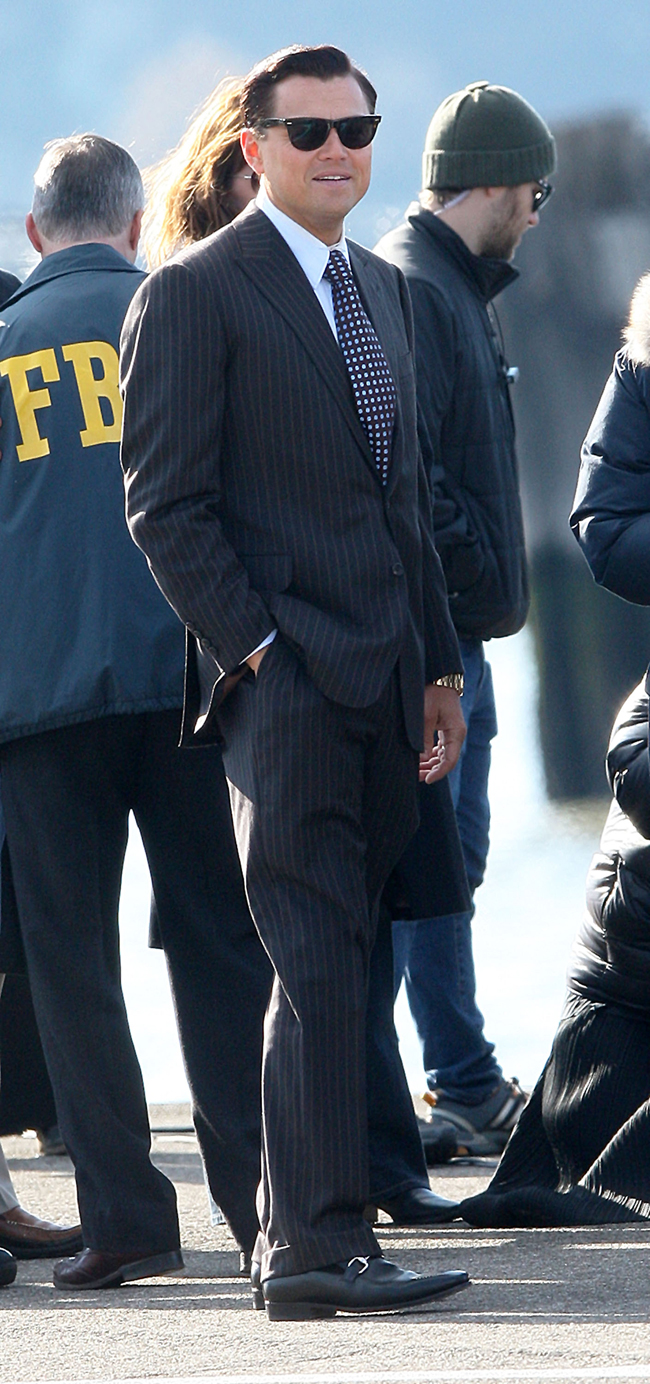 Photos courtesy of Vibe magazine and Fame/Flynet