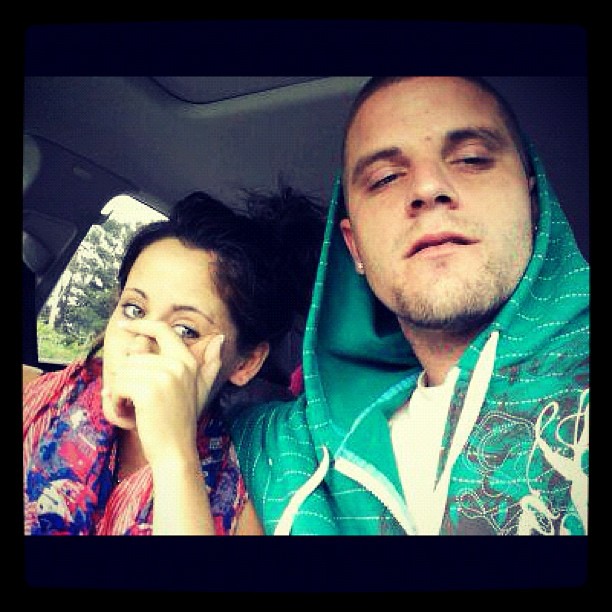 We don't normally cover the constant drama on this chick Jenelle Evans of Teen Mom 2 unless she says something particularly offensive, like the time she compared her new boob job to a deaf person being able to hear for the first time. (Really she did this.) It's hard to a proper recap on the news about her, because it's all over the place. She's been arrested multiple times, for drugs and robbery, she's broken up and reunited with various boyfriends and chronicled it all on twitter, she beat up another woman and had it caught on tape, and of course she lost custody of her young son quite a while ago to her mom, which is the only good news in this saga.
Now Jenelle has married her latest boyfriend, a guy who got charged with a felony in the county courthouse and then rushed off to marry Jenelle at the same courthouse just a little while later. Romantic! They've been together a whole four months, and he's already had her name tattooed on his chest. If that isn't a sign of undying devotion I don't know what is. Also, Jenelle's mom says her daughter is a heroin addict and that Jenelle went to rehab for it right around Thanksgiving. That was a whole two weeks ago so she must be fine by now!
It was a busy day in court Tuesday for Jenelle Evan's new husband, Courtland Rogers!

Just moments before the troubled Teen Mom tied the knot with her fiance in a surprise "shotgun wedding" Rogers was charged with a felony in the exact same courthouse, RadarOnline.com is exclusively reporting!

"Courtland Rogers was charged with a felony in North Carolina on Tuesday for obtaining property by false pretenses," a source tells Radar.

"Straight after that court hearing was finished Jenelle and Courtland got married at the magistrate's office."

Meanwhile, as RadarOnline.com previously reported, friends and family members are concerned about Jenelle possibly using drugs again, and her appearance on Tuesday shocked eyewitnesses.

"Jenelle looks like sh*t," one eyewitness said. "She has lost about 30 pounds and she looks terrible."

The reality star's new husband wasn't looking much better either according to the eyewitness.

"Courtland was picking scabs on his face while he was in the court and his face was starting to bleed."

A second source close to the 20-year-old MTV star confirmed that her family is fearful that she's using drugs again.

"Everyone is worried about Jenelle," the source said. "And her appearance and actions on Tuesday did nothing to quell the concerns."

Jenelle's quickie wedding surprised her family – while one source close to her expressed concern that she may have married Courtland for the wrong reasons.

"Jenelle might be stupid enough to think that if she is married to Courtland then she won't have to testify against him in his upcoming trial, but since the incident happened before they got married that isn't the case," the source said.

---

In the wake of her shotgun wedding Tuesday, RadarOnline.com has learned startling new claims that Teen Mom 2′s Jenelle Evans was involuntarily committed into a Winston-Salem, North Carolina mental health facility shortly after Thanksgiving.

"Jenelle was transferred that weekend" to Old Vineyard Behavioral Health Hospital for purposes of emergency rehabilitation, her older sister Ashleigh Evans Wilson tells this week's edition of Star.

Ashleigh tells Star their mother, Barbara Evans, was prompted to make the bold move after noticing Jenelle was emaciated, with arms covered in track marks.

"My mom first realized Jenelle was doing heroin," Ashleigh tells Star, "when she walked into her house a month ago and saw her shooting up."

Jenelle, for her part, claims she entered a facility near Wilmington, North Carolina, in order to have ovarian cysts removed.
I think out of all these Teen Mom stars that Jenelle is the most messed up and that's really saying something. If her new husband was picking scabs on this face isn't that a sign of meth addiction? I googled it, and I guess that can be caused by heroin use too. So Jenelle is using and she's married another heroin addict who is also an accused felon. My question is, would this girl be as messed up if she wasn't being enabled by the money and attention of this show? Probably, but just in a different way. I wish MTV would rethink this whole series.
Oh and after I wrote all that, I came across this recent story that I forgot about, where Jenelle said she couldn't serve a reduced 16 day jail sentence (for failing drug tests while on probation) because she had tickets for a Ke$ha concert that she would have to miss.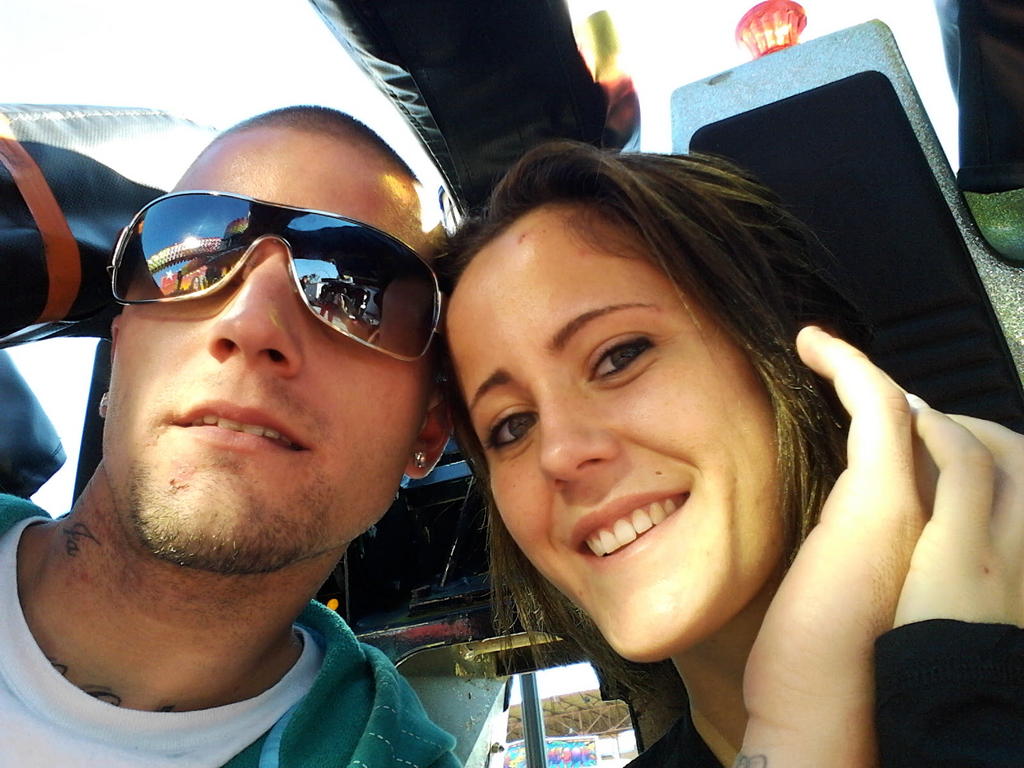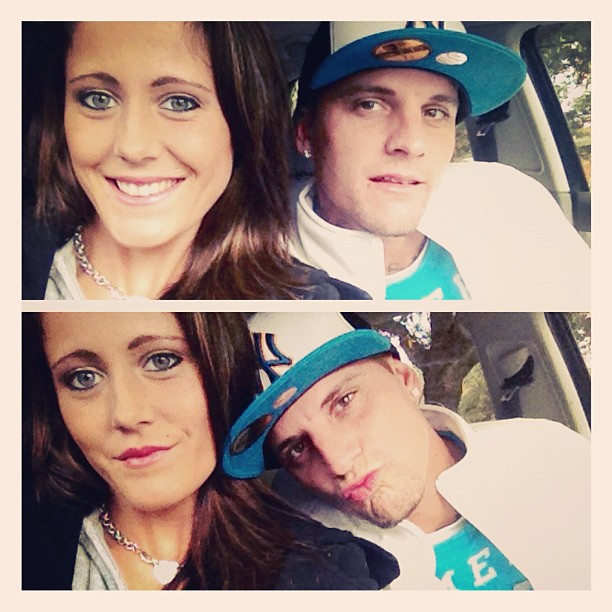 Photos via Instagram, Twitter