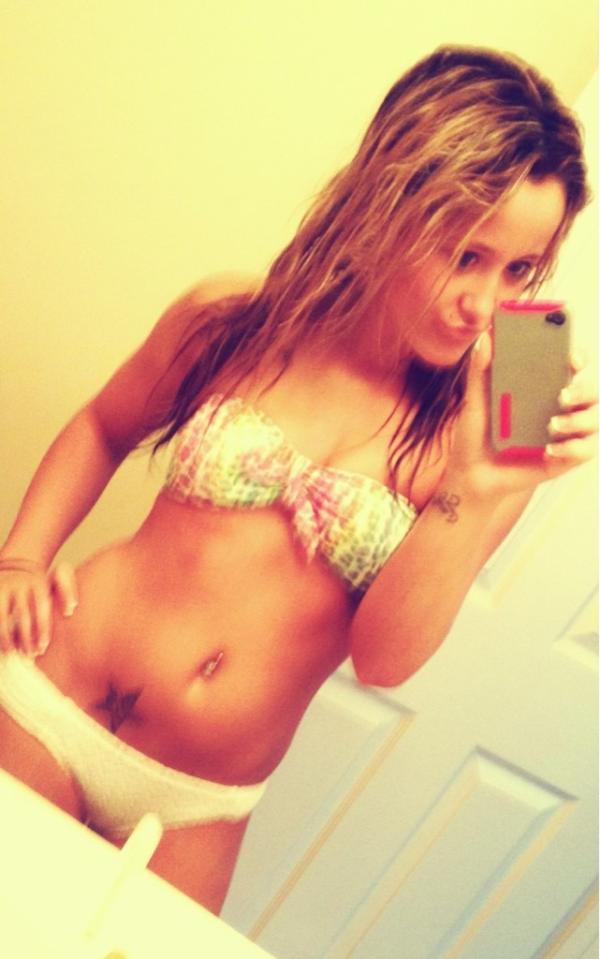 More bikini photos of Jenelle are here
Remember that amazing video of the deaf woman hearing herself for the first time after getting a hearing implant? That made me cry so hard. Just thinking about it chokes me up. Well Jenelle Evans, the chick from Teen Mom 2 who is known for multiple arrests, a stint in rehab, and a brutal assault caught on tape, is getting a boob job – which she compared to that video. I'm not kidding. Like so many of her fellow Teen Mom contestants, Evans is planning to get a boob job with part of money from whatever MTV pays her, which sounds way too low to me. Jenelle is so excited about this transformation, and so convinced of its necessity, that she compared bigger boobs to getting a cochlear implant.
How much does Teen Mom 2′s turbulent Janelle Evans want to undergo breast implant surgery? This much: "When I get new boobs, I'm going to cry – I will be so touched," she said in her live video on Stickam. "It will be like a deaf person being able to hear for the first time…"

Jenelle, who said she's hoping to become "a C-Cup," expects to go under the knife soon.

"Jenelle is tired of having small breasts," an insider tells OK! "when she was pregnant they went up two cup sizes, but now they've shrunk back down to an A-cup, and she's tired of having to wear padded bras all the time.

"And it isn't just the fact that they're small that bothers her," adds the source. "Her pregnant basically turned them droopy, and it makes her incredibly self conscious."

The man in her life may have something to do with that.

"Her boyfriend, Gary [Head], says he doesn't care, but Janelle's caught him checking out girls with big breasts, and her ex used to tease her a lot. When they broke up the last time, he said some horrible things about how he couldn't wait to be with a girl that wasn't flat as a board.

Ironically, Jenelle trashed Teen Mom Farrah Abraham for her breast augmentation. (She tweeted "at least I don't have some fake a** titties.") Though perhaps it was out of envy.

"Gary loves Farrah's boobs," Jenelle admitted. "Mine are going to be better, though."
[From OK! Magazine, print edition, April 9, 2012]
How sad that this girl is getting boobs to please the idiotic guys she's dating. Not that I care at all. She obviously thinks that bigger boobs are medically necessary so that she can continue to post duckface bikini pictures to Twitter. She should be able to write her new boobs off her taxes at least.