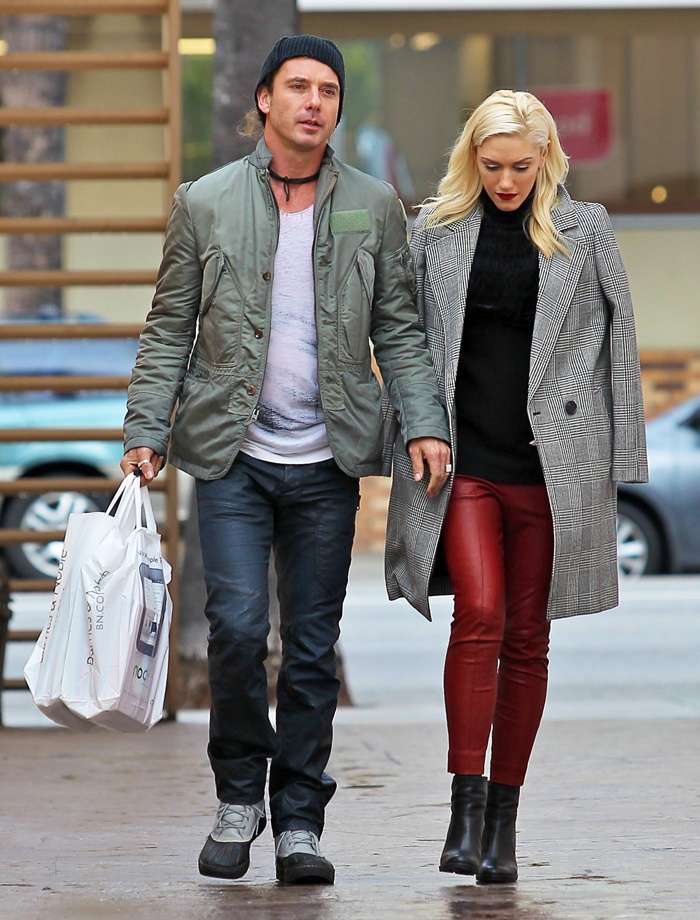 Here are some photos of Gwen Stefani with and without Gavin Rossdale as she completed some Christmas shopping. I've been a big fan of Gwen's since the mid 1990s when "Just a Girl" hit the airwaves. I have always been envious of her stellar ab muscles. In her recent Marie Claire interview, Gwen lamented that her busy life (mother, singer, designer, etc.) had forced her to give up working out so much over the past year or two, but I really don't believe her because she was looking pretty ripped onstage a few weeks ago at one of Gavin's gigs. During the same interview, however, Gwen admitted that her life's been super hectic since she began recording the new No Doubt album. She said, "Every day I fail at something. Every day someone is suffering because I'm doing all these things." Now a new story in this week's Star poses the theory that Gwen is about overdue for a nervous breakdown: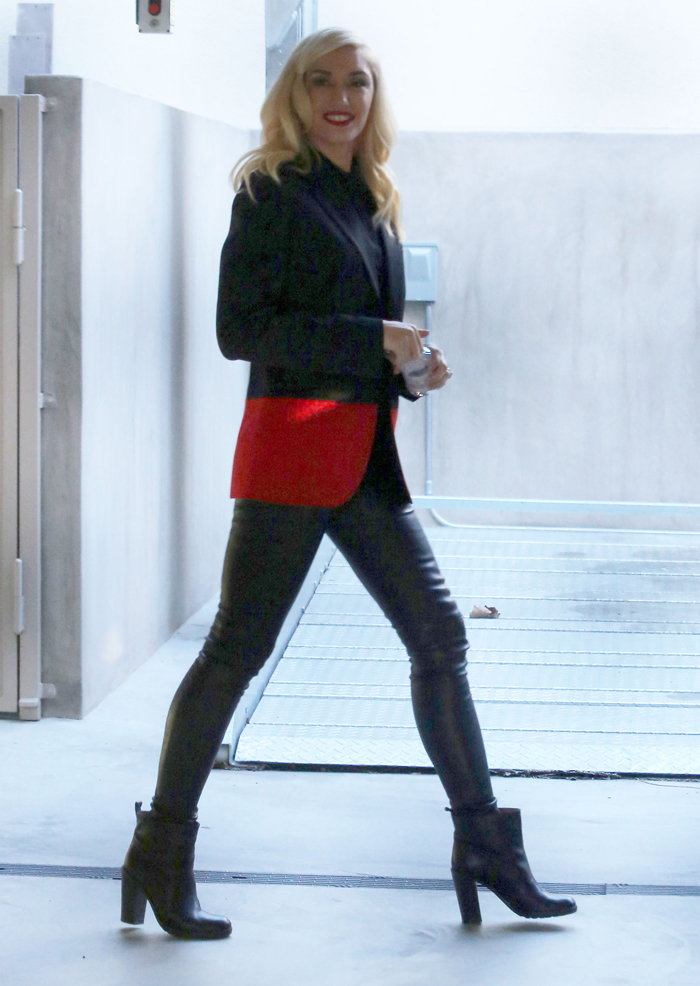 Outsiders might envy Gwen Stefani, considering how much success she's enjoying these days. Her band, No Doubt, is now preparing for a comeback tour after releasing a critically acclaimed album, Push and Shove, that debuted in the No. 3 slot on the Billboard charts. The mother of two is also managing three thriving clothing lines while pushing forward on her solo music career — all with the support of her loving husband, Bush frontman Gavin Rossdale. But those close ot the pop star and fashion icon say that she's in way over her head — and if something doesn't change fast, she could crack under the pressure.

Gwen's loved ones are concerned that the grueling rehearsal schedule for No Doubt's 2013 tour will be the straw that breaks the singer's back. "Gwen is a complete mess right now," and insider reports. "She can't keep up with everything. She gets no sleep, and she cries constantly because she feels like she's letting Gavin and the kids down by not being with them as much as she should." Tony Kanal — No Doubt's bassist, who dated Gwen for seven years before her marriage — has also commented on how overwhelmed she is. "She thinks she's failing at everything," he has said. And Gwen herself has hinted at her anxiety during a recent interview: She described all the projects she's working on and then admitted, "It is ridiculous. It's impossible!"

The pressure seems to be wreaking havoc on her physical health as much as her emotional state. "Her stomach is in knots, her back aches constantly, she can barely move her neck and she has headaches nonstop," the source says. "Her acupuncturist is at her beck and call night and day because she's always in so much pain."

But acupuncture doesn't work miracles — and the stress may be destroying her most valuable asset: her vocal cords. "Her exhausting nonstop schedule is taking a huge toll on her voice," the mole reports. "It has been coming and going in a way that scares her and her bandmates."

It's also terrifying to her husband. The rumor mill was recently abuzz with gossip that Gwen's marriage was in trouble after she and Gavin were spotted coming out of a therapist's office together — but, according to her pal, the truth is that Gwen is the only one in counseling, and Gavin goes along to be supportive." He begged Gwen to get therapy and is begging her to ease up before she has a major breakdown," the insider explains. But with so many committments that she can't back out of, a breakdown may be the excuse she needs to finally get some reat.
[From Star, print edition, January 7, 2013]
I can easily believe this story. Gwen is burning several candles at both ends. Honestly, I have no idea why she decided to join up for the No Doubt reunion except that the band really doesn't exist without her, and she'd probably feel guilty if she turned down Tony Kanal and the other boys. But it isn't as if Gwen has to be a singer, a rock chick, and a clothing designer in order to support her family, you know? (Note: I'm not asking her to give up her career, but she doesn't have to do all if it if she doesn't have the energy. She could afford time time off from either singing or designing, and the world won't collapse.) Her sons would certainly have been able to attend college without this No Doubt tour, and I think it's a case of Gwen needing to learn to say "no."
Here's one very obvious reason that this story could be true. Gwen has recently admitted to touching up her platinum hair color up every 10 days, and it's very important to her that no one ever see her dark roots. In this photo taken about a week ago, Gwen's roots are definitely showing.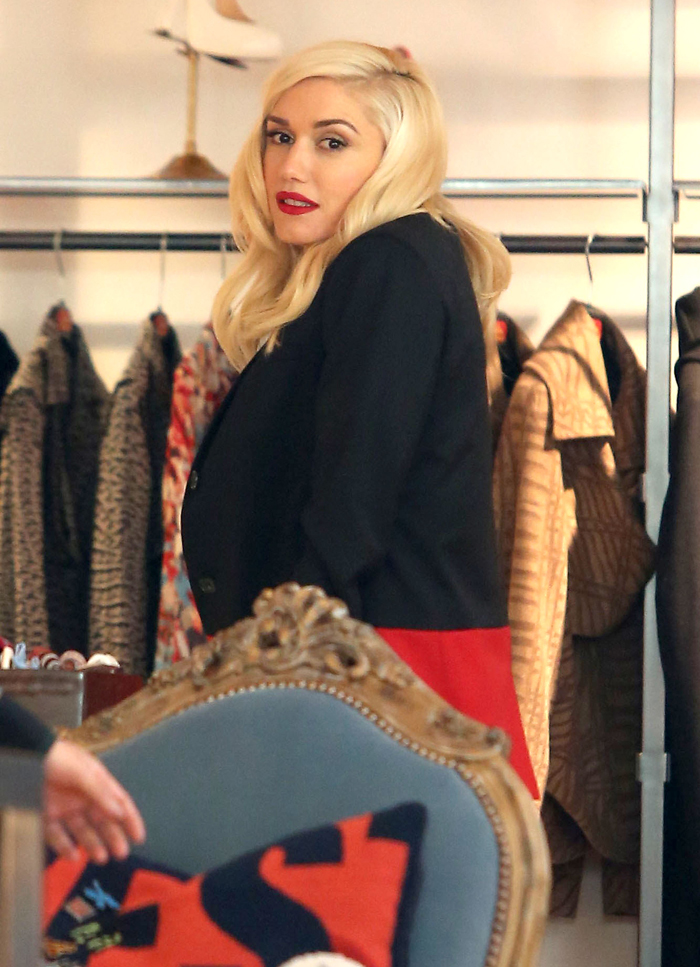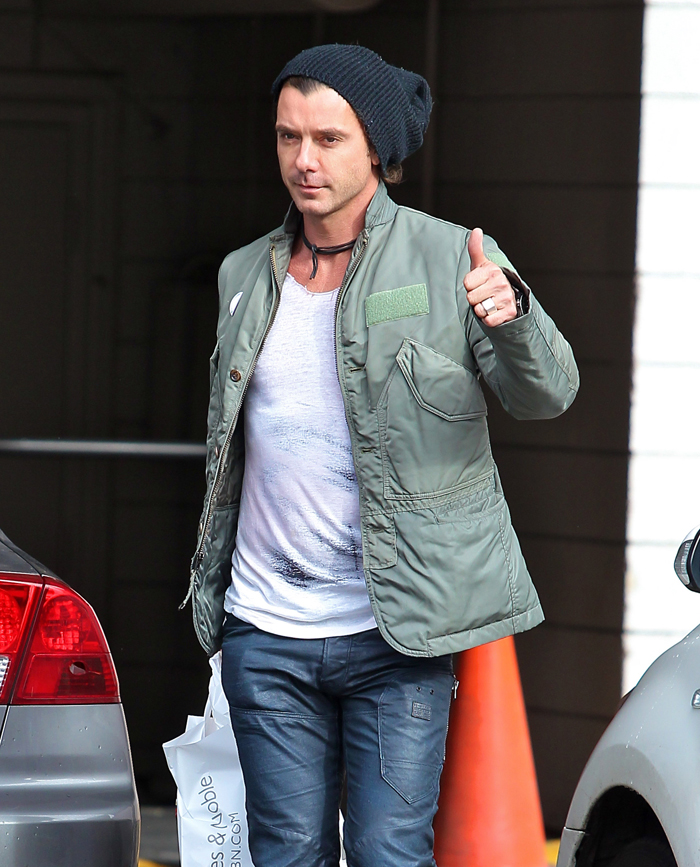 Photos courtesy of Fame/Flynet