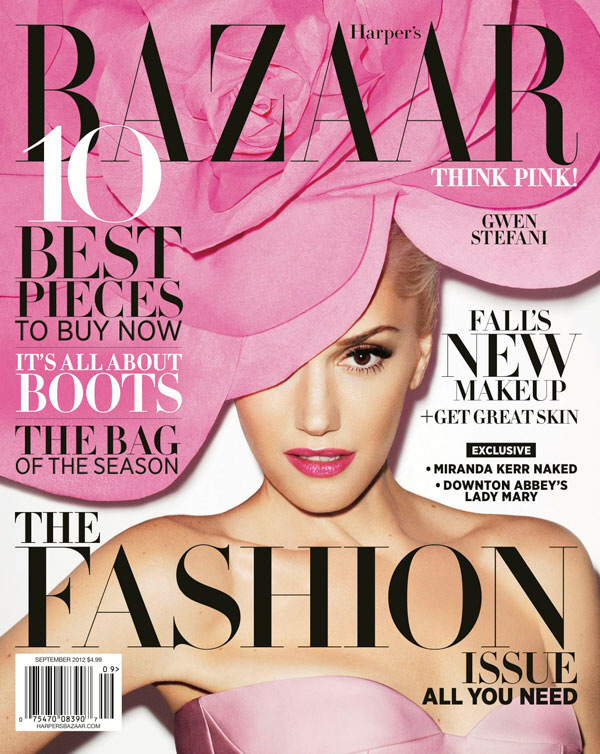 Gwen Stefani is the cover girl for the September issue of Harper's Bazaar, because if there's one trend for this year's September issues, it's "eh, just choose anyone, no matter how overexposed they are." Not that I'm hating on Gwen – I like her okay. But she's not some huge "get" for HB. The photo shoot is particularly bad too. Guess who did it? Terry Richardson. He made her look so washed out and Botoxed, although I have been wondering lately if Gwen is actually tweaking, so maybe we can't blame Richardson for everything. You can read the full interview here, and here are some highlights:
Kingston loves superheroes: "He just discovered superheroes, and he's obsessed. It was like when I discovered Marilyn Monroe: ob-sess-ed."

Her mom schedule: "It's, like, the real deal, dude," she says. "It's superfun being a mom, but it's hard too. Finding that balance between work and family is the hardest thing I've ever done—by far."

Loving dress-up: "I've always been a girl who loves to dress up," says Gwen. "I already put my makeup on twice today: I put it on to take my kid to school, and then I went home, washed my face, and put it on again to have lunch with you." She even wears it at home because "I like to make my husband like me more," she says, laughing, "and he likes it when I'm wearing makeup."

Her hair: Gwen recalls how she felt when, at the age of 25, she spent eight hours in a hair salon in Long Beach getting her coveted white-blonde locks. "It was like I'd unlocked the key. I remember feeling like, 'I have arrived. This is me. Finally.'" The red lip came when her grandmother gave her a crimson lipstick when she was in high school. "I remember sitting in my ghetto, beat-up Honda Prelude and putting on that lipstick in the rearview mirror and being like, 'Uh-huh, I like that. That's the s–t right there.' I never stopped after that."

Her body: "I hate talking about my body [all the time]; it's ridiculous," she says, referring to the number of times someone has asked how to get her six-pack abs. "There is no secret: You just have to eat healthy, work out, and torture yourself!" Jumping around onstage for a few hours for thousands of screaming fans is great cardio, and she says she hits the gym when her hectic mother-of-two schedule allows. "But it's more for my brain than it is for my body."

On how she stays sample-size: "I like to wear clothes too much, so I try to keep focused."

Roots and hair dye: "Do you think Marilyn Monroe had to talk about this?" she asks, smiling. "Well, I heard she did hers with a Q-tip every 10 days, so I try to follow Marilyn's rule." I mention that she's never been photographed with dark roots, and she points to the houndstooth fedora she is wearing. "And you'll never see me with roots either."

The first tour with No Doubt: "I did my own makeup, my own costumes; I did everything myself. I didn't even know there were stylists." She made many of her now iconic music-video outfits, though she admits that she used a glue gun as much as a sewing machine. "I remember there was a point when all the guys were sitting around eating pizza, and I finally said I needed some help. So I got an assistant, but guess who he was? A roadie. He took my first Prada dress, which Gavin had bought for me, the first designer piece I ever owned, and he washed it, and it came back this big," she says, indicating Barbie doll—size with her fingers.

How she seems so "unaffected": While her onstage persona is a jumping, screaming extrovert, in her real life she is, in her own words, "passive. I was never a rebel." She credits that to her relationship with her strict Roman Catholic parents, who she lived with, unbelievably, until she was 25. "When I started dating Gavin, I was still at my parents' house. Yeah, it's a little weird," she says with a smile. (She had a midnight curfew when she went to the prom with Tony Kanal, her bandmate and then boyfriend.) "My mom calls me a peacemaker. I want everyone to be happy. But I have a superbig opinion on everything artistic that I do. I know what I like and I know what I hate—that part of me isn't passive."

She doesn't care about gossip or fame: "That someone would say something untrue or bad about me doesn't bother me. It's like water off a duck's back." This attitude applies to everything from best-dressed lists to rumors that her marriage is falling apart. "None of that stuff matters. There's something in me, being this passive person, that those kinds of things don't upset me. I know they can say anything; they can just make something up. But what are you going to do? It's not part of my reality, so it's okay."

She was never in it for the fame: "We didn't even do it because we were trying to make it. Now everybody wants to be famous. It doesn't even matter what you do," Gwen says. "Let me tell you how that first record happened: My boyfriend had broken up with me and I was devastated, so I wrote all these songs. I didn't even know I could write. I was just a girl who was in love with this guy, then suddenly I'm a songwriter, and I've gotten you back so good. I went from being nothing, from being an ordinary, nerdy girl, to having power."
She comes across as a nice, grounded person, and I have no real problem believing that she's this chilled-out and peaceful in her real life too. However, I do think she cares about gossip, especially when it's about her marriage to Gavin Rossdale. They might be strong right now – and maybe they've always been strong – but I believe some of the negativity affected her and that she and Gavin responded by putting themselves out there as The Strong Rock-Star Couple (posing for photos all the time). Also, I still don't buy that Gavin prefers Gwen with all of her makeup. She's always said that he likes her made up, but I think she just needs to admit that she does it for herself, because she loves makeup.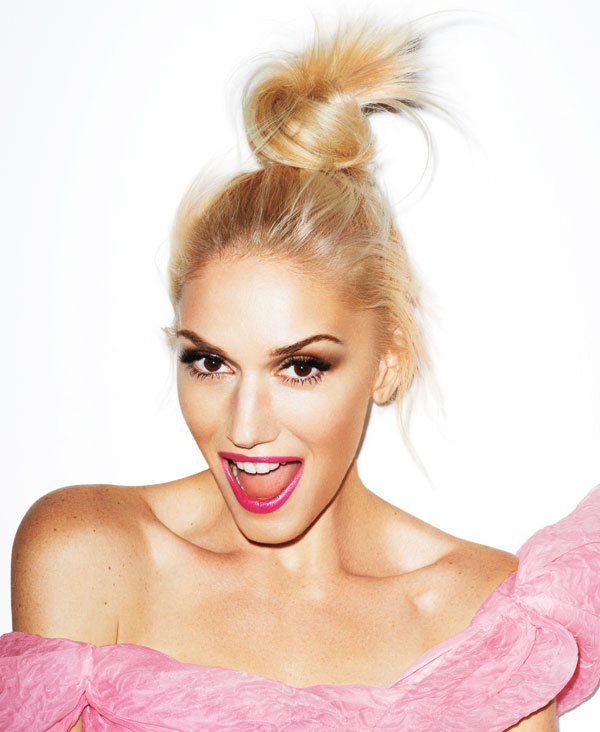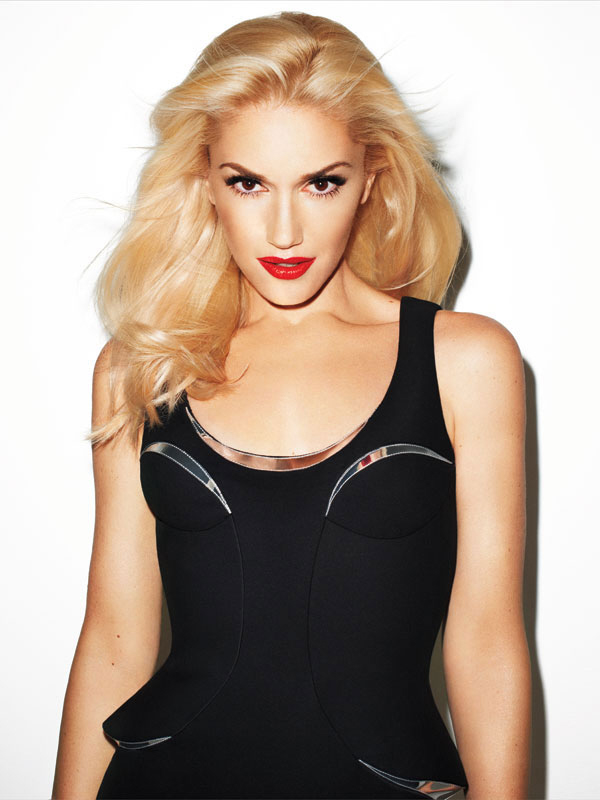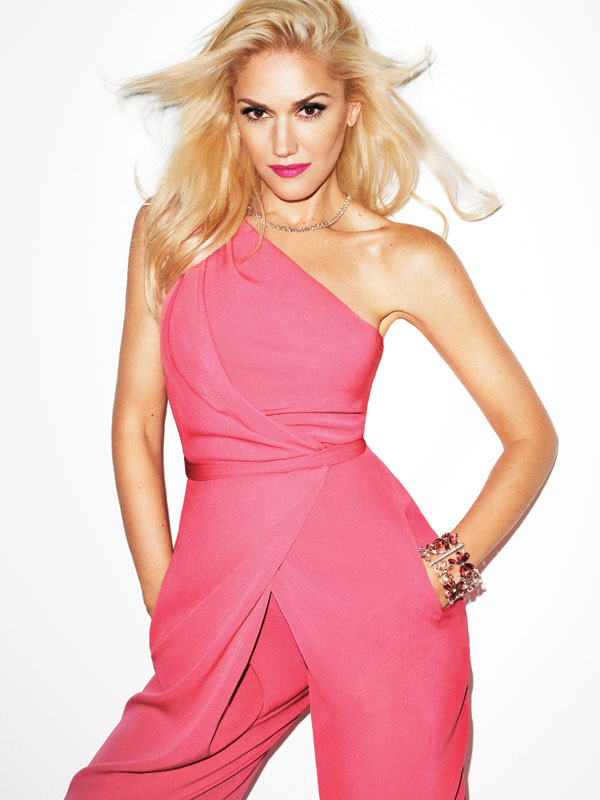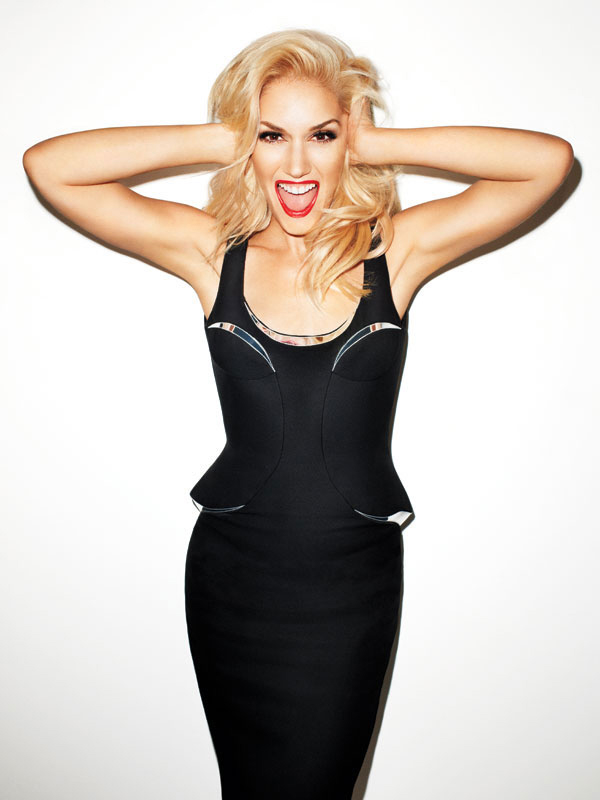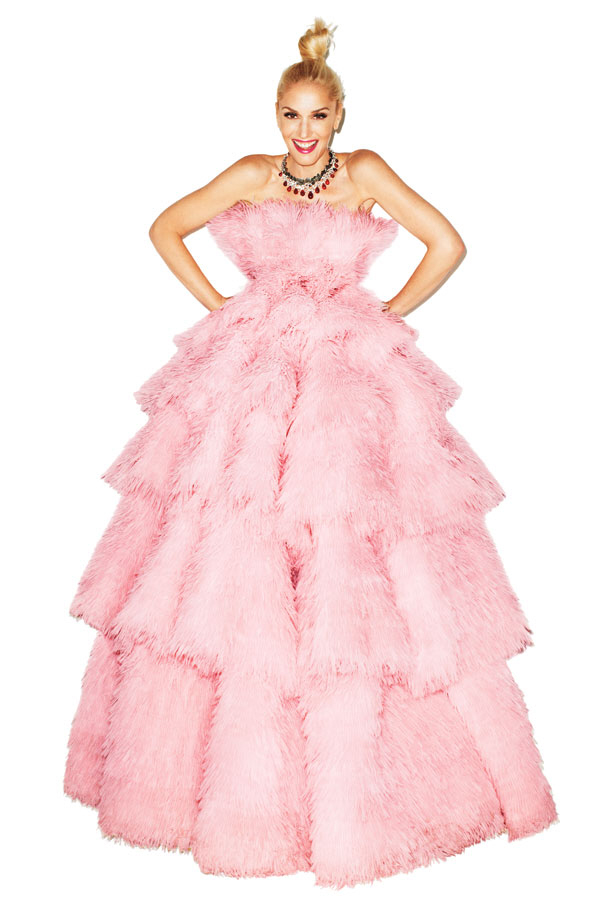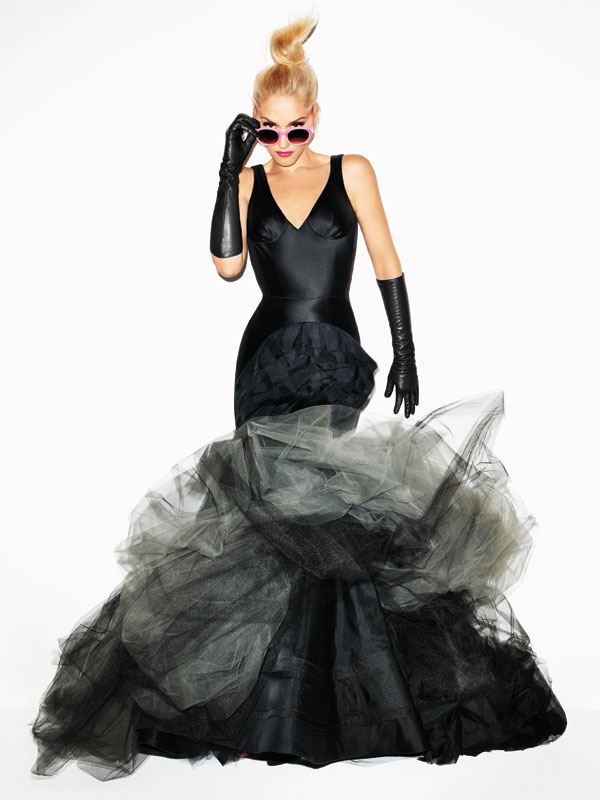 Photos courtesy of Harper's Bazaar/Terry Rirchardson.