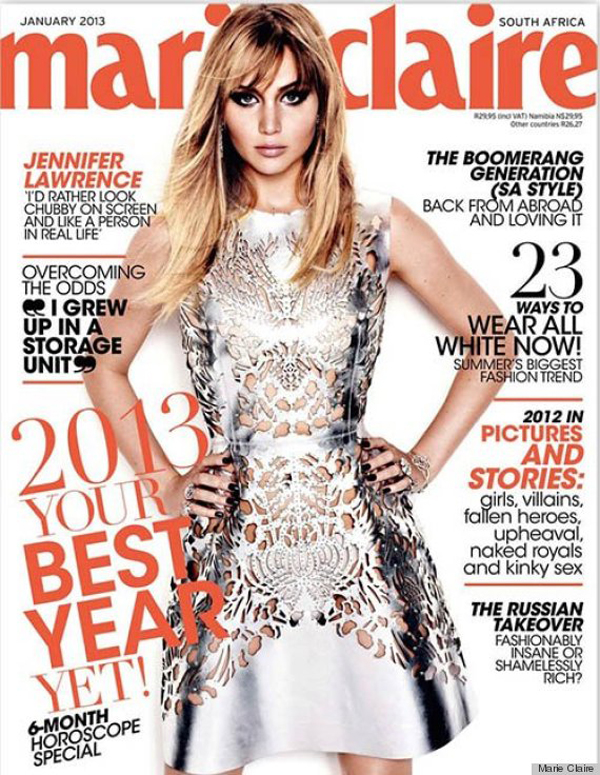 Jennifer Lawrence covers the Janurary issue of Marie Claire South Africa (I know, I didn't realize they had a separate issue for that country either); and I guess this dress is a cute take on holiday tinsel and the flashiness inherent in any New Year's Eve party. Oddly enough, this dress doesn't seem obscene even though we're seeing JLaw's white bra and panties underneath. Maybe the undergarments are actually part of the dress, but the entire ensemble actually doesn't seem that risqué on this cover. For whatever reason though, Marie Claire has chosen to heavily photoshop Jennifer's face — she really doesn't look like herself here.
In the interview, Jennifer discusses how boring she is because she'd rather sit around, eat junk food, and watch reality television than head out to the coolest Hollywood hotspots in existence. See, this is what Lindsay Lohan never figured out — staying at home and acting like a slob in the privacy of one's own home is infinitely preferable to partying until dawn in nightclubs and then calling in sick to work the next day. It seems like common sense, doesn't it? Oh well. Also, Jennifer is talking about her body yet again. Honestly, I think journalists are just primed to ask questions about her physicality, and she merely answers their questions, but I know some of you are really sick of her discussing the topic. Here are some excerpts:
She's not that exciting: "I don't like going out that much. I'm kind of an old lady. After it's 11, I'm like 'Don't these kids ever get tired??' When I'm out, I think about my couch. Like, 'It would be awesome to be on it right now. I bet there's an episode of 'Dance Moms' on. Am I missing a new episode of 'Keeping Up with the Kardashians'? I'm just stressed by the idea of missing them. I like people to come over to my place. It's like a reality TV show cave. I just learned how to work TiVO. That changed my life. Reality TV is my silver lining. At the end of the day there's probably nothing that makes me feel better than junk food and reality TV"

Her body, again: "I'd rather look chubby on screen and like a person in real life."

She doesn't like red-carpet events: "They are not fun. I'm really bad at walking in heels. I'm more of a flats girl and I don't like people shouting at me, and that's pretty much all it is. Just screaming."

Her New Year's resolution: "My New Year's Resolution is to stand up for myself. It's hard for me. Nobody wants to be disliked. You always want to be polite and be nice. I tried to find a balance in saying what I mean and still being nice. I can't do it. I have this 'okay' attitude and everything. I end up allowing myself to get walked over and resenting it."
[From Marie Claire]
It sounds like Jennifer has more in common with Kristen Stewart than most of us would care to realize in that they both dislike walking the red carpet. The important difference between the two starlets, however, is that Jennifer realizes that appearing gracious and semi-excited to be in attendance at premieres is part of her multimillion-dollar job, and KStew just can't miss the opportunity to get in several of her trademarked eye rolls while posing for the flashbulbs. Jennifer realizes that part of being an actress is dealing with the paps and other assorted flotsam, so she's just decided to make peace with that fact. Meanwhile, it's almost certain that Jennifer will be nominated for an Oscar for her role as Tiffany in Silver Linings, and I can't wait to see what she wears during the upcoming awards season. Hopefully, her hair and makeup people will be better than the ones she used while screening SLP.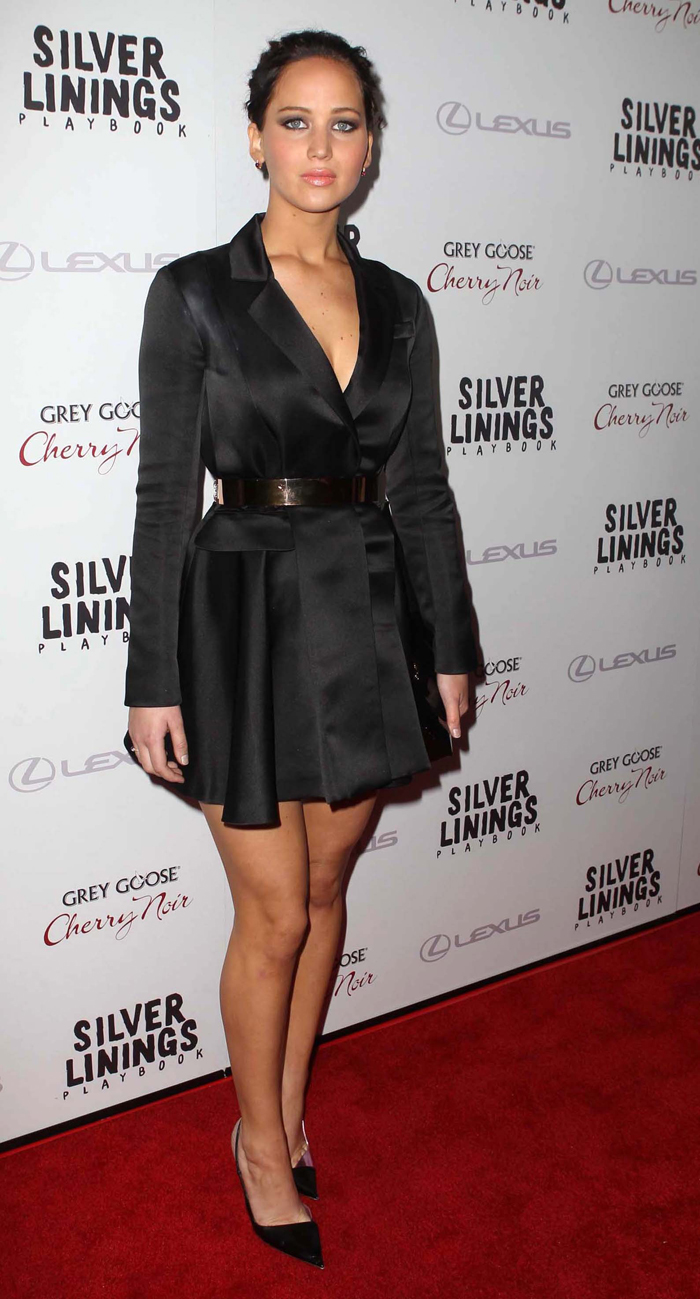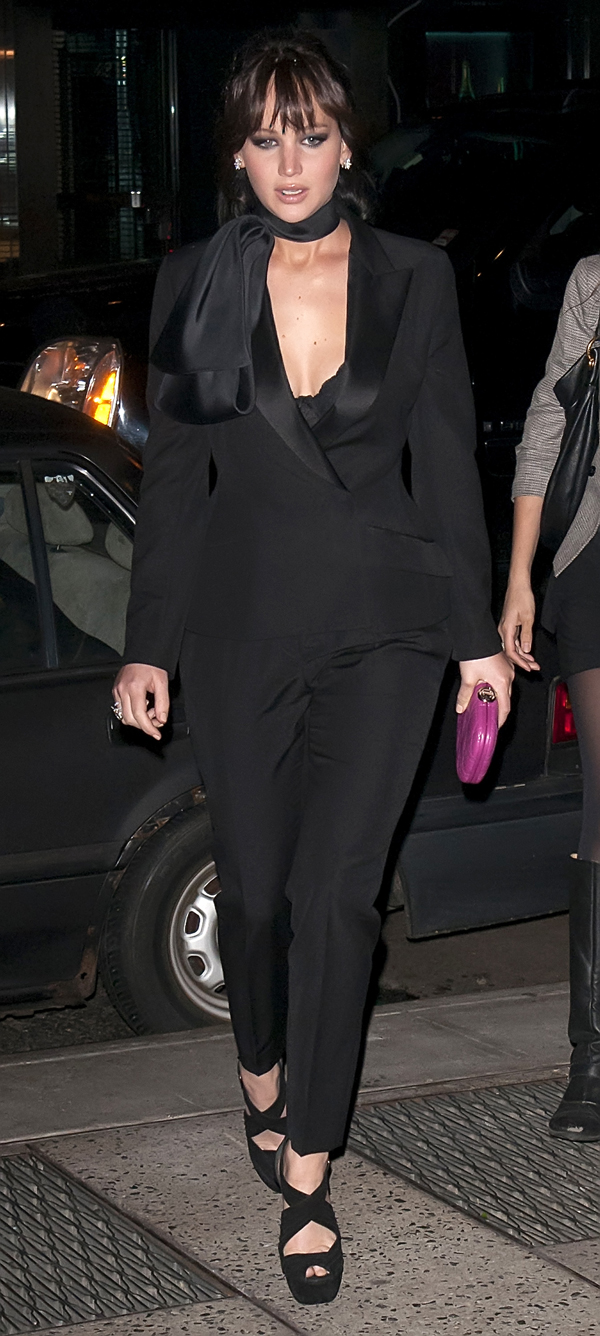 Photos courtesy of Fame/Flynet and WENN