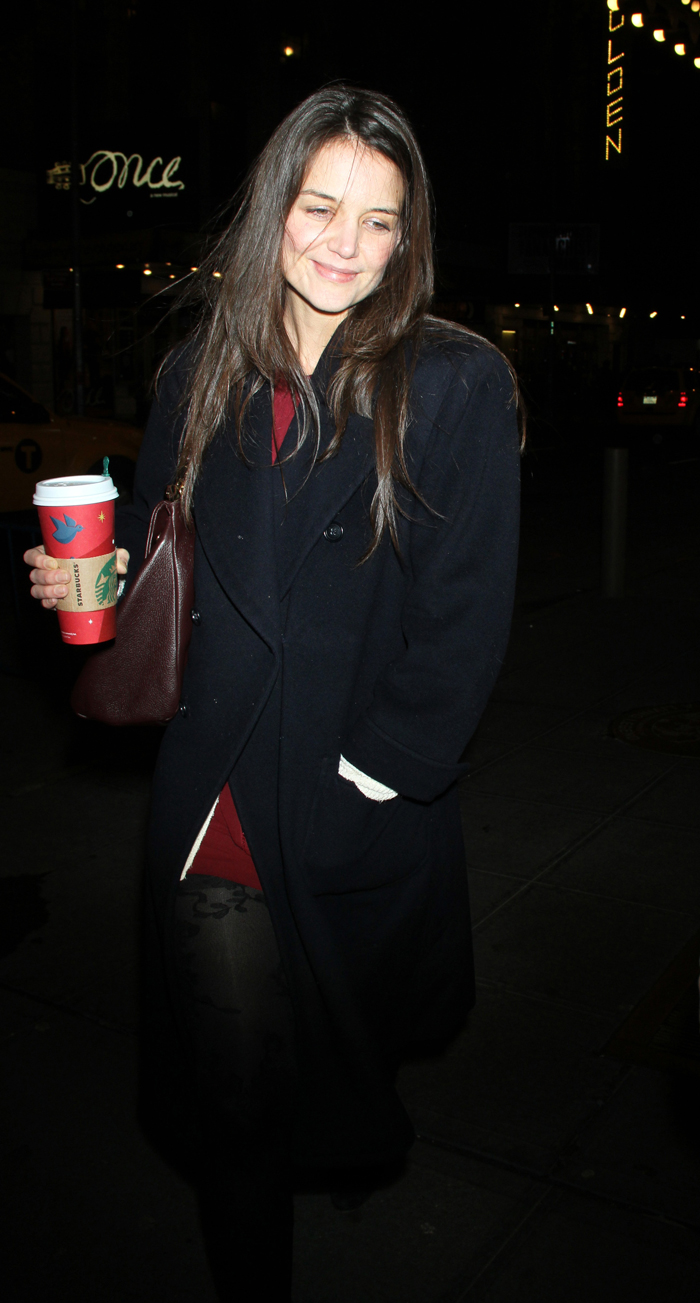 Well, this is awkward. Katie Holmes' grand return to the stage with Broadway's Dead Accounts has been cut short after a mere month and nearly two months before the play was scheduled to end. The reason? Extremely poor ticket sales. These photos were taken last Thursday before the announcement was made, and now Page Six is reporting that Katie also had the misfortune of encountering a drunk Bethenny Frankel at a pre-Chrismas party, and Bethenny was slurring all over the place and ran up to Katie to demand the name of her divorce lawyer. Poor Katie. She doesn't need that crap.
Now back to the business at hand. Even though it pains me to do so, I guess since I freely handed the blame for the bombing of Rock of Ages to Tom Cruise, it's only fair to ask whether Katie should bear the brunt of the blame for her play's (very) early closing. Obviously, Katie was intended as the star power of the production while two-time Tony winner Norbert Leo Butz was widely recognized as the true talent of the show. Nobody has ever accused Katie of being a great actress, but they did expect her to put asses in seats for this play. Sadly, that didn't happen, but I don't think the play's title or its subject matter (corruption of Wall street, city vs. country living) was a good match for a holiday run either. Further, the reviews for the play itself have only been lukewarm, and Broadway tickets are so expensive that people aren't really willing to spend a few hundred dollars (or more) on a play that is just okay.
By the way, Tom Cruise is probably chuckling over this new wrinkle in Katie's professional life, but his Jack Reacher isn't doing so hot at the box office either. After two weeks, Tom's lift-wearing brick sh-thouse has only grossed $44.5 million, which isn't exactly the action-hero success that Mission: Impossible 4 suggested was entirely possible on a repeated basis. Is the failure of Reacher Tom's fault? Absolutely. This is what happens when Tom Cruise purchases the rights to very beloved source material and then craps all over it. Don't even try to tell me that the Sandy Hook tragedy turned people off to gunplay in movies because the hyper-violent Django Unchained (which has already grossed $64 million in less than a week) is on track to be Quentin Tarantino's biggest box-office hit thus far. As for Katie's Dead Accounts? Here are the details:
Katie Holmes Broadway play Dead Accounts is dead in the water.

The show — by "Smash" creator Theresa Rebeck — opened last month and will shut Jan. 6, after just 44 regular performances. Reports said the show's bringing down the final curtain a full seven weeks ahead of schedule.

"I am extremely proud of this production and the cast… we are all sad to see Dead Accounts end on Broadway," producer Jeffrey Finn told theater Web site Broadwayworld. "I look forward to working with this remarkably talented cast and creative team again very soon."

Co-starring Norbert Leo Butz, the play opened Nov. 29 to mixed reviews, and reports say the show's closure is due to poor ticket sales.

The Post's theater critic Elisabeth Vincentelli said of Holmes' performance: "She's got one note – shrill, impatient – and yells it at top volume, making a vein bulge on her slender neck," and, "with its cardboard characters and implausible developments, Dead Accounts feels like a rough first draft."

The show was touted as a comeback for Holmes after her high-profile, bombshell divorce from Tom Cruise earlier in the year. But, it seems, her star power wasn't enough to overcome critics' disdain and keep ticket sales at the Music Box Theatre going.
[From Page Six]
So is the early closure of Dead Accounts on Broadway really Katie's fault? I don't know. The public overwhelmingly supports Katie for the righteous way she dumped the spawn of Xenu, but that doesn't mean automatic ticket sales. Another complicating factor is that there's so much more being offered right now on Broadway in terms of Hollywood star power that really does put asses in seats. So far, Scarlett Johansson's turn as Maggie the Cat in Cat on a Hot Tin Roof has resulted in $843,215 for its first seven preview performances. Al Pacino is also killing it on Broadway with a Glengarry Glen Ross revival that brings in $1.2 million in weekly ticket sales. Honestly, I know that Katie has spoken before of her love of being onstage, but I don't think Broadway is the place for her. You know what she really needs to do instead? Go back to television. The small screen loves Katie Holmes.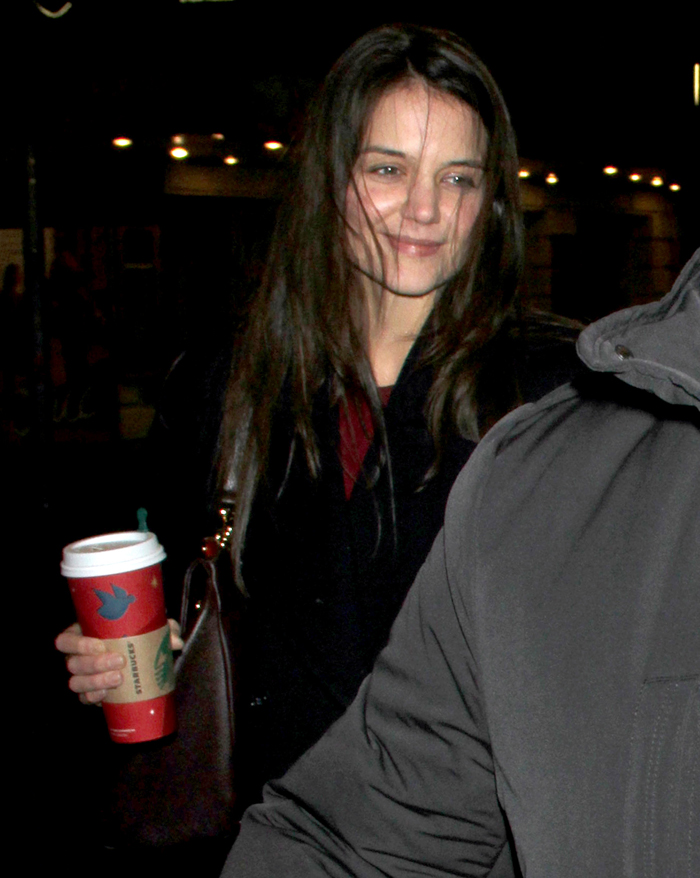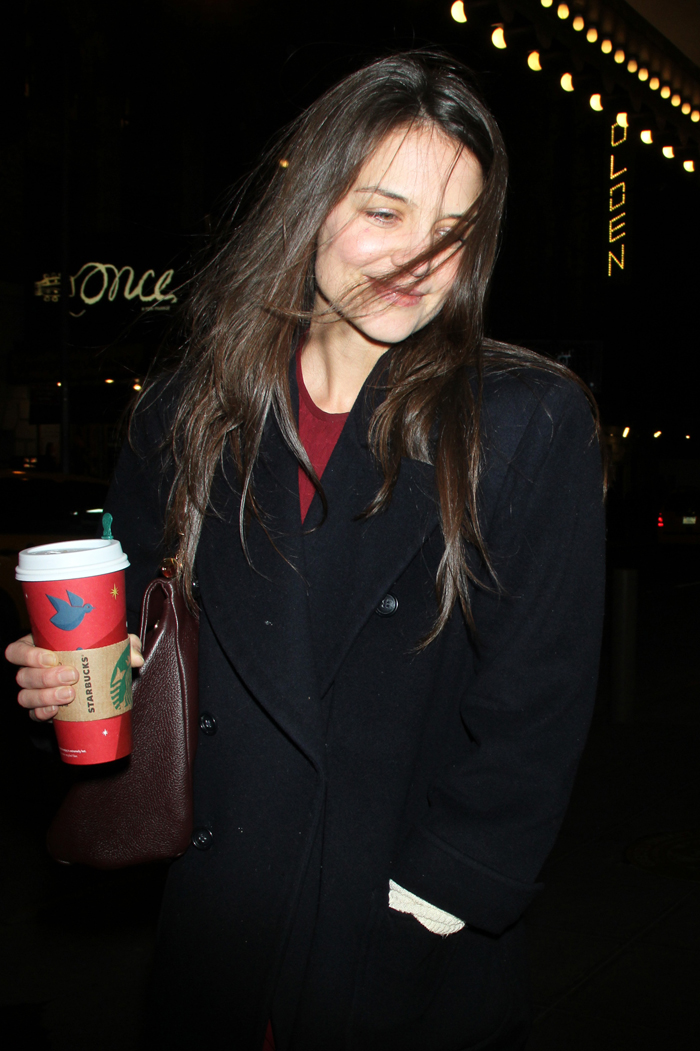 Photos courtesy of WENN