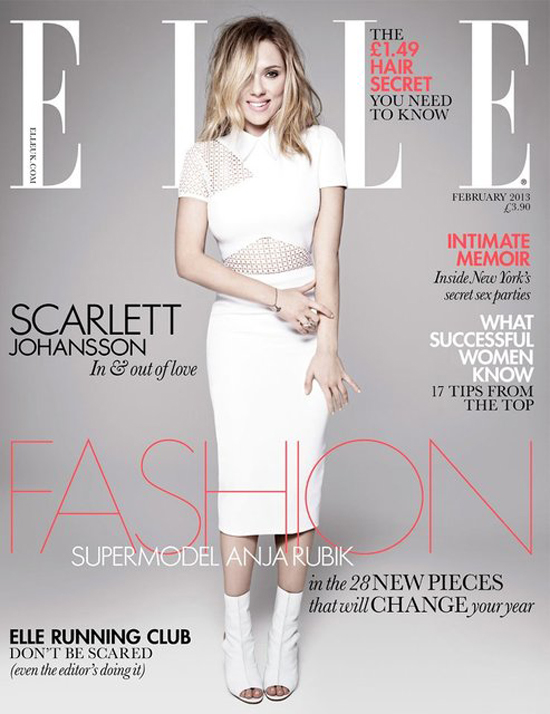 Scarlett Johansson covers the February issue of Elle UK to promote her role as Janet Leigh in Hitchcock. Exactly what is going on with her hair on this cover? Obviously, I'm a fan of the bedhead look, but it's got no place on an otherwise sleek cover filled with neutral colors and fug, peep-toed booties. This look is neck-to-toe Victoria Beckham, and it's nice to see that Vicky is now actively marketing her clothing to the greater-than-size-0 market. Other than the out-of-place hair, the editorial is pretty gorgeous and flattering to ScarJo's figure. I really do like this blue and white satin dress with a bit of sexy thigh flashing through an asymmetrical sheer panel. The interview isn't bad either, and here are some excerpts: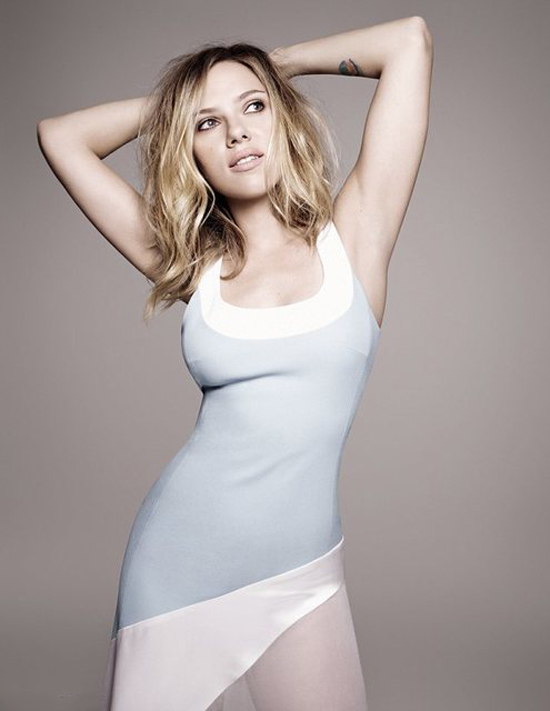 On turning 30 soon: "I feel like I've been transitioning from young woman into womanhood for a very long time. Now as I approach 30, with the last few years behind me, I feel like growing pains are behind me. It's just nice to feel happy."

About the phone hacking of her nude pics: "It was a crazy time. I had some problems in my family and publicly, my relationship — all that stuff. It was like 'Oh man what next?' But life has ebbs and flows, don't you think? Things are more manageable now, but I'm sure something will crumble. I keep it together. I am relatively composed but I can also lose my s***. I'm pretty controlled, and probably controlling too, for better or worse. I'm working on it."

She's not looking to get married again: "I got married when I was young and it was incredibly romantic and I liked being married, actually. But it is different. It's hard to put into words. To me, being in a functioning relationship doesn't mean you have to be married. I never think about marriage. Is that weird? The only time I ever think about it is when people ask me. 'Would I get married again?' It's really not important to me. It has no relevance to me right now. I'm not having kids any time soon, I'm in a nice relationship, I'm working a lot and, like I said, it's not important to me."

On dating outside of the acting pool: "I think there are challenges whether that person's in your profession or not. It's nice that [fellow actors] can relate, and you have a shorthand when you're talking about work, but that can also be monotonous. For me, most importantly, I look for a partner who is creative. I like people that have a colourful way of looking at things, that are inspiring and like art, music and film'."

On her unwitting "sexy" image: "I think any woman who is curvy and wears a gown to an event is, like, super-sexualised. I mean, at the time I was 18, 19. I was young. I've always been curvy. It runs in the family. Throw on an evening frock and it's like all of a sudden you have boobs and everyone is like: 'bombshell!' Instantly it was: 'The new Marilyn'."
[From Elle UK]
Okay, I can appreciate that Scarlett is still really tired of being considered a sex symbol, but there's no way she can claim to have not channelled Marilyn Monroe in a recent Dolce & Gabbana advertising campaign. Although I guess she may have had no input in her styling for those shots, but I still think Scarlett must have at least been flattered by the comparisons during her earlier career. Now she's wary of anyone even noticing that she has boobs.
As for Scarlett's comments about marriage and how she's not about to go there again (at least not anytime soon) as well as her thoughts on having kids … well, I guess we really now know what happened to her and Ryan Reynolds, right? He was probably disappointed that she didn't want to give up her career and start having babies right away, and I guess they (like so many other couples) just didn't know each other well enough before getting married. Hopefully, Blake Lively will have better luck in the long run.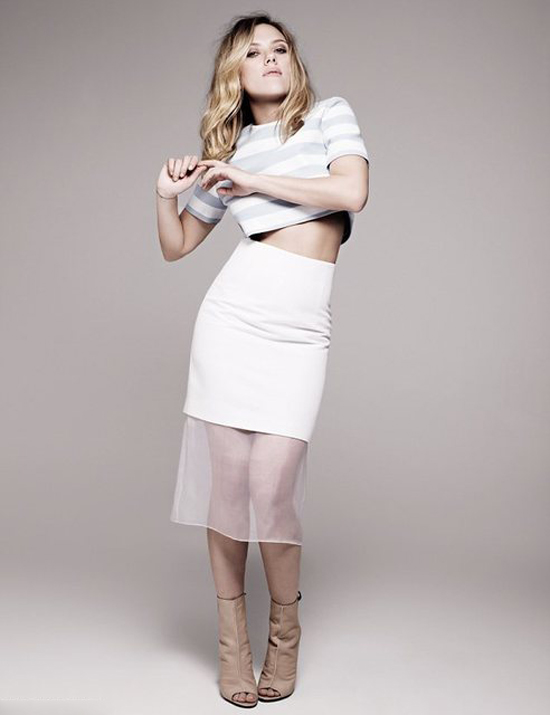 Photos courtesy of Elle UK