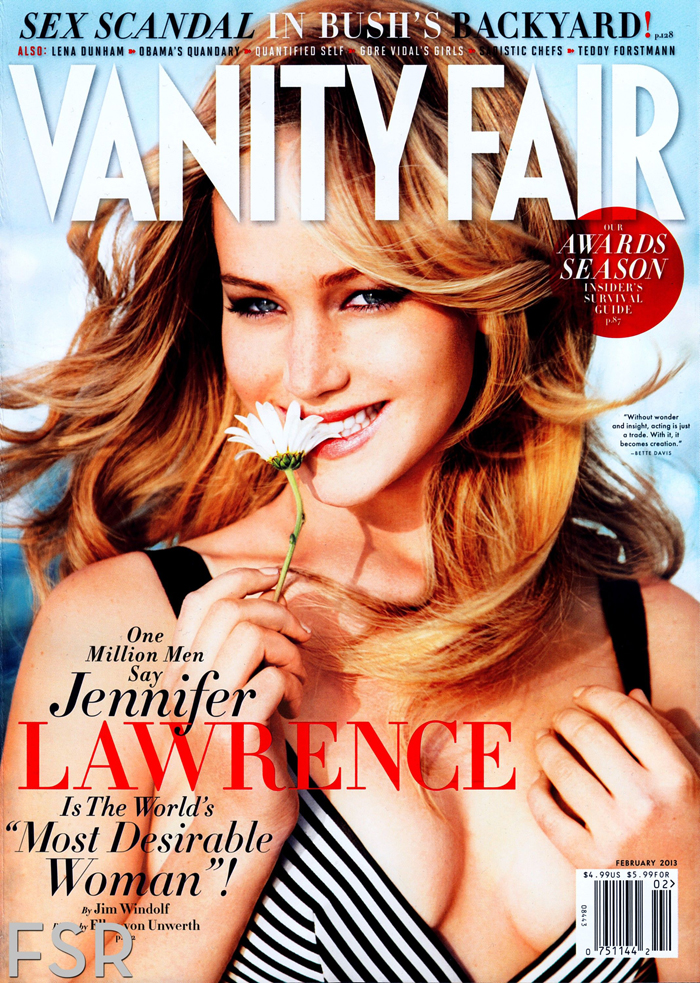 Jennifer Lawrence covers the February issue of Vanity Fair, and wow. She looks kind of amazing here, right? It's such a beachy, fun cover for a winter issue, but while JLaw looks very lovely, she also looks a bit like Bar Rafaeli as well. That's not a terrible thing, of course, but it is a bit surprising because magazines often don't know what to do with Jennifer (which was quite evident even in her recent Vogue UK spread).
Things are about to get even weirder though. Oddly enough, this is the "awards season" issue, and Jennifer seems quite appropriate for the cover since she's already been nominated once for the Best Actress Oscar and will probably receive another nom for her work in Silver Linings Playbook. However, the cover caption doesn't say anything about her talent but only makes mention of how she is "the world's most desirable woman." Now, we should expect this sort of behavior from the lad mags (and indeed, Ask Men did just name Jennifer as most desirable of 2013), but doesn't this seem strange coming from Vanity Fair?
The shoot itself was photographed by Ellen Von Unwerth, who is also responsible for this month's aggressively precious Zooey Deshanel Glamour shoot. With Jennifer, the vibe here seems to be very sex kittenish and almost reminiscent of Brigitte Bardot with big hair and sultry poses. I never really imagined seeing JLaw draped over the hood of a car in a cheesecake booty pose but here she is doing just that.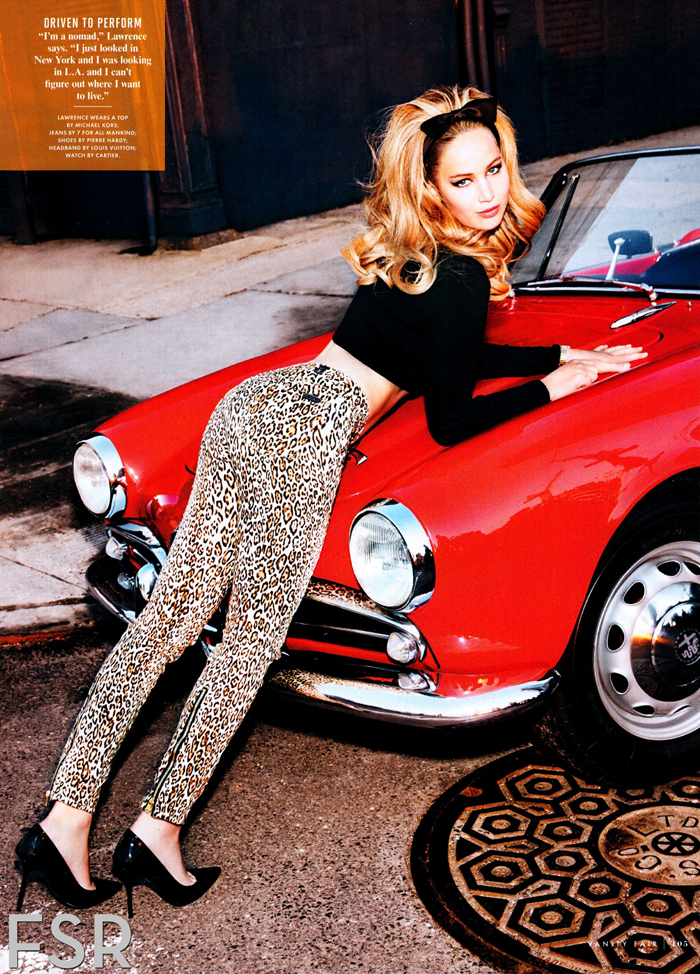 So far, Vanity Fair hasn't released much of the interview, but here are some scant excerpts:
On maintaining balance: "I love filmmaking. I love acting but I don't feel married to just being in front of the camera."

She's trying to find a house: "I'm a nomad. I just looked in New York and I was looking in LA and I can't figure out where I want to live."
[From Vanity Fair]
I apologize for providing little in the way of discussion as far as textual excerpts go, but the full interview has got to be juicier and will hopefully be released soon. One very good thing has arrived in this editorial, however, which is a throwback shot of Jennifer in a red, booby dress much like the Calvin Klein number she wore two years ago. Maybe it is the same dress. Who knows?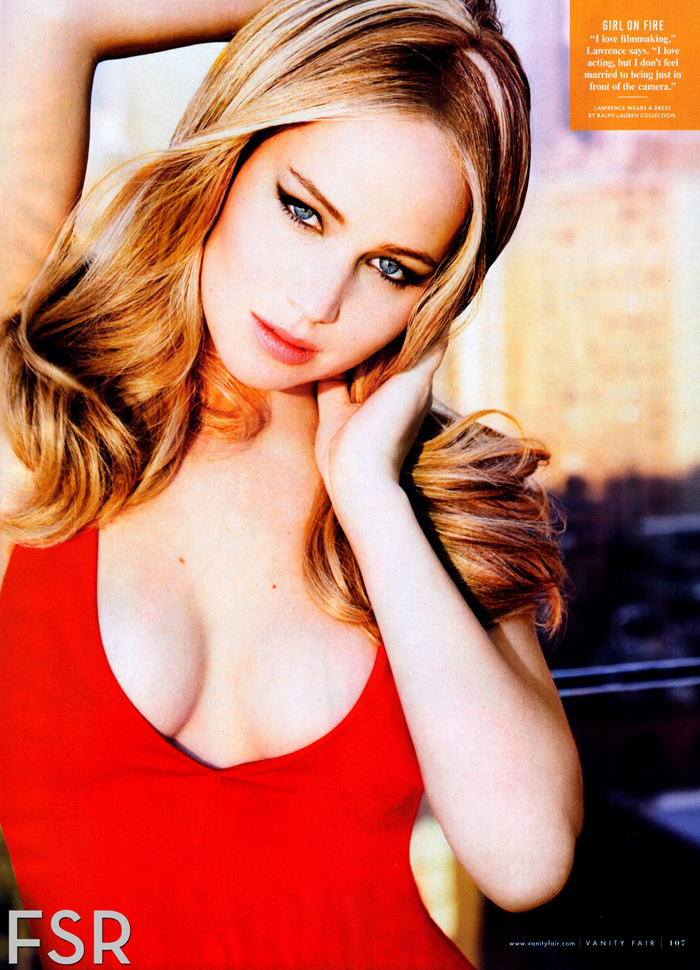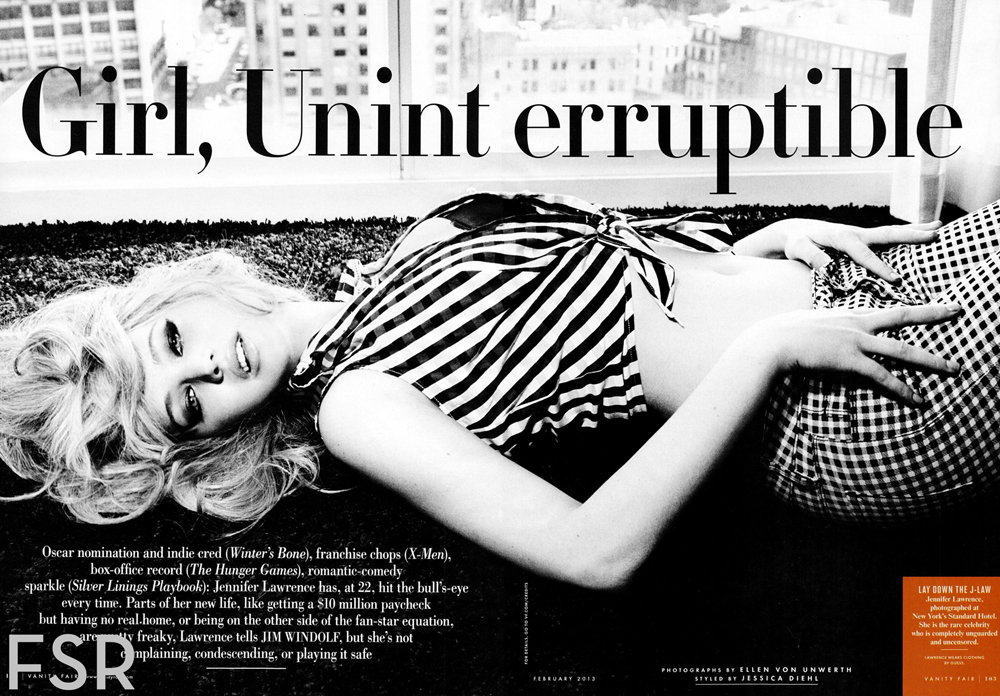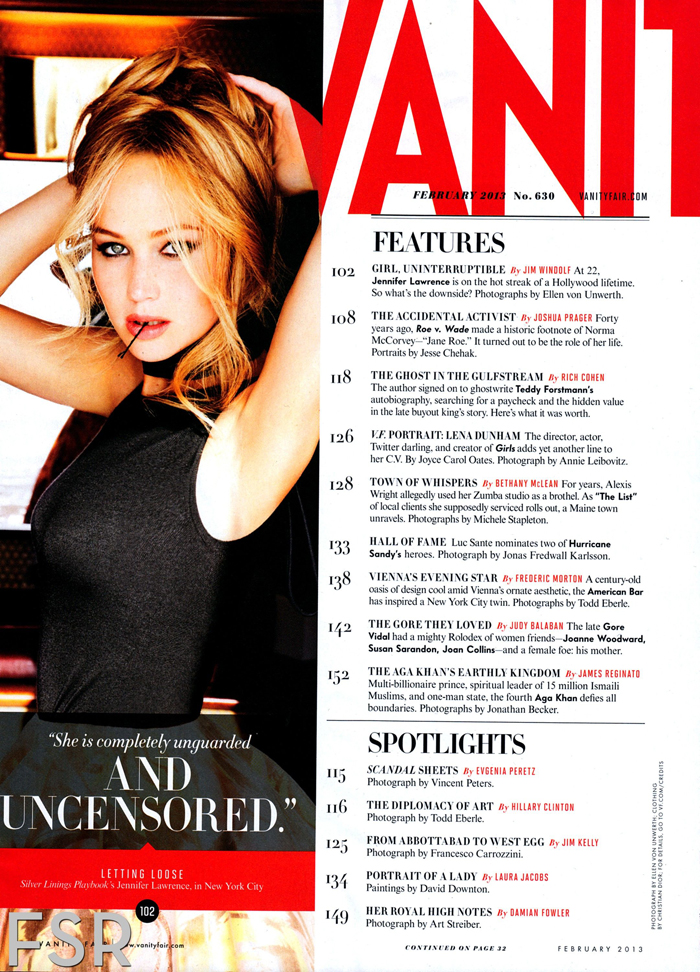 Photos courtesy of Vanity Fair