Jennifer Lawrence appears in the December issue of Vogue Italia, and let's just say that this is a gorgeous spread and worlds above that dreadful, 1970s sweater-heavy Vogue UK shoot from a few months ago. Jennifer looks sultry and healthy and full of sex appeal. Speaking of the latter, our Hunger Games heroine has been named "Most Desirable Woman of 2013″ by Ask Men. In the process, 2012′s winner (Sofia Vergara) has been knocked down to #12 on the list. Here's a little hope for humanity — while Michelle Obama popped in at #33 on the list, Kim Kardashian has fallen to #98.
So is Jennifer truly worth of the "Most Desirable" title? Well, this is what she looks like in a bikini, and she's a very strong and resourceful type of movie star who can kick all kinds of ass in the movies. Jennifer also refuses to be stick thin to conform to Hollywood standards, which is an attitude shared by many other ladies on the top 100 list. Here are Ask Men's top picks: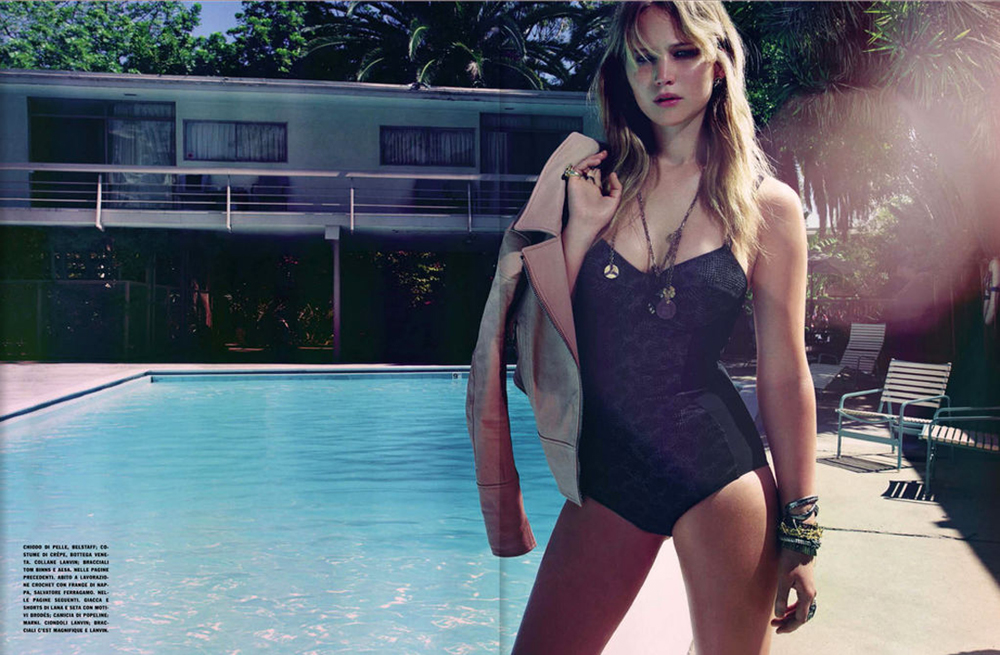 1. Jennifer Lawrence

2. Mila Kunis

3. Kate Upton

4. Rihanna

5. Emma Stone

6. Miranda Kerr

7. Kristen Stewart

8. Jessica Gomes

9. Jessica Pare

10. Michelle Jenneke
[From Ask Men]
It's nice to see an Olympian (Michelle Jenneke) get some love from one of these lad-type mags! Also, I'm not surprised at all to see Mila, Kate, Rihanna, and Amanda on this list, and the lovely Emma Stone probably rules the guy-dork contingent at this point. Jessica Pare is an odd choice (did the new Mrs. Draper really make that big of an impression during the last season of "Mad Men"?), but what I do find absolutely hilarious is the addition of Kristen Stewart to the top 10 portion of list. Have men always considered her "desirable" or is it just the illicit Mini Cooper behavior that did the trick, so to speak?
In this Vogue Italia spread, Jennifer appears sexy in a very subtle way. There's a little bit of cleavage involved in just one shot, but her boobs aren't out everywhere. She looks fashionable and comfortable at the same time, and it's rare to see her reflecting both qualities at the same time. Also, no winged bangs! This editorial shoot is a win.
Photos courtesy of Vogue Italia