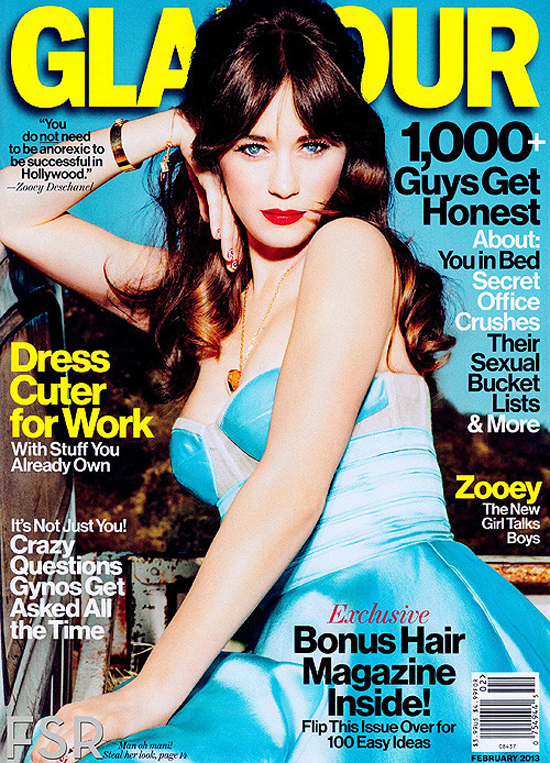 Zooey Deschanel covers the February issue of Glamour magazine as photographed by the legendary Ellen von Unwerth. Let me make it quite clear that I find Zooey to be a very pretty woman, and I appreciate that she is willing to run with a personal style that is so different than most other young actresses. However, I can't stomach Zooey in anything more than small doses. Even though I really loved 500 Days of Summer and Tin Man, she pretty much plays the same part in nearly every movie, and I've never watched "New Girl," but I understand that the show was created and molded around the quirky Zooey persona. Now how about this photoshoot? This shot with the daisy-printed sundress is perfectly lovely.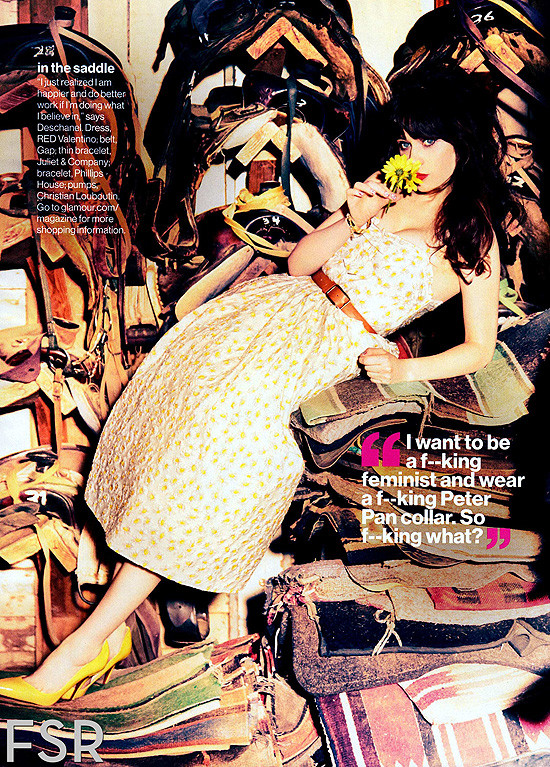 The rest of the editorial, however, doesn't really highlight the clothes but merely features Zooey making wacky, zany faces while embracing cowboys and/or farm animals. Very strange stuff, but I'm sure there's a market for it someplace, right?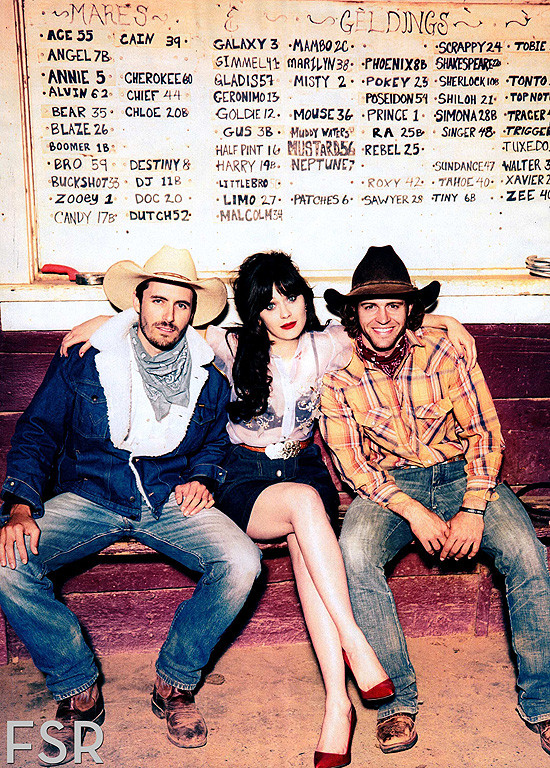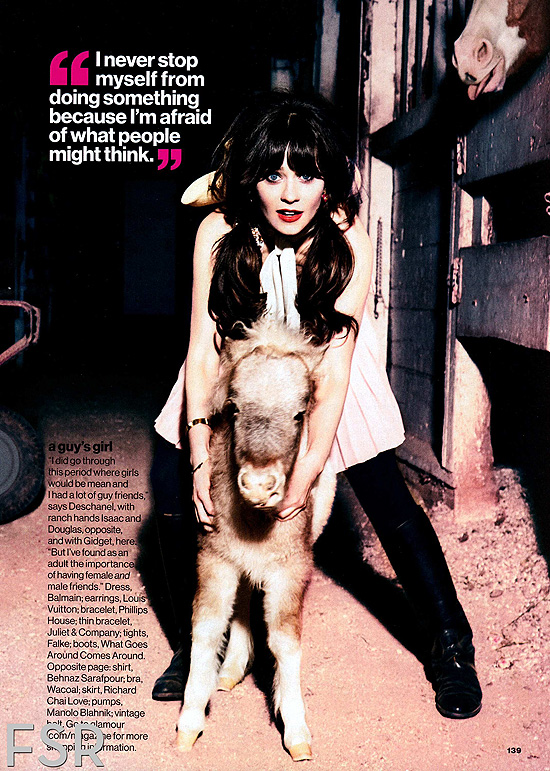 Here are some scant excerpts from the interview, which are basically pullquotes. Perhaps there will be more to come when the full interview is released:
On body image: "You do not need to be anorexic to be successful in Hollywood."

On her career choices: "I never stop myself from doing something because I'm afraid of what people think."

On her girly style & feminist stance: "I want to be a f***ing feminist and wear a f***ing Peter Pan collar. So f***ing what?"
[From Glamour]
I want to like Zooey, I really do. She's so self-deprecating in her humor, financially responsible, and she's clearly serious about her career and isn't falling out of nightclubs and flashing her hoo-ha in the process. I should like her. I will try to like her even though I'd probably get along a lot better with Emily Deschanel in real life. I will try. But this photoshoot is seriously getting on my nerves.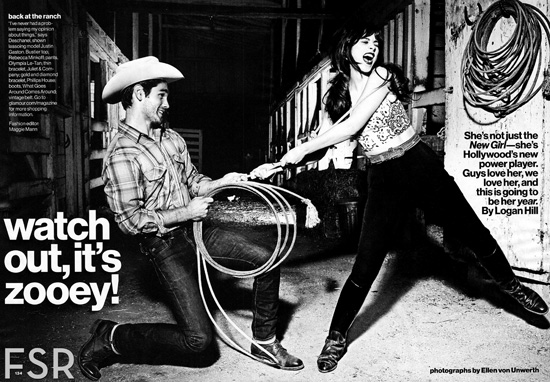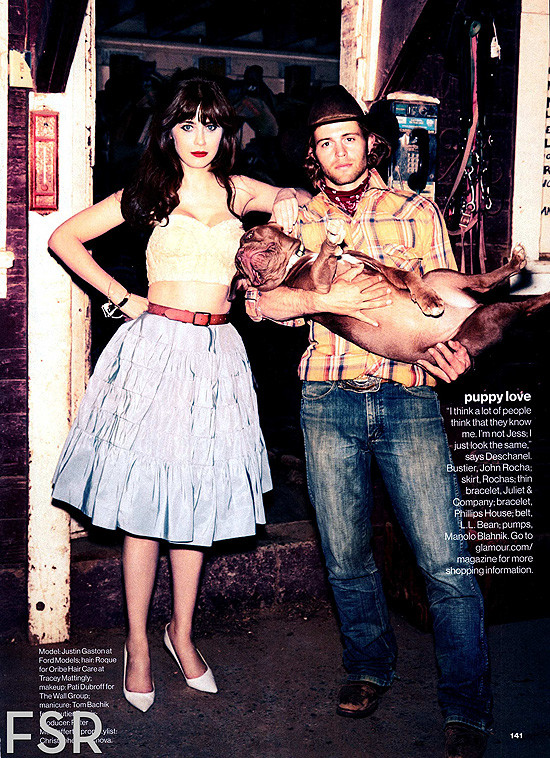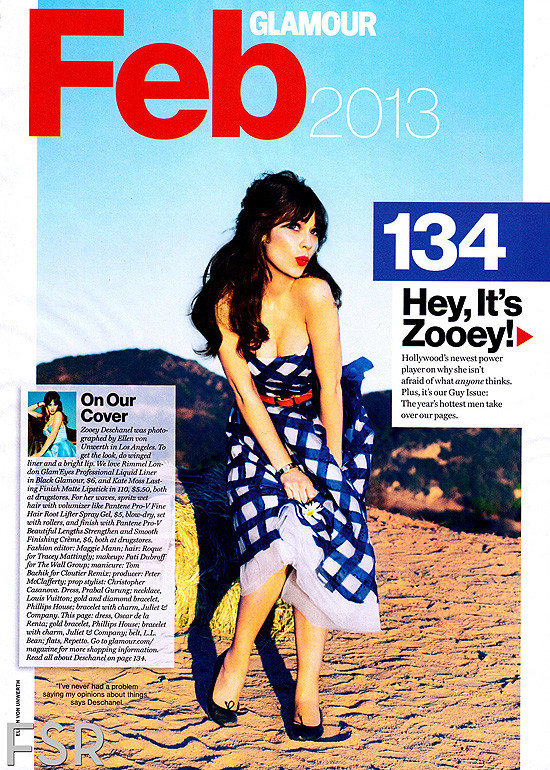 Photos courtesy of Glamour