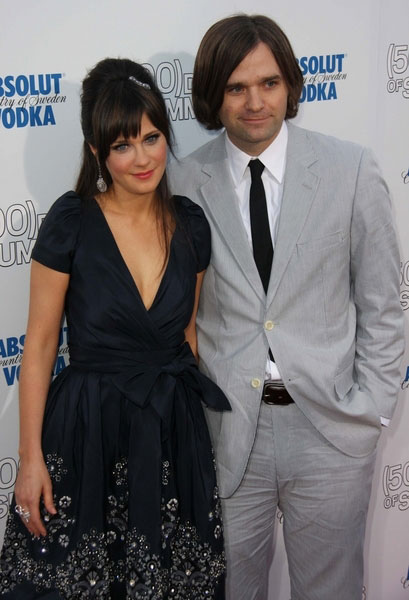 Indie poster girl Zooey Deschanel has officially filed for divorce from her husband, Death Cab for Cutie's Ben Gibbard. Zooey and Ben announced their split in November after just two years of marriage. We didn't hear much insider dirt on why these two called it quits, and just had a statement from their people that it was "amicable" and that "no third party was involved." I doubt that it was "amicable," as Bedhead often points out about celebrity divorces, but maybe it's true they just drifted apart or had different goals or whatever. The thing that really interested me about this story is that the divorce filing was made public and it lists Zooey's assets and expenditures. She's very sensible with her money, saves more than she spends, and has no consumer debt. Girl has over $3 million in assets and she's only 31. Good for her! Here's more:
Zooey Deschanel is worth millions, spends relatively modestly, and has a zero balance on her credit cards … this according to documents her lawyer just filed in her divorce case.

TMZ broke the story … Zooey just filed for divorce from her hubby of 2 years — Ben Gibbard, the lead singer of Death Cab for Cutie.

For some reason, her lawyer attached Zooey's income and expense declaration.

Here's the lowdown:

– Zooey — who stars in "New Girl" — makes an average of $95,000 a month
– Her expenses average $22,550 a month
– She has 3 credit cards … AmEx, Visa and Mastercard, all of which have a 0 balance.
– She has $1,578,000 in the bank
– Zooey has an additional $1,645,000 in stocks, bonds, etc.
– Zooey has real and personal property valued at $693,300

As for what she spends a month, Zooey says she drops $1,000 on groceries and household supplies, $500 eating out (really?), $800 on utilities, $300 for her various phones and email accounts, $600 in laundry and cleaning, $2,000 for clothes.

She also donates $1,500 a month to charity.
[From TMZ]
So did Zooey mean to make all this public or was it a mistake by her lawyer? I wonder if she's going to have to pay out the nose to her ex. Death Cab for Cutie is well known, but not many musicians are rolling in it.
Do you guys ever watch Suze Ormon's show? I download her CNBC podcast, and she helps people go through their finances to see if they're on track for their retirement and goals. It's all about saving for a rainy day and earning more than you spend. That's what these financials from Zooey brought to mind, because Suze would give her high marks for saving her money. Even though Zooey is wildly rich to most of us, look at how people like Lindsay Lohan have squandered small fortunes living at high end hotels and buying designer goods. It's just nice to hear about a celebrity who appreciates what she has, doesn't live above her means, and donates to charity. It kind of solidifies my high opinion of her. She may act somewhat ditzy and precious, but she has a good head on her shoulders. I would love to hear about a new romance for Zooey, preferably with someone like Joseph Gordon Levitt who is doing well in his own right and isn't interested in her cash. I doubt she'd spend it on some guy anyway.
Zooey and Ben are shown on 6-24-09 in the header. Credit: Glenn Harris / PR Photos. They're shown on 7-9-11 in the footer. Credit: Adriana M. Barraza / WENN.com