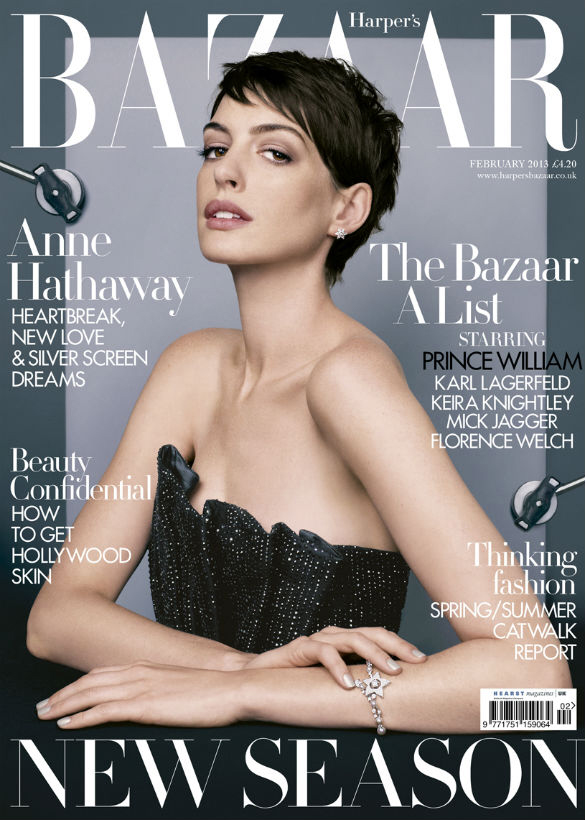 I think I've figured out one of the big problems many of us have had with Anne Hathaway's Oscar campaign thus far – I mean, beyond the "I won't talk about my extreme weight loss, except I'll talk about it nonstop because it's a centerpiece of my campaign but I'm going to be twitchy about it" thing. No, the bigger issue is that Anne's campaign is so blatant, so full-on, so in-your-face. Other celebrities have found a way to campaign but still leave some mystery, some of the withholding dance. Not Anne. She's been doing non-stop interviews, non-stop magazine covers, non-stop promotion. Her publicist needs to encourage her to take it down a notch, because overexposure can really hurt an Oscar campaign too.
Anyway, here's yet another magazine interview for Annie. She covers the February issue of Harper's Bazaar UK, and I'm not crazy about the photo shoot. They made her look haughty, right? And she already has a kind of haughty look, so this doesn't help. You know what else doesn't help? That even I, a Hathaway Apologist, find this interview super-annoying:
With her much lauded performance in Les Misérables garnering praise and box office gold aplenty, you'd think Anne Hathaway would be on top of the world. But the 30-year-old actress, who is being hyped for an Oscar for her performance as Fantine in the film, has revealed her inner torment at not being 'cool.'

Hathaway hates that she's seen as a 'bizarre-world good-girl character', and feels she's labelled as 'very vanilla, very sweet, very accessible and not interesting,' despite posing in a corset for a racy new shoot for Harper's Bazaar magazine.

'I'm not Rihanna,' she told the fashion mag. 'I'm not cool. When people come up to me in the street, they often want a hug not a photo, and they want that because they like my work. For a long time it was me and her [her manager] against the world. I was seen as this bizarre-world good-girl cartoon that I in no way identified with – very vanilla, very sweet, very accessible and not interesting. I had no grit, no sex appeal.'

Hathaway, who married Adam Shulman in September, also worries now that she's hit 30.

She said: 'It doesn't help that the new crop of girls is so gorgeous, and so 22 years old," she said of her recent birthday. "But I'm excited about it.'

Hathaway also admitted that her husband makes her too happy to channel the misery she needed for Les Misérables.

'He walks into a room, and I light up. I can't help it' she said. 'A few days into it [filming Les Misérables] I said 'I'm having too much fun, I just want to play with you and I need to be really sad right now.' '

She said: 'I knew from the second I met him that he was the love of my life.'

After an amazing year, it seems that Anne might be ready top settle down, after admitting to wanting a family.

She told Stella Magazine: "I've wanted to be a mom since I was 16. I'm 30 and I want to have a family of a certain size. I'll start with one healthy kid but I'd like to have a few naturally and adopt. I gotta get on it, you know? I'd like to have as many as I can afford, not just financially but in terms of time, because you want to make sure each one feels special.'
Self-awareness is a good thing, but at some point, self-awareness crosses a line into a sort of hyper-aware, neurotic, vapid narcissism where a person seems solely focused on how other people see them. I'm not saying Annie has crossed that Rubicon here, but she's closing in on it. I get the feeling that Anne wants to wring all she can out of two dueling and contradictory images – she wants older Oscar voters to still see her as vanilla and princess-y, but she wants Hollywood producers and directors to see her as cool, dangerous and sexy, her new image. But you know what really bugs? That Anne has been consistently painting herself as the underdog, the also-ran, the outsider. She's not – she's Establishment. She's seen as one of the best actresses of her generation, and one of the few younger actresses who can carry a film. She really needs to re-vamp this campaign, right?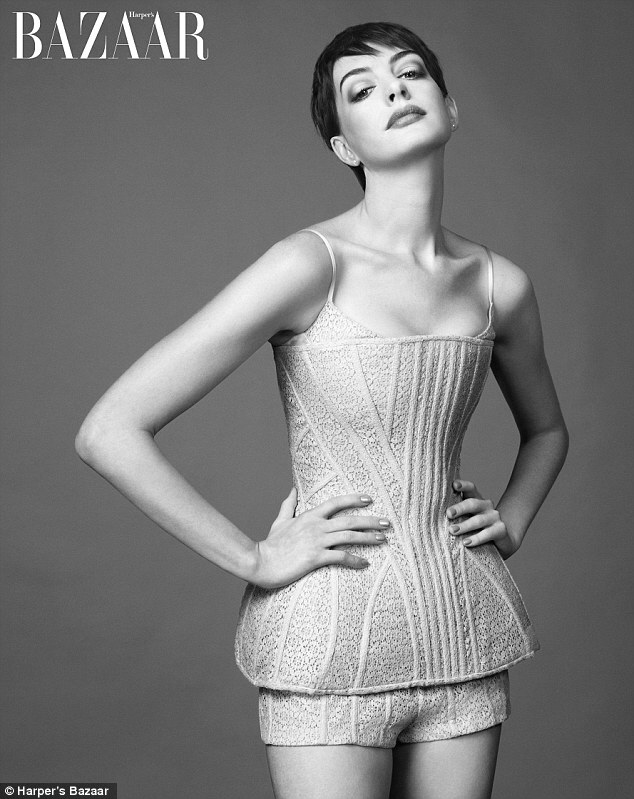 Photos courtesy of Bazaar UK.