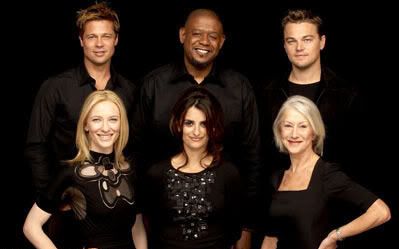 It Ain't the Algonquin … but it's worth pulling up a chair
Security was tight. For the first time, NEWSWEEK'S annual OSCAR roundtable was held in public, at the Egyptian Theater in Hollywood. We made sure to keep a few of the celebrities' names secret, and arranged for all of them to arrive via an inconspicuous side entrance to the theater.
I'm actually a little hard pressed to get my celebitchy all the way on for this really rather charming Oscar roundtable with Brad Pitt, Cate Blanchett, Helen Mirren, Forest Whitaker, Penelope Cruz and of course — Leonardo DiPorkChop. All possibly up for nominations tomorrow at 5:30 AM EST.
Everyone really plays to type –but they are excellent performers:
Mirren is earthy and witty; Brad is wickedly self-deprecating (with a little chummy Clooney deprecating thrown in for kicks); Penelope is charmingly honest and has good stories with great punchlines; Cate Blanchett is a touch too ethereal and hair twirly (from some angles gorgeous from some others … very like a haddock); Forest Whitaker is the leaven in the lump (and clearly Paris Hilton's role model for success as a wonky eyed wonder) … and Leo DeCaps once again takes himself far too seriously – Brad takes him down a couple of pegs more than once – but his need for peggage far outstrips any one man's efforts. Listen I liked him in Gilbert Grape … but its been rapidly downhill since.
I'm not a huge Pitt fan, but his off screen demeanor is starting to win me over.
On the minus side – I don't know who the interviewers are … but they are pretty low brow and both have a terrible nasal intonation and that same oddly ingratiating manner that the bearded creep on "The Actors Studio" has … really makes your skin crawl … but it does also highlight what attractive speaking voices (except for the Porkchop) these actors have – I kind of started to get the grouping .. I guess we will see tomorrow morning who powers through to the Finals.
Highlight:
Mirren and Cruz sharing padded butt stories — I did not see that one coming.
It's most definitely worth a listen, watch, and read (ain't the multi-media web grand — just coming at you in all directions).