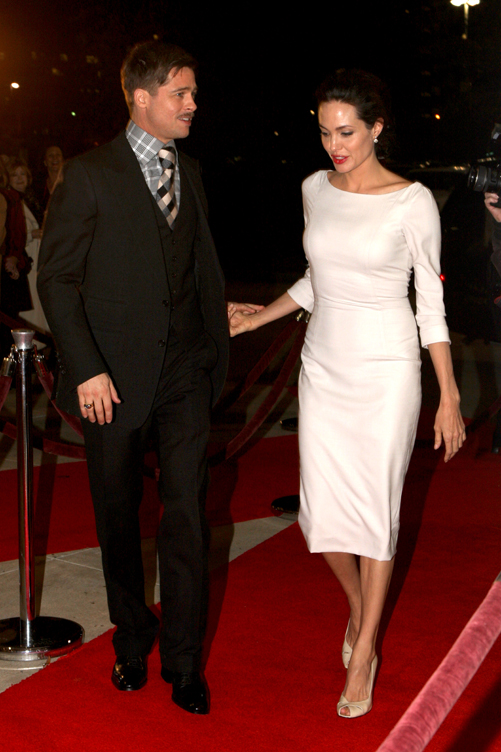 Despite constantly traveling around the globe, Brad Pitt and Angelina Jolie still prefer France as their home base – at least for now. Brad told "Access Hollywood that the family of eight will spend Christmas in France this year. It seems Brad and Angie might end up settling there.
Brad Pitt, Angelina Jolie and their six children have settled in France — for a little while.

The family will stay put while papa Pitt films his role in Quentin Tarantino's "Inglourious Basterds," according to the UK's Hello magazine.

"I've been dragging them all from continent to continent lately, so we're going to have to give them a break soon. For the long term, right now, we're choosing France," Brad told Hello, according to MTV UK. "It's good living there, a really nice way of life."

Though the family spent time this year in Germany and New Orleans, Brad said right now, France is the top.

"It's a place where the kids can run free and not be hassled – we have a good relationship with the locals, and it's a good base for the family," he said.
[From Access Hollywood – link has automatic video and sound]
They're clearly very happy in France, although despite what Brad said they have had some run-ins with the paparazzi and their neighbors, who have complained that they monopolize the town's police resources. Nonetheless it's probably still quieter than any existence they could have in America.
Yesterday Brad noted that he and Angelina try to keep their Christmas spending reasonable and don't spoil the kids. He also said they have a Christmas tradition where everyone has to give a gift they've made themselves. That's pretty cute. Kids are good at making things, since they do it in school. But I'm curious about what Angie and Brad make. Brad's a photographer, so perhaps he gives one of his pictures. But I'd love to know what Angie does. I'm hoping it's something made out of popsicle sticks and too much Elmer's glue.
Here's Brad and Angelina at the "Benjamin Button" screening New Orleans on December 1st. Images thanks to Splash.