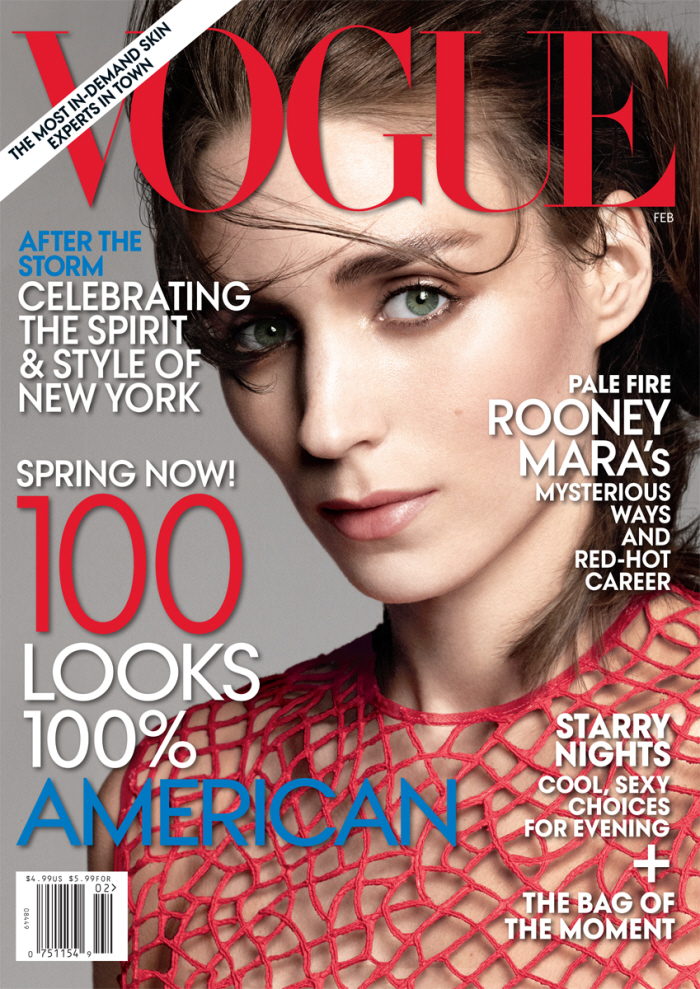 After her Oscar campaign for The Girl With the Dragon Tattoo was over, I've grown to like Rooney Mara a little bit more. It wasn't even the Oscar campaign per se… because Rooney didn't really "campaign" and her victory was just getting a nomination last year. No, Rooney rubbed a lot of people the wrong way when she began promoting GWTDT by aloof-ing all over the place and bad-mouthing all of the early TV shows and dumb horror movies that paved her way into the Hollywood world. She just seemed to lack grace and humility, and she seemed pissed off that everything wasn't handed to her right away as soon as she decided to become an actress – the bitterness of entitlement. The smugness of a rich girl who always had everything handed to her. But, as I said, I like her a little bit more since she sort of disappeared for a while and as it turns out, she really isn't some famewhore hungry for any kind of attention. Good for her.
Rooney covers the February issue of Vogue because she's promoting Side Effects, the new Steven Soderbergh thriller also starring Channing Tatum, Jude Law and Catherine Zeta-Jones. I'll admit it – I want to see this movie. I think Rooney looks sort of miscast, but I'll still give her a chance. As for the Vogue article – you can read the whole thing here – she's not bad-mouthing her early jobs, but she is definitely still "aloof-ing". Only the word she uses now is "shy". She kind of reminds me of 2009 Kristen Stewart – she just seems awkward and unwilling to learn how to promote her work like a professional. I'm not saying she has to give us a song and dance, but I'm sorry… I don't believe anyone who is so super-duper painfully "shy" would go into acting.
Seeing her own movies: "I'm hypercritical of myself… Anytime I see anything I've done, I wish that it had gone differently because you figure it out as you go along, and you're always discovering new things. I'd probably feel that way about anything that I did."

She's not a trained actress: "It's all intuition for me," Mara confesses. "I never really studied-studied." Instead, she works privately with the acting coach Bob Krakower ("I didn't love being in a class—that's very hard for me") and otherwise learns by doing. "I think every job I do, I learn something new and get better," she says. "I hope, anyway, that I keep evolving. . . . I wouldn't want just one technique, because I don't think it would work for every job."

Studying clinical depression and depressed people for Side Effects: "I think everyone has at some point in their lives been depressed, or at least sad. I had a lot of anxiety growing up because I was so shy, so I could relate to that part of it. But severe clinical depression is a whole other thing, and I guess I never really knew how bad it can get."

Dressing up is annoying: "For Dragon Tattoo, I had eight different premieres, this many different photo calls. It's a lot to plan for. It's not like you can just show up. The thing is, it's kind of an annoying part of the job—because I'm not a model, and I don't want to be. I didn't try to be a style icon. I'm just not that interested in that world. But it does matter, and either I can fight that or I just have to accept that it is a part of my job, and I may as well wear things that I like and that represent me."

The red carpet: "A nightmare! It's a panic attack waiting to happen. I don't even like people to sing 'Happy Birthday' to me. When we wrap a film and everyone claps and cheers, I turn red. And then I have to walk out onto the middle of this carpet and there are all these photographers, and they're all screaming at you. And usually there's a party at the other end of it, so it's not even like I have solace at the end of the carpet! It's like then I have to walk into my other nightmare!"

She hates being photographed too: "Why should I 'fake smile'?" she asks. "It feels disingenuous to me. I want to smile when something happy happens, so if I do smile, you know it's real."
As Adele would say, "Nah, that's enough now. Cheer up." Rooney is definitely hyper-self-aware, as I think most actors are. Deeply committed to exploring, defining and talking about themselves. Still, I guess Rooney is improving. Maybe she'll be on the Kristen Stewart trajectory too – which means in another few years, Rooney will be calling herself a "miserable c—t" and Mini-Coopering married directors. Something to hope for.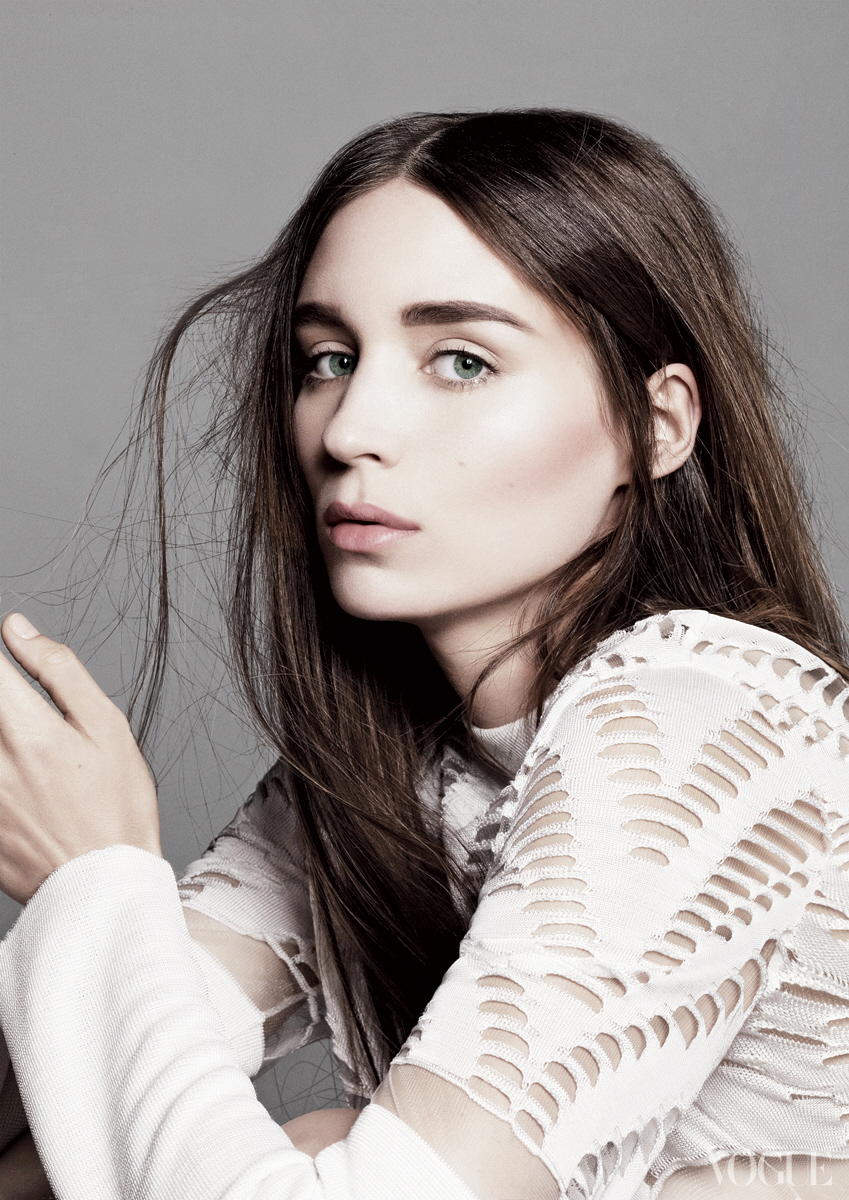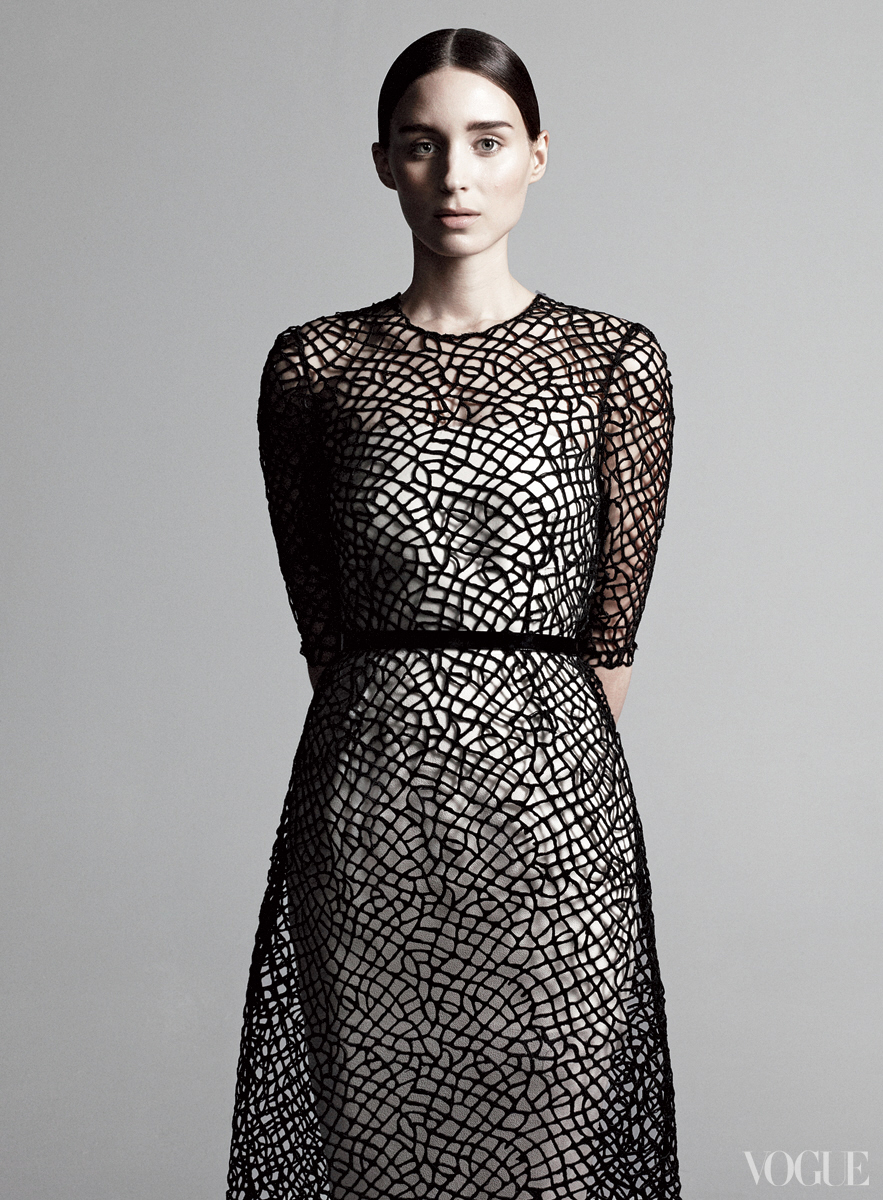 Photos courtesy of David Sims/Vogue.