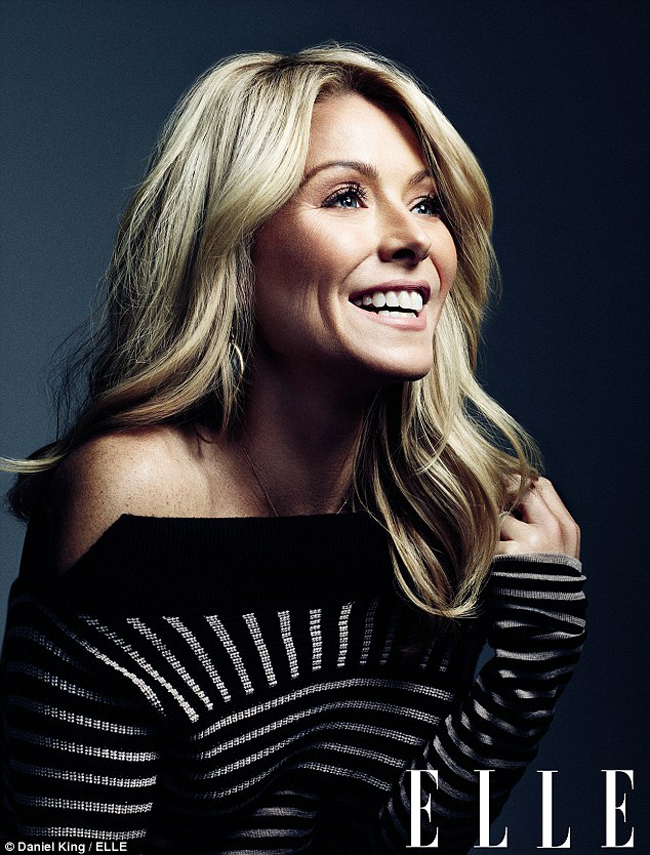 Kelly Ripa is featured in the February issue of Elle (the one with Claire Danes on the cover) to promote (I guess) her long-running gig on "Live!" Can you believe she's been co-hosting the show for twelve years now? I still remember when she replaced Kathie Lee Gifford; this was back when Kelly was a cute little brunette, and she soon went blonde, but she looks equally pretty either way.
In the interview, Kelly continues to discuss her enduring love of Botox, and she admits that she even gets injections in her armpits to prevent sweating at the gym. I feel like I've heard of this practice before, but it seems so strange — don't people need to sweat to release toxins and cool the body to prevent overheating? I suppose it really doesn't matter if the rest of one's body is allowed to sweat, but it's still weird, right? Kelly also talks about her ultra-traditional relationship with her husband, Mark Consuelos. We've previously heard about how Kelly loves to serve Mark breakfast in bed because that's what he wants, and now Kelly and Mark are talking even more about their "1950s" lifestyle. Here are some excerpts:
She feels like a dork: "No matter how much I try to cool myself up, I'm really dorky. I think that's why people get me. I look at you, and you remind me of Jemima Kirke. You came in and you were so effortless, with your black jeans and your black blazer and your turtleneck on and your hair was just, like, perfect, and I know–I know–you didn't have to do anything to get your hair that way, whereas I would have styled my hair for 17 hours and it would still look very much like a Westminster show-dog. No matter how much I try to cool myself up, it's never going to happen for me. But, like, am I dying to be cool? Yes, I'm dying to be."

She doesn't just Botox her face: The spin class is punishing, but Ripa seems to outperform the twentysomethings manically pedaling around her and emerges looking almost like she did when she arrived. "It's the Botox," she says, adding that she sometimes gets it in her armpits to avoid sweating. Ripa hasn't had plastic surgery, but she's open about the occasional injection. "Every seven months or so my eyelid skin rests on my eyelashes. So I feel like it makes my makeup artist's life easier, and it makes my eyes look a little more open on TV, which is where I happen to work right now."

She wants to write too: "I've never really planned my career, and it's led me to where I am now. I also enjoy writing, but will it lead to anything? I don't know. I'm probably not very good, but lack of talent hasn't stopped me before.

How she feels about Mark: "I was drawn to Mark because he was positively an alpha male, and I didn't think I would be drawn to that. But I just worship him. He makes me feel very safe. I actually call [Mark] Desi, because the thing about Desi was that as much attention as Lucy got, Desi was always in charge."

How Mark feels about Kelly: "We're superpartners in crime, my wife and I, but I think we're pretty…we're pretty…"–and here, he gives up–"Okay, fine. If I were back in the 1950s, I'd be perfectly happy."
[From Elle]
Exactly what does that mean when Mark says he'd be very pleased in the 1950s with Kelly as his wife? I am assuming that he's referring to the aforementioned breakfast in bed and being waited on hand and foot, but that seems so unusual when Kelly surely makes more money than he does. Does she rush from work to the gym (for a several hour workout) and then rush home to have enough time to cut the strings on the pot roast as soon as Mark walks through the door? How exhausting to live as if one must really do everything in life.
Incidentally, Kelly and Mark have just put their two-story NYC penthouse on the market for $24,500,000. The Real Estalker has photos, and the place is absolutely gorgeous with five bedrooms, 4.5 bathrooms, and two kitchens. I wonder why they could possibly be selling an amazing home like that one.
Here's some photos of Kelly with Michael Strahan and Kelly Ripa at Kids' Night On Broadway on 1/9. She's looking a little bit tweaked, sure, but I'm more concerned about her undereye-concealer problem.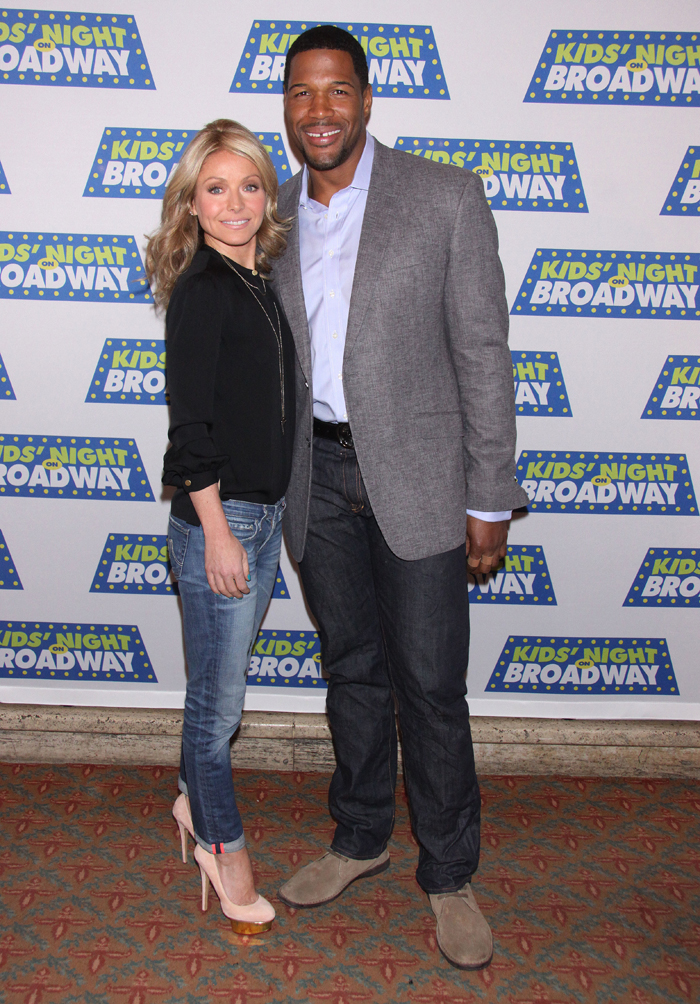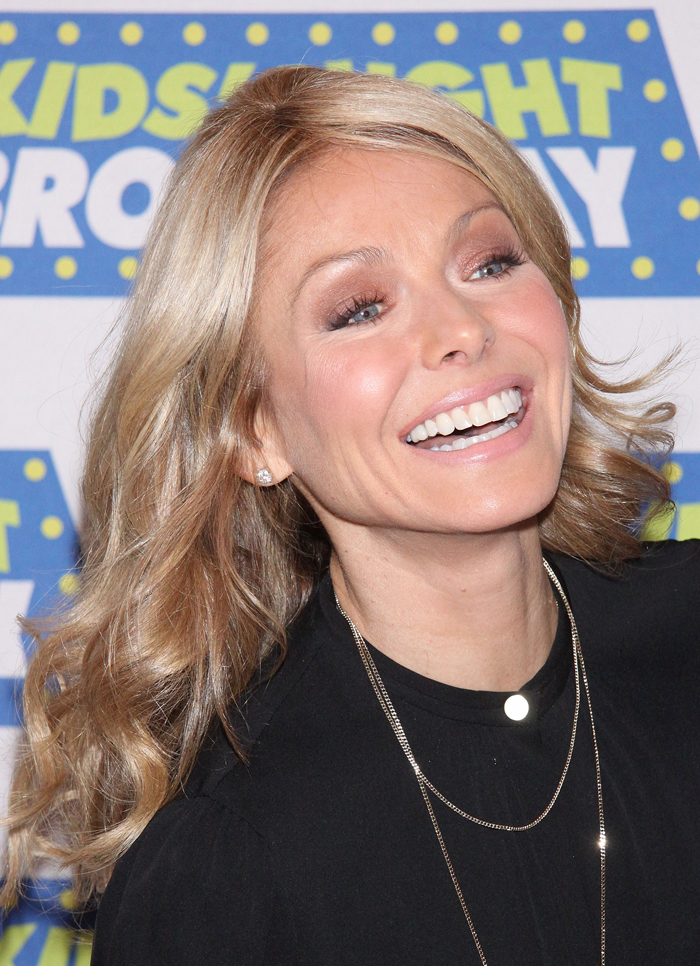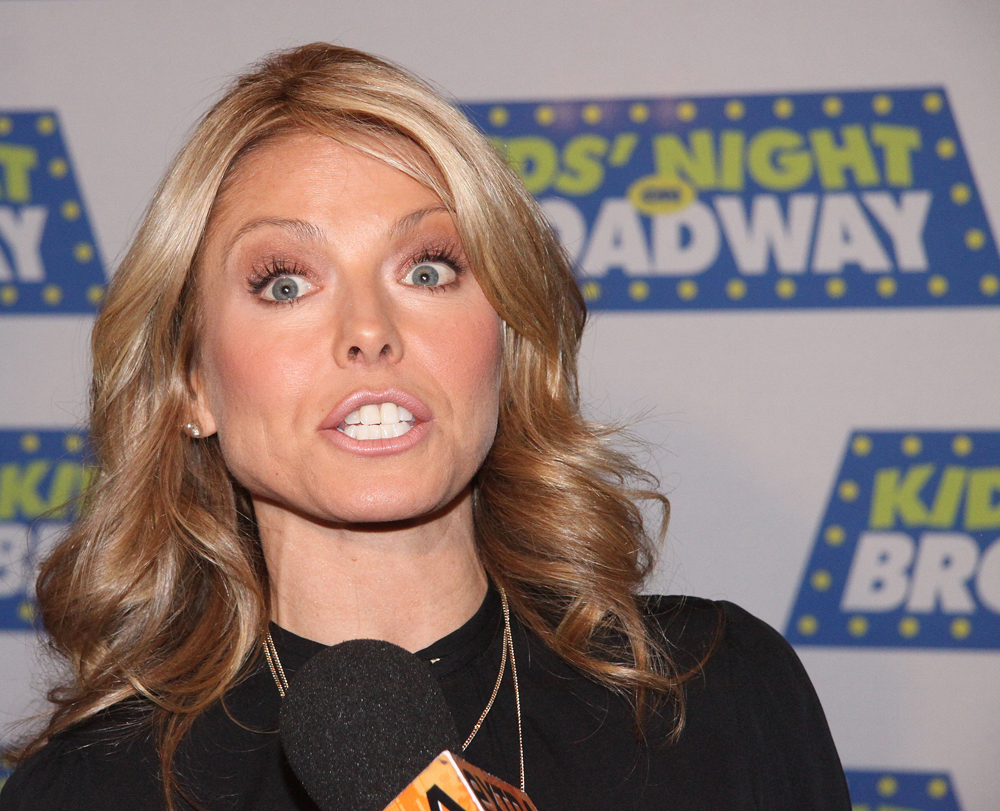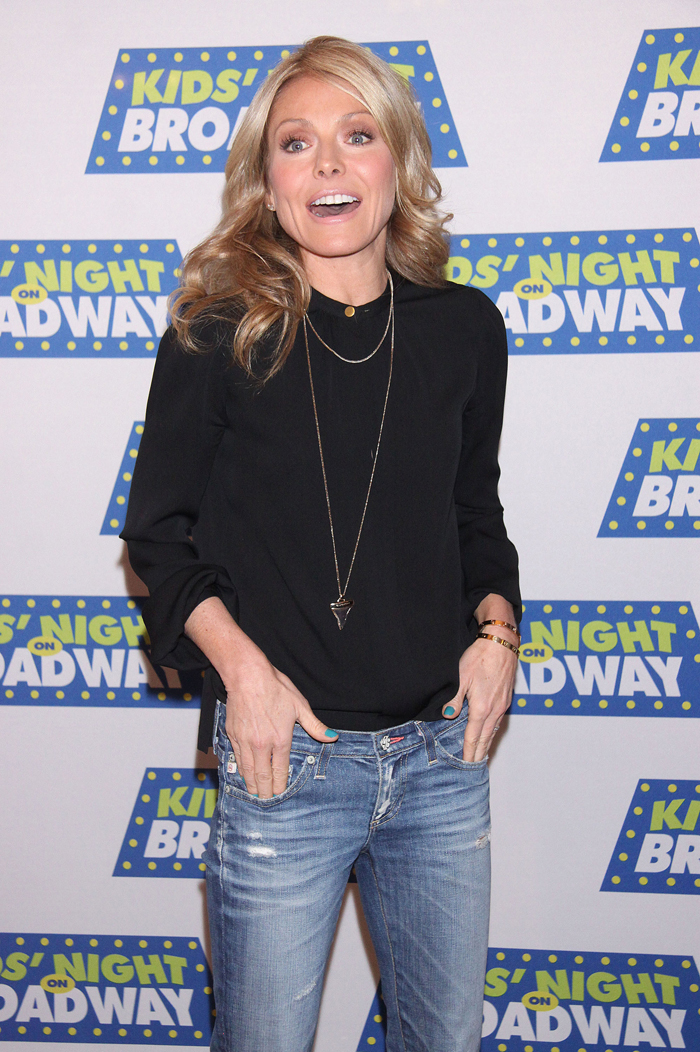 Photos courtesy of Elle and WENN