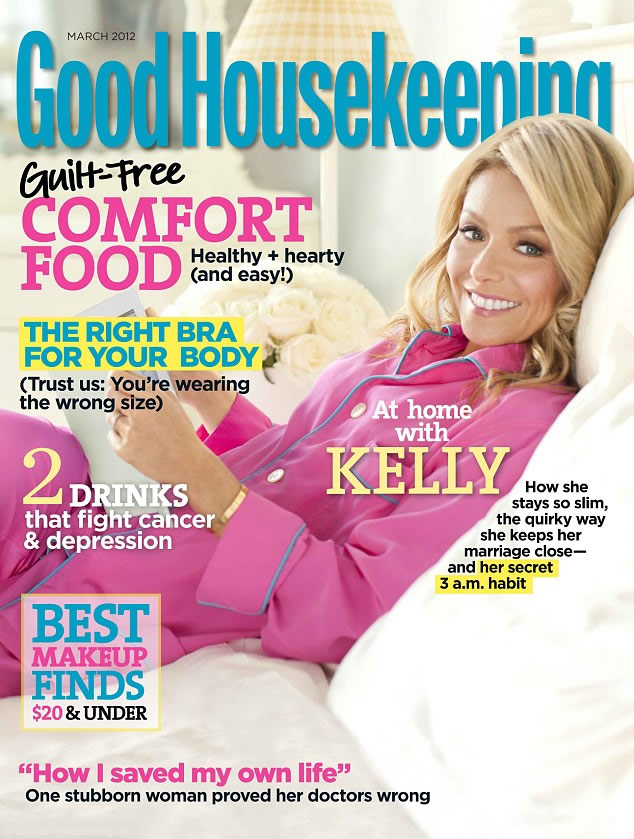 I've sort of been indifferent to Kelly Ripa over the past handful of years, although I do remember the abrupt change in mood (from heavy sarcasm to infinite bubbliness) when Kelly took over "Live!" hosting duties from Kathie Lee Gifford eleven years ago. Ugh, that makes me feel rather old. Anyway, Kelly is now the sole permanent host of "Live!" since Regis Philbin blindsided her with a retirement announcement, which may or not have been motivated by money and respect. Interestingly enough, Howie Mandel (after co-hosting last week) is being floated as a possible replacement for Regis, but Howie himself insists that "[I]t's [only] a rumor" and that Regis is "irreplaceable." God, I love Howie. While I didn't see him co-host last week, I recall him being quite endearing when he co-hosted with Kathie Lee. Again, I'm aging myself here.
Anyway, Kelly covers the March issue of Good Housekeeping to talk about balancing "Live!" with family life, which includes raising three children (aged 9-14) and maintaining her marriage to former soap (co-)star and current reality show host Mark Consuelos. Basically, Kelly gushes all about Mark and seems a little bit smug about her marriage, which always throws up roadblocks from a believablity perspective. Back in 2007, there was talk of trouble in the marriage, but Kelly and Mark seem to have weathered the storm. Maybe this one's for real?
On Mark Consuelos: "He's kind of awesome. I think he makes me better. He makes everything in our lives better."

Her Marriage Isn't Perfect: "We argue about children, discipline, homework, good-cop/bad-cop. He says he's the bad cop and I'm the good cop, but really they associate him with fun and after-school activities. They associate me with inoculations, X-rays, and stitches. He's more apt to dole out discipline, but my punishments are real. I'll take away my son's iPod if he's fresh. When we're traveling, Mark will say, 'If you don't stop, I'm going to have the pilot turn this plane around.' I'll whisper to him, 'They know you can't do that. The airline isn't going to turn this plane around because you're punishing the kids. You need to come up with something real.'"

On Being A Wife: "I make his coffee every day. I cook him breakfast in bed every weekend: scrambled eggs with cheese, bacon, wheat toast, and coffee with cream. That's what he wants. And I serve it to him on a tray. I don't give him a hard time about seeing his friends. Or for doing things independently, like taking a weekend biking trip with his racing friends. He doesn't need to take me everywhere or do everything with me. I'm very much about us having our own separate time. And I don't give him a hard time about not doing things around the house, like taking out the trash."

On Exercise: "I work out every day. It's part of my life. That's one of the benefits of having kids in school full-time. I'm usually done with work around 11 A.M., so I have time before I pick the kids up from school. I do it more for my insides than my outside, but the outside gets a nice benefit, too. I feel like my mind is a little quieter when I exercise. And I don't have the best family history heart-wise, so I really try to keep my heart strong. I work out with a trainer three days a week. We do what I would call cardio ballet and power yoga. I take spinning classes, which I love, and I run."

On Couple Time "After the kids go to bed, we have a couple of hours when it's just us. We either talk about the day or watch one of our favorite TV shows. Otherwise, there'd be no time. We used to go away, just the two of us, for three days to celebrate our anniversary every year. I can't remember the last time we did that. It just became too much to climb out from under the amount of homework that would pile up! Maybe when the kids are a little bit older, we'll start again. We started having kids young, so when they leave the house, we'll still be young enough to enjoy it. Of course, thinking about that makes me panic. I can't even let myself go there."

On Having It All: "I'm like a regular full-time mom; I just happen to work for a couple of hours while the kids are at school. I take them to all their activities. Mark is usually the later one home from work, around 6:00 P.M. We definitely share in the household chores. I do have a cleaning lady who comes and helps me, because I can't be married to somebody who's as OCD-neat-freakish and germaphobic as Mark Conseulos and do it myself. I need a person in there with a hazmat suit to spray bleach all over the place."
[From Good Housekeeping]
Okay, so Kelly is slightly out of touch with reality because I think most of us would love the chance to make millions of dollars for a few hours of morning work on weekdays. She also has a cleaning lady, which frees her up quite a bit from the domestic drudgery that most "regular full-time mom" types have no choice but with to deal. Then again, most celebrities don't clean their own toilets, so I can't rip on Kelly for that. It's nice that she enjoys serving Mark breakfast in bed, but if I were her, I'd totally make Mark take the trash out to the curb. It's the least a guy can do.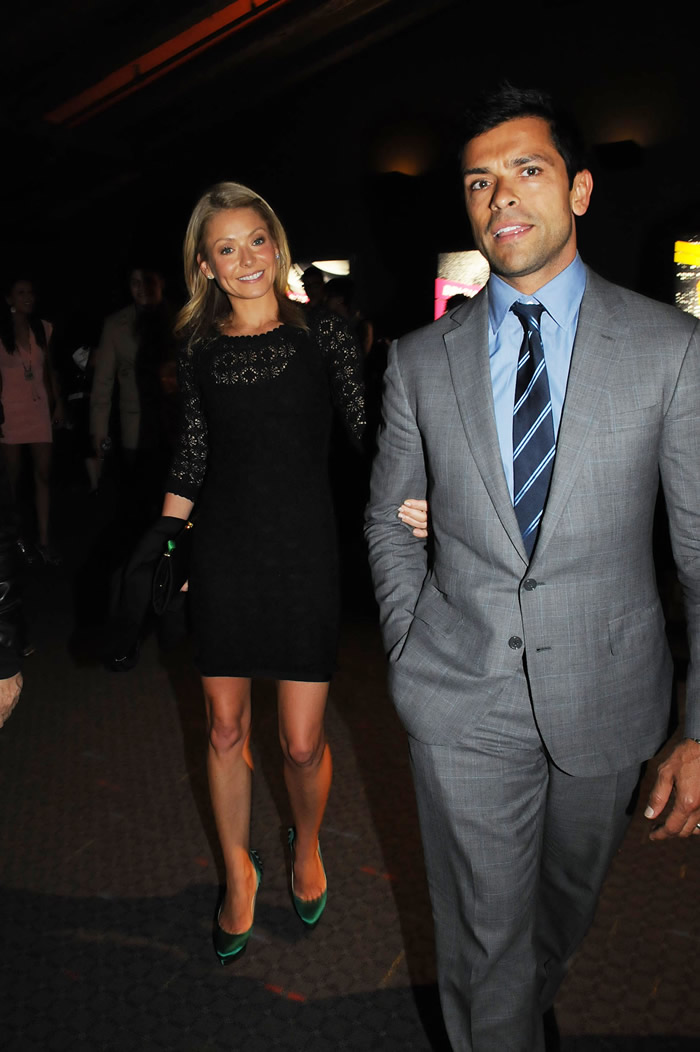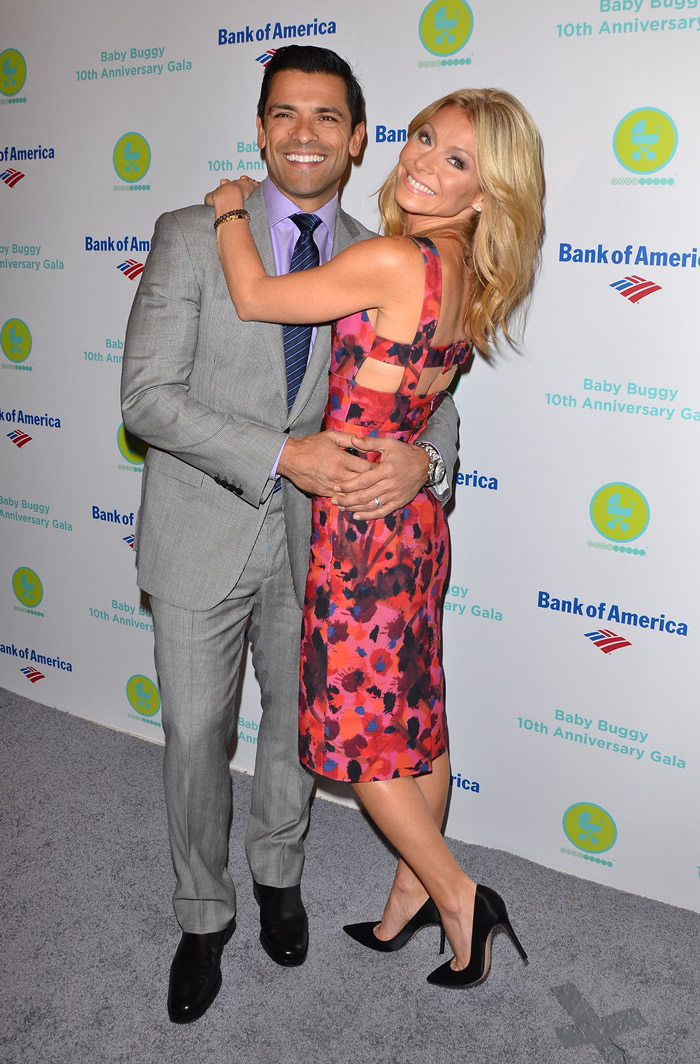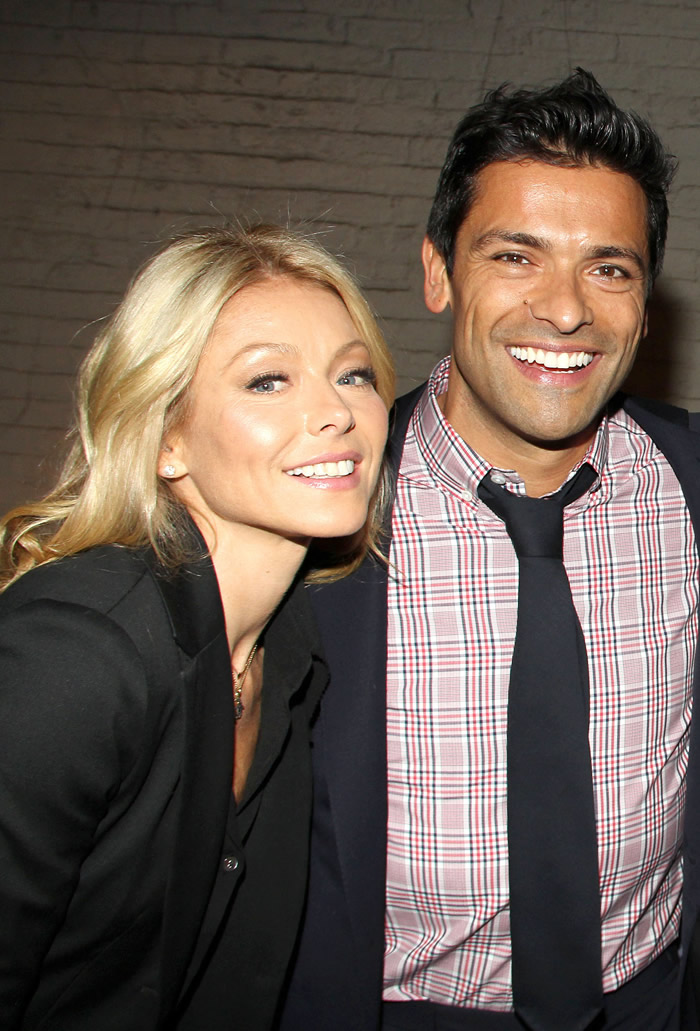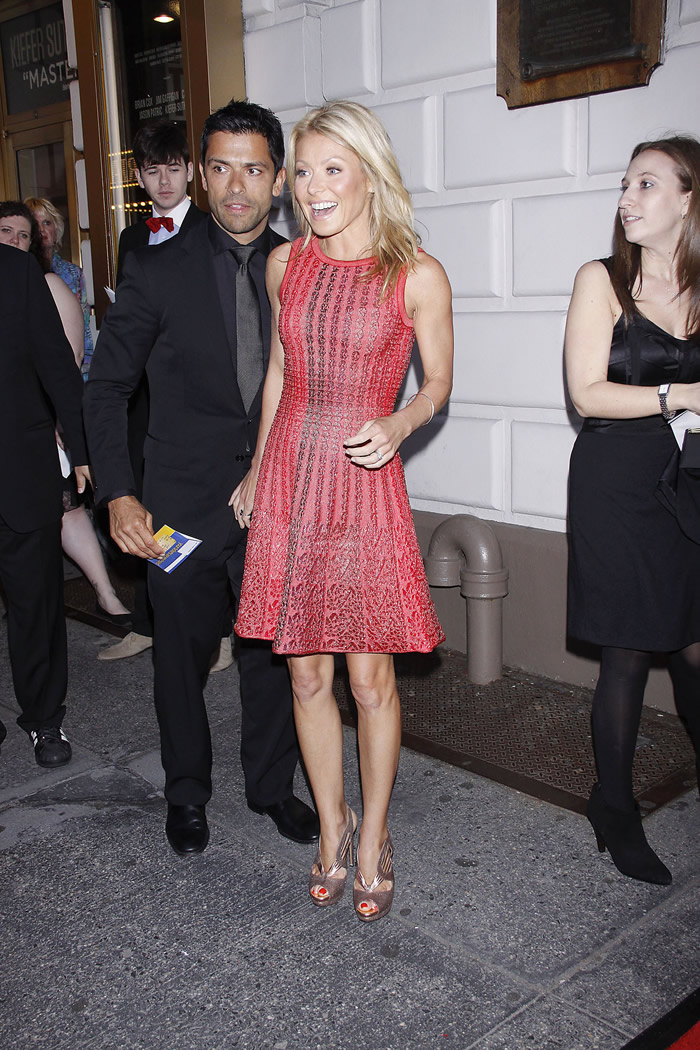 Photos courtesy of WENN and Good Housekeeping