We've been wondering what's next for Britney Spears' career now that she's not returning to The X Factor next season. Britney may be richer than ever, bitch, because she's about to sign a $100 million plus contract for a residency in Vegas, one that would earn her more than even the reigning queen of Vegas, Celine Dion. Does that seem fair? Celine Dion has some serious pipes, and Britney, well, she's a lip syncer. According to TMZ, at least three large venues in Vegas are currently in a bidding war to try an earn the rights to Britney. They claim that Ceasar's palace is interested, as well as "two other properties." As part of her contract, Britney would both perform and make appearances at events for the casino.
This actually sounds like a great career move for Britney. She's done two successful tours since her breakdown, and although she isn't the dancer she used to be (due in part to a knee injury) she's shown that she can still perform. This would be as lucrative as a big tour without all the stress of traveling. I can see it happening. I mean I don't think Britney is as together as she used to be, but she's more with it than she was, and she's shown that she can work.
In related Britney news, People Magazine has run three separate stories in the past week on her split with Jason Trawick. You can assume this is the version of the breakup that Britney's people want out there, and it's all about normal couple stuff rather than the "Jason got tired of his ward and Britney has no idea what is happening" version that Radar was running. The weird thing in these People reports is that they contradict each other. There's a story on Saturday that Britney wanted more kids and that Jason didn't, and that's followed up by a story yesterday that Jason did want kids. It's like Britney's team didn't coordinate their stories, or they put out the first one without consulting Jason. Here are some excerpts:
January 12 article: Britney wanted more kids and she wanted Jason home more
"Britney had a lot of issues with Jason doing his own thing – in business and seeing his friends," another source says. "In her perfect world he would have been home with her twenty-four/seven, so that was a point of contention; something they were always working on."

Another source of tension? Kids. "Britney wants to grow her family," says a source close to the couple. "Jason loves her boys but he is not in a place to have his own."

January 15 article: they fell out of love and had normal couple problems
"Britney spent Christmas in L.A. with [sons] Preston and Jayden. Jason was around for parts of the holiday, but it was very obvious that they were not really together anymore," the source says.

"They were not affectionate and instead just seemed to keep things going for the boys' sake. Britney looked a bit gloomy and tense over the holidays."

"They love each other, but like any relationship, and especially this one, there were some major challenges and hurdles and constant work that needed to be done. At the end of the day, it just wasn't working, and things were't going to change, so it was time to let go."

January 16: Jason loves Britney's boys and he is open to having his own
"Jason adores [Britney's] kids; he loves them," a source tells PEOPLE. "He was like their 'other dad,' so he's not just going to walk away from their lives. He'll be involved as much as makes sense."

As for Spears's two boys, Preston, 7, and Jayden, 6, the source says they "are doing great and [their father] Kevin [Federline] is actually a huge help and is a wonderful person in their lives."

Despite reports that the former X Factor judge's desire to have more kids was a reason for the split, the insider says, "Jason is genuinely open to kids of his own."

But the source adds, "There were so many issues in their relationship that Jason really wanted those worked out before they could ever move forward with a wedding or more kids together."
[From three stories on People]
I believe that they were a real couple and that they had normal couple problems like anyone else, but these articles are leaving out the fact that Jason had legal control over nearly everything about Britney, and that she still struggles with mental health issues. I do think she's improved now, but I don't know if she'll be able to have a full committed relationship until she's in control of her daily life and business decisions. It doesn't seem like that's ever going to happen for her and she's already 31 years old. Still, she's making a ton of money for a lot of different people.
Here are some file photos of Britney and Jason. They were a cute couple!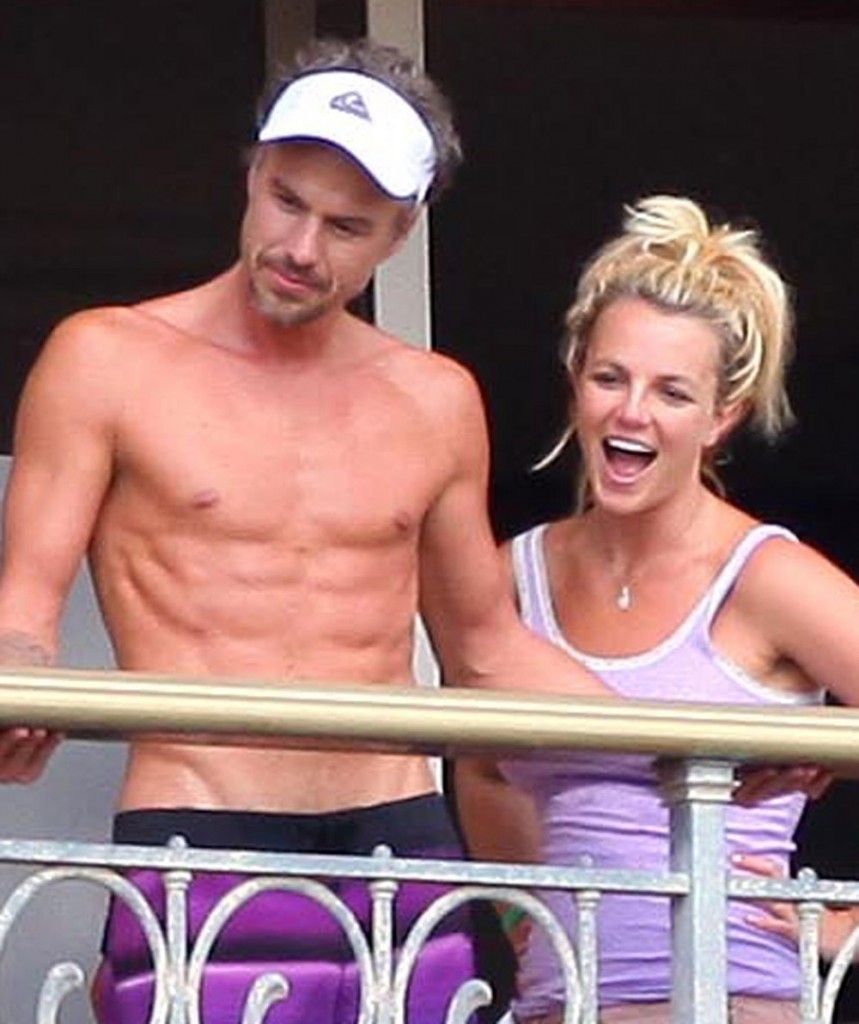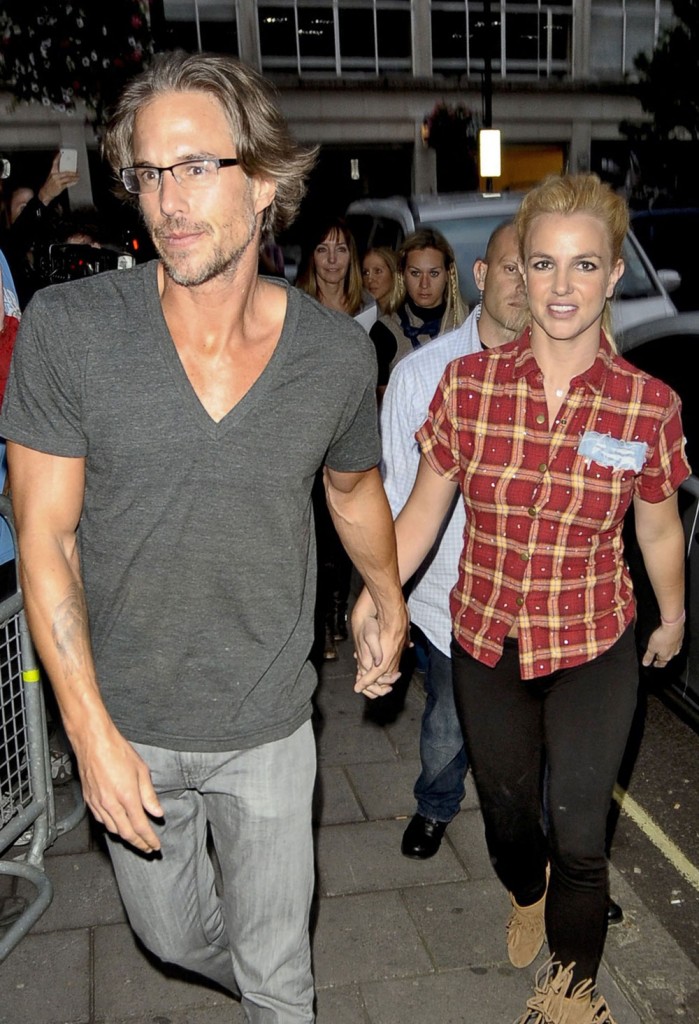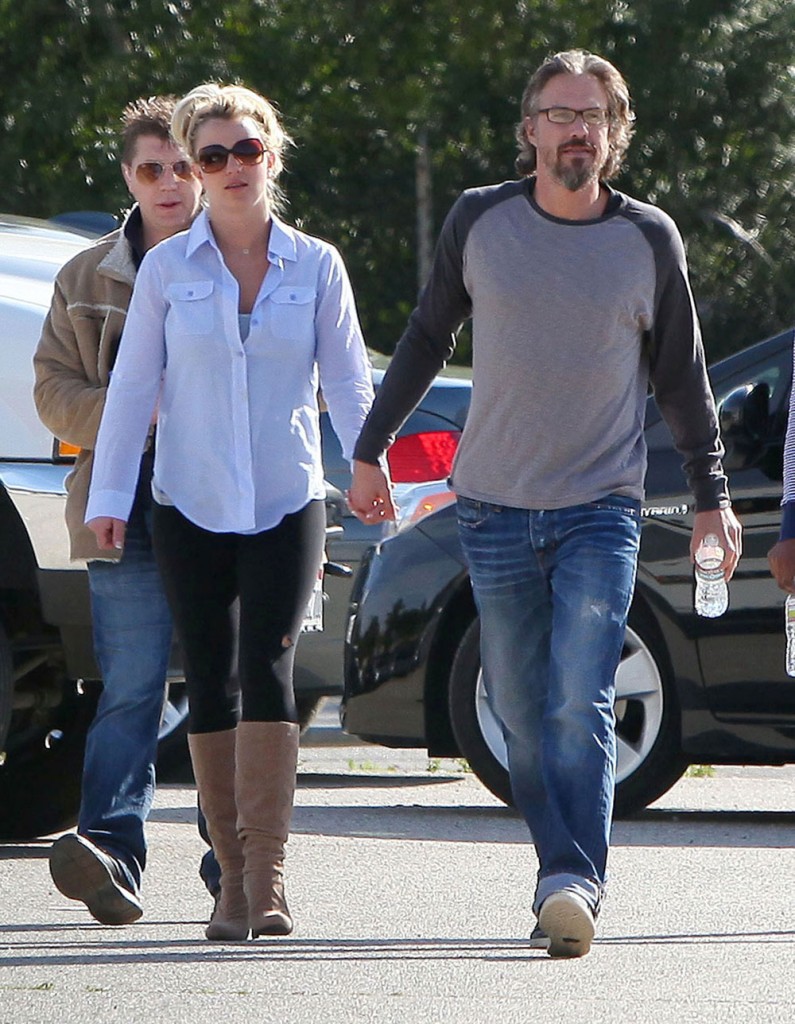 "Love" sweatshirt photos of Britney are from 1-14-13. Other photos are file photos. Credit: FameFlynet