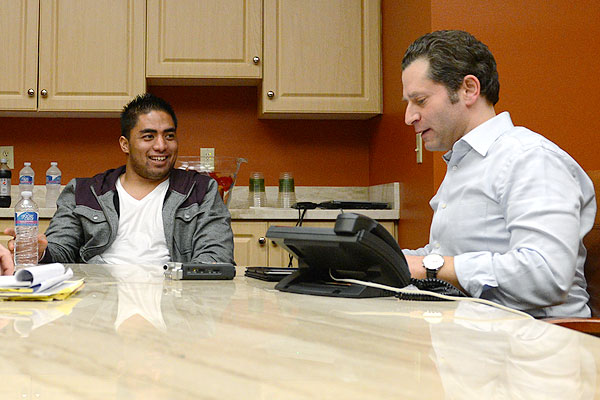 When I first glanced at this ESPN story we're discussing below, in which Notre Dame linebacker Manti Te'o was interviewed by ESPN, I assumed it was a sit-down interview on camera and that we would soon be putting this story to rest. (Go here and here for a recap.) But no! Manti was interviewed off-camera, and he has yet to do a video interview. He's still planning on baring his soul on camera, though, and will reportedly talk to Katie Couric. This complicated story will not die quietly, that's for sure.
Before we quote ESPN here's a quick primer. Te'o claimed he lost his girlfriend to leukemia last September. The sports blog Deadspin investigated and found that the girlfriend never existed and that Twitter accounts under her name were run by a guy named Ronaiah Tuiasosopo. A source told Deadspin that Ronaiah and Manti were "family friends" and suggested Manti was involved. In a statement to the press, Manti denied being in on the hoax and claimed he was the victim of an elaborate internet scam. Notre Dame backed his version of the story.
I'm going to try and do justice to the latest developments, but I should say first that I'm starting to buy the version of events that Manti's people are putting out there. I believe it's possible that Manti got catfished by an acquaintance who scammed him into falling for a fake woman online. Manti could have embellished details of the relationship to the press so as not to sound like an idiot who fell in love with a woman sight unseen. And he could have overstated his connection to the woman in order to play up her "death" for sympathy. It's possible he wasn't in on the whole thing. Even if he were complicit in it, as some of you have commented this isn't a huge scandal compared to what we've seen from other sports stars. It has blown up like one, but in the scheme of things this is minor. He wasn't cheating the game, running an illegal gambling scheme or abusing anyone.
Here's what Manti told ESPN in this latest interview, with more at the source.
Te'o spoke at the IMG Training Academy in Bradenton, Fla., where he is preparing for the NFL draft. There were no television cameras at the interview, which was recorded on audio.

The Notre Dame linebacker said he did not make up anything to help his Heisman Trophy candidacy. Te'o finished second to Texas A&M's Johnny Manziel.

"When (people) hear the facts, they'll know," he said. "They'll know that there is no way that I could be part of this."

In the interview, Te'o also said:

He lied to his father about having met Kekua, prompting his father to tell reporters that Te'o and Kekua had met. Several media stories indicated that Te'o and Kekua had met. Te'o insisted they never did.

He tried to speak with Kekua via Skype and FaceTime on several occasions, but the person at the other end of the line was in what he called a "black box" and wasn't seen.
He planned to meet Kekua in person several times, including in Los Angeles and Hawaii, but on each occasion she called off the meeting or sent others in her place.

The first time he met Tuiasosopo was in Los Angeles. Notre Dame beat USC there on Nov. 24.
A group of people connected to Tuiasosopo showed up at the team hotel, after curfew, for the Discover BCS National Championship Game in Miami. [Ed note: this was on January 7, 2013, after Te'o was told Kekua died. "She" had contacted him prior to this, but still after her "death," on December 6, 2012] Te'o said he knew they were at the hotel because the group took photos in the hotel lobby. Someone in the group called Te'o, saying they were waiting for Kekua to join them in the lobby and asking if she was with him. Te'o then hung up. Te'o said it did not affect his play in the game, where Notre Dame lost to Alabama 42-14.

Te'o was never asked for money during the plot, but Kekua once requested his checking account number in order to send him money. Te'o did not provide his account number.



A South Bend Tribune report described Te'o and Kekua touching hands during an in-person meeting in 2009 at Stanford, but Te'o said that never happened and he didn't know Kekua until 2010.

"I'd never told anybody that I've touched her hand," he said.

Te'o said he altered his stories so his family and others would think he did met Kekua in person.

"That goes back to what I did with my dad," Te'o said. "I knew that — I even knew, that it was crazy that I was with somebody that I didn't meet, and that alone — people find out that this girl who died, I was so invested in, I didn't meet her, as well. So I kind of tailored my stories to have people think that, yeah, he met her before she passed away, so that people wouldn't think that I was some crazy dude…"

Te'o talked often about a "spiritual connection" between him and Kekua. Te'o discussed a ritual where he and Kekua exchanged scripture readings. Soon, his father and mother joined in. They used the SOAP method of study, which stands for scripture, observation, application, and prayer…

In late June or early July, Te'o said Kekua and her brother told him she had leukemia.

On Sept. 12, his mother and father called Te'o to tell him his grandmother had died. He said Kekua called him after his grandmother's death.

"I was angry. I didn't want to be bothered," he said. "So Lennay was just trying to be there for me. I just, I just — I just wanted my own space. We got in an argument. She was saying, 'You know, I'm trying to be here for you.' I didn't want to be bothered. I wanted to be left alone. I just wanted to be by myself.

"Last thing she told me was 'Just know I love you.' "

Later that day, Te'o was told Kekua had died from leukemia. He said he was in the Notre Dame locker room when he got
the call.
ESPN has also posted a transcript featuring highlights from the interview, in Manti's own words, if you're interested.
That story is insane, right? Most people would have questioned the story the first or second time the person refused to meet them or skype with them, but maybe this guy wanted to believe. Maybe he's never encountered a scam artist and believs people are inherently good. This person bared her soul to him and he felt like he knew her.
As I mentioned, I'm starting to believe him! That could be due to ESPN's very convincing story and the way they framed Manti's comments. It would be easier for me to judge this guy's sincerity if we could see his interview. He'll have a chance for that soon enough.
ESPN has related story from a source close to Ronaiah Tuiasosopo who claims that he admitted to her that he conspired to scam Manti Te'o. Ronaiah's female cousin would talk to Manti on the phone for hours every night, posing to be the fake woman. What's more is that Ronaiah has allegedly victimized other people online. The details in this story add up with previous versions we've heard.
TMZ claims that Manti had another, real girlfriend, in the wake of his fake girlfriend's "death."
After I wrote all that, I found this story in which Ronaiah Tuiasosopo's uncle claims that Ronaiah may go public with his side. There's probably a ton of pressure on this guy to come clean about his involvement and clear Manti's name.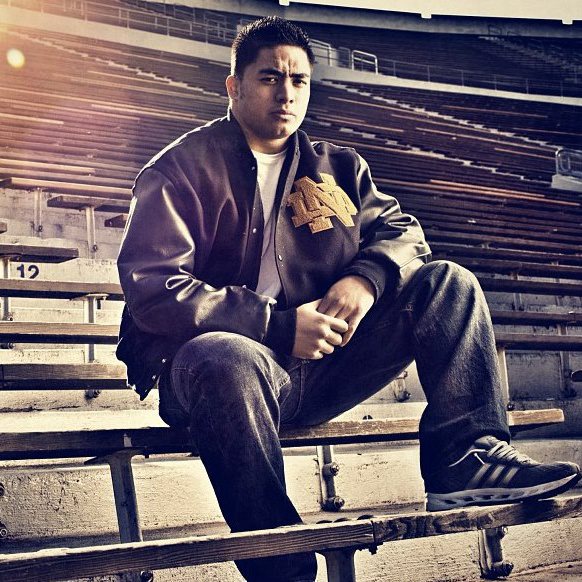 Header photo credit: Ryan Jones, ESPN interviews.