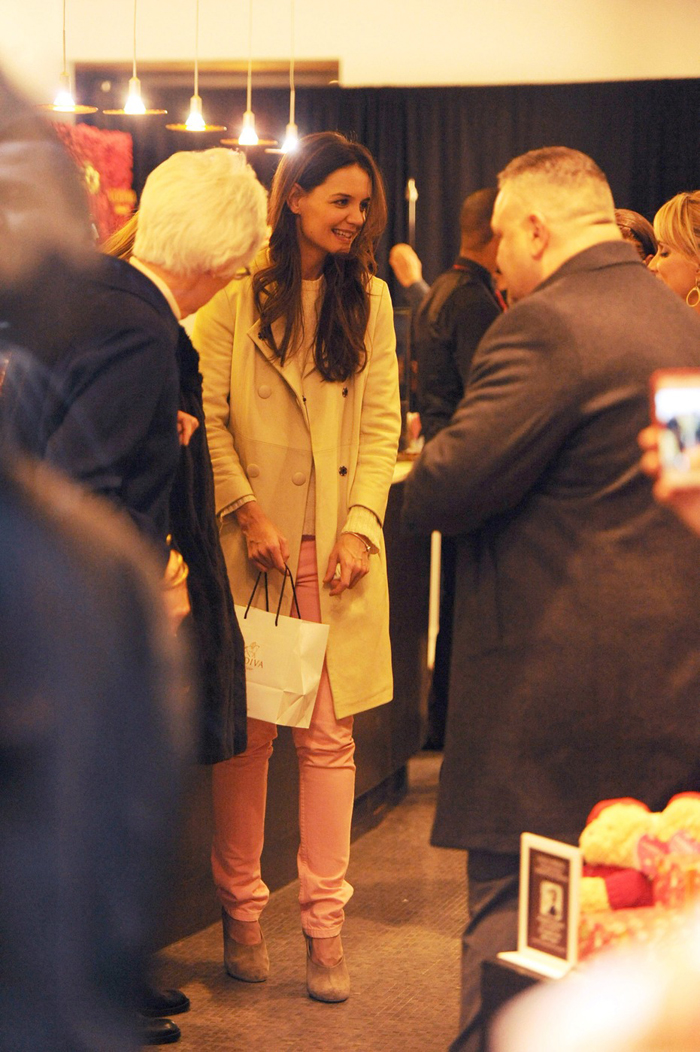 Here are some photos of Katie Holmes last week at a photobooth event at Godiva Boutique where she promoted a sweepstakes and gushed over her love of Valentine's Day. While this might seem strange considering her recent divorce from tiny Tom Cruise, I sort of get it. Like Katie, I harbor a fondness for cupcakes and chocolate and also love the color red, so I don't mind VDay even though coupley stuff makes me want to hurl. Even when I'm in a relationship, I don't like mushy stuff like that. So I can identify with Katie being excited about the holiday for reasons other than the obvious.
While Katie was at this Godiva event, she talked about her family traditions that were started by her mother, who specialized in making red pancakes during the month of February. She also says that she and Suri are fond of making their own flower arrangements (not suprising at all), and Katie gushed over the different types of truffles at Godiva: "There's a truffle for every mood you're in. So if you're not really feeling chocolate, you could do the birthday cake truffle the pink one I really like that one. But then if you really just need a little hunk, there's the praline brownie, which was amazing. And the cookie dough, which I also really love." Does anyone else think that Katie should open her own truffle and cupcake shop?
In other Katie-related news, we've already heard that she's having fun with male friends on platonic dates. Now that it's been over seven months since she filed for divorce from Tom, Katie reportedly feels like she wants to date again, but she's super worried about losing her newfound independence. Can you blame her for her concern?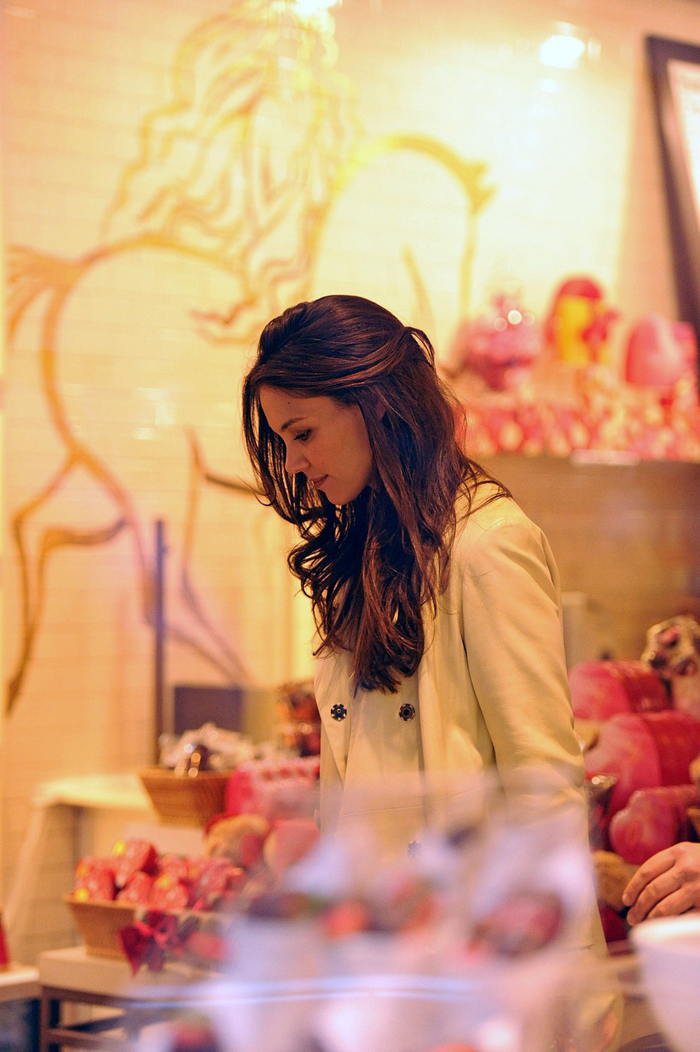 Katie Holmes is feeling ready to cautiously dip her toe back into the dating pool again after seven months of living the single life, but she's vowing to take things slowly as she continues to recover from the emotional scars left by the end of her five year marriage to Tom Cruise, RadarOnline.com is exclusively reporting.

The Dawson's Creek actress is worried about entering into a serious relationship with a new man, because she fears it would spell the end to her newly discovered freedom.

As we previously reported, a source told Radar that the mom-of-one was spurred on to divorce her high-profile hubby after becoming sick of his "controlling ways" and growing more and more irritated by Tom's desire to control their relationship, their daughter's upbringing and Katie's every move — something she has vowed never to be subjected to again.

"Katie's in a dilemma, because she wants to date but is concerned where it could lead to from there," a family insider tells Radar. "She's worried that if she commits herself fully to another man, she will have to give up the freedom she's enjoying so much at the moment. As a single woman, she has no one controlling her nowadays, telling her what to do or who to see and she absolutely loves it!

"However, at the same time, she also misses being with someone special to share experiences with and she doesn't want to be alone for the rest of her life. Katie's got Suri for the time being, and she is her best friend, but she does eventually want to find a man she can be that close with as well. She's just a little nervous and cautious about relationships still right now," the insider reveals.
[From Radar Online]
We've already heard that Katie has been flourishing in her new life and that she hasn't been ready to date until now, but she definitely doesn't want to date an old "geezer" like Tom again. Certainly, being married to Tom for six years (and being with him for at least a year prior to marriage) has taken a toll on Katie's psyche, and I honestly wouldn't be surprised if she had a mild form of PTSD since she was so tightly controlled (by both Tom and Scientology) during the entirety of their relationship. No wonder she's so hesitant to jump back into the dating pool again.
These are photos of Katie out an about in New York City over the past week or so. Her hair looks fantastic.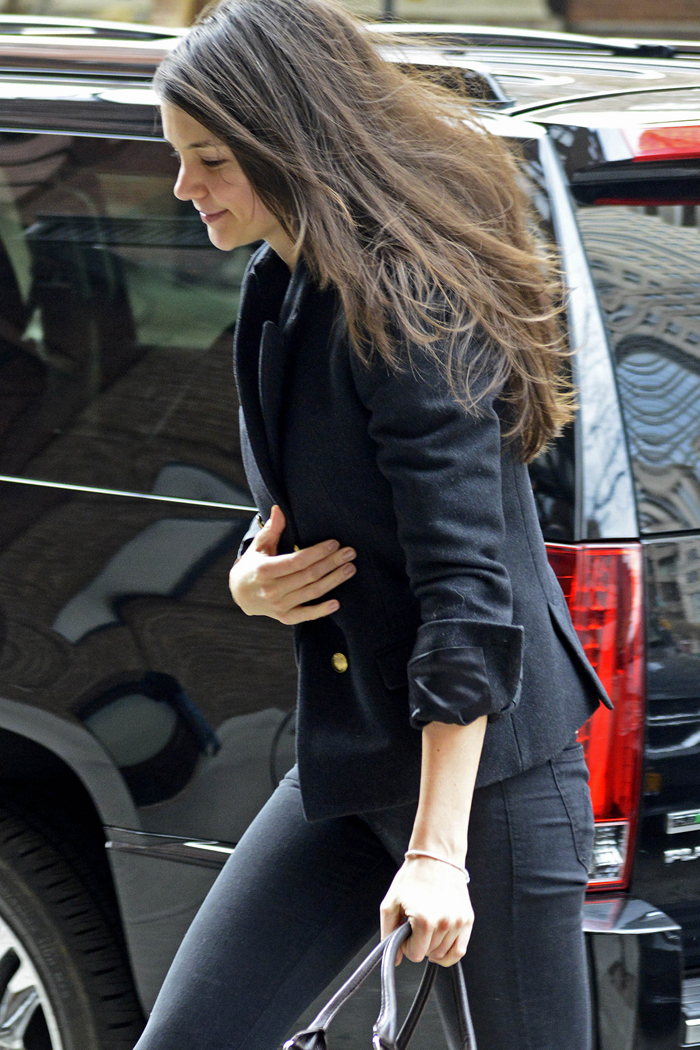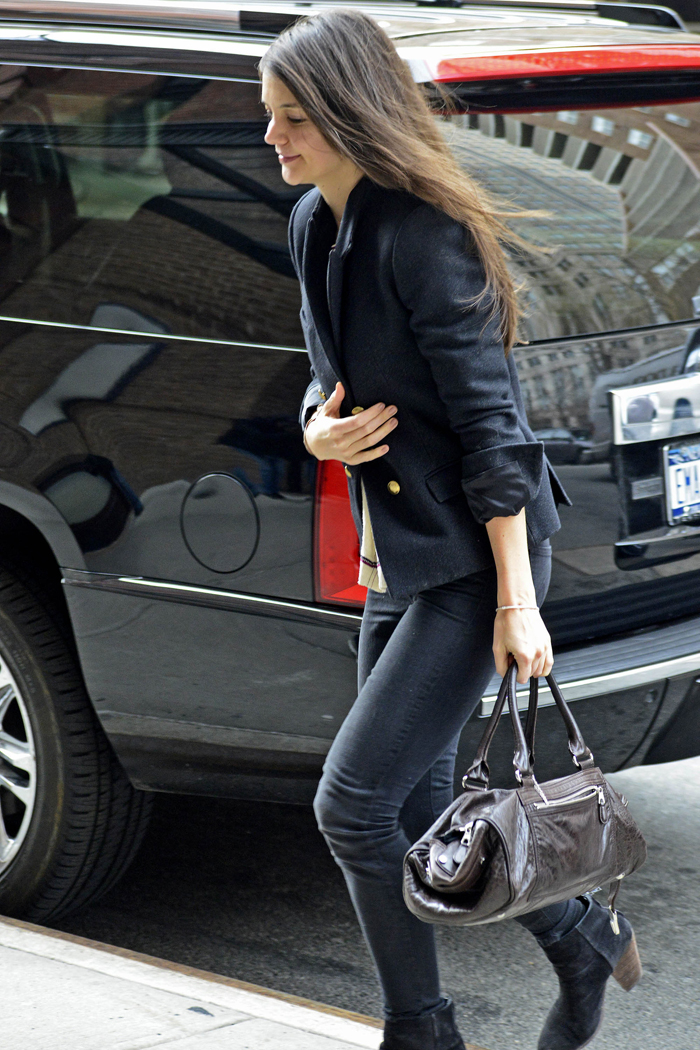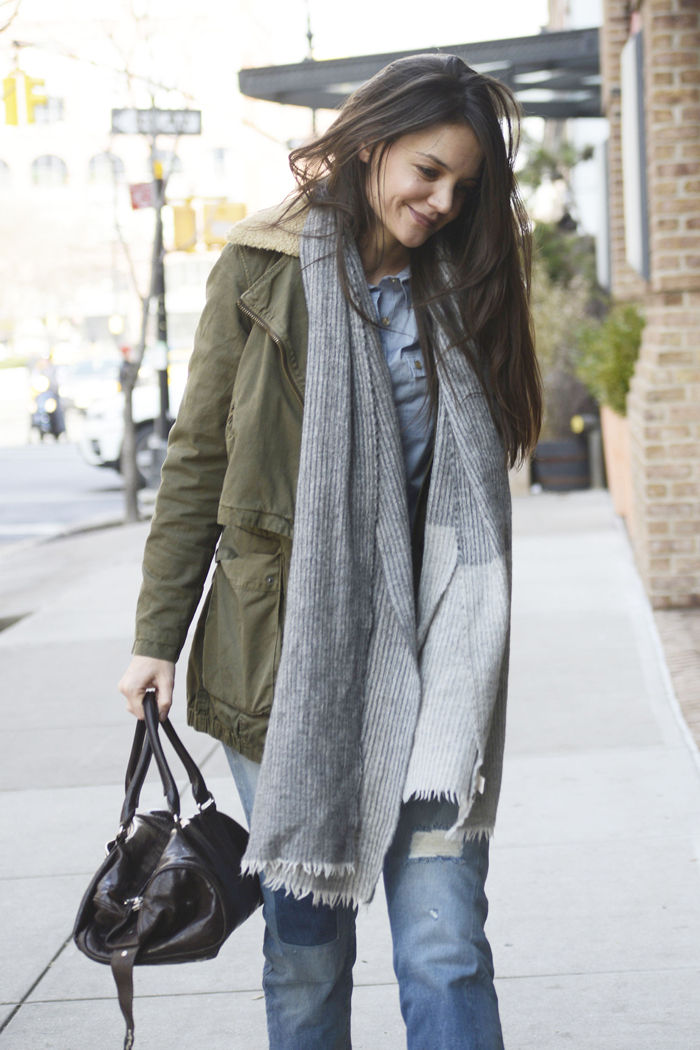 Photos courtesy of Pacific Coast News and WENN