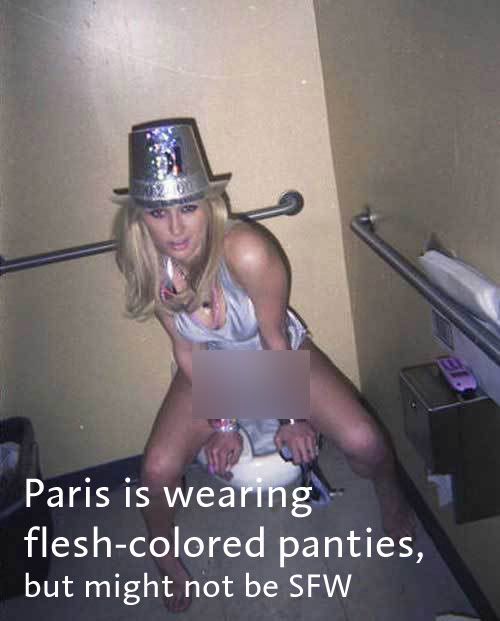 Once an ex-boyfriend told me with a smirk that all the porn on his computer was for his poor friend with a dial up connection. (I didn't confront him about it or anything, but he felt the need to explain.) Among the recovered documents in Paris Hilton's delinquent storage container were medical records for her and someone called Amber Taylor who happens to have the same birthdate as Paris of 2/17/81.
There are prescription drug receipts for both Amber and Paris and a medical record of Amber's miscarriage in March, 2003. There's a rumor that it was an abortion, but it looks like a miscarriage because it's noted as such and the procedure is listed as dilation and curettage, which is a medical term for clearing out the uterus after a pregnancy or miscarriage.
Paris has prescriptions in her name for Alprazolam, aka the anxiety drug Xanax, Hydrocodone, also known as the narcotic Vicodin, the anti-Herpes drug Valtrex, and the sleep medication Ambien. There's another prescription for Xanax for Amber dated 10/5/04. Not all of the prescriptions are dated as several of the receipts are just instructional inserts with the patient's name.
I feel bad about covering this, and I'm sorry that Paris' friend Amber with the same birthday had to go through that. Other people in the gossip sphere have already reported it, and I quoted another person saying earlier that there was a miscarriage record amongst Paris' effects.
This is a gross violation of her privacy on one hand. On the other, the girl documented extensive drug use and made videos of herself having sex. What are a few prescription and medical records at this point?
When I saw Paris' low co-pay I found myself wondering what kind of health insurance she had. It turns out she has coverage through the Screen Actors Guild! I wonder if it was her appearance in House of Wax that made her eligible for SAG membership?
What is Paris going to do now? This stuff must be devastating even though it's old and isn't her first scandal. She or someone posing as her on her on-again boyfriend Stavros' supposed myspace says she's sad about the whole thing, and that it's all in the past. This blog post was supposedly up on Saturday, but is no longer available.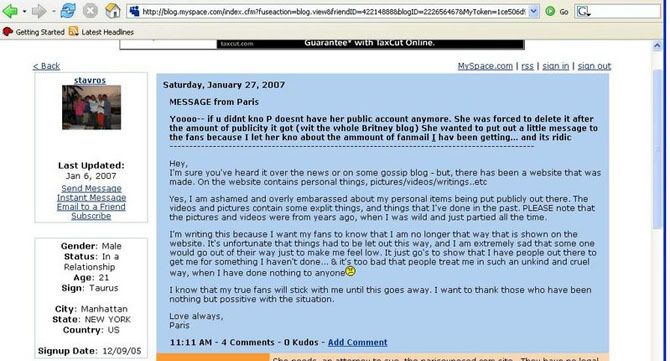 [via ONTD!]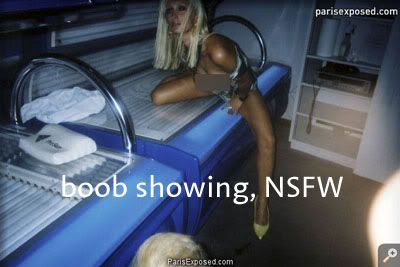 I'll publish more later, including party pictures and links to the videos. If you're sick of hearing about this or think it's wrong, let me know and I'll try not to get caught up in it. It's hard to resist because there's so much gossip. The Paris Exposed website was down yesterday, but is now up and can supposedly handle all the people eager for minutiae about Paris' past.
Update: A lot of people are pointing out that dilation and curettage is a medical procedure that is also used for abortions. I am pretty dumb about medical things, and I just googled it and on the one page I read abortions weren't mentioned. The "diagnosis" is listed as miscarriage, but that could possibly be the result of an abortion by d&c.
Header image from DListed via Saving Face Forum. (There are so many freaking pictures on the Paris Exposed site it's hard to find the good ones.)