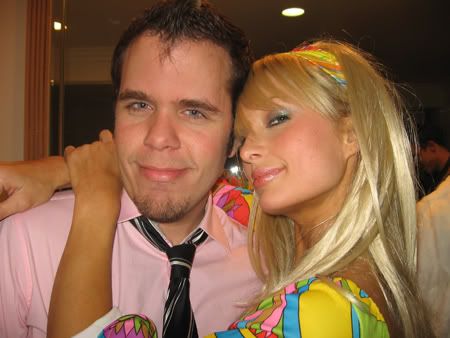 People are pissed at maligned gossip blogger Perez Hilton for staying completely mum on the ParisCarriage scandal. I paid for access to the Paris Exposed site before it fell victim to popularity this weekend, and there is so much good dirt there it's incredible. Paris Exposed is a website containing a treasure trove of incriminating pictures, videos, love letters and personal diaries of the heiress that she lost rights to by failing to pay the storage facility where they were held.
This weekend Perez posted pictures of Mischa Barton's boyfriend, Cisco Adler, posing in the nude. Cisco has disturbingly huge balls, and I briefly posted the pictures here before I felt ashamed and pulled them down. (It's one thing to show some naked women, and another to push the envelope with that crap. I don't want anyone's kid to accidentally see that scary shizz.)
Commentors were quick to point out that Perez got the pictures from the "Paris Exposed" website, which he never credited or mentioned once on his site. (this link to the comment below is incredibly NSFW)
So Paris Hilton had a bunch of her belongings stored in a storage unit and she forgot to pay for it. Well the owner sold it all off. Now its all online at www.parisexposed.com. Apparently the guy who purchased everything took pictures of every item. The items included are a bill for an abortion Paris got done in 2003, pics of her enjoying some coke, pot and other drugs, videos/pictures of her naked, notes she wrote about her bulemia and her Valtrex usage for her herpes. Yet Perez isnt talking about any of this. Instead he is chosing to pick on the other people involved in this scandel such as Mischa Barton's boyfriend and Nicole Ritchie. What a loser! How can he call people out on this Paris herself is doing?! To top it off Paris and her people are stating that this was done by someone out to get her and that Paris, once again, is the victim. Im sorry but how is she a victim when all of this stuff is true and documented by none other than Paris Hilton herself. Shes a idiot and the biggest train wreck of them all. I mean have you ever heard of a case this bad before? Dumb bitch documented all of it
I saw the bill in question for an "abortion," and it looks like Paris, or "Amber" as she called herself, did have a legitimate miscarriage.
A lot of people are skeptical of all this data on Paris, and some suspect her of releasing it to get publicity. To me it seems like a legitimate problem for Paris, who must be incredibly ashamed. Her ex boyfriend, Joe Francis, who is featured on the bubble bath and Ibiza party videos on the site, said he tried to buy the stuff himself but they wanted an incredibly $7 million for it. They're said to be exploring legal options now.
This scandal is way bigger than Britney's quadruple crotch reveal before the holidays, and to act like it doesn't exist because you have a personal relationship with a celebrity is pretty lame. The least Perez could do would be to acknowledge it and call his friend Paris a victim or whatever.
Watch this blow up huge this week, and all Perez is doing is showing us Cisco's huge balls and acting like he pulled them the pictures out of his ass.