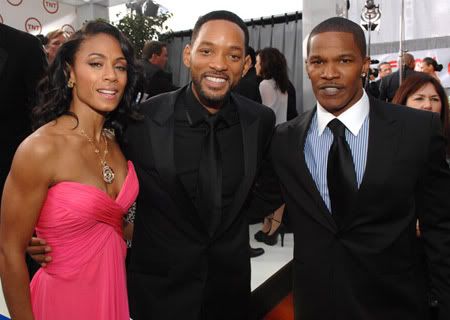 Standout fashion at last night's SAG Awards included Cate Blanchett's gorgeous gold dress, and Catherine Heigl's red floaty gown. Eva Longoria looked ok, her makeup was toned down for once and I liked the style of her dress, but the slate grey color wasn't that flattering. Jada Pinkett Smith also wore a color that didn't flatter her, and was seen in a bright pink strapless criss-cross gown. The color was too garish but the cut of the dress was lovely.
Mariska Hargitay's gown was too fussy. I don't like the weird ribbon thing hanging down the middle or the way the skirt is split into a fitted top with a loose ribboned bottom. Teri Hatcher's gown is pretty, but has a sort-of barbie quality about it and doesn't stand out for me.
Rachel McAdams is the worst dressed that I've seen. She paried a too-short babydoll dress that hung like a tent with cheap looking white pumps that looked too big for her feet. She can rock that pink hair and punk look without dressing trashy.
Will Smith, Jamie Foxx, Tracey Edmonds, Eddie Murphy, Kyra Sedgwick, Ryan Gosling, and Anne Hathaway are also pictured.
Photos of the winners in the press room coming shortly.
Update: Pictures of Kyra Sedgwick are from the Golden Globes. Thanks jen!
Update: Kyra Sedgwick pictures are from the Golden Globes, not the SAG awards. Thanks
Thanks to Saving Face Forum, Hollywood's Best, Gossip Rocks, Bossip and Fab Sugar for these pictures.