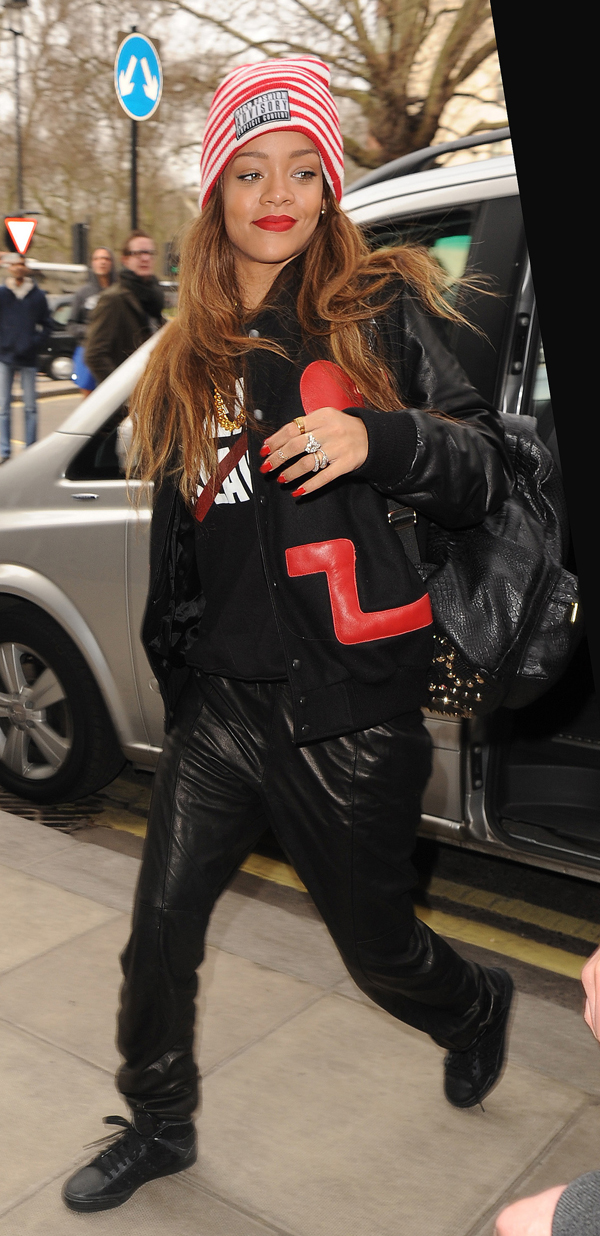 Here are some photos of Rihanna in London immediately prior to the Saturday debut of her fashion line for River Island at Fashion Week. She's wearing a hat that says "high fashion advisory" and is wearing one of Chris Brown's jackets (which is covered with tacky-looking hearts) because who the hell knows. Maybe they didn't break up after all, or maybe they broke up and got back together, or maybe she's just unhealthily addicted to a majorly violent douche. Or all three of the above.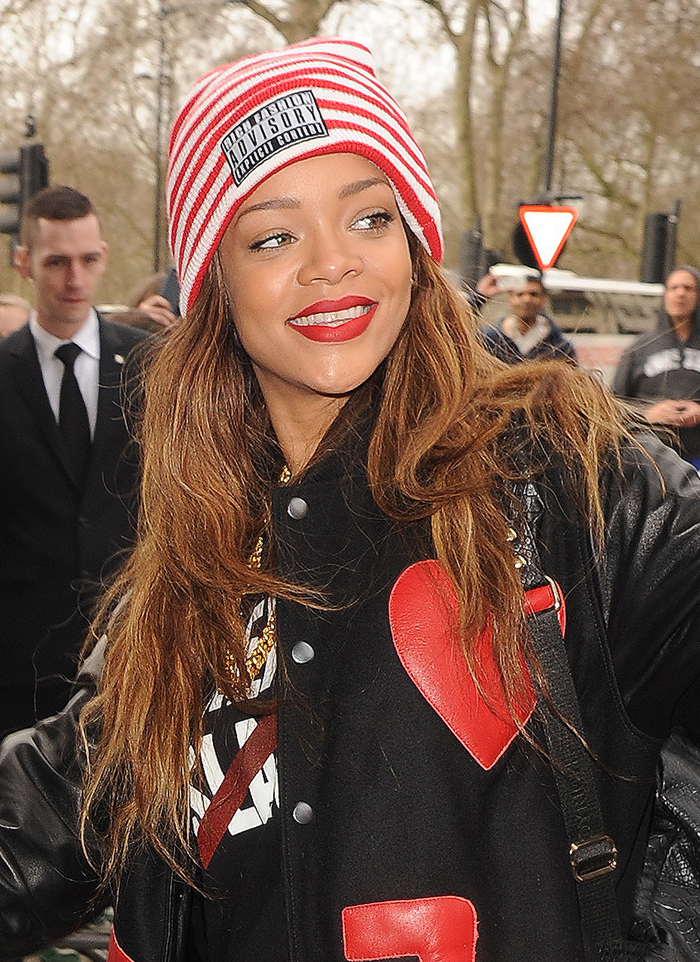 After the show, Rihanna hit the clubs (of course), and she was reportedly "assaulted" by "a crazed fan" who, ironically, yelled at her for getting back with Chris Brown. The fan reportedly threw a bottle of Lucozade in RiRi's direction, and she (trying to duck, I guess) fell against a metal grating and scraped her knee. Hollywood Life has spoken to a Breezy insider who says Chris was very concerned about the incident and also adds, "It's f–ked up someone would do that to Rihanna, and mention Chris in the same sentence. He's hurt over stuff like that." Yeah, Chris is upset about Rihanna when someone else hurts her. When he hurts her, we're supposed to just forget about it.
Here's a bit of fashion-related oddness related to Rihanna's fashion show. The Fashion director of Elle, Anne-Marie Curtis, has delivered her unexpected verdict of Rihanna's clothing line. High fashion, really?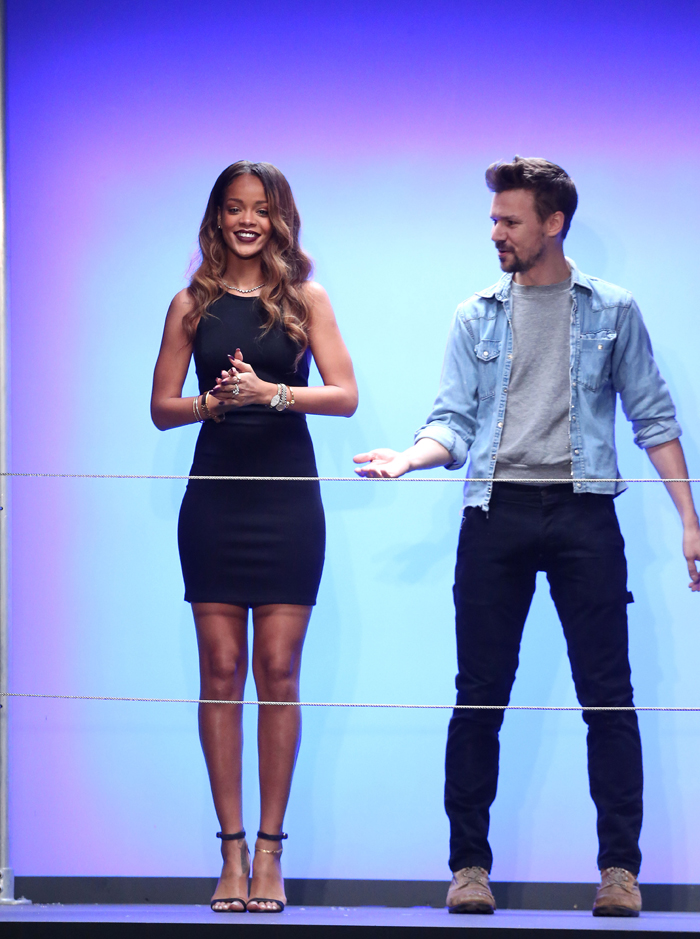 "My perception of her style was squarely rooted in the raunchy stage wear and street style that are synonymous with her image, (but) aside from a nod to street style in the denim section, the collection is an ode to all things high fashion.

"Think Eighties Norma Kamali meets Alexander Wang luxe sportswear. From fluid jersey dresses to sweatshirts to all-in-ones and varying length skirts almost exclusively in a navy, black and white palette, there are myriad options here for even the most discerning fashion eye. Stand-out items include a black jersey column evening dress, a brilliantly cut bra top, a navy cropped sweatshirt, and a properly fabulous denim jumpsuit."
[From Elle UK]
I'm including some photos from Rihanna's runway show so that you can make up your own minds on this pressing issue, but honestly, I think the overriding expectations for the Rihanna clothing line were that the outfits would be completely obnoxious with pot leaves and butt flashes everywhere. Instead, we're getting some stuff that Rihanna would probably wear while doing late-night talk show interviews. So the natural reaction is probably a positive one merely because Rihanna hasn't plastered her favorite term, "Thug Life" all over the fabric of every outfit. Overall, this clothing line is not completely tasteless stuff, but it's definitely not something that the everyday person would feel comfortable wearing while walking down the street. And it's definitely not high fashion.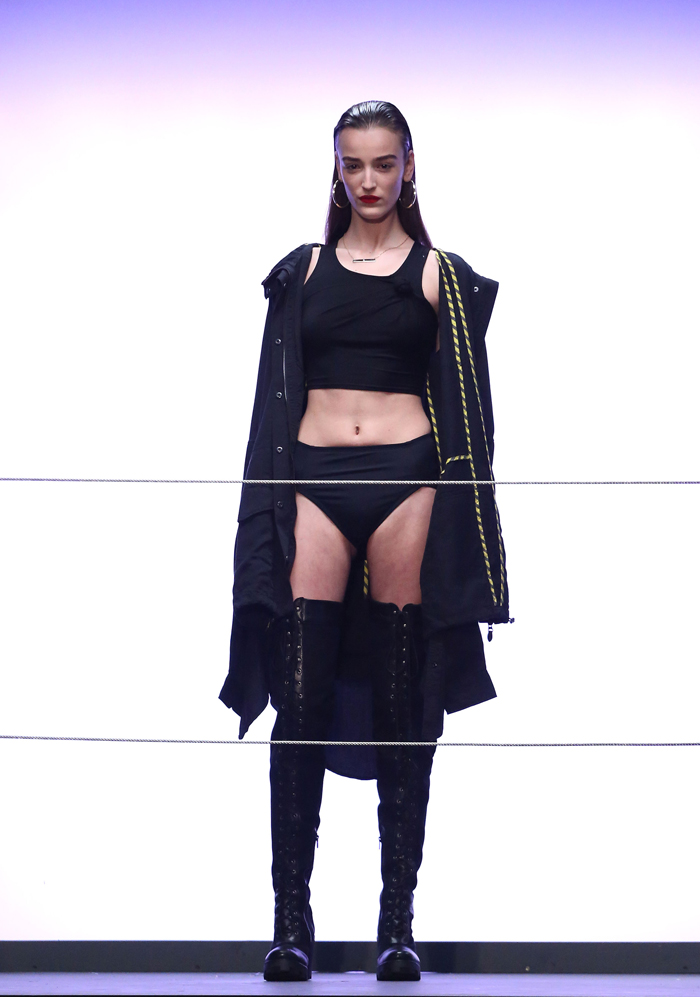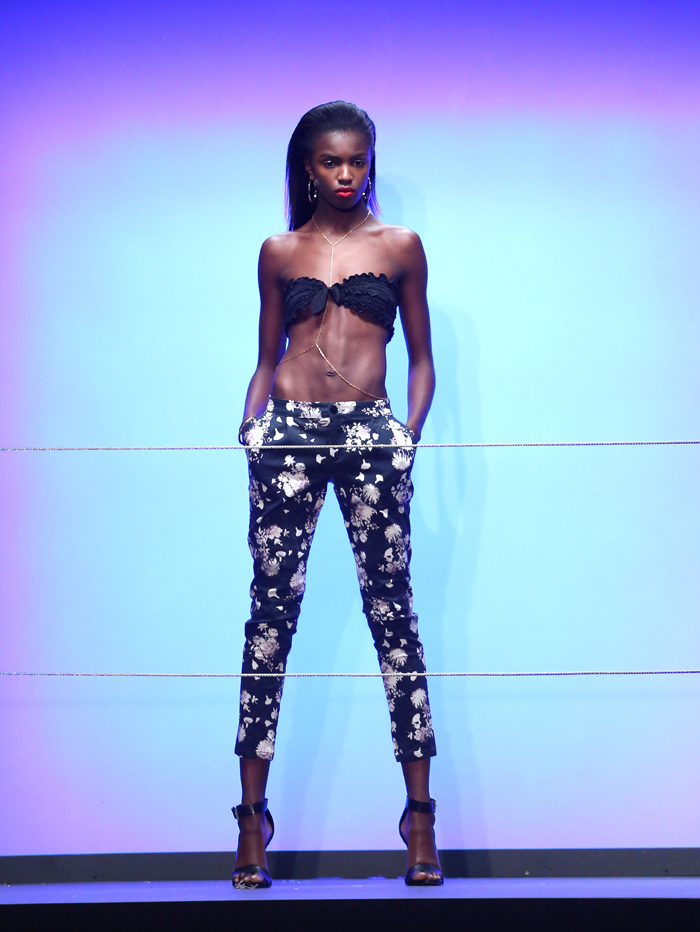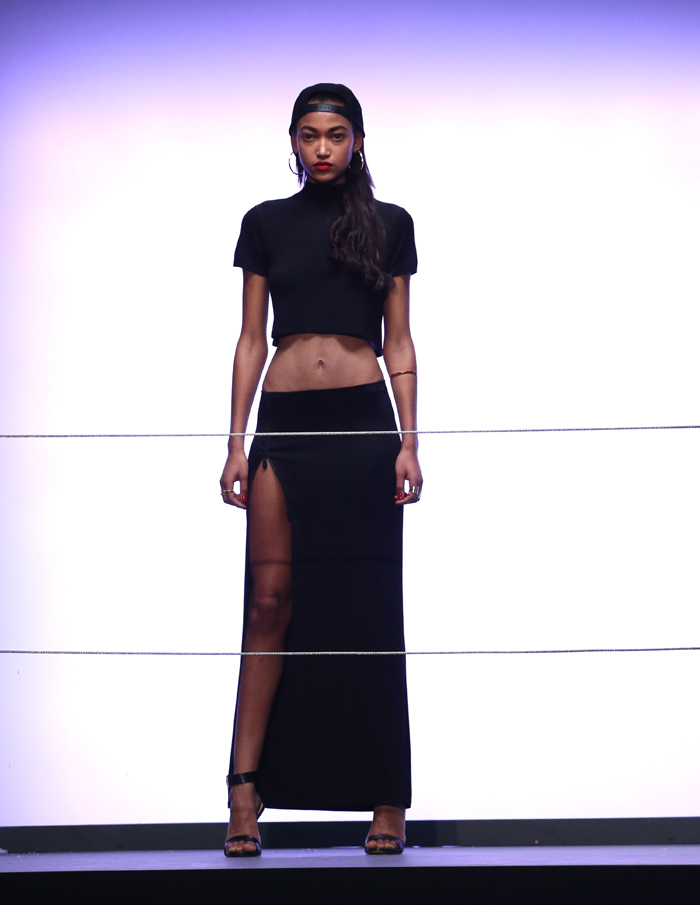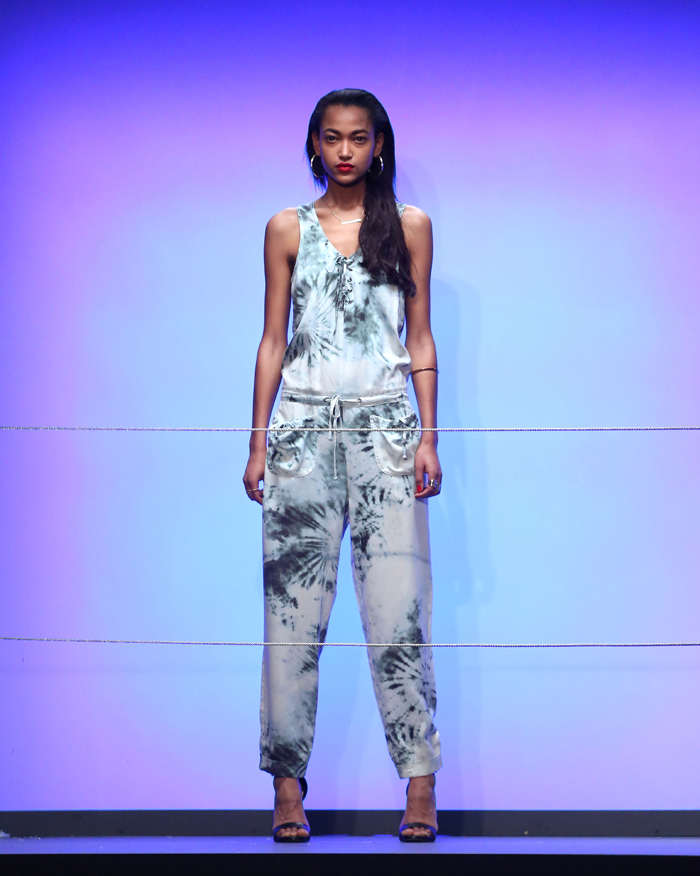 Photos courtesy of WENN