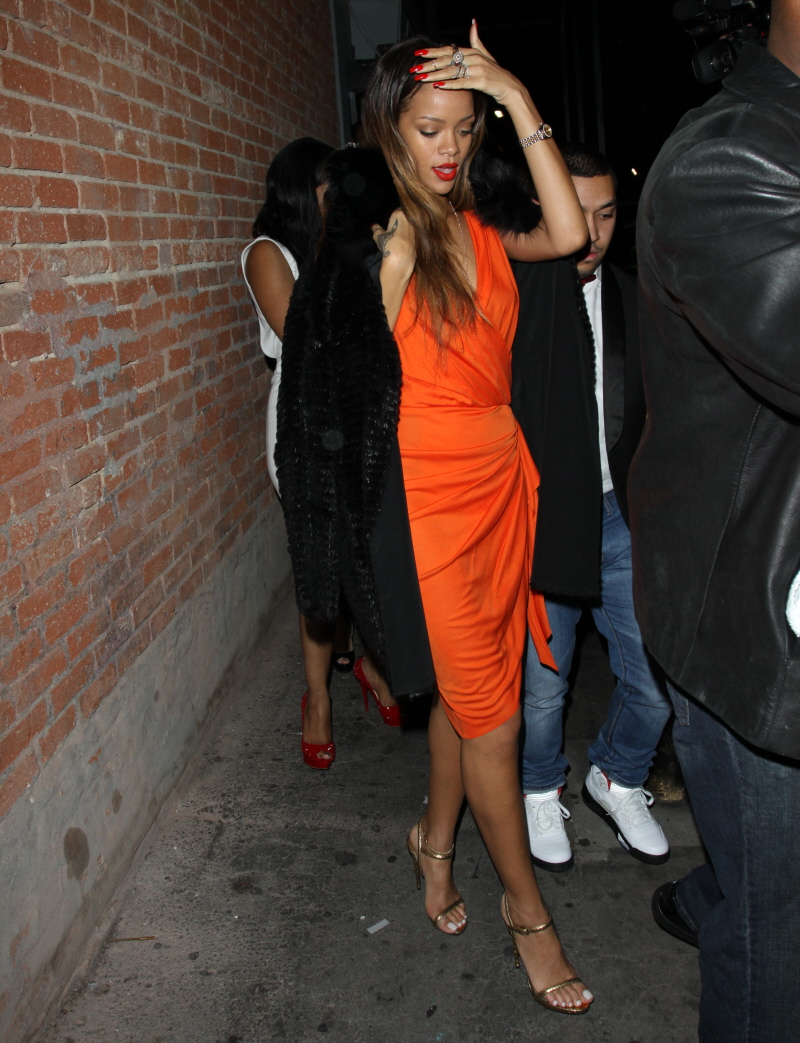 These are some new photos of Rihanna last night in Hollywood, where she went to Blok (a club) without Chris Brown and she left alone (or with her entourage, if you will). Rihanna spent Valentine's Day by herself? Does that sound right? Especially after she and Chris Brown were so loved up at the Grammys on Sunday and after Rihanna publicly stated that she's back with Chris in her Rolling Stone interview? Rihanna was tweeting about spending the holiday "with Mary Jane" and she also tweeted this photo: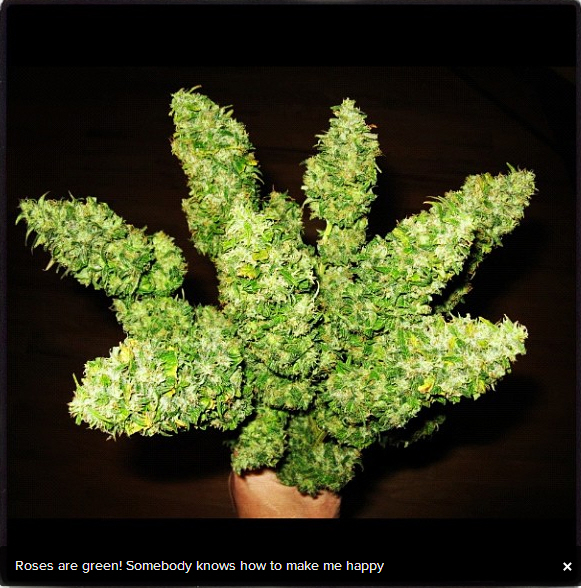 The caption is "Roses are green! Somebody knows how to make me happy!" So someone (Chris?) sent her a marijuana plant for V-Day? Sure. You better send chocolate too! And popcorn. And corn chips. That's what I always wanted when I had the munchies.
Back to the Chris situation though… is it possible that Chris and Rihanna are going through yet another cycle of drama and breakups and whatever?
At the Grammys on Sunday they couldn't have looked happier. But just days later Chris Brown and Rihanna's romance appears to have soured.

A source told MailOnline exclusively that the couple refused to acknowledge one another after both arriving at the Playhouse Nightclub in Los Angeles on Wednesday night. Rihanna didn't know that Chris was expected at the same event, revealed the source.

When VIP hosts asked the Barbadian pop star if she would like to be seated with her boyfriend, she declined and demanded to be put somewhere else.

'Rihanna refused to sit with or even near Chris – and when Chris noticed she was there, he made a huge show of rubbing his presence in her face,' said the source. 'He promptly ordered three more bottles of ace of spades which came out with in a procession of sparklers and scantily clad cocktail waitresses, causing a spectacle, which he clearly wanted Rihanna to see.'

The music superstars had arrived separately at the Popular Demand's 1 Year Anniversary event, and left without each other at the end of the night. Chris arrived at the celebrity hotspot around midnight, armed with a crew of around 20 people. Rihanna entered the club half an hour later, accompanied by her group of bodyguards.

The singers never once communicated with each other during the course of the evening as they sat across the room from one another, said the source. Chris left the club around 2.15am in a metallic grey Lamborghini, wearing his hoodie over his baseball cap. Rihanna made it a late night, leaving closer to 3am.
Sigh. Would you like to know what I really think is happening here? I think Rihanna has been pushing Chris to get back together for real, and to be exclusive with one another. I think her comments to Rolling Stone were not aimed at us or even Chris, they were aimed at Karrueche Tran and whoever else Chris Brown has on the side. That was Rihanna staking her claim to him publicly, and then she did it again at the Grammys. And Chris is so dumb (or whatever, I don't even know) that he's put off by it. I think Chris wants to be with Rihanna… and other women. And he doesn't want her to lay claim to him publicly. So they've probably broken up again. But they'll get back together. Because OMG WHY NOT.
Here's Rihanna's new music video for "Stay". I hate to say it, but I really like this song. Rihanna's ballads are pretty decent.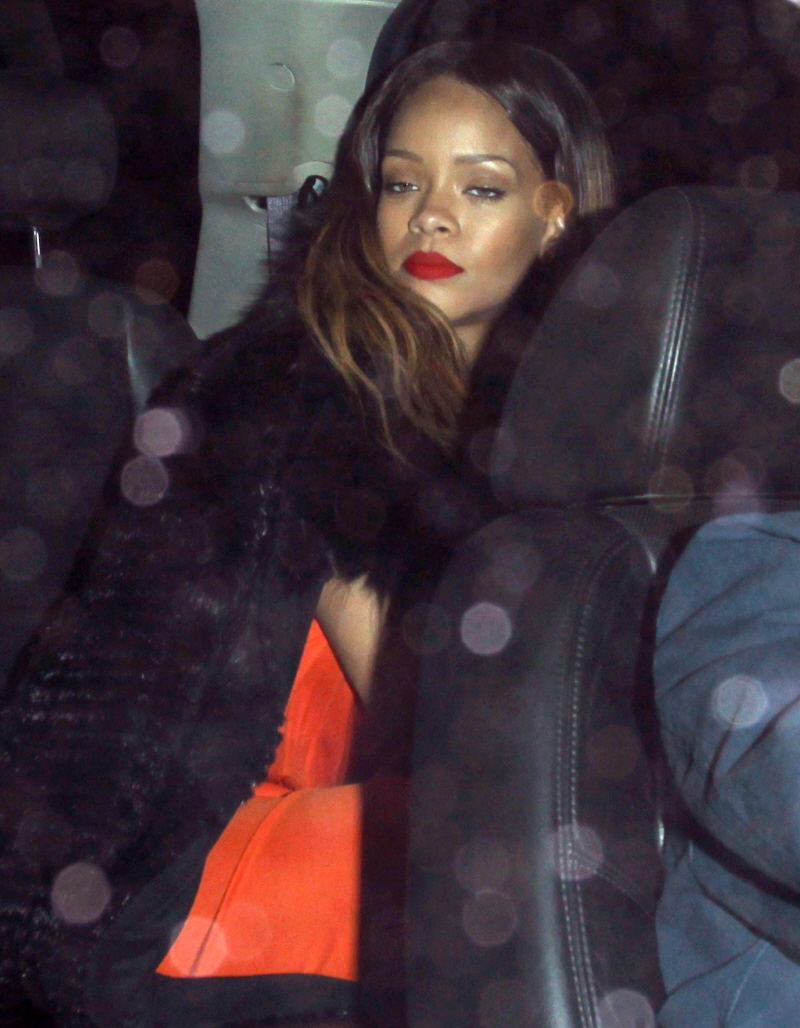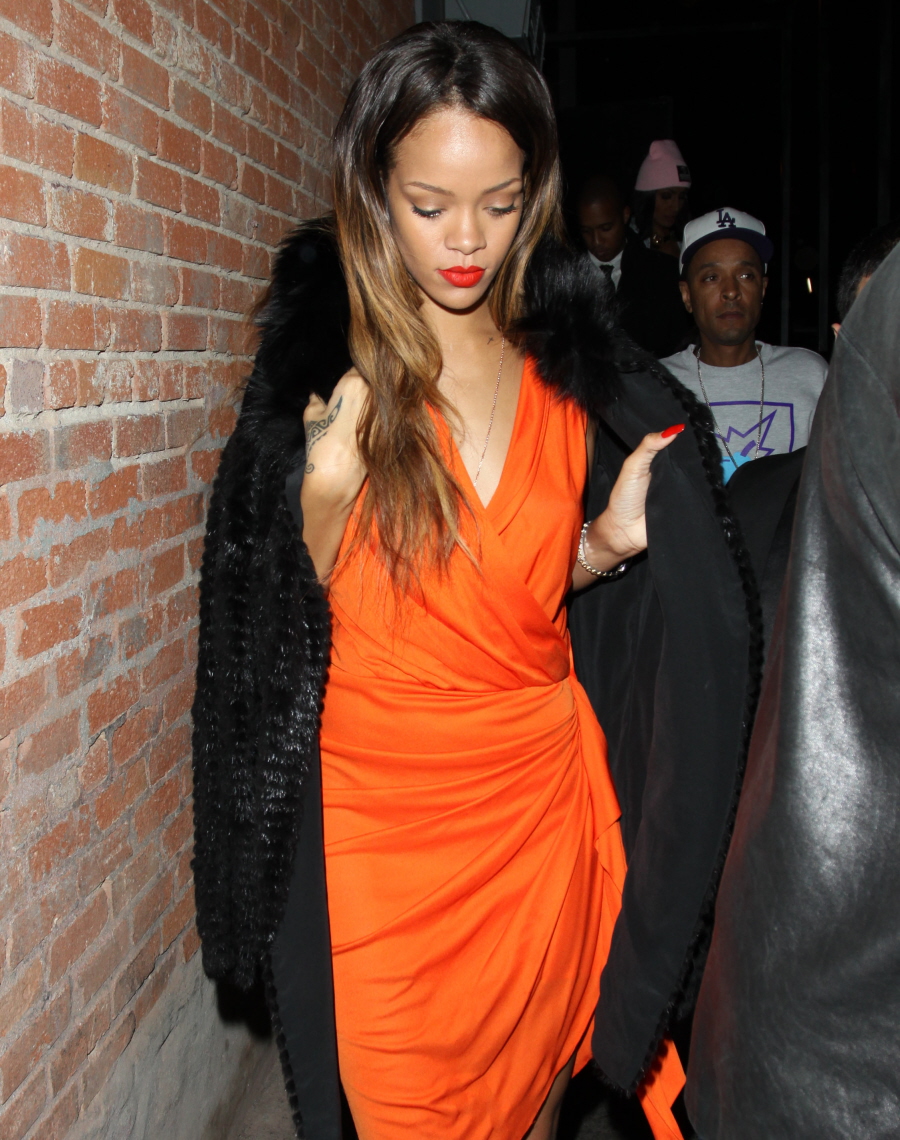 Photos courtesy of Fame/Flynet and Rihanna's Instagram.