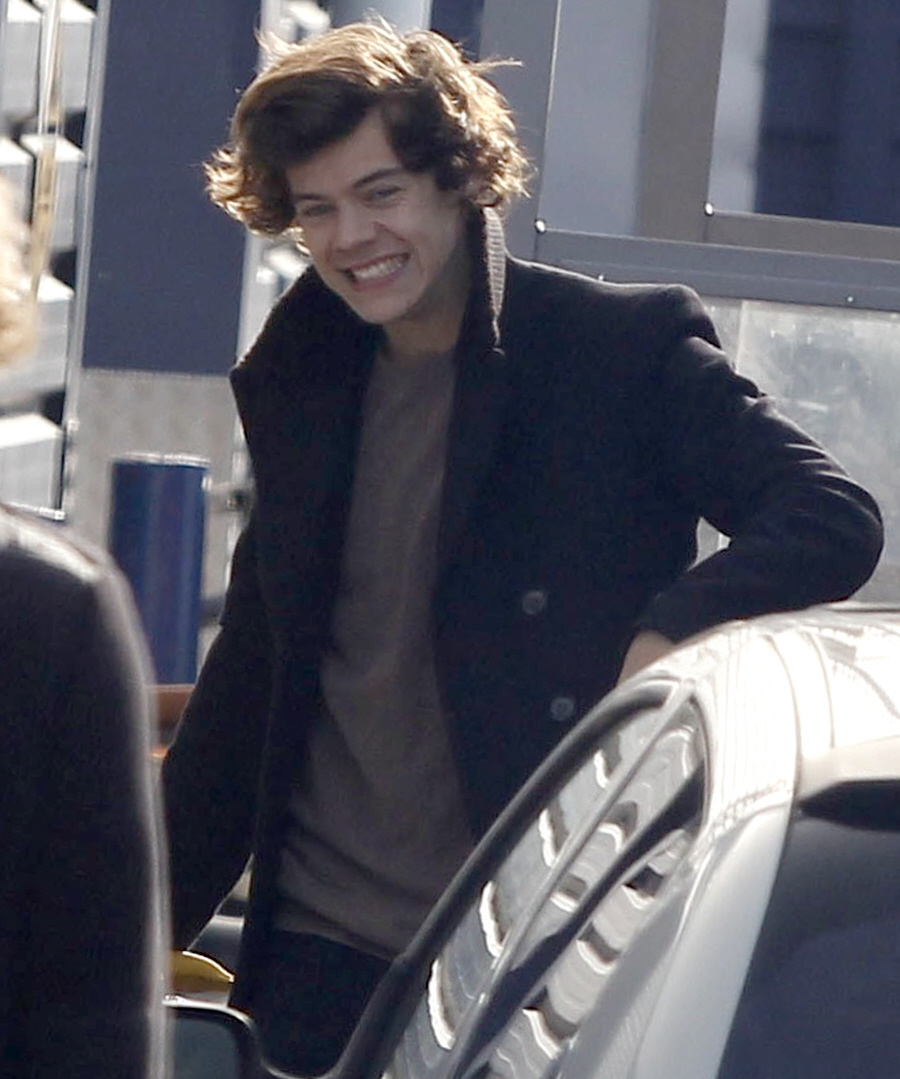 It's been about six weeks since Harry Styles and Taylor Swift broke up when they were on holiday for New Year's. There were mixed reports about what went down, so let me just tell you what I think happened (gathered from my years as a professional gossip): Harry and Swifty were on vacation, and Harry wasn't spending enough time paying attention to Swifty (maybe he was drinking, maybe he was flirting with other girls, something like that). Swifty freaked out and threw a hissy fit, and Harry kind of freaked out by how she can run hot and cold so quickly. She gave him some kind of too-serious ultimatum about their relationship ("Pay attention to me or we're over!!") and he didn't give in, effectively calling her bluff. Swifty left in a huff and flew home, confident that he would come crawling back to her. He didn't. So Swifty switched tactics, alternating between playing the confident dumper all while privately begging Harry to take her back, even flying to England to stalk him for a few days. He still wouldn't budge.
And so it's been a holding pattern like that for weeks – Harry is acting like he's totally over Swifty, and she acts like she's dedicating her next album to their torrid and tragic romance. He's been seen out with various girls and Swifty continues to play the brave, innocent, wronged woman… only people are wise to her act at this point, so it's kind of failing. Hard. And this new development won't make things any better for her – Harry Styles has taken the high road, and it's magnificent.
Unlike Taylor Swift, Harry Styles isn't trying to publicly embarrass his ex. While promoting One Direction's No. 1 charity single, "One Way or Another," during a radio interview with London's Capital FM Feb. 17, the pop star spoke about what life has been like since his January breakup with the country superstar.

"I'm okay, thank you for asking," Styles said when asked about his split with Swift, 23. "I'm good."

The 18-year-old then discussed how he felt about Swift's dig at him during the 55th Annual Grammy Awards; the country singer used a British accent during her performance of "We Are Never Ever Getting Back Together."

"She's a great performer and she always performs great," Styles said diplomatically. "She's always good on the stage. She's been doing it a long time. She knows what she's doing on stage. It was just another good Taylor Swift performance. It was good."

Styles added that he doesn't mind the extra attention surrounding their breakup. "I understand why people would wanna know stuff like that, I get it. If someone does stuff like that then I wanna know about it, too," he said. "I guess it just kind of. . . It is what it is, I guess."

The boy band member doesn't seem too heartbroken. Styles and his pal Jonathan Harvey spent Valentine's Day partying with co-eds at Leeds University, a source tells Us Weekly. "They just had fun, drinking and chatting," the source says.

"It was pretty much all girls there, about 10 to every guy, so Harry was in his element. He's a flirt and so you could tell he was enjoying all the girls coming up to him and wanting to talk," the source continues. "But he didn't give our his number or try and hook up with anyone. It was all innocent."

After partying on campus, Styles and Harvey went to Mezz club, a popular student hangout. "Harry took over the VIP area," a local tells Us. "Somehow before he got there, half of Leeds already knew so the club was rammed and people were all trying to swarm the VIP area. But Harry was cool about it. If anyone got to him, he happily posed for photos and signed things."

Swift, meanwhile, had more modest Valentine's Day plans. "I'm probably going to be with my friends or rehearsing," she told KIIS-FM's Ryan Seacrest in early February. "And I don't think I'd rather be anywhere else, to be honest."
So, while Harry isn't the most eloquent or verbose young man, he certainly knows HOW to play this breakup, doesn't he? He doesn't say one bad word against her, he even compliments her performance (a performance widely seen as mocking him and their breakup) and he even acknowledges and accepts the interest people have in knowing the details of their split. I think he played this brilliantly. Much better than Swifty, honestly. TEAM STYLES!!
Two more things: one, the pics of Swifty are from last week, when she was filming a new music video and some say that green beanie is significant because Harry always wears a green beanie. Secondly, Buzzfeed had an interesting article called "Does Taylor Swift Hate Other Women?" It's worth a read.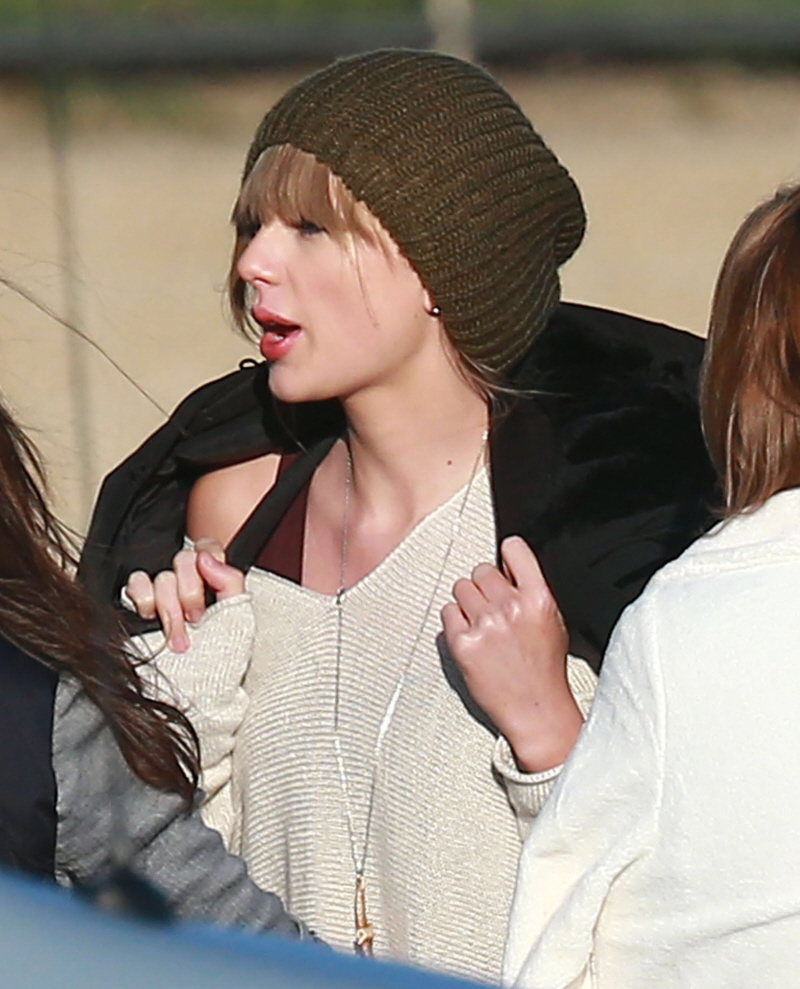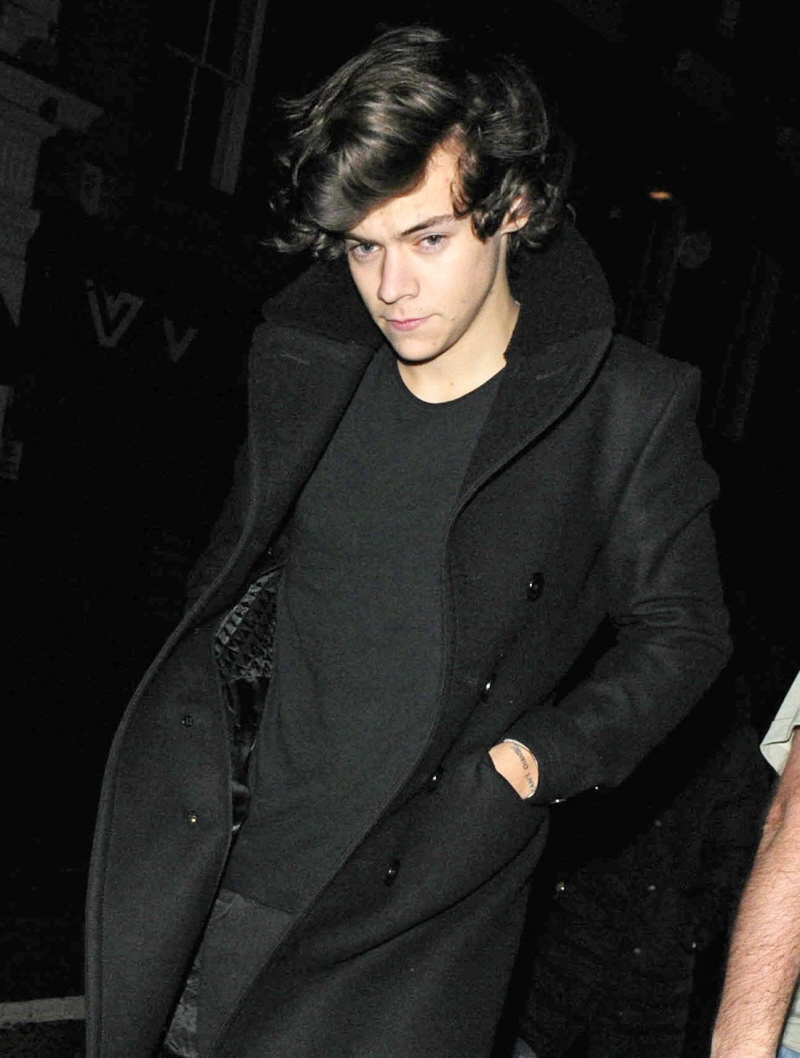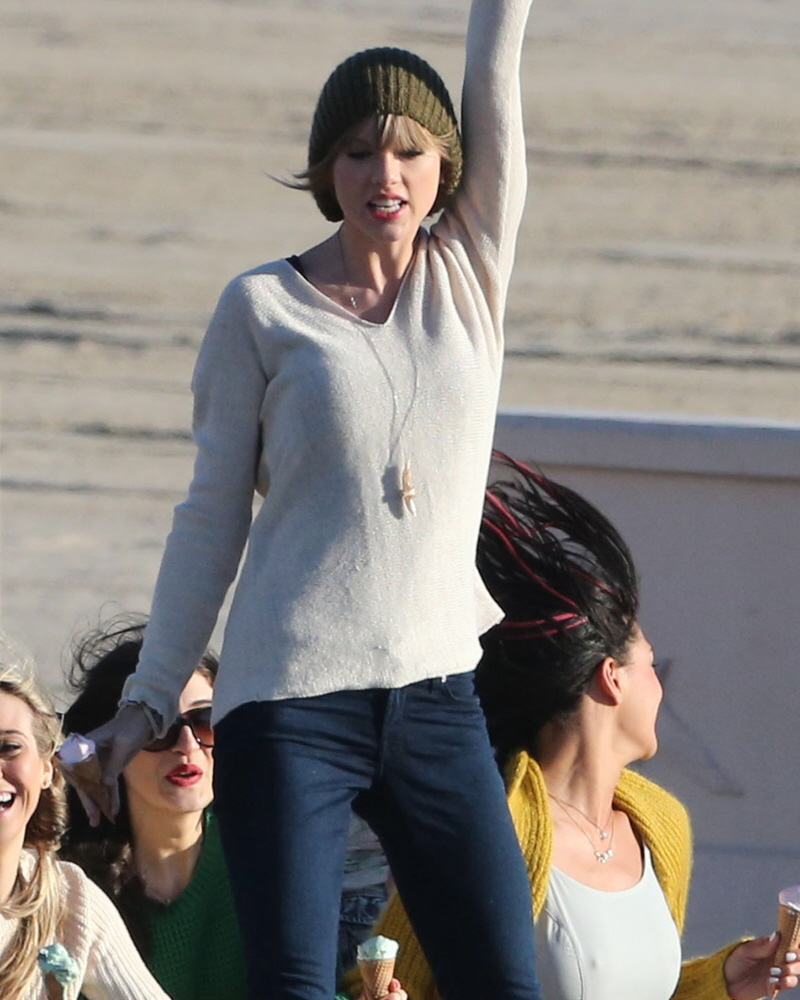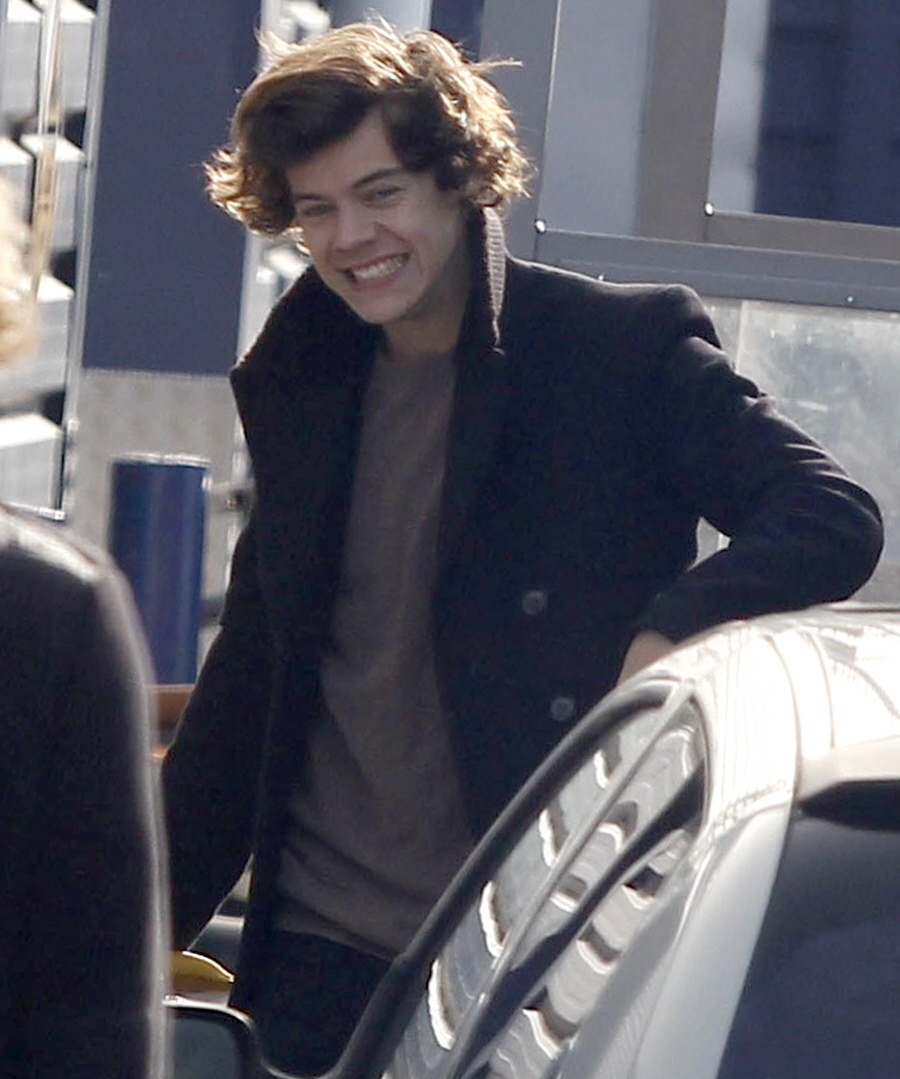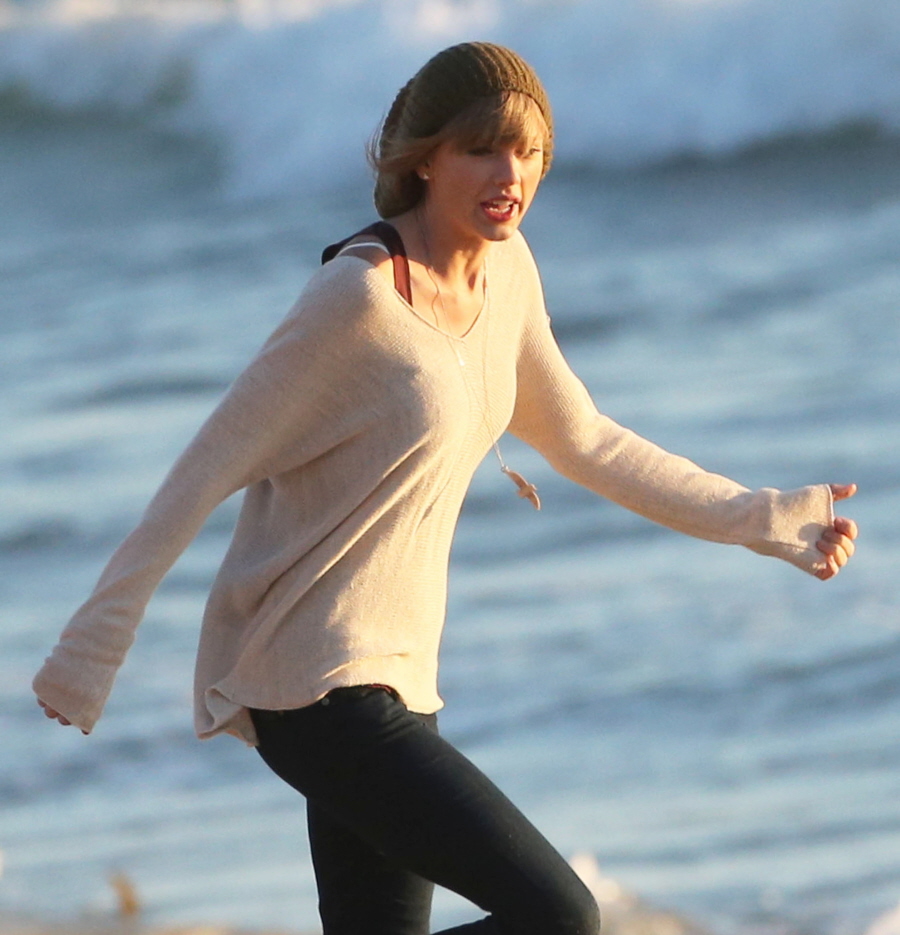 Photos courtesy of Fame/Flynet.