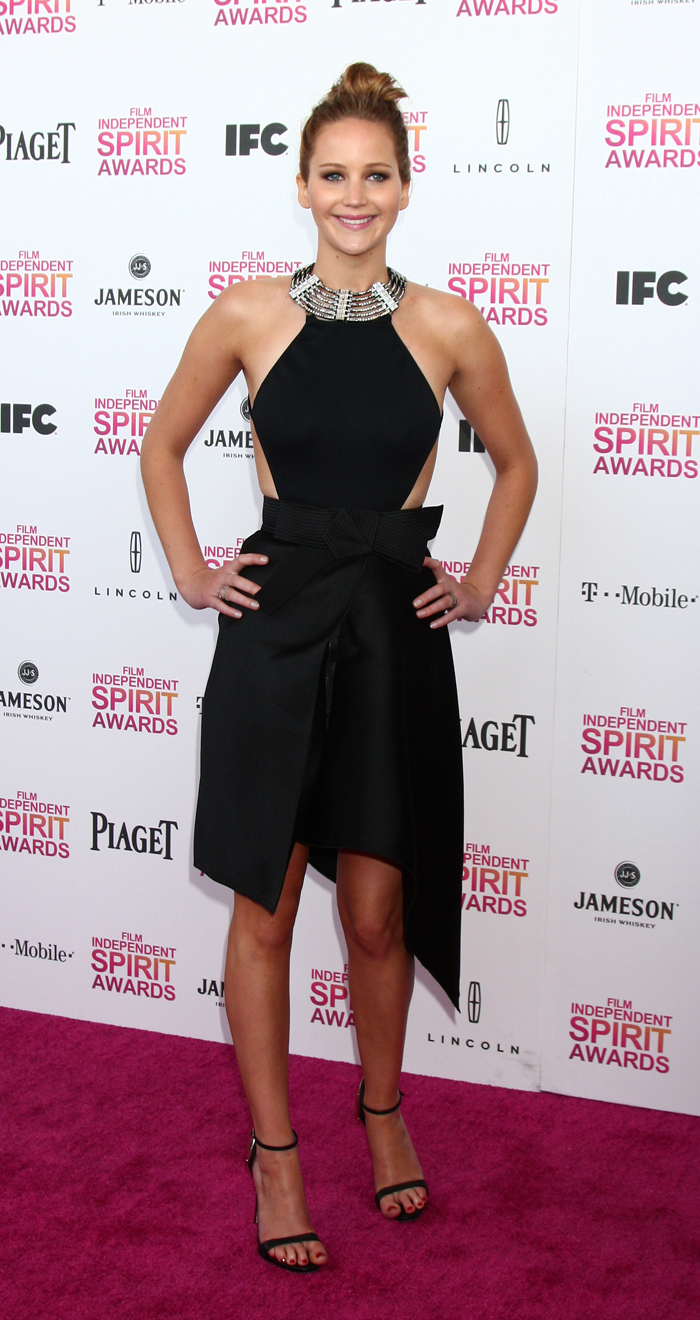 Jennifer Lawrence attended the Independent Spirit Awards last night where she won the award for Best Female Lead. I'd be willing to bet that she cannot wait for the Oscars to be over tonight, but she managed to put her game face on for this event. Her dress here is Lanvin, and at least it's more dramatic than the Dior she's been sporting for most of the awards season, but it's far too formal (and a little bit tacky) for this show, which takes place in a tent on the beach. Kaiser and I were discussing last night how no one can ever manage to style this girl correctly while highlighting JLaw's gorgeous figure and everyday-girl looks. Stylists always make her look so severe on the red carpet (and in magazines, where she sometimes appears unkempt) no matter what, and her makeup and hair are usually a mess.
Now onto this ensemble. The top part of this dress looks like JLaw simply covered her boobs with a napkin, and there's a bit of sideboob (which isn't too scandalous) that came out to play. The crystal choker would look fine at a movie premiere, but it looks ridiculous for a beachfront event. I do love this dress from the waist down though. I'm kind of a sucker for a well-cut asymmetrical hem, and those strappy sandals help accentuate those amazing legs. Her hair could have been worse though, and this semi-messy topknot is probably the best we could have hoped for here.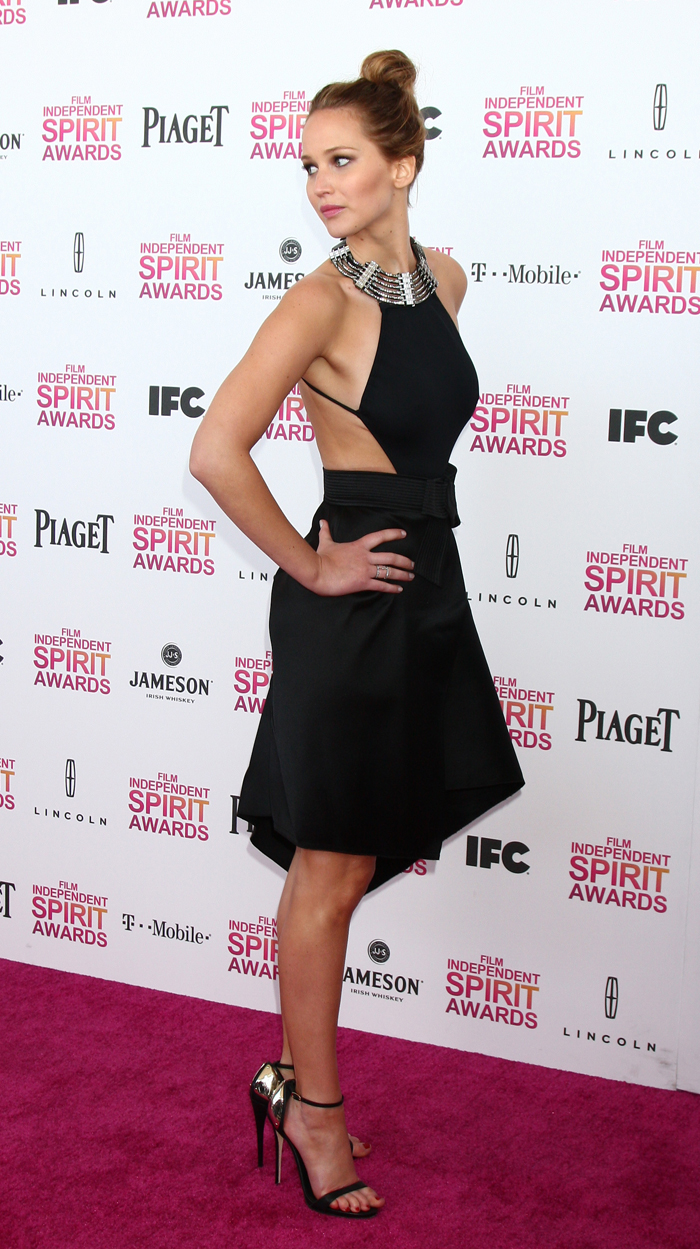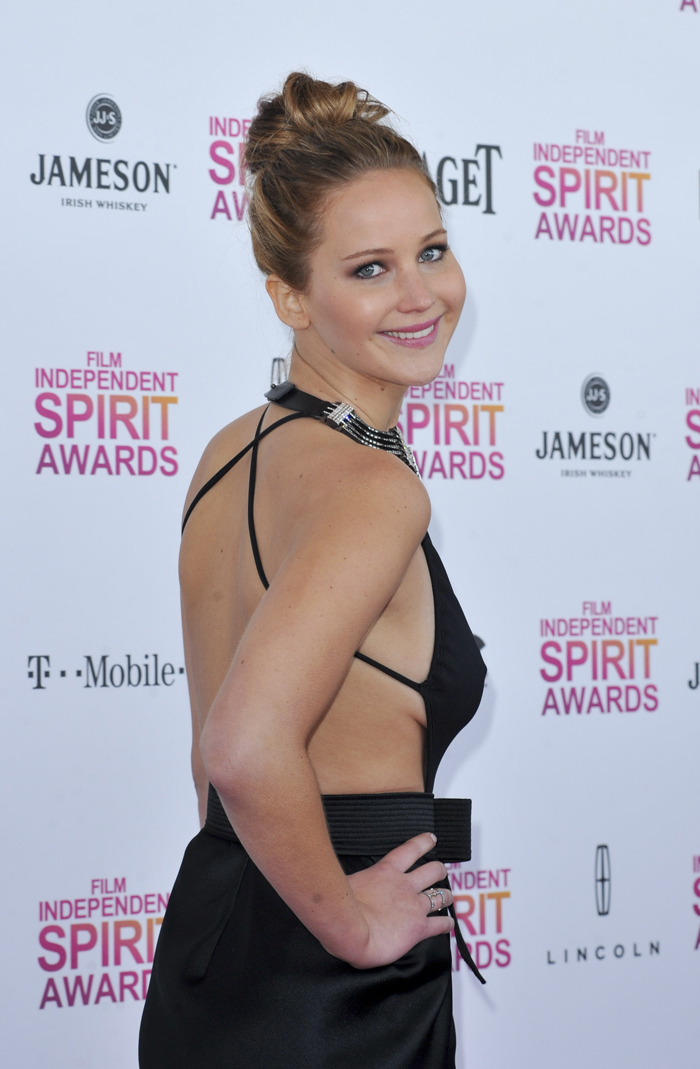 Outside of the tent, Jennifer put her ensemble together with a matching Lanvin jacket. The outfit makes more sense with this jacket, but only if it were a more formal event.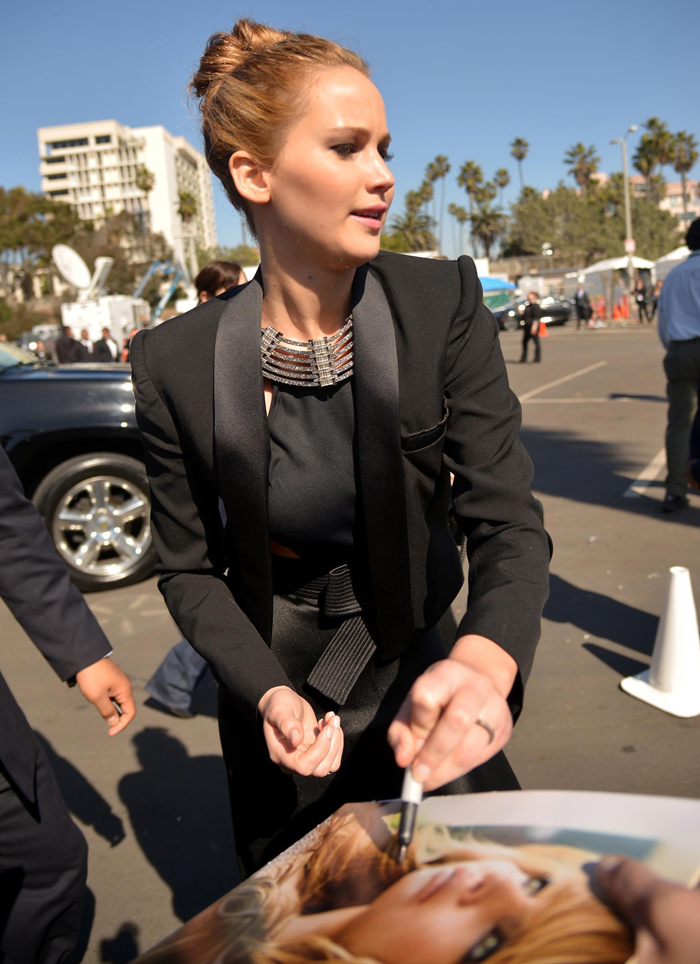 Jennifer's makeup looked better than it has in the past. I'd have gone with a rouge pout instead of pink, but at least she matches the wallpaper.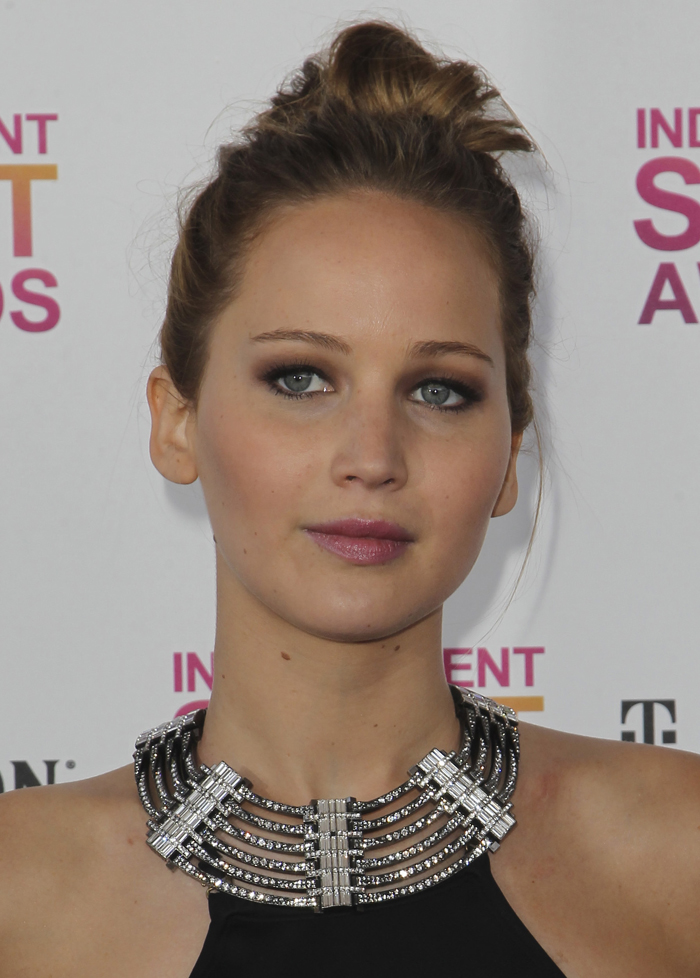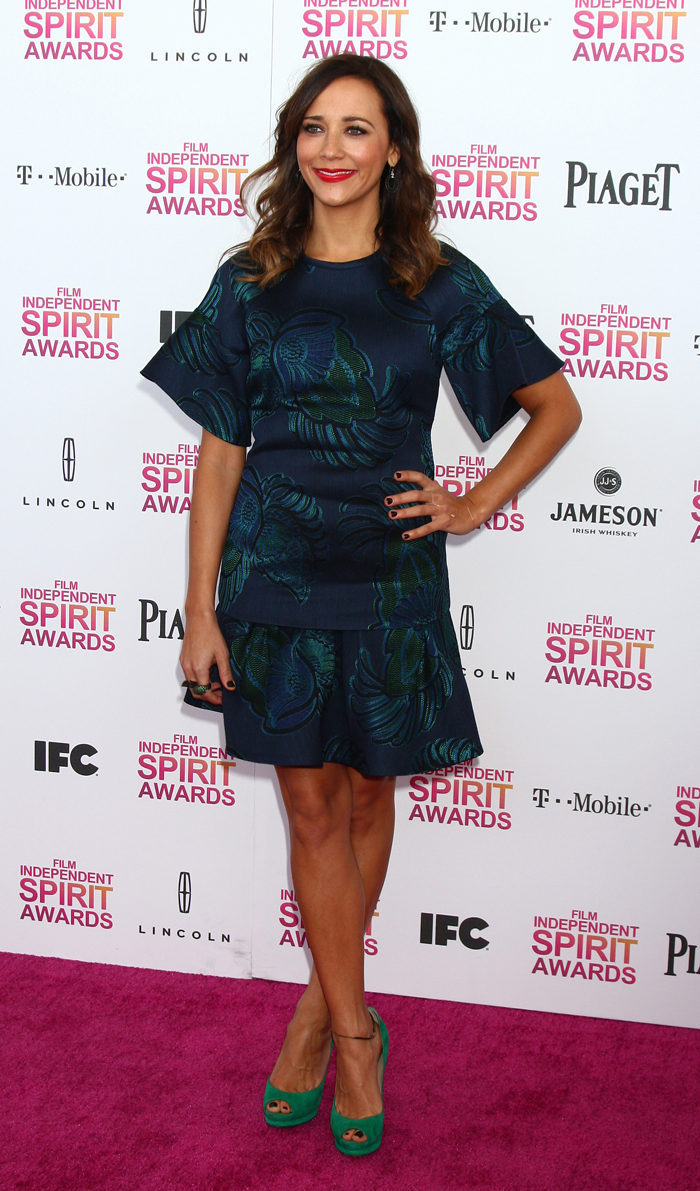 Rashida Jones is just so damn adorable. Even though this dress is Stella McCartney, it's appropriate for a rather informal show where she was nominated for Best First Screenplay (Celeste and Jesse Forever). Although she didn't win the award, she's my favorite of this bunch for her kicky look. The blues and greens of the dress are very beachy, and I like that she went with bright green shoes, which fit the mood of the event without being too matchy matchy. Her lip color is a bit bright, but Rashida's wavy hair is gorgeous.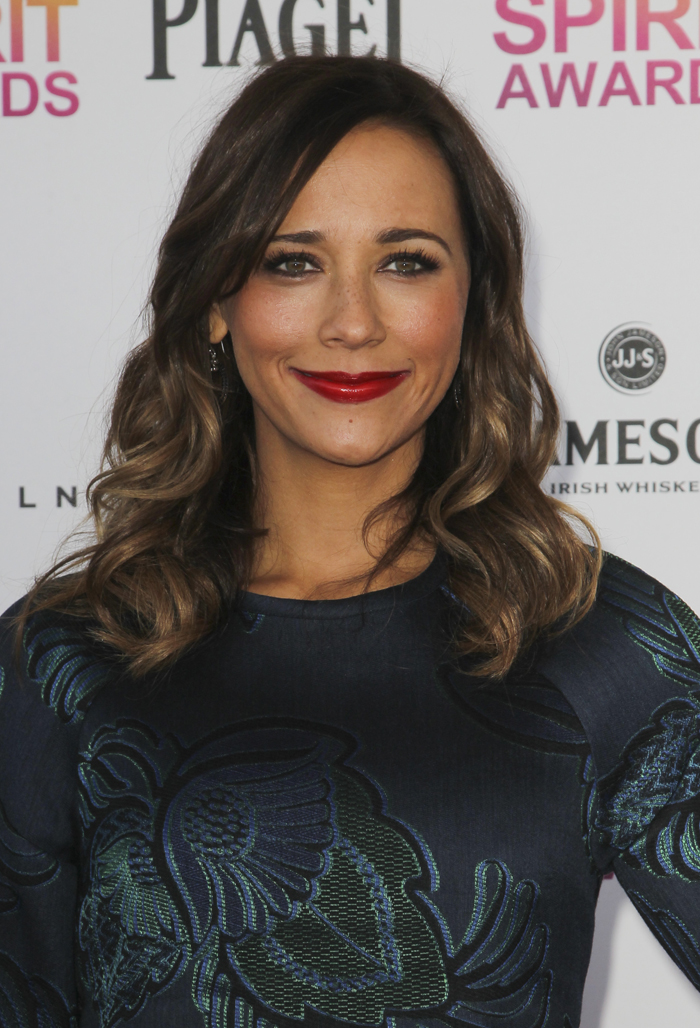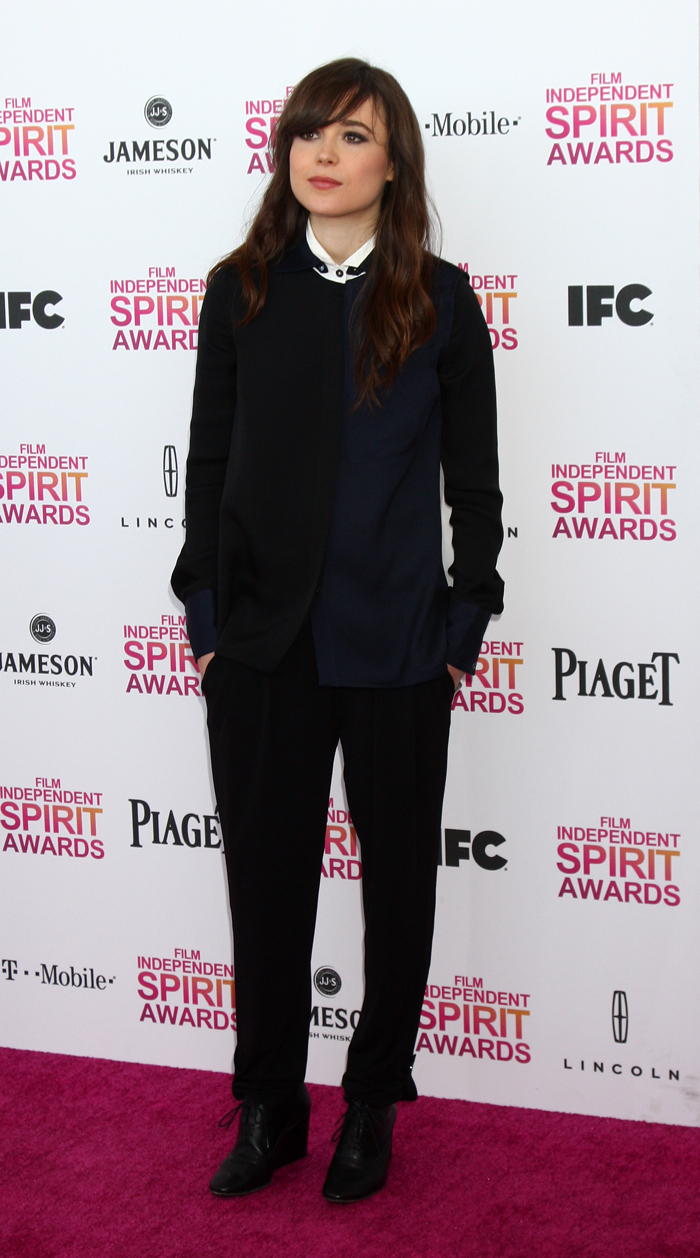 Ellen Page truly embodied (her own) independent spirit by pulling something out of her closet that she'd probably wear to go get coffee in Seattle. I appreciate that she's not one to join the crowd, but she could have made a bit more effort here, right? I still like her though.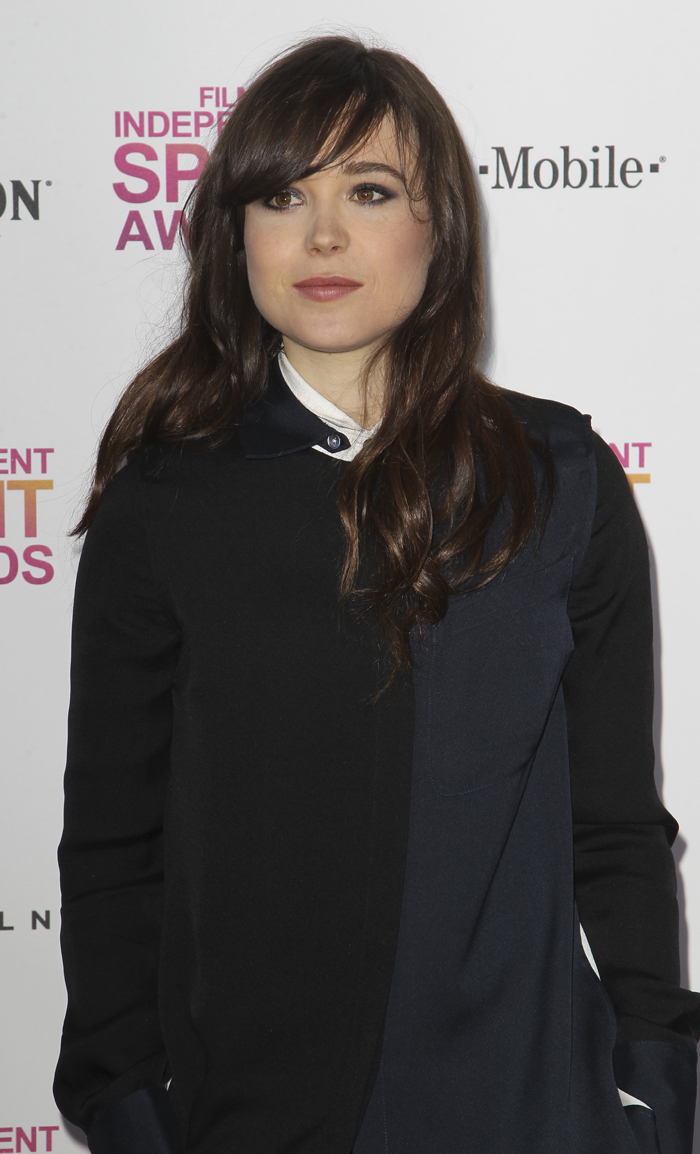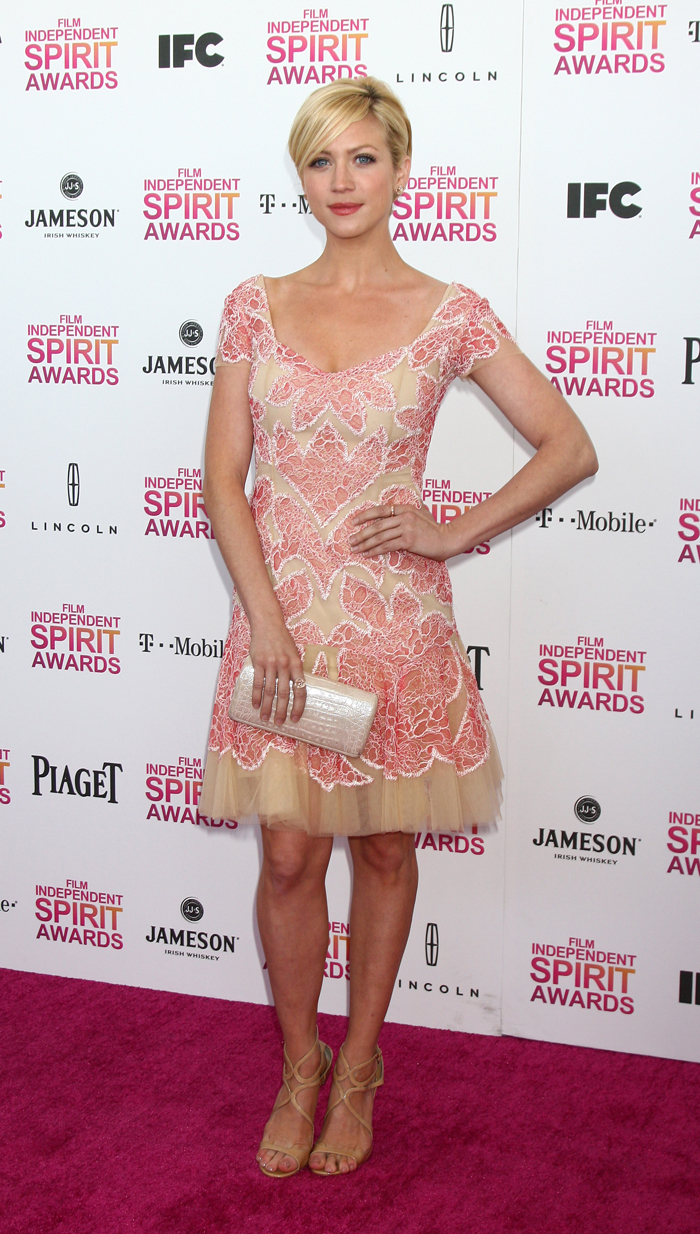 Brittany Snow is such a pretty girl, but here, she looked like one of those pop-up ballerinas that spin on top of a jewelry box. Brittany wore a Naeem Khan frock with lots of pink lace embroidery on top of a nude tulle base. It's a little bit too girly and a little bit too much, but she didn't go as overboard as JLaw did at this event.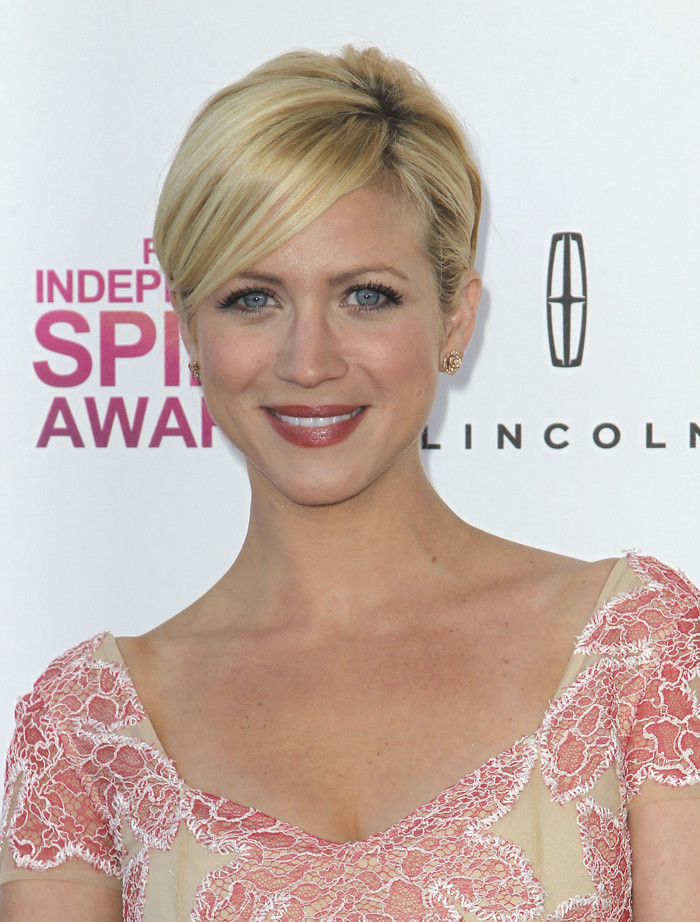 Photos courtesy of WENN