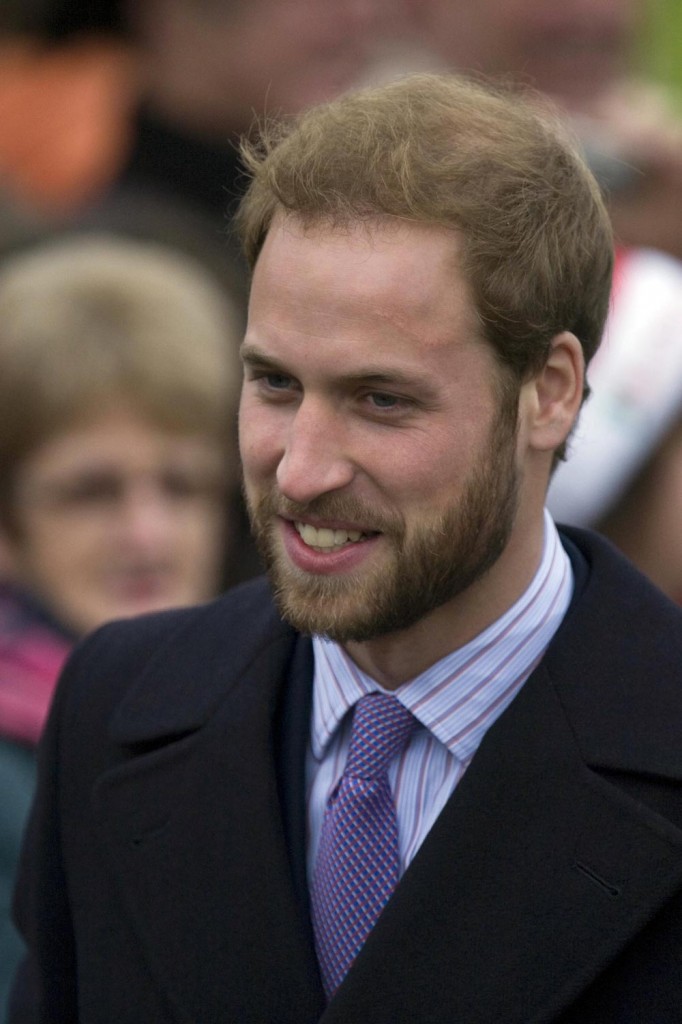 Sometimes I'm happy America doesn't have a royal family, but then I check out the two princes, one a hot ginger and one a hot blond. These boys are enough to make me a royalist.
The big news across the pond is Prince William's new, hot, scraggy beard. He debuted the beard during a Naval exercise, and decided to keep it for the holidays. But fear not, beard-haters! Apparently, Prince William doesn't care for it, and a clean shave is required for his next assignment with the RAF.
The 26-year-old Prince grew the facial hair during a recent 10-day exercise in Barbados with the Navy's Special Boat Service. He returned a week ago but appears so enamoured of his new look that he has yet to shave it off.

He was photographed on a pheasant shoot at the Queen's Sandringham estate in Norfolk with his brother, Prince Harry, and girlfriend Kate Middleton. Rules on facial hair in the Armed Forces differ according to the service. The Royal Navy allows a full beard – although no moustaches, goatees or 'designer stubble' – if permission is sought from a commanding officer.

It is believed that the Prince's beard was an attempt to disguise his identity during the SBS mission. He is also following family tradition, as the Prince of Wales grew a beard while on Naval exercises in Alaska in 1975.

However, beards are banned in the RAF and the Prince must be clean-shaven when he reports for duty next month to commence an 18-month training course to qualify as a search and rescue pilot.
[From Telegraph.co.uk]
I'm actually not a beard hater – some men look better with something going on in the beard/goatee area. Unfortunately, Prince William is not one of them. But that doesn't mean Britain can't have a little beard freak-out, right? Apparently, some newspapers are already doing polling on it.
In other royal news, oddsmakers are still trying to make some money on the never-ending speculation of a royal wedding between Kate Middleton and Prince William. A 2009 royal proposal has 11/8 odds. That's good for Middleton, right?
Britain's Prince William proposing to girlfriend Kate Middleton in 2009 has odds of 11/8, according to bookmakers William Hill. The British public thinks the likelihood of the 26-year-old royal – who has been dating Kate since 2003, after the pair met at Scotland's University of St Andrews – asking the brunette beauty to marry him are very likely.

In September, it was claimed William will not get engaged to Kate for at least another 18 months, and would have to speak with several members of the royal family and the government before going down on one knee, according to a senior member of the Royal Household.

The source said: "There is a lot of planning involved in a royal engagement announcement of a member of the family as senior as Prince William. "A number of high-profile people have to be informed formally, and the couple have to be introduced to the Prime Minister of the day, among others. All this takes time. As far as I am aware I cannot see there being an engagement between the prince and Miss. Middleton for at least 18 months."

William's hopeful marriage prospects are not the only ones in the royal family. William Hill have revealed Prince Harry proposing to his Zimbabwe-born girlfriend Chelsy Davy has odds of 6/1, while Prince Andrew – who was previously married to Sarah Ferguson, the Duchess of York – getting engaged has odds of 50/1. William Hill spokesperson Rupert Adams said: "Every year there are a couple of big odds winners from the bets!"
[From Monsters and Critics]
I don't think either prince will get engaged this year. Prince Harry won't because he's the wild one, and wild ones don't settle down at twenty-four. But I suspect Prince William won't get engaged because, as it turns out, he's probably a lot like his father. Meaning he just can't make up his mind about marriage and about Kate Middleton. If I was a betting woman, I'd put money on Kate finally dumping him for good in 2009 – if she's smart. But maybe she thinks that she's waited so long, maybe another year being The Royal Girlfriend is good enough. Poor Kate.
Prince William is shown attending church on Christmas day. Credit: BARM/Fame Pictures