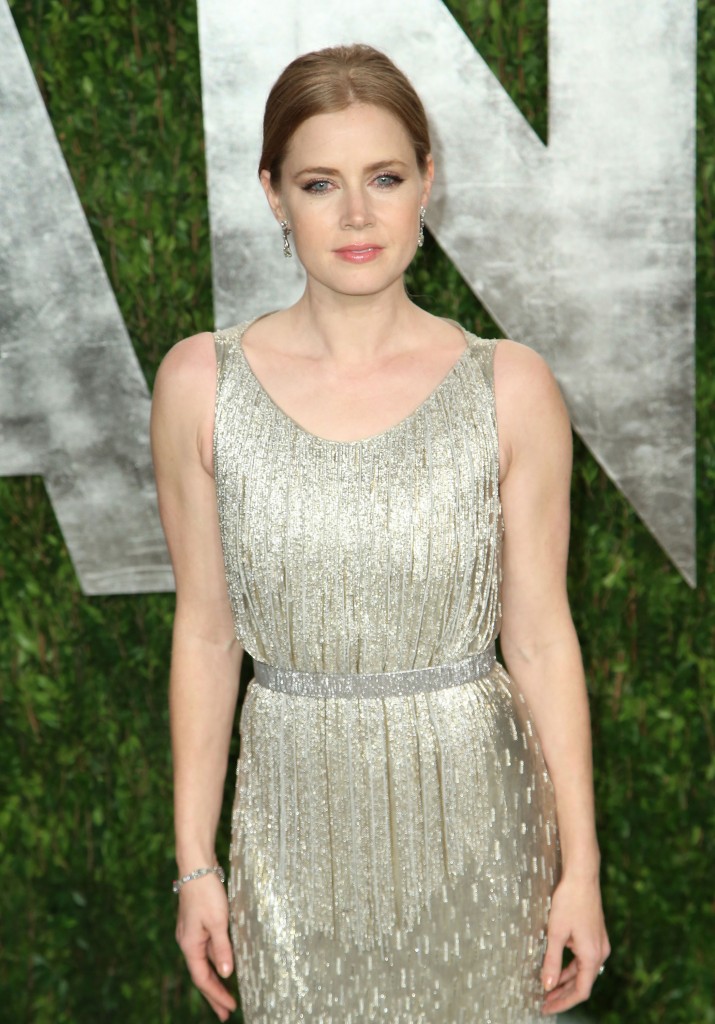 It feels like Amy Adams is always a bridesmaid at the Oscars, and that she's constantly nominated but never wins anything. I checked her wiki and she's been nominated for best supporting actress four times: at the 2006 Academy Awards for Junebug, in 2009 for Doubt, in 2011 for The Fighter and this year for The Master. She's a staple at the Oscars and she always puts her game face on, even when she's pre-taping reaction shots for dumb skits involving actresses' boobs.
At the Vanity Fair Oscar Party (we're getting to some late-breaking photos today) Amy donned this really incredible silver fringed Oscar de la Renta dress that was very 20s but just skirted the edge of "full flapper." Does that make sense? Like this could have looked cheap and dated but it didn't, Amy really worked it. (We don't have full length photos, but here's one on US's site.) I wish she would have worn this dress to the Oscars instead of that pale Oscar de la Renta with the huge fluffy train, but a lot of you liked it.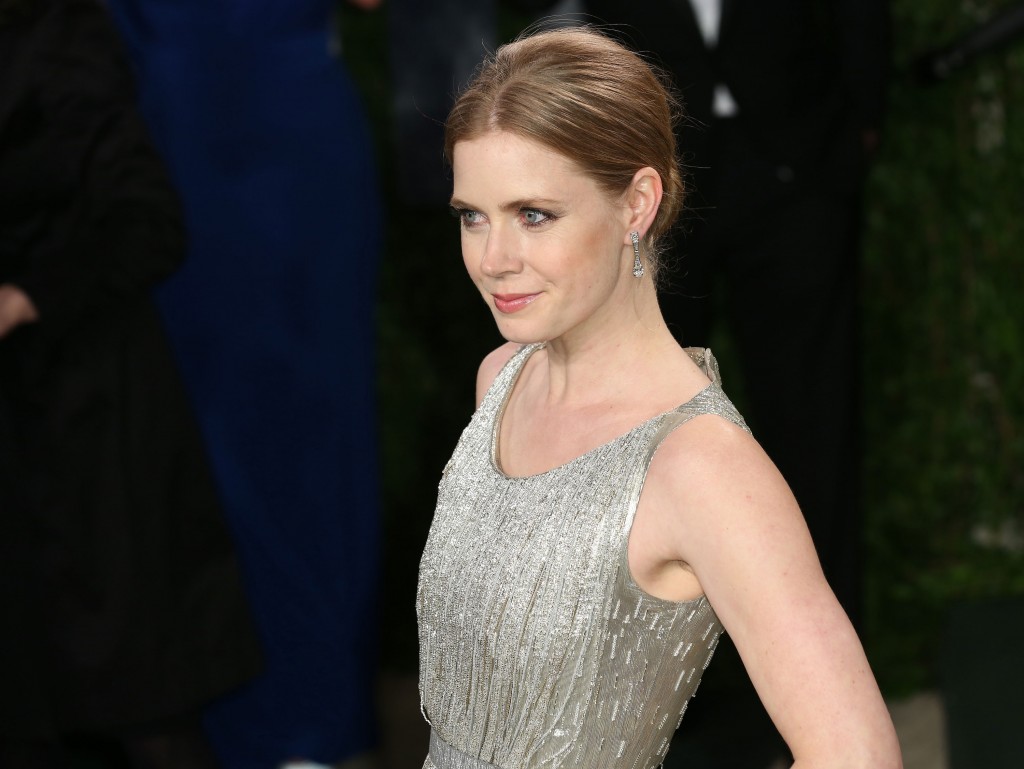 Also in metallic, in shocking, eye-assaulting blue, we have Ginnifer Goodwin in Monique Lhuillier. Nina Dobrev just sported a green version of this dress to the Critics Choice Awards, and she wore it much better, IMO. Nina doesn't take herself as seriously as Ginnifer and she doesn't suffer from styling problems like having hair that resembles a Little Rascal.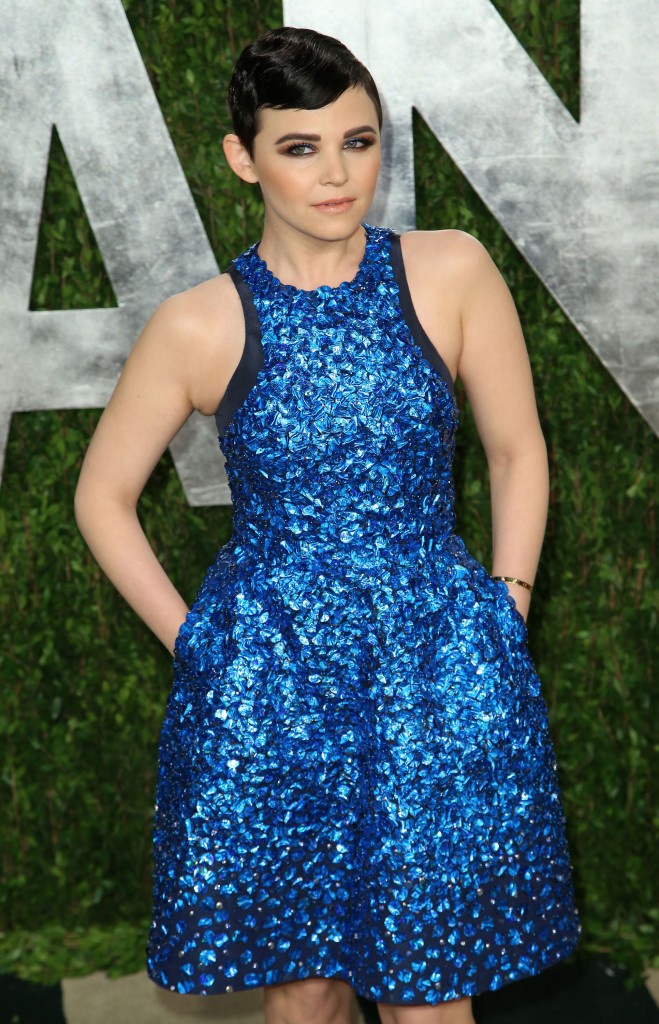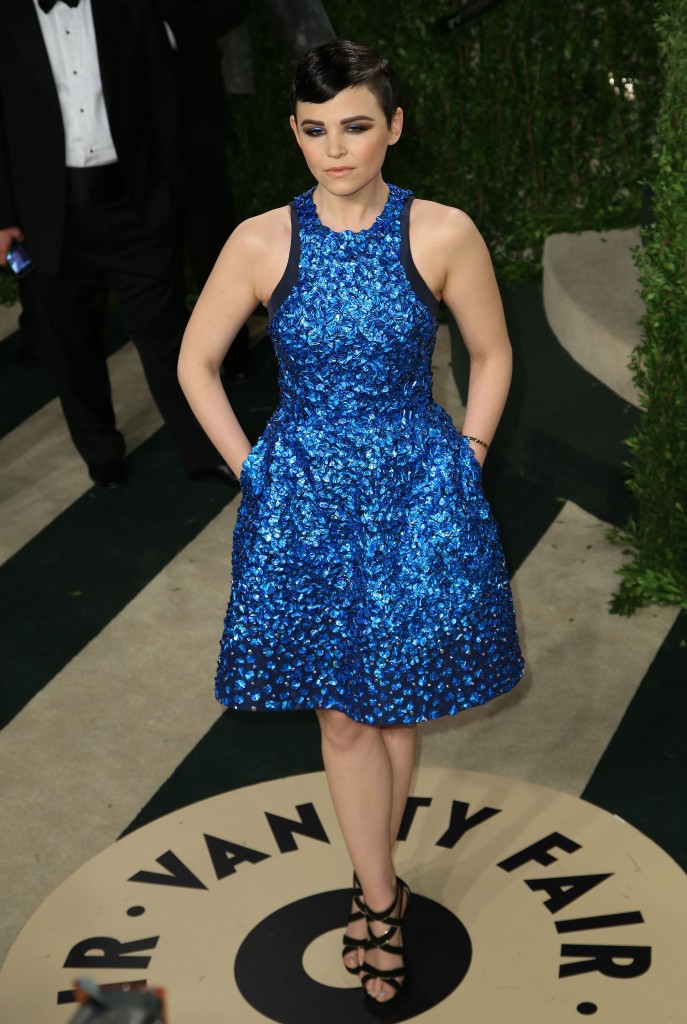 Also with bad pre WW2-era hair we have Anna Paquin. She lost a lot of weight since having her twins and seems to have gone a little too far with it, but I guess that's Hollywood. I really want to like these two and I'm a huge True Blood fan, but I'm still kind of miffed that we haven't learned their babies' names, or even their genders. At least they look happy here and aren't sucking in their cheeks. I don't have a designer ID on Anna's dress but I'm going to guess it's Rachel Comey, which made a similar dress that she wore about a year ago. It's meh. Anna and Stephen hit up both the VF Oscar party and Elton John's soiree. They were probably psyched for a date night.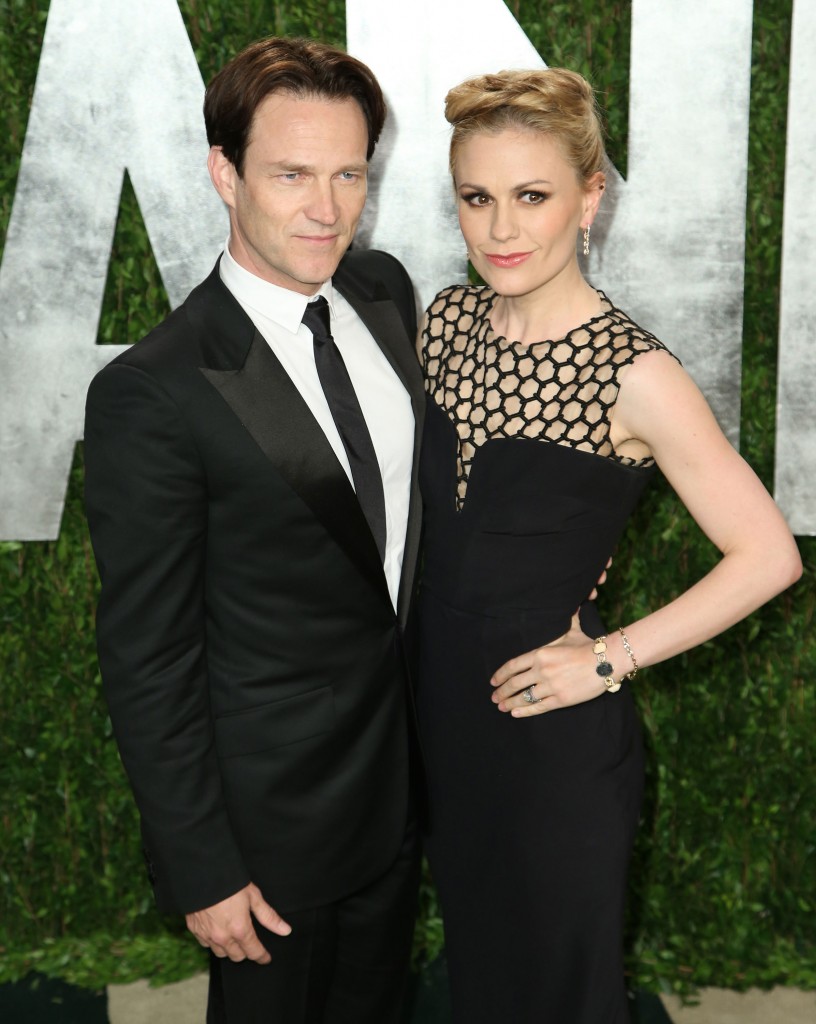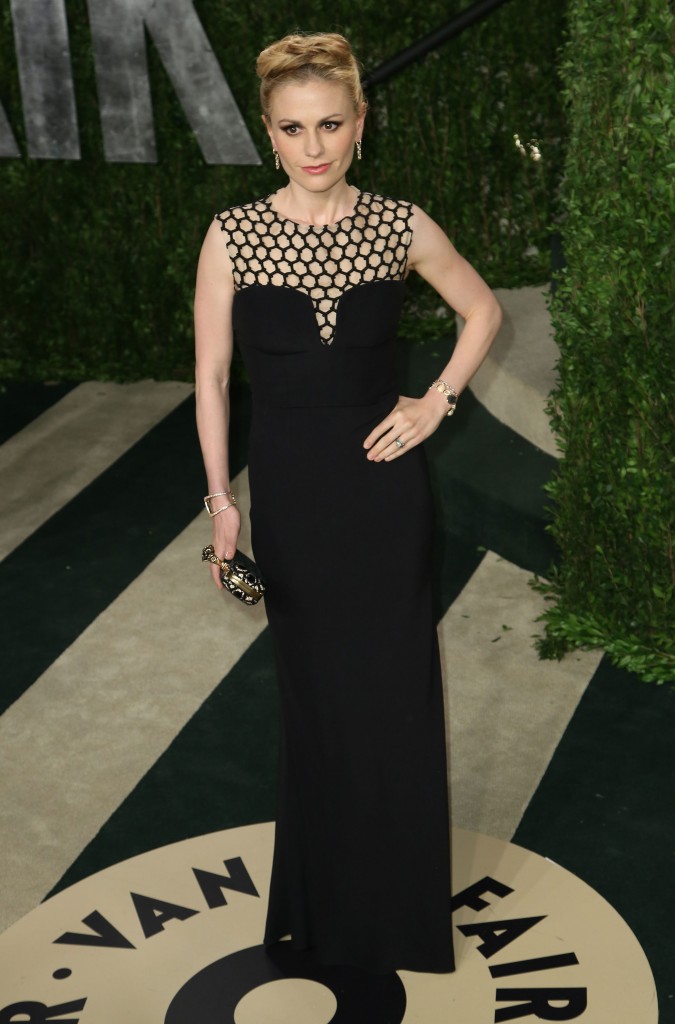 And here's Jane Fonda ruling the Vanity Fair carpet like she ruled the Oscars. She was in a very formfitting abstract spot print gown accented with the same killer clutch, awesome drop earrings and gold peeptoe shoes she wore earlier in the night. I know Jane has had some work done, she admits it, but she doesn't look plastic or waxy and she just looks sexy as hell. She's the best advertisement for her fitness DVDs.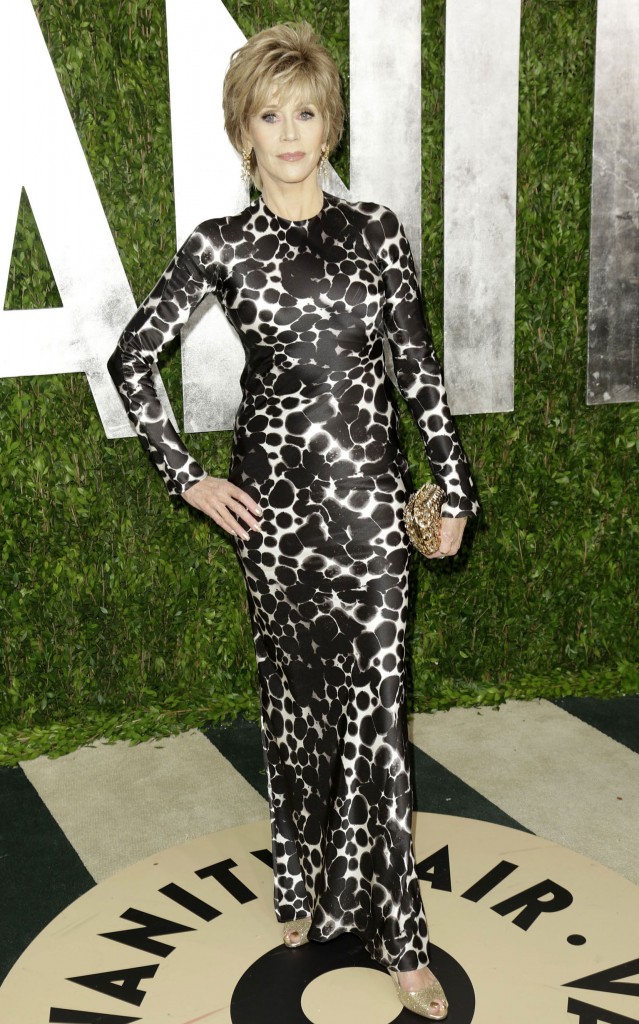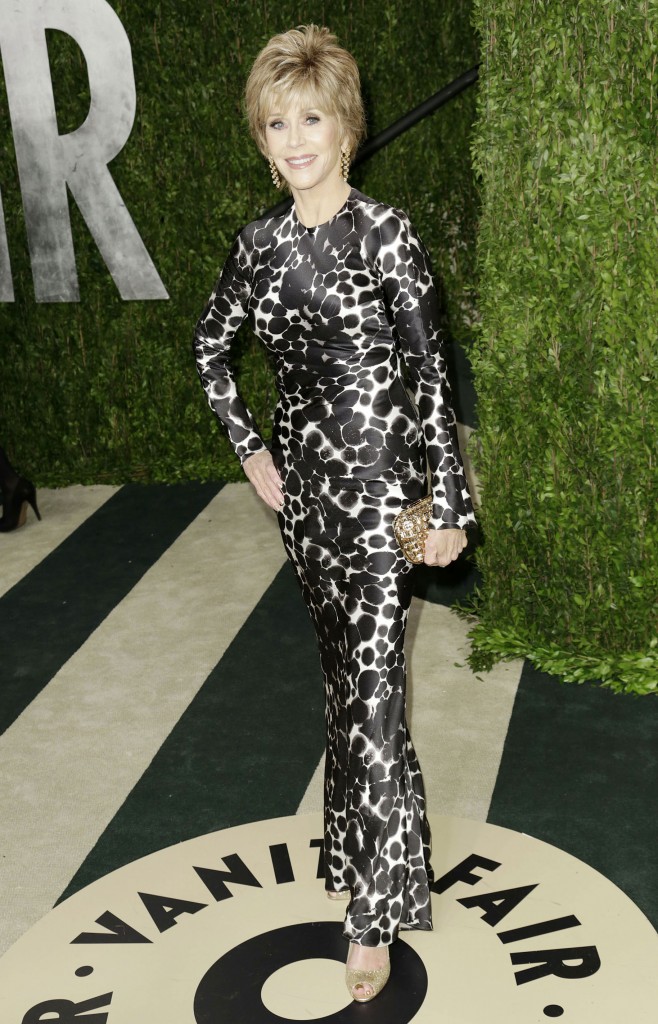 photo credit: WENN.com