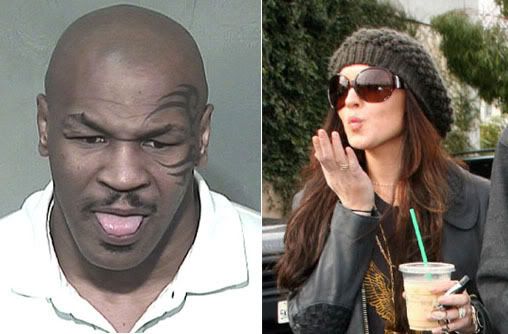 Mike Tyson has checked into the same Wonderland rehab that Lindsay Lohan was said to have ruined for everyone. At least one resident complained that all of the freedom given to Lohan during her stay had adversely affected the facility, where regulations were lifted after Lindsay breezed in and started treating it like a hotel.
That seems to suit Mike Tyson fine. Tyson was caught in a club parking lot in Arizona in December with a bunch of cocaine – right after he busted out of a presumably more restrictive rehab. Now he's checked into Wonderland to keep Lohan company when she feels like showing up.
The 40-year-old reportedly checked himself into the Wonderland Center this past weekend (ends28Jan07) in the Hollywood Hills.
Yesterday we reported a story from The National Enquirer that claimed that Lindsay was bucking the staff at the facility despite the fact that they're letting her come and go and have lifted the rules on her behalf. Staff members were said to suspect that she suffers from bipolar disorder. Some commentors noted that it could be possible, while others said it's a serious disorder that shouldn't be mentioned unless there's real proof that Lindsay has it.
If people trying to get sober thought things were crazy at Wonderland with Lohan there, how is it going to be now that Mike Tyson is in the house?