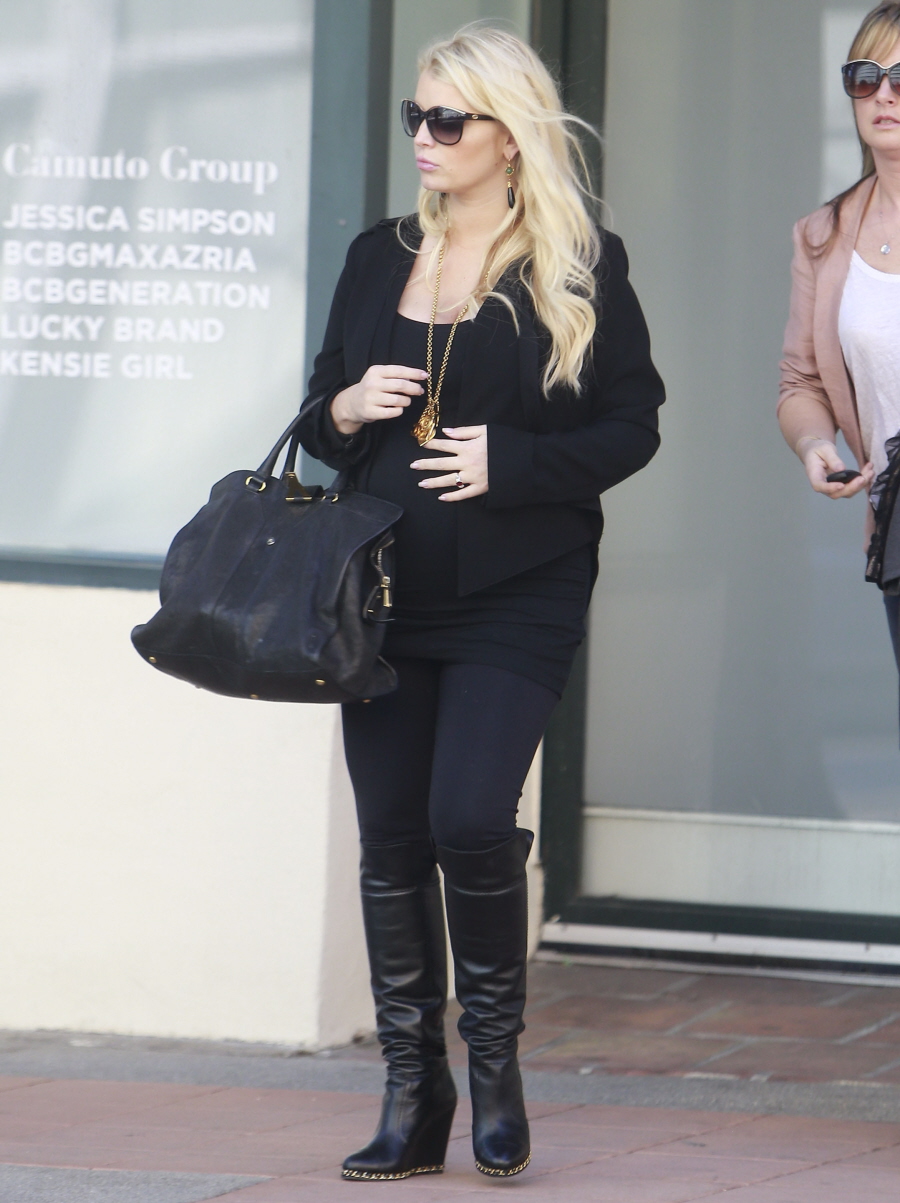 Last week, we heard about Jessica Simpson's second foray into baby-naming. Us Weekly claimed that Jessica was dead-set on naming her second baby, gender unknown, "Ace Johnson". Some may roll their eyes at this reporting, but remember this – everyone knew Jessica's first baby name (Maxwell Drew) months before she gave birth too. She doesn't keep her baby names a secret, and the tabloids find out and I have every confidence that this news is completely legit. Well, this week's Life & Style confirms that Jessica is totally going to name her baby "Ace" after her maternal grandfather, and that she's definitely having a boy this time:
As recent reports swirl about the sex of Jessica Simpson's second baby, multiple sources have confirmed to Life & Style that the pregnant singer turned fashion designer is having a boy!

"Jessica is having a boy and they are going to call him Ace or Acy," a source close to the couple tells Life & Style, revealing that the name will pay tribute to her maternal grandfather, Acy Edward Drew, with whom she was always close. "Her grandfather is honored."

"She and Eric are still deciding on a middle name, but they want it to be biblical," the source continues. "Jess is religious and loves that idea."

Though an insider confirms that Jess, 32, has decided to put her wedding to Eric Johnson, 33, on hold for now, one project the Fashion Star mentor is moving forward with is her baby-clothing line.

The insider explains, "Now she can't wait to start working on the boys' line, as well!"

Even if her designs aren't ready in time for her son's arrival, he'll still be the best dressed newborn because Jessica's little sister, Ashlee, tells Life & Style she plans to give her nephew all of her son Bronx's hand–me-downs. "I have a bunch of vintage shirts that I can give!"
Was I the only one kind of hoping that Jessica would just have daughters? And that she would name her second daughter "Ace"? Because that might have been pretty cool. But calling a baby boy "Ace Johnson" just seems… I don't know. Like, does she want her son to grow up to be a character in a Jim Carrey comedy? Or is this more of Eric's doing? "Ace Johnson" sounds like an athlete, only Ace would be the kid's nickname, and his real name would be Francis or something.
As for the Biblical middle name… Kenaniah? Shammuah? Mahershalalhashbaz?
Photos courtesy of Fame/Flynet.