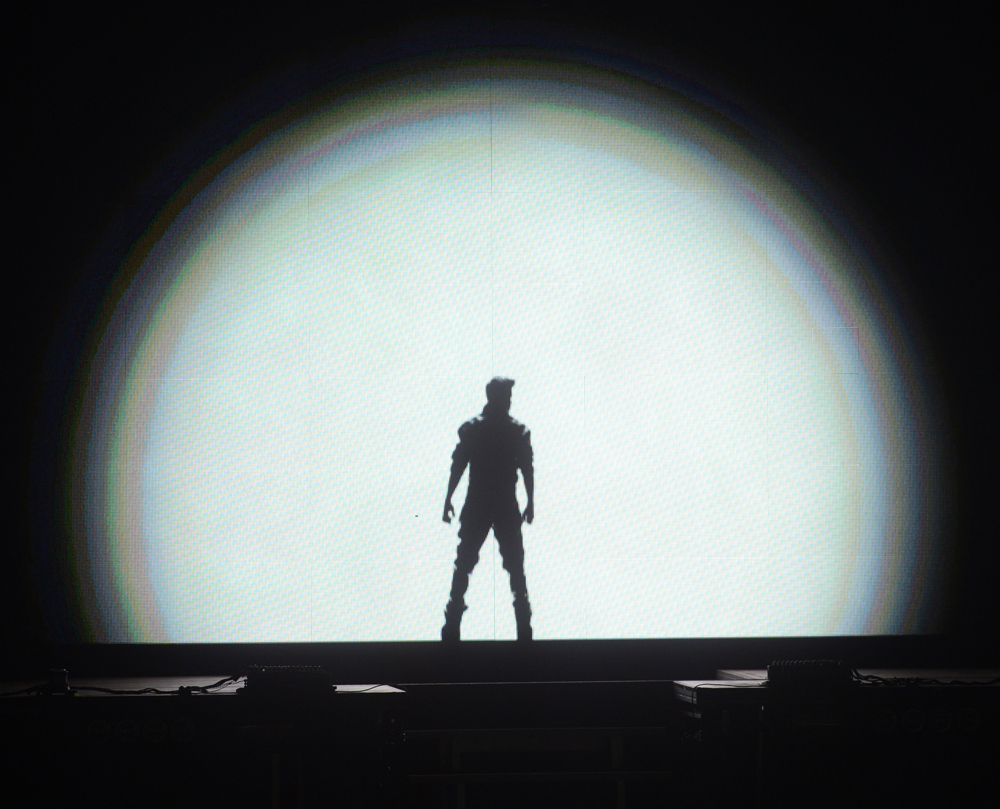 Justin Bieber's taken a page from Axl Rose's "several hours late for his own concert" playbook. Axl, of course, has always been extremely tardy for his own gigs and doesn't plan on stopping the practice anytime soon. Everyone always knows that Axl's going to be late — I think I remember reading his lame rationale in an early 1990s interview where he claimed that he got carried away while meditating backstage — and it's to be expected even though it's ridiculous that his fans will put up with that sort of behavior. At the very least, Axl knows that his fans won't necessarily have to wake up and go to school the next morning. That was the major problem with Bieber showing up two hours late for his London concert last night. A great number of his fans (including many who paid for up-close seating) had to ditch the show and go home with their parents. What a bummer.
Meanwhile, who the hell knows what Bieber was doing instead of doing his job onstage. Maybe he was downing Sizzurp or partying with horses, but he wasn't where he was supposed to be. Then he rode in like a douche ex machina, of course, and pretended like nothing happened: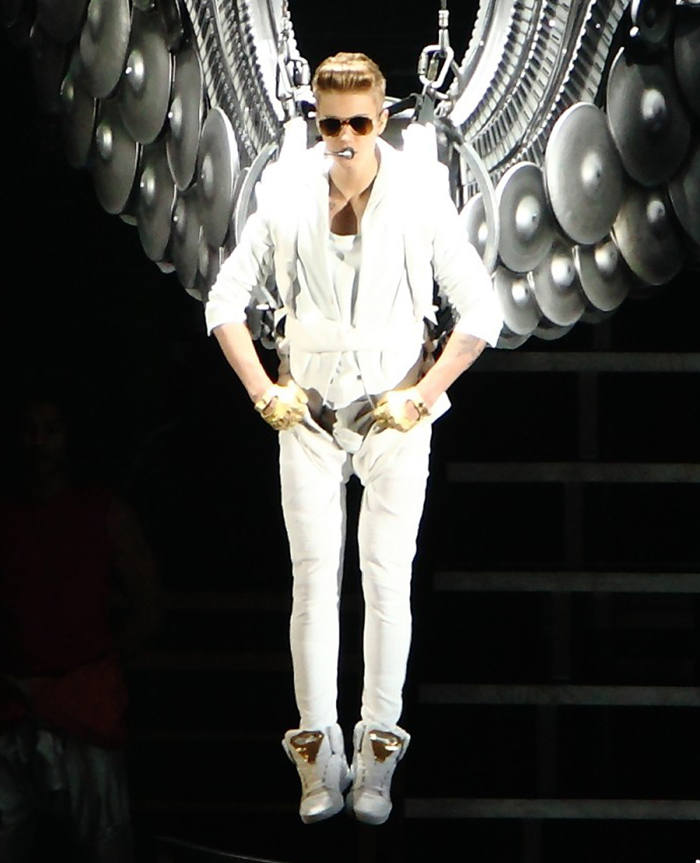 Justin Bieber was two hours late for his opening night at the London O2, forcing hundreds of parents to leave with their children before the singer even came onstage – as it was a school night.

The 19-year-old has been slammed on Twitter for his 'disgusting behaviour' which saw hundreds of diehard Bieber fans walk-out of the arena heartbroken despite waiting hours for his arrival.

Thousands descended on the 02 arena to see the opening night of the sell-out show, with many fans being under 16, but Bieber did not appear on stage until 10.35pm – just 25 minutes before Bieber was due to finish.

Bieber was even tweeting to his 35 million Twitter followers in the lead up to the show that he was thrilled to be performing in the UK capital. and told fans to "get ready."

A source told MailOnline crowds were booing the Baby singer after sitting through two warm up acts, Jaden Smith and Carly Rae Jepsen, before being left to sit and wait for the main attraction.

A Bieber fan told MailOnline: "It's disgraceful, so many children were distressed and left heartbroken they had to leave the show. Many had been looking forward to seeing Justin for weeks."

Following Carly Rae's set, fans were left to wait listening to Michael Jackson hits for around 45 minutes until Justin finally appeared on stage at 10.35pm.

Our source added: "It is a school night and the arena is packed with ten and 14-year-olds, who even knows if they will able to get the last tube?"

Although he made no apology for his tardiness, his presence quickly made the 20,000 fans in the audience forget his lateness.
[From Daily Mail]
Never mind the disappointed fans — let's consider those poor parents, who paid for those tickets and then had to listen to their kids whine about not being able to see their mistaken idol do his thing. On the plus side, these adults were lucky enough to not have to listen to the Bieb "in concert" while he lipsynched and flounced about the stage. I'm sort of amazed that not even creepy manager Scooter Braun has issued a statement about Bieb's excessive tardiness to a concert where he probably earned close to a million dollars (before expenses). Who knows why Bieber decided to be so rude to his London fans — maybe he was still throwing a temper tantrum about his "weak ass" birthday. The least he can do is tweet an apology to those fans, but he hasn't even bothered to do that.
UPDATE: Justin has acknowledged the error of "his" ways by saying it was all his production team's fault that he was hours late. Of course.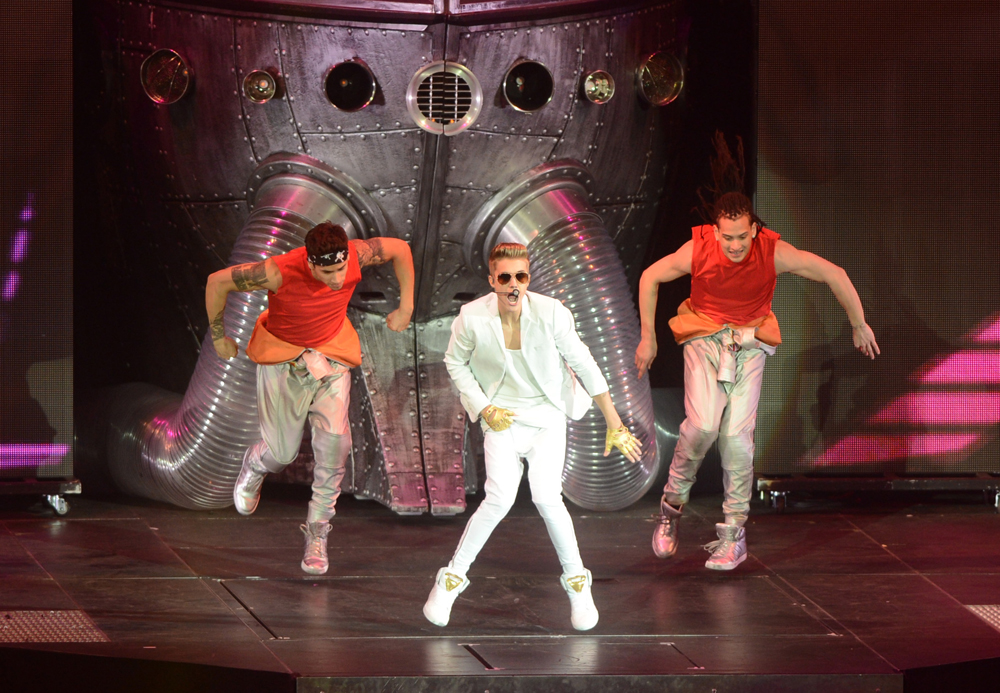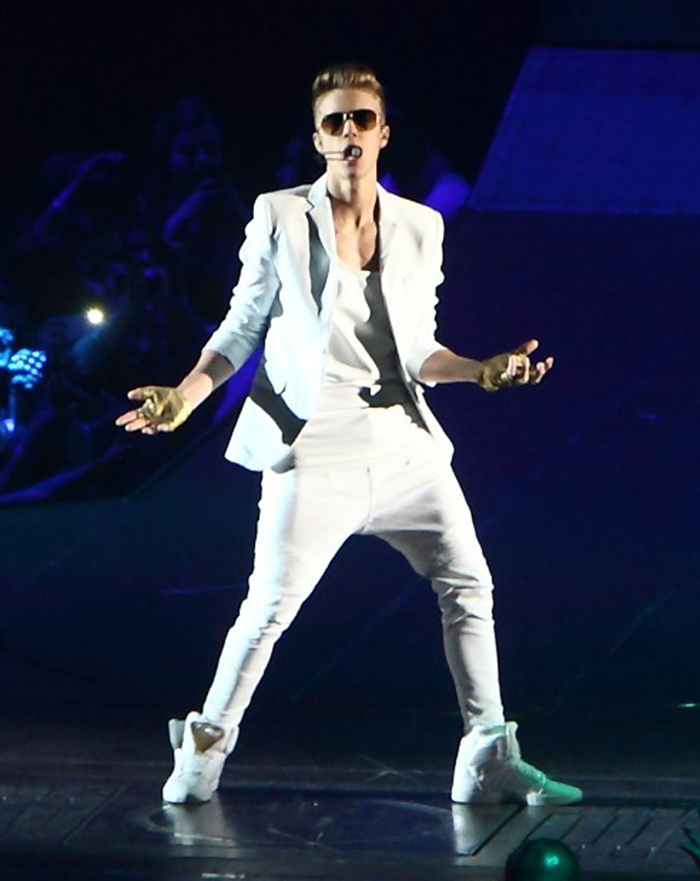 Photos courtesy of Fame/Flynet and WENN