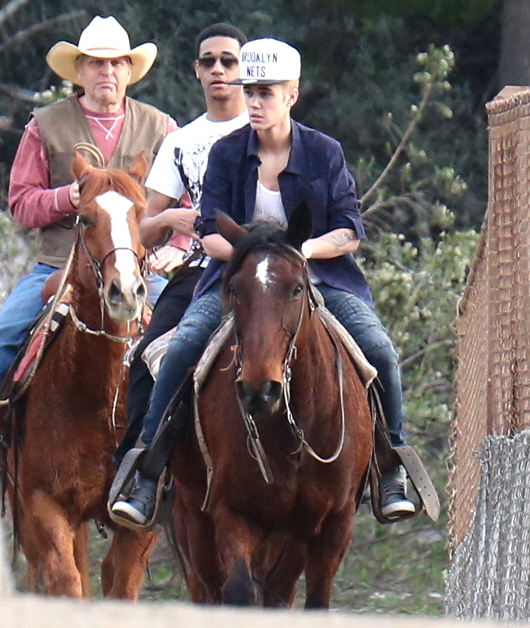 Here are some new photos of Justin Bieber on Friday – he drove his white Lambo to a horse ranch and he and his bros went to ride some horse, bro. Horses are the new Fisker Karma! DUDE. Even though I think Justin Bieber looks like a little d-bag toddler on that poor horse (caption contest: the horse's thought-bubble), I can't really hate on him for riding a horse or taking riding lessons or whatever is going on here. I'd rather see him on a horse as opposed to speeding away in his white Lambo. Speaking of…
The white Lambo has been stopped TWICE in the span of two day. On Friday, Justin's car was stopped in West Hollywood initially because of the tinted windows. But Justin wasn't driving – he loaned the Lambo out to Lil Za (?), who didn't even have a license. Lil Za was going to be arrested but instead the police just cited him and released him. Then on Saturday Lil Za was driving the Lambo AGAIN and he was ticketed for an illegal U-turn. Justin just has no sense of whether or not to lend out his car to irresponsible members of his douche entourage.
As for the douche entourage and their effect on Justin… TMZ also reports that Biber is still partying with Sweet Lady Sizzurp.
Justin Bieber partied with his boyz this week … and there are photos that appear to show a large bottle of codeine at the shindig — aka sizzurp.

The photos show Justin, Lil Za and Lil Twist (we're told both of whom have smoked pot with Bieber) at a table rolling up blunts. Also on the table — two sets of double cups (a known style of consuming sizzurp which was made popular by Lil Wayne).

In one of the photos, Bieber is drinking out of a double cup. Sources connected to Justin adamantly deny he uses the drug. Based on multiple recent photos, however, it's pretty obvious he smokes pot. In the pics, we don't see anyone present actually consuming the drug.

Bieber is getting pressure from some of his people who think he's basically a good kid … but hanging out with Za, Twist and some other dudes are taking him down a bad road.

We couldn't reach Za for comment. As for Twist, we reached out to his rep — so far, no response.
In my wild youth, I was exposed to various drugs, some of which I took part in and some of which I could dismiss out of hand. Like, I've never done lines. I've never tried coke at all, because I never wanted to "snort" anything. But if sizzurp had been a thing when I was younger, I probably would have done it. As for the blunts… I smoked a lot of pot in my youth. I don't judge Bieber for getting high, mostly because I think smoking some weed is probably his best option for "youthful shenanigans".
Last thing – E! News says Selena Gomez was spotted exiting Justin's house on Saturday. They think Justin and Selena might be getting back together? I don't know though. It seems like Selena is pretty happy with being single.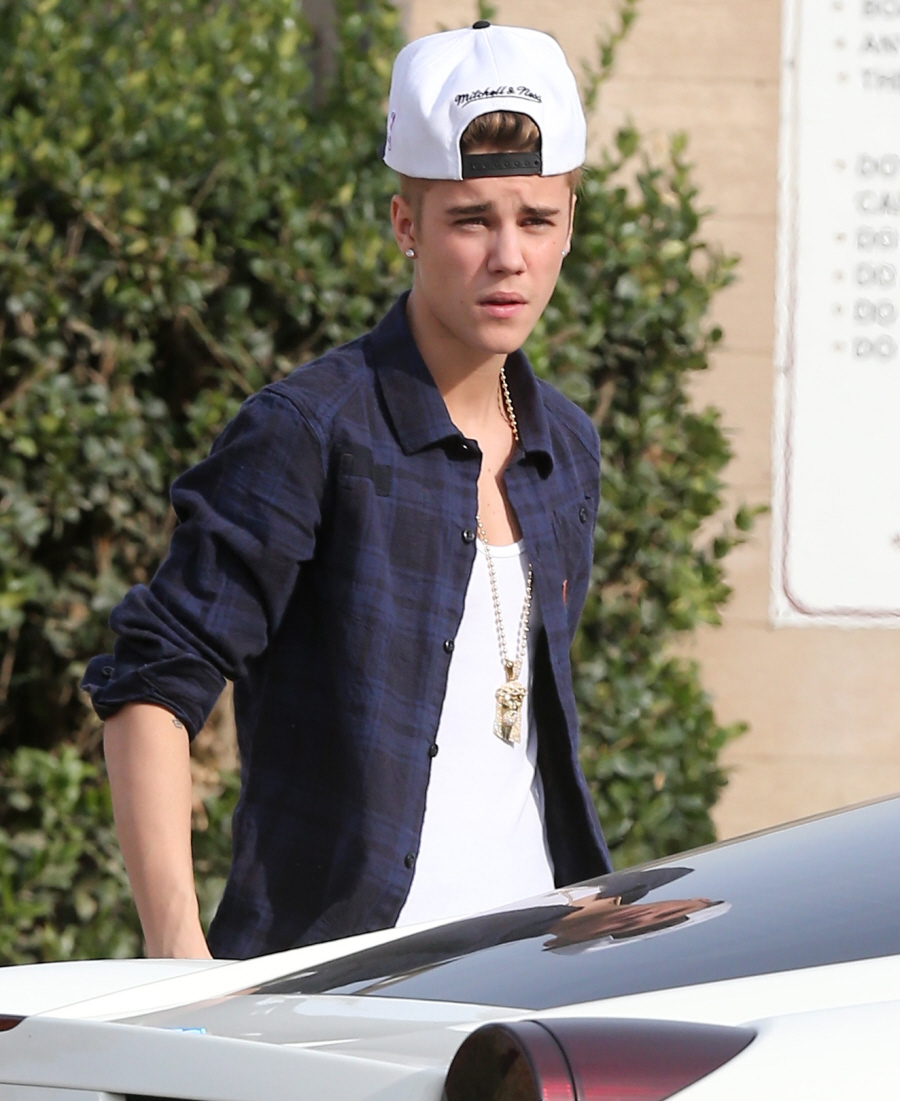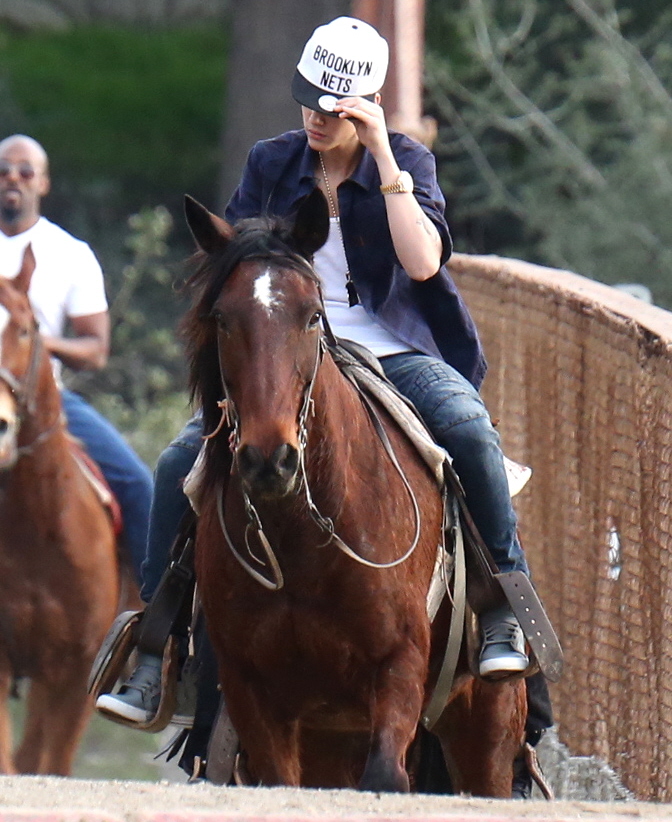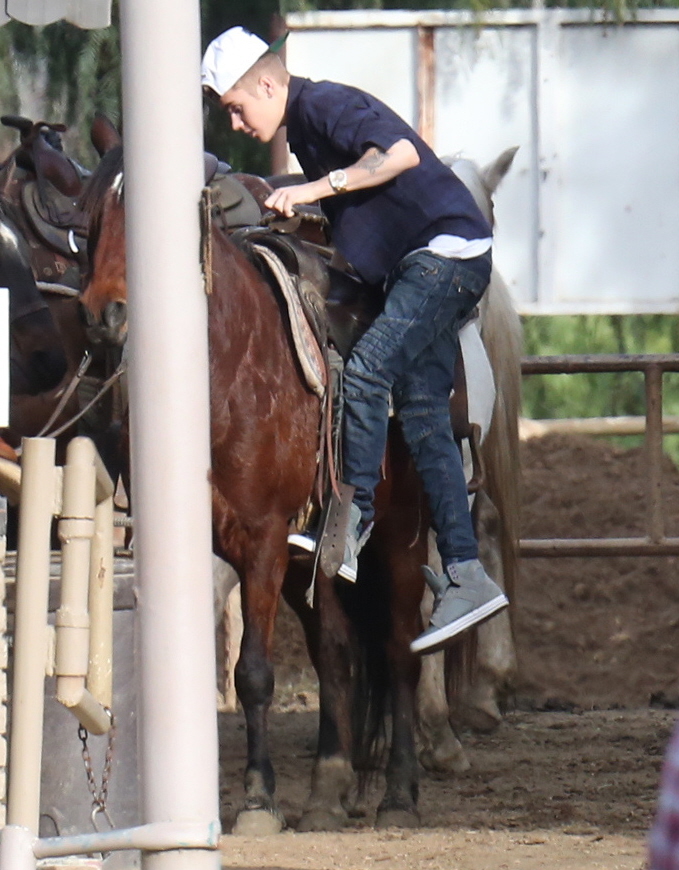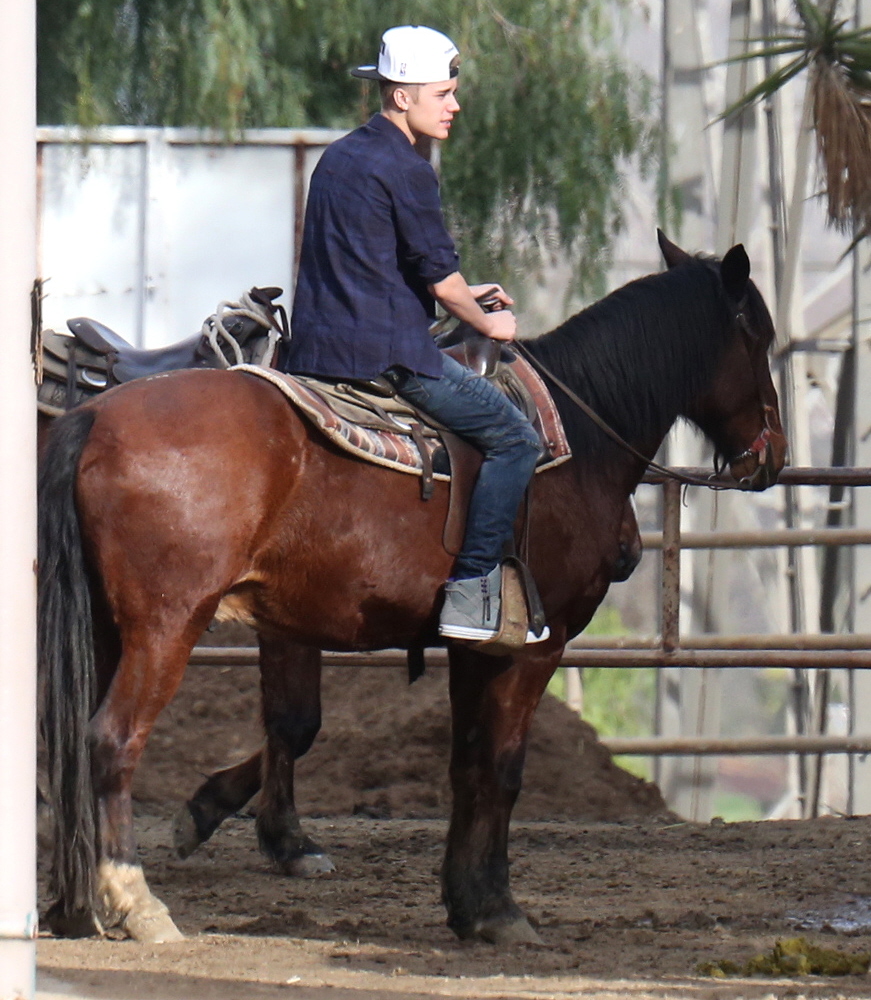 Photos courtesy of Fame/Flynet.