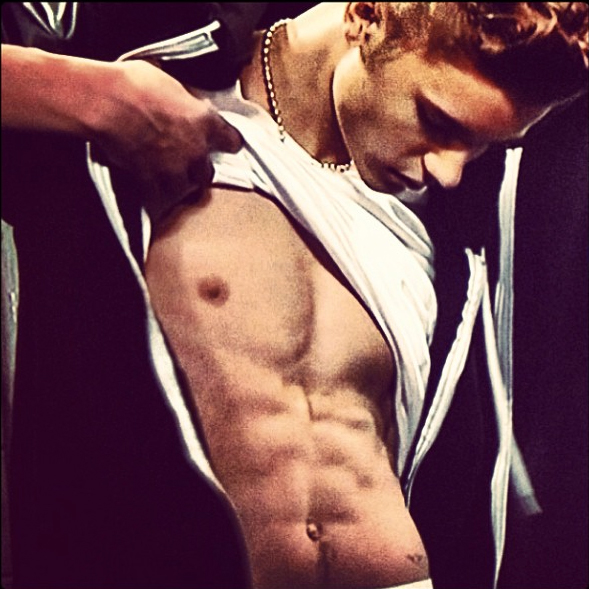 While looking for photos to illustrate this post, I browsed through Justin Bieber's Instagram account and noticed that he's flashing his abs to an unnatural degree. For the above shot, I think he swiped a stylized image from his latest stint on "SNL" because we all know that the Biebs does not possess abs that look like that.
Meanwhile, it seems like the world is just waiting for the little diva to get into some serious trouble. On many occasions, he's been reportedly getting loopy with Sizzurp, and he's been photographed smoking pot as well. Oh, and he and Selena Gomez have supposedly broken up for good too, but that's not the worst thing that's happened to Justin in recent months. According to a new story in this week's Star, Justin's been on a downward spiral ever since the recent Grammy snub where he was not recognized with a single nomination. So I guess it's time for rehab now, right? Here's the story: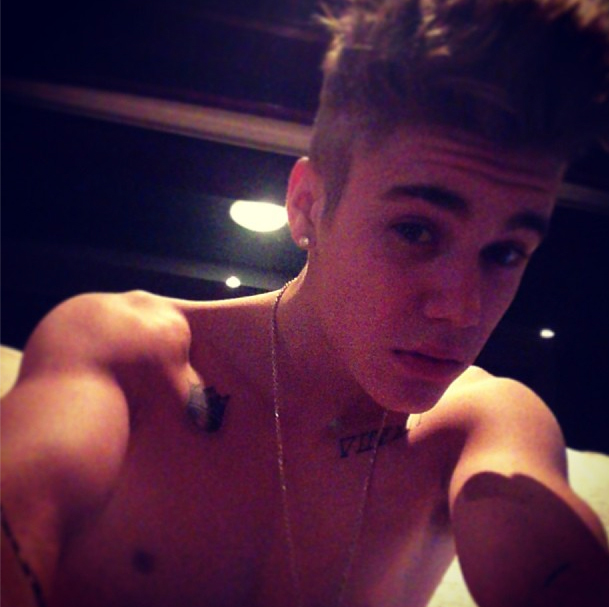 On the heels of his heartbreaking Grammy snub and breakup from Selena Gomez, Justin Bieber's reckless partying has his loved onesscared to death and begging him to enter rehab!

In fact, Star's exclusive January report — that the singing sensation, 18, had a drug-fueled hookup with nursing student Milyn "Mimi" Jenson — seems to be the tip of the iceberg. He's been frequently smoking marijuana, drinking the street cocktail "sizzurp," driving recklessly and partying to all hours of the night. "He's spiraling fast," says the insider. "everyone in his innercircle is talking about staging an intervention."

Justin took a dark turn in early December, once he was denied a Grammy nomination. He soon began hanging out with a bad crowd, including rapper lil Twist, more frequently. "The lack of even a nomination hurt him deeply," explains the insider. And after a blow-out fight in Mexico with Selena broke up the pair, Justin's mom, Pattie Mallette, became terrified. "Pattie is so scared about Justin's emotional state and crazy partying that she even enlisted Selena to talk some sense into him," says the source. "She's at her wits' end and hopes that Selena can still have an [effect] on Justin."
[From Star, print edition, February 25, 2013]
I'm not sure whether this story is true, but I don't have a problem with believing that Justin's mom is concerned about her son when he does stupid stuff like cop a feel off of a teenage fan in public. To be certain, the kid is a major brat, but I don't see him headed to rehab for smoking pot and mixing cough syrup with soda and a jolly rancher. But I could be wrong.
Here's some Instagram pics of Justin and Lil Twist acting all manly. For obvious reasons, these photos remind me of Tom Cruise and David Miscavige on their trusty motorcycles.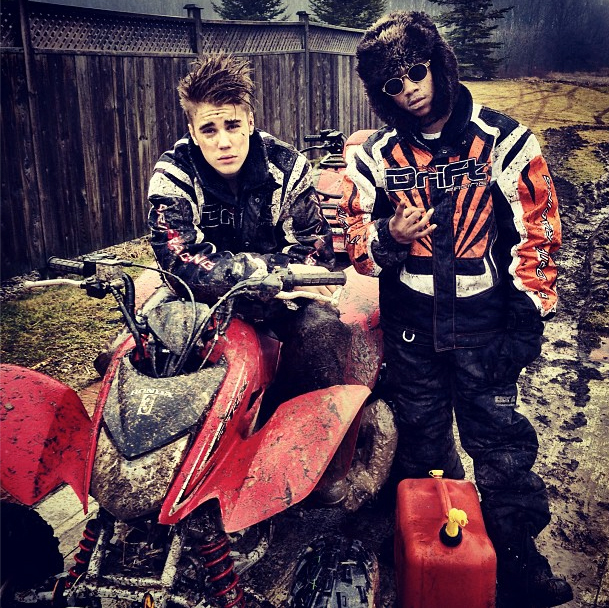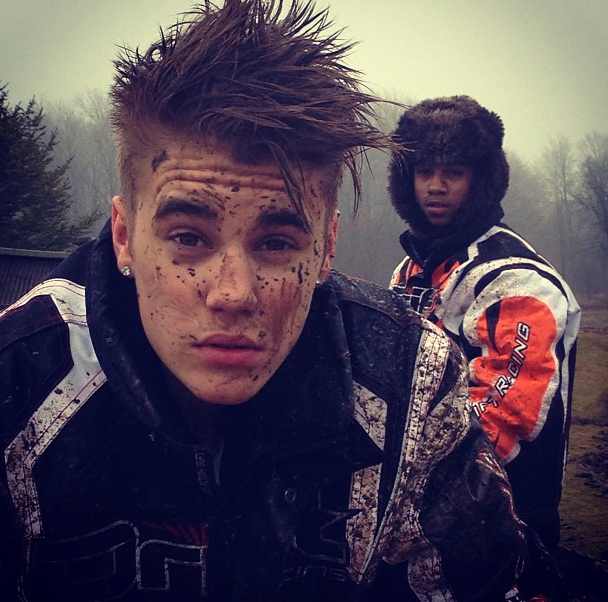 Photos courtesy of NBC and Justin Bieber's Instagram