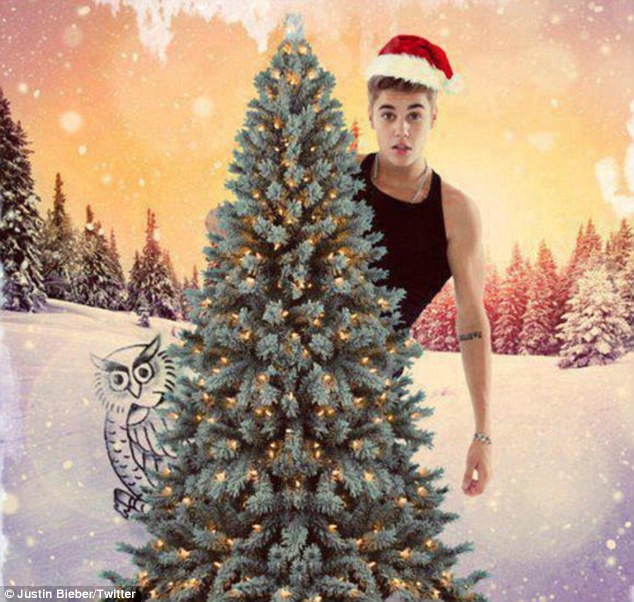 Here's a timely holiday photo photo that Justin Bieber posted on his Twitter account of him acting cheeky behind a Christmas tree. God, I hope he's wearing pants. I don't even care if he's wearing those ridiculous, droopy parachute pants. Just let him be wearing pants, always, at all times. Even in the shower.
Hopeful pant issues aside, we all know that Bieber is a bit of a brat, and he's also helmed by a bratty manager (Scooter Braun) who leads by example by throwing fits over Grammy snubs. Since Bieber has managed to bring in $55 million in 2012, his team's been putting up with his crap so far. But now their patience is reportedly wearing thin, and another thing that supposedly annoys his people is the ongoing drama between Bieb and Selena Gomez (who are back together again and were just photographed making out in an airport lounge). Is there any hope for future Bieber decency? Who knows.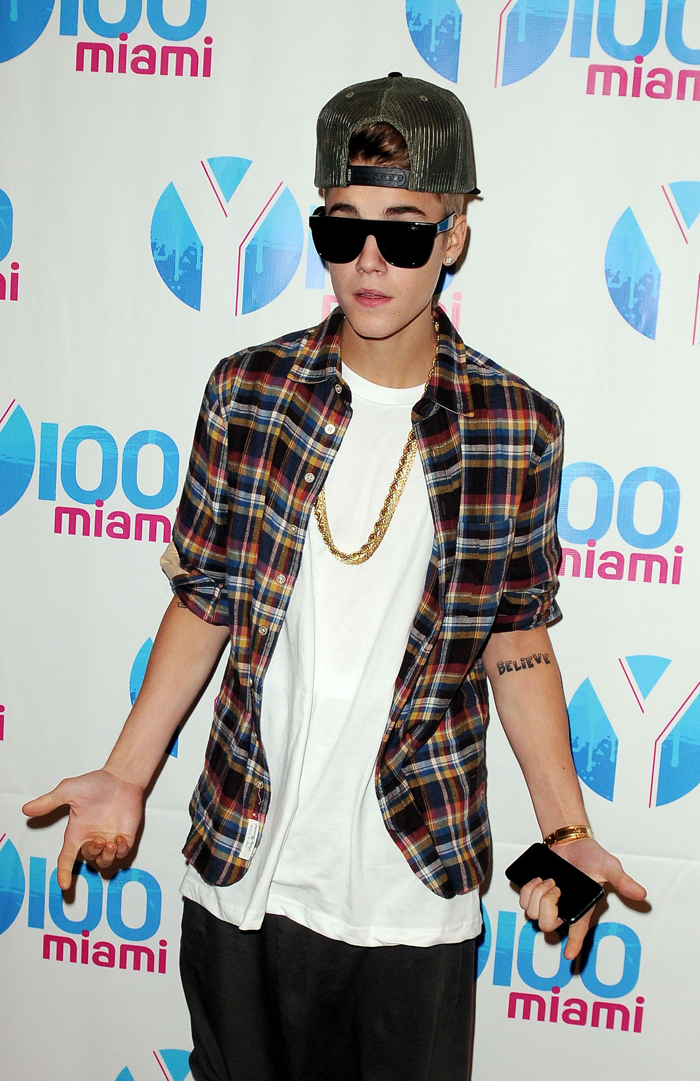 Bieber Fever is giving the Justin Bieber's record label a huge headache. And insiders tell Confidenti@l that the tween star's bratty antics may be jeopardizing his career.

"Justin doesn't seem to care and does whatever he wants," a sources tell Confidenti@l. One insider says Bieber's team had had several talks with him, but "He doesn't listen to anyone."

Another Bieber insider tells us, "He's surrounded by hangers-on who say 'yes' to anything he wants. There's no supervision."

That source indicates Bieber's only family sometimes comes to him for money, which further complicates the situation.

While some close to Bieber think he's simply exhibiting teen angst, another source tells us, "This could really damage his reputation if they don't get it under control. Justin is someone young teens look up to and this kind of behavior can really hurt his career. Just look at what happened with Britney Spears."

While Spears, 31, has enjoyed a newfound success since signing in as a judge on Fox's "X Factor" in May, few would argue she'd fallen out of the spotlight in recent years.

Another insiders thinks the singer's on-off relationship with Selena Gomez may be causing him duress. The pair was spotted over the weekend getting cozy on a ski trip to Utah, but we're told "She's been giving him a really hard time… she's been partying without him and it drives him crazy."

Bieber's reps declined to comment. Reps at Bieber's record label, Def Jam Records, didn't return requests for comment by deadline.
[From NY Daily News]
Eh. Honestly, I don't see the big deal here. Bieber's been a tool for a few years now, and his continued superstar status will do nothing to curtail this trend. As long as he shows up for his gigs on time, performs as expected, and keeps pulling in the millions, his team will put up with literally anything else from him. Do I think his reign of terror will eventually end? Sure, but he's got at least a handful of years before that happens. Hopefully, the kid (or as he likes to be known, the "swaggy adult") will save his money for when that time eventually comes.
These photos show Bieber at the Jingle Ball 2012 in Sunrise, Florida on 12/8.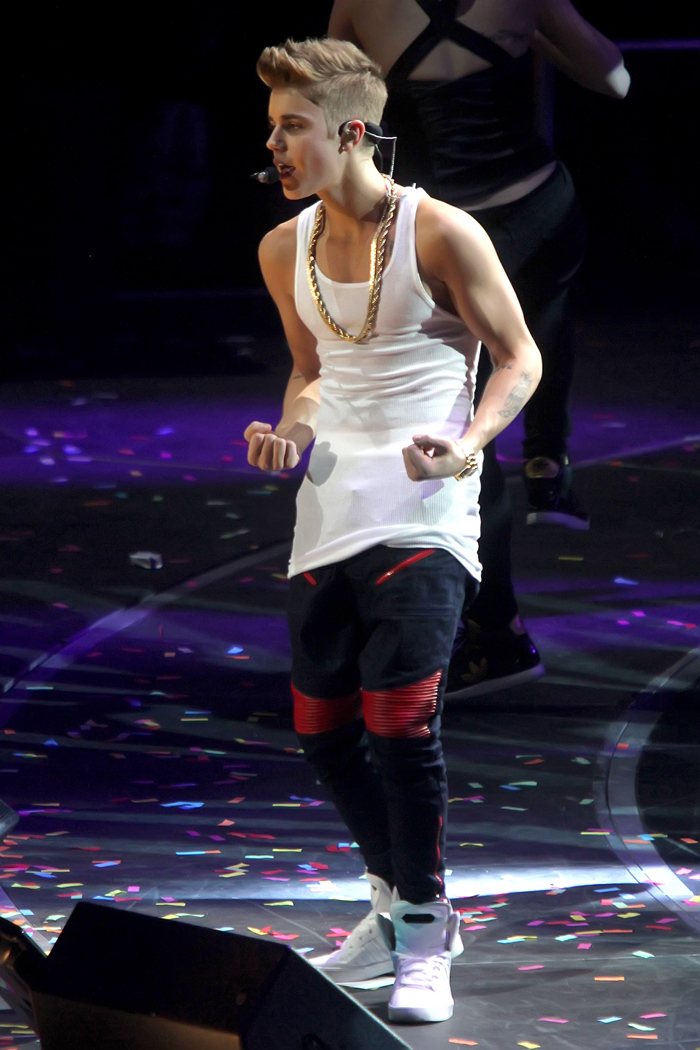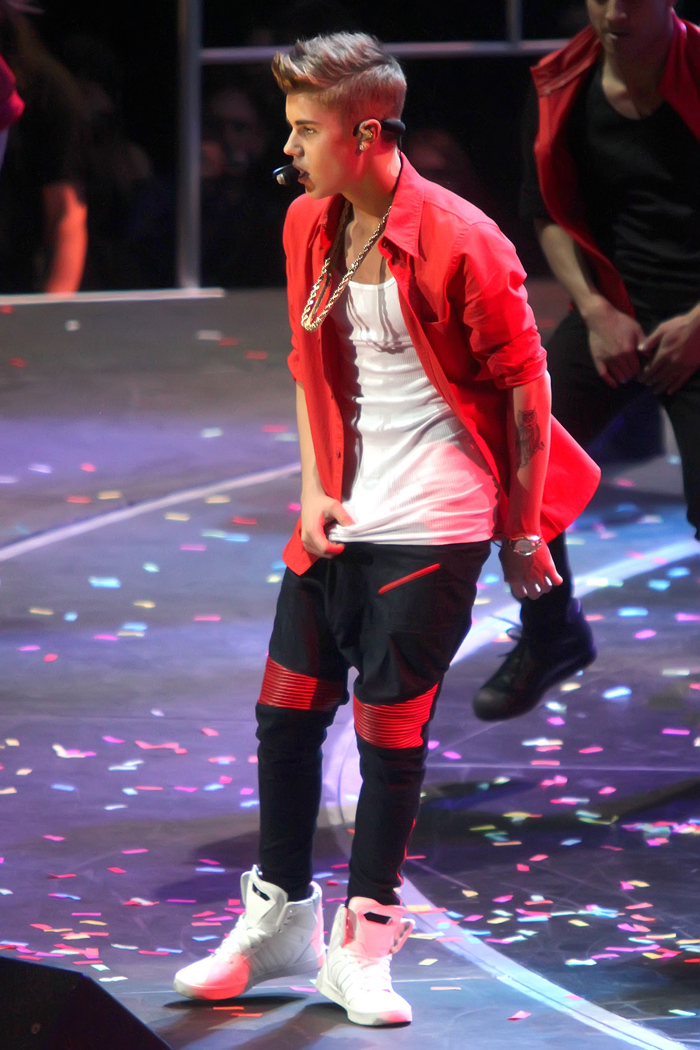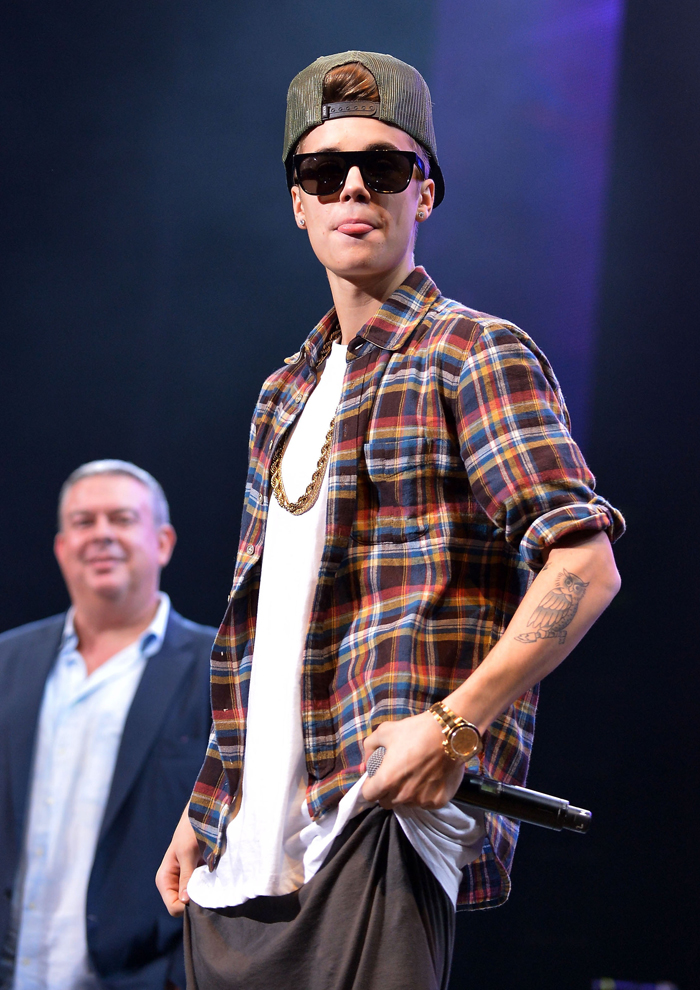 Photos courtesy of WENN