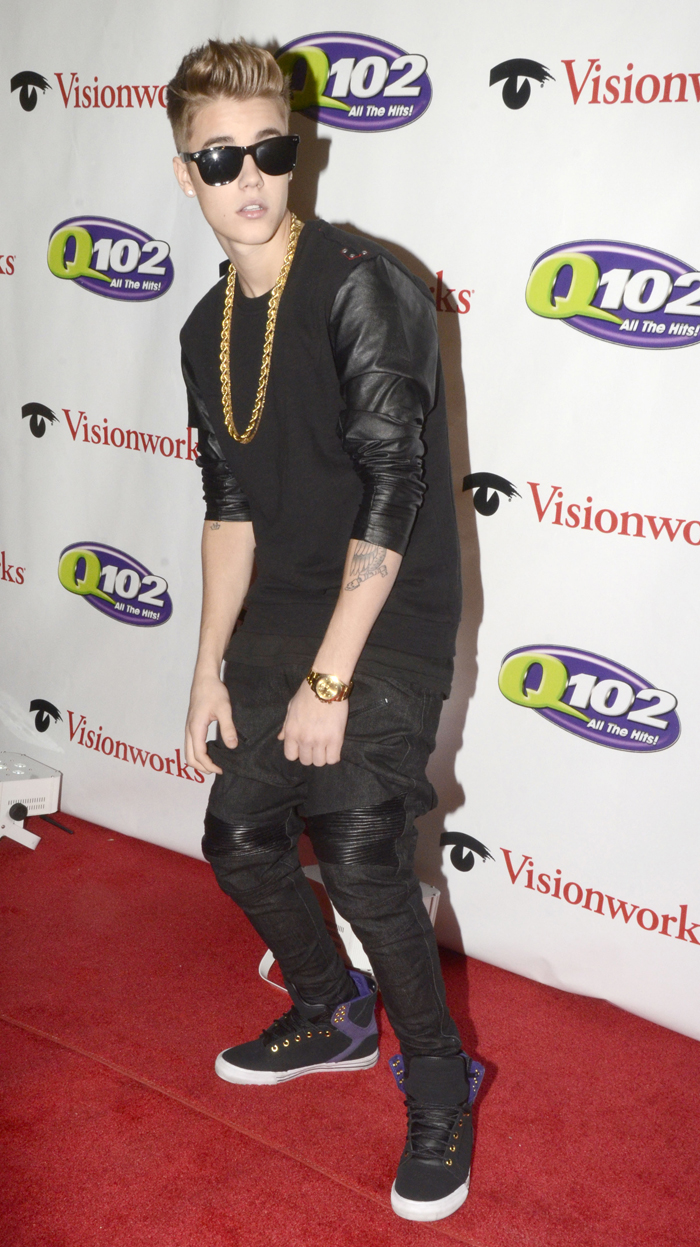 Here are some photos of Justin Bieber in Philly (poor city can't catch a break, what with Lindsay Lohan wandering around and acting like a common groupie) on Wednesday evening for the Jingle Ball. Justin's had a pretty big year for a guy that was only supposed to be here for one or two years, max. He won an AMA award, got to meet the Canadian Prime Minister while wearing overalls, and earned a massive $55 million while executing a Douche Ex Machina on mechanical wings. Total win.
Still, it's never enough for a mega pop star, and Justin must be awfully disappointed that he was snubbed for every category in the newly announced Grammy nominations. For his part, Justin has actually maintained a dignified silence on the topic, but his sketchy manager, Scooter Braun, went roaring on a a Twitter tirade. Here are the results: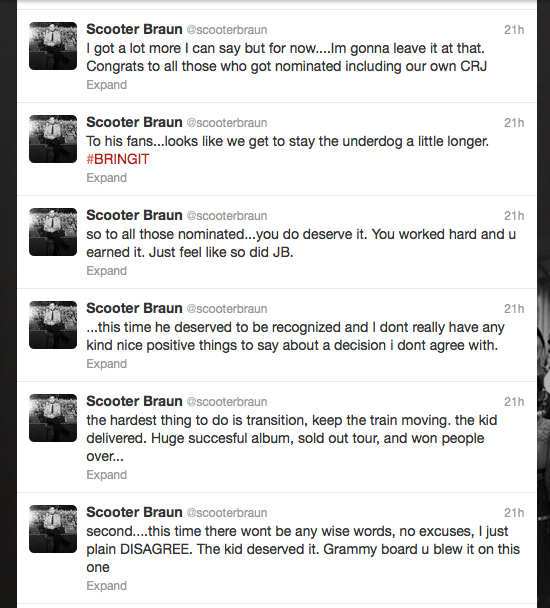 Classy, right? I guess singers (just like actors) get way too worked up about awards when the true measure of success is usually found in record and concert ticket sales. Oh well. It does seem strange that Bieber was overlooked for Pop Vocal Album. Hell, I'd even take Bieber over that terrible Gotye song that was nominated for Record of the Year. Gotye = ear poison. Here is a (mostly complete) list of Grammy nominations:
Record of the Year:
Lonely Boy, The Black Keys
Stronger (What Doesnt Kill You), Kelly Clarkson
We Are Young, fun. featuring Janelle Monae
Somebody That I Used To Know, Gotye Featuring Kimbra
Thinkin Bout You, Frank Ocean
We Are Never Ever Getting Back Together, Taylor Swift

Album of the Year:
El Camino, The Black Keys
Some Nights, fun.
Babel, Mumford & Sons
Channel Orange, Frank Ocean
Blunderbuss, Jack White

Song of the Year:
The A Team, Ed Sheeran
Adorn, Miguel Pimentel
Call Me Maybe, Carly Rae Jepsen
Stronger (What Doesnt Kill You), Kelly Clarkson
We Are Young, fun. featuring Janelle Monae

New Artist:
Alabama Shakes
fun.
Hunter Hayes
The Lumineers
Frank Ocean

Pop Vocal Album:
Stronger, Kelly Clarkson
Ceremonials, Florence & The Machine
Some Nights, fun.
Overexposed, Maroon 5
The Truth About Love, Pink

Rock Album:
El Camino, The Black Keys
Mylo Xyloto, Coldplay
The 2nd Law, Muse
Wrecking Ball, Bruce Springsteen
Blunderbuss, Jack White

R&B Album:
Black Radio, Robert Glasper Experiment
Back To Love, Anthony Hamilton
Write Me Back, R. Kelly
Beautiful Surprise, Tamia
Open Invitation, Tyrese

Rap Album:
Take Care, Drake
Food & Liquor II: The Great American Rap Album, Pt. 1, Lupe Fiasco
Life Is Good, Nas; Undun, The Roots
God Forgives, I Dont, Rick Ross
Based on a T.R.U. Story, Chainz

Country Album:
Uncaged, Zac Brown Band
Hunter Hayes, Hunter Hayes
Living For A Song: A Tribute To Hank Cochran, Jamey Johnson
Four The Record, Miranda Lambert
The Time Jumpers, The Time Jumpers
[From Grammy.com]
Taylor Swift will win everything. R. Kelly received a nomination this year? How interesting.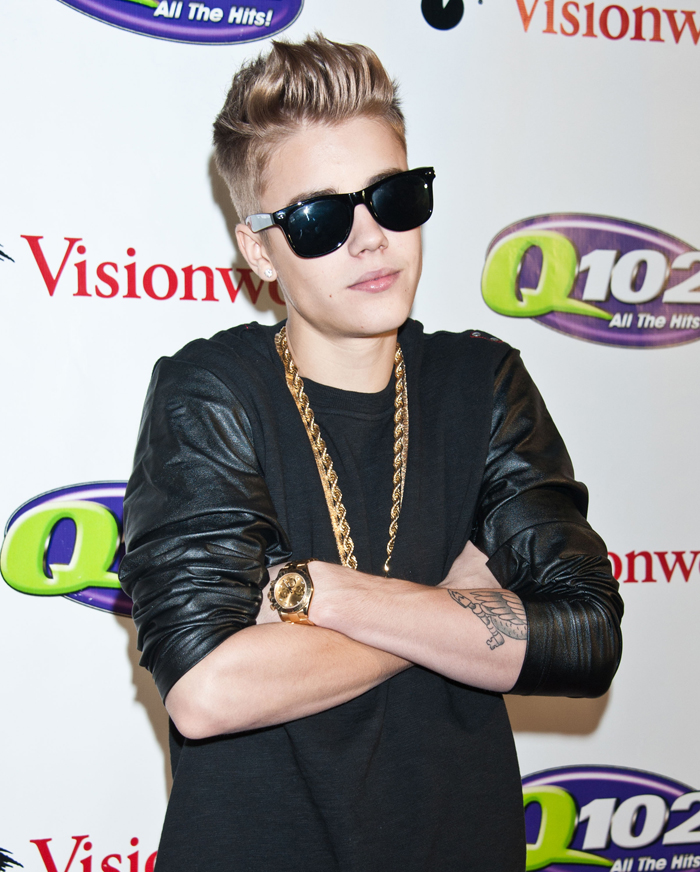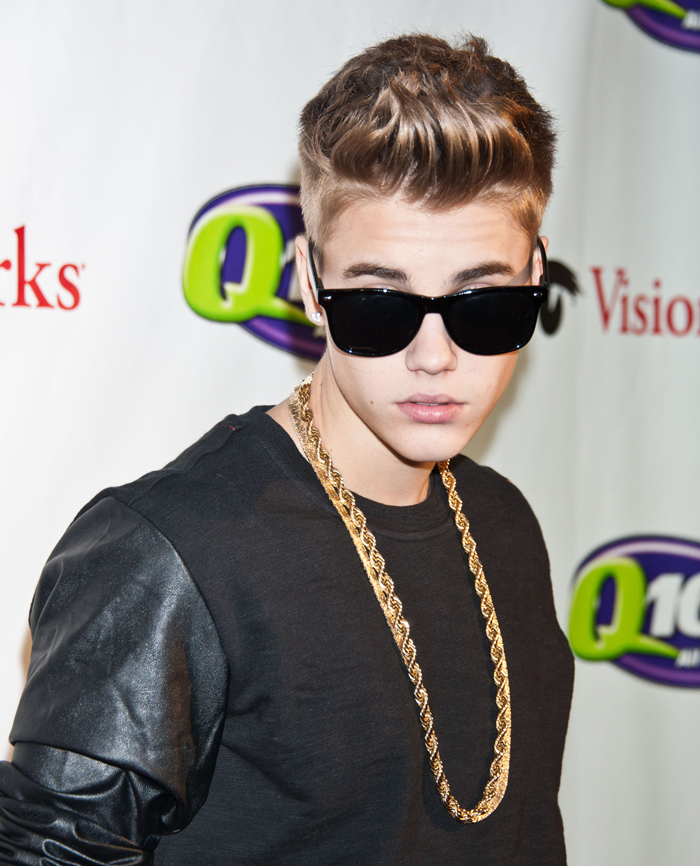 Photos courtesy of Twitter, Fame/Flynet, and WENN