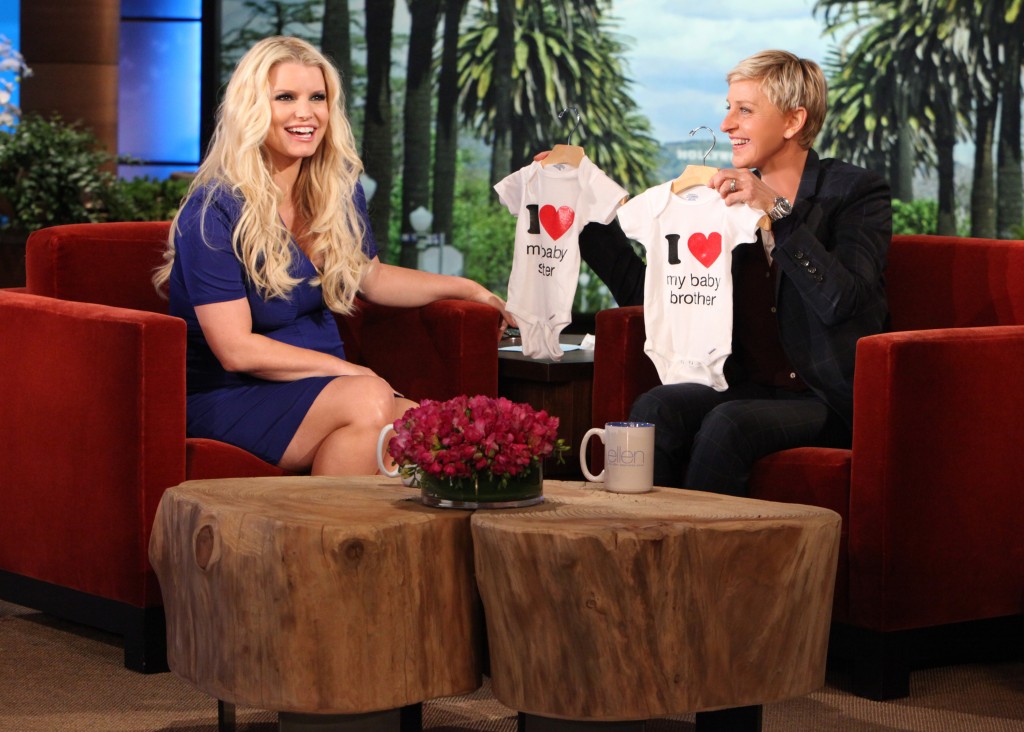 I wonder if Jessica Simpson is capable of giving an interview without oversharing. She'll tell you basically everything, including her bodily processes, and it seems like more of a compulsion than a shtick, like she has no filter. In her latest interview, with Ellen, she wasn't bad for her, but she still talked about puking during her pregnancy and not using protection this second time she got pregnant, just a few months after having her first. She basically covered the same ground, and the same topics, that she did on The Tonight Show a couple of months ago. (Back then she explained that her second pregnancy was the result of a one night stand – with her husband fiance.) Jessica is promoting "Fashion Star," the second season of which premieres on Friday.
Ellen: What's happening?
Jessica: I don't know, apparently protection was just thrown out the window.

Ellen: Congratulations.
Jessica: We were definitely extremely shocked.

Ellen: How are you feeling compared to the first pregnancy?
Jessica: This pregnancy is the complete opposite. Like with Maxwell, I felt amazing. Like I could do everything, eat everything. Do whatever I wanted. I had a lot of energy. This time around…I'm like exhausted. Eating Tums. That's my snack of choice.

Ellen: Because you usually like a little bit of a break. You've got hands full probably with Maxwell.
Jessica: Absolutely. Maxwell was our focus and then I was puking and lying on the couch.

Ellen: Have you learned anything with the first pregnancy? Are you doing things differently now?

Jessica: Yeah, the first pregnancy I like let loose and I kind of ate everything that I wanted to eat and I just really enjoyed it. This time around I think because I was doing Weight Watchers and I felt super healthy. I'm not really craving as much and I know how hard it is to get off so I'm trying to make healthier, wiser decisions.

But apparently Eric still wanted me so…

Ellen: That's nice, that's always nice to know…. Apparently he did.
Jessica: So I can gain as much weight and I will have a husband to be that loves me.
That's nice that she feels like her husband fiance isn't bothered by her pregnancy weight gain and she's not stressing over that. I gained a lot too and my husband didn't really seem to care, but I still did the diet thing afterwards – for me.
I included that kind of full transcript from the Ellen show because I wanted to show that Ellen wasn't asking Jessica direct questions. Ellen was just giving very neutral responses and Jessica was launching into her spiel without much prompting. So maybe the whole graphic description overshare is Jessica's thing and she's not going to switch it up at this point. It's probably pretty genuine, for her, and what else is she going to talk about? She has her show and her many fashion lines, but being ditzy and somewhat gross is how she got famous. It's her bread and butter. She's even getting a sitcom based on her life, it's true, and it will probably get worse once that finally happens. It's all fart jokes from here on out.
Update: I changed references from Jessica's "husband" to her "fiance". I keep thinking they're already married!
Here's video of Jessica's appearance on Ellen: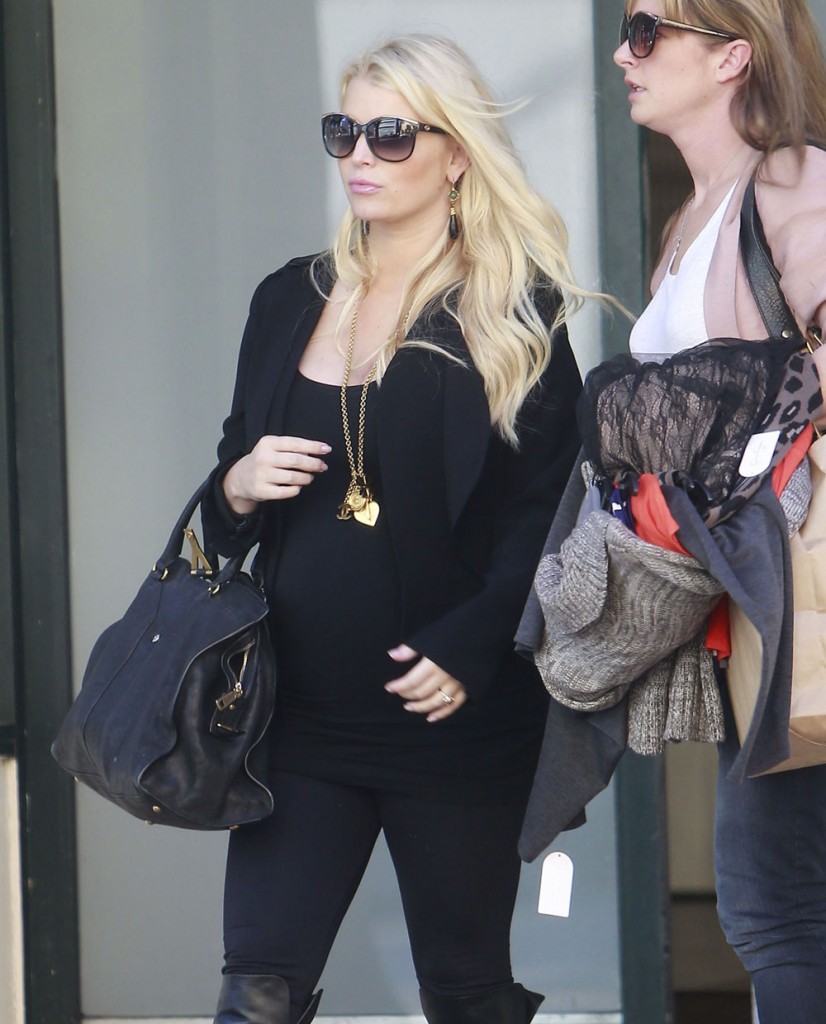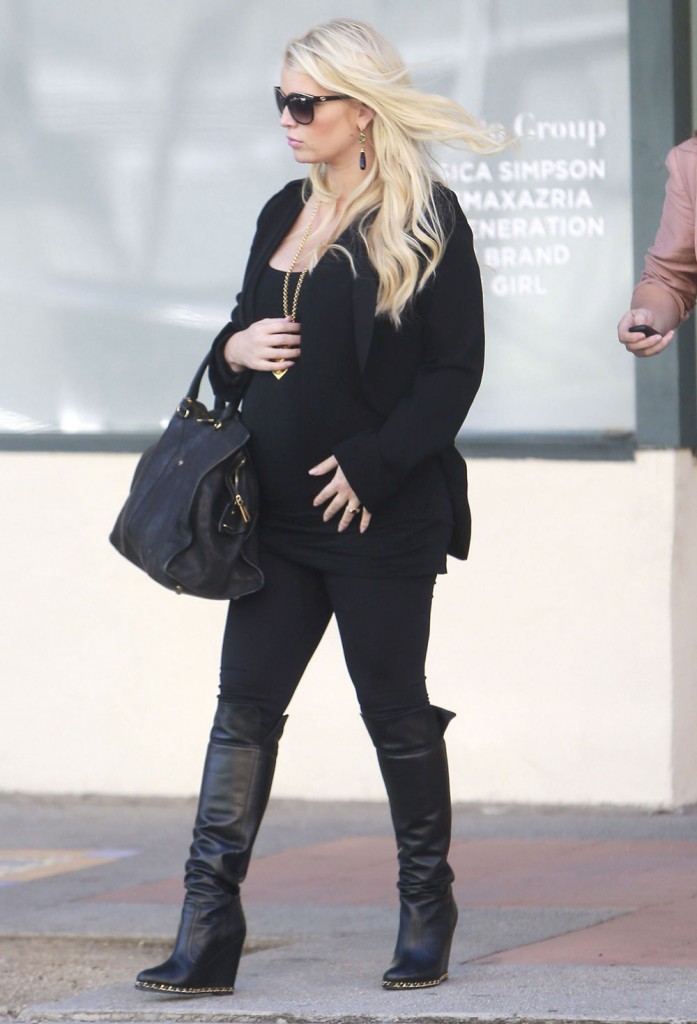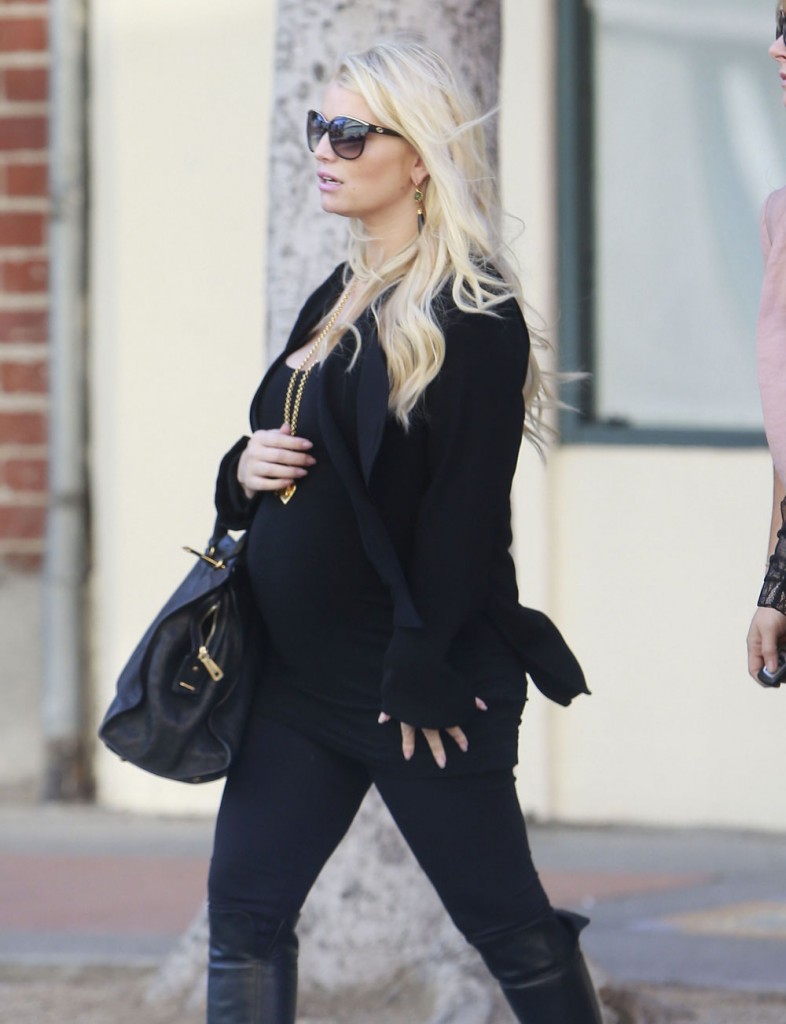 Header photo credit: Michael Rozman/Warner Bros. Jessica is shown below out on 2-21. I like her pregnancy style here. Credit: FameFlynet