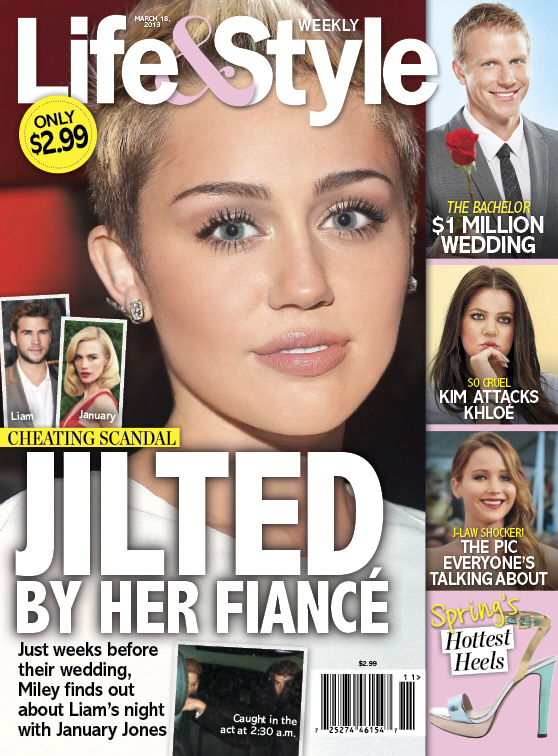 Last week, Bedhead covered the drama (dramz!) going down with Miley Cyrus, Liam Hemsworth and potentially January Jones. After one of the Oscar parties, Liam was seen getting into the same car as January, and it seemed… sketchy. Star Magazine and Radar made it seem like Liam and January were super-flirty and that Liam and Miley are both "acting single" these days. Miley barely did any push-back on the stories, and so now there's wider reporting that Liam may be fooling around or that his engagement to Miley may be "off". Yesterday, LaineyGossip posted a story about witnessing Liam paying some very close and flirty attention to Emma Watson at a PRE-Oscar party. So… sh-t is getting REAL. This week's Life & Style cover story is all about the January Jones thing though:
As rumors swirl of Liam Hemsworth getting cozy with January Jones at a Grey Goose pre-Oscar party in LA on Feb. 23, Life & Style has learned that things between Miley Cyrus' fiancé and the Mad Men actress got even more heated after they left the Chateau Marmont shindig.

"They went to a private house party, and right in the middle of the party, January was clinging to Liam, saying, 'You're so handsome,'" a guest reveals in the new issue of Life & Style. "He kept saying, 'We can't do this here.' Then they left holding hands and went out in the hallway and were making out. She was wasted. It wasn't good."

Friends tell Life & Style that Miley is heartbroken over the news that Liam cheated on her with a true platinum-blond bombshell.

"Miley is freaking out," a friend dishes to Life & Style. "She's been telling her friends that she trusts him, but if she finds out the cheating claims are true, their engagement is over."

Caught rushing into a waiting car together at 2:30 a.m. after partying at the Chateau, a source explains January is known for getting what she wants.

"When it comes to men, January just goes for it," an industry insider tells Life & Style. "She doesn't seem to care if they're with someone or not. It's like a challenge for her, a game."

This isn't the first time Miley and Liam's up-and-down relationship — which began on the set of their film, The Last Song, in 2009 — has suffered amid rumors of his wandering eye. In August 2010, his rep announced that he and Miley had ended their relationship after the rumors swirled that he'd gotten cozy with a bevy of beautiful blondes at a Newport Beach, Calif., party.
Is Liam this much of a dog? Is January this much of a… trampire? Is Miley this naïve? Well, Us Weekly (via Hollywood Life) also has a big Miley-Liam story this week, and they make it sound like Miley is nobody's fool. Maybe.
Say it ain't so! Miley Cyrus and Liam Hemsworth are headed to splitsville according to a new report, because their busy work schedules have put them in a "rough patch", and Liam is "not happy" that Miley is spending so much time in the studio. And to dig the knife deeper, Miley has been dancing to Beyoncé's "Single Ladies"! Will she call off their wedding?

Miley, 20, spent the night of March at Zoey 101 star Victoria Justice's birthday party at the RH restaurant, where she spent the night dancing with her friends to "Single Ladies", and Liam was nowhere to be seen. Miley and Liam have been partying separately a lot lately, and sources say that is for a reason.

"Liam and Miley are done," says a source to Us Weekly, who adds that Liam, 23, is having major second thoughts about their wedding because of Miley's new workload.

"Miley put her career on hold to spend all her time with Liam. Now that she is back recording her fourth album, he's not happy. She says she's already over it," continues the source, who says that "work has put a stress on their relationship."

The rumor mill went into overdrive on Feb. 24 when Liam left an Oscars party with Mad Men actress January Jones, 35, and according to the source they were "openly making out" at a party. Furthermore, Us also reports that Liam was "chatting closely" with Harry Potter star Emma Watson, 22.

Are things over between Miley and Liam? Not yet, says the source. "They still love each other and hope to make it work."
When you take out the whole issue of an engagement and a planned wedding, this is just typical young Hollywood relationship drama. This is, like, Twihard crap only with Miley and Liam, the tabloids can pick apart the issue of the wedding and the engagement. For what it's worth, I think Miley really loved Liam but I also think she would throw him aside if he fooled around on her. So they're either broken up, or they were "on a break" in the first place.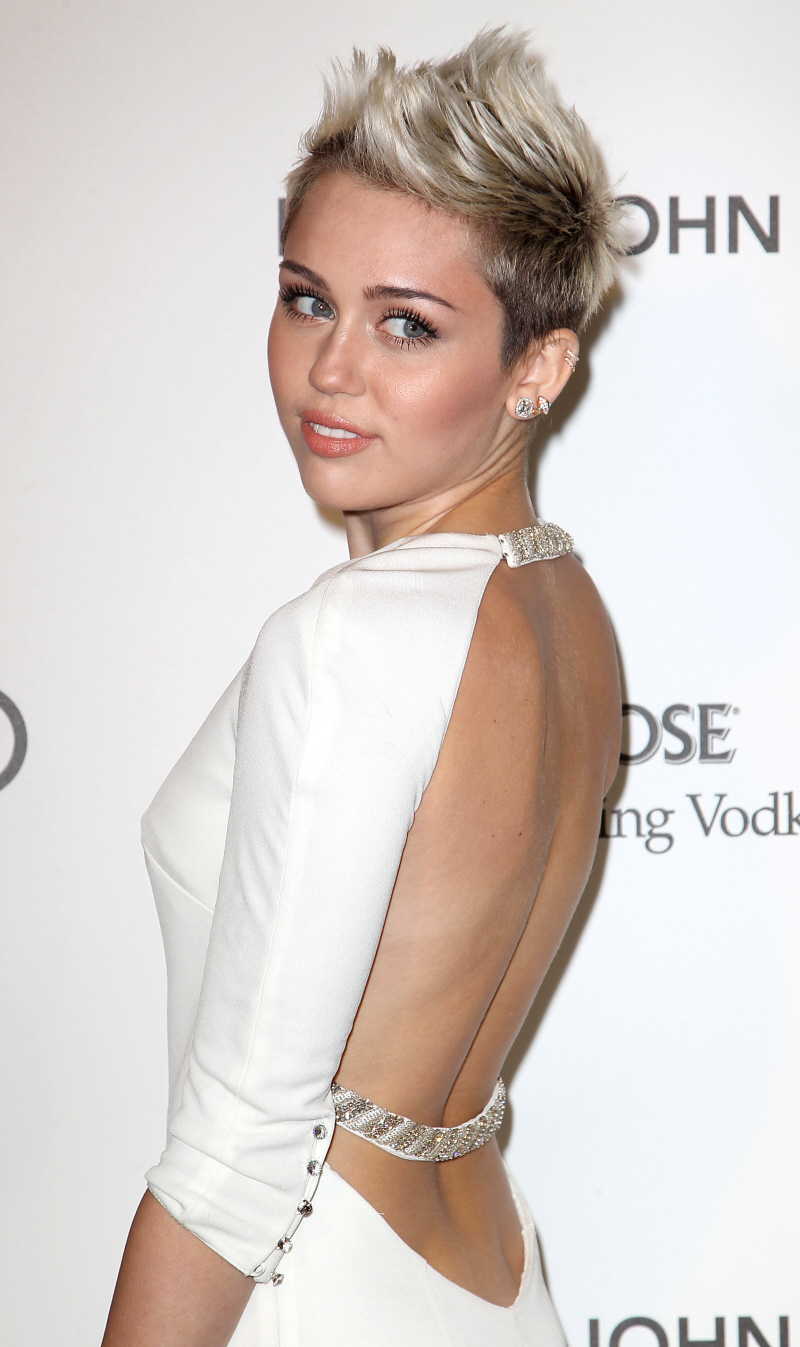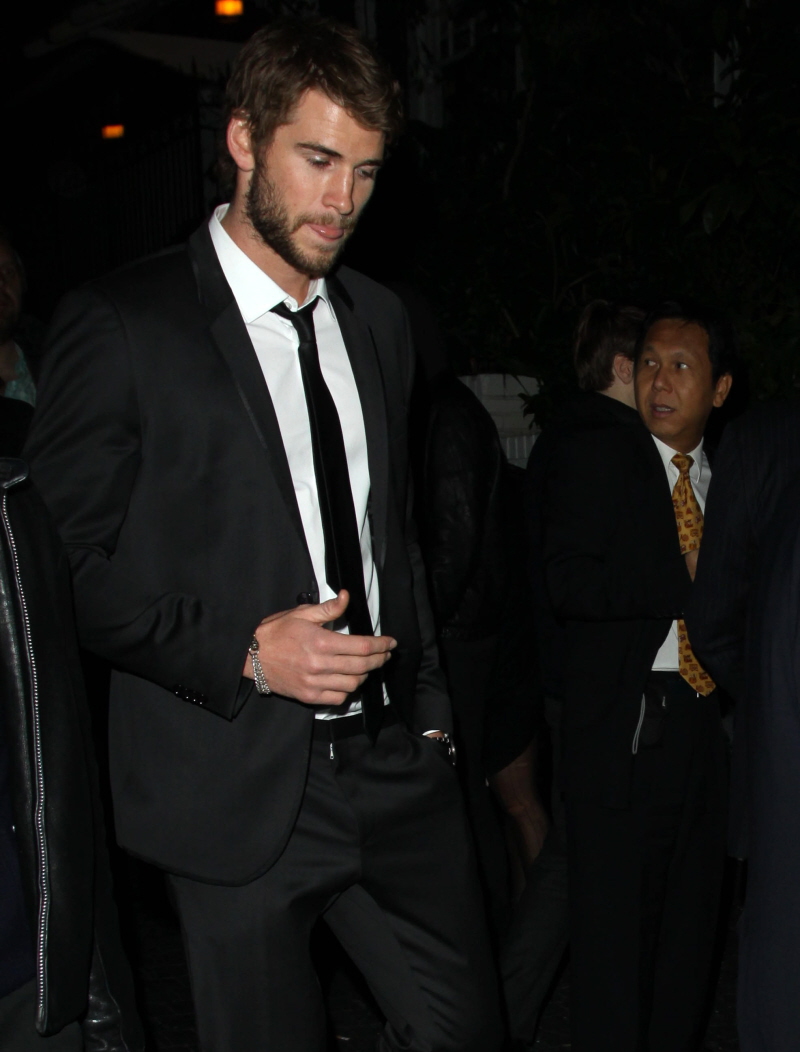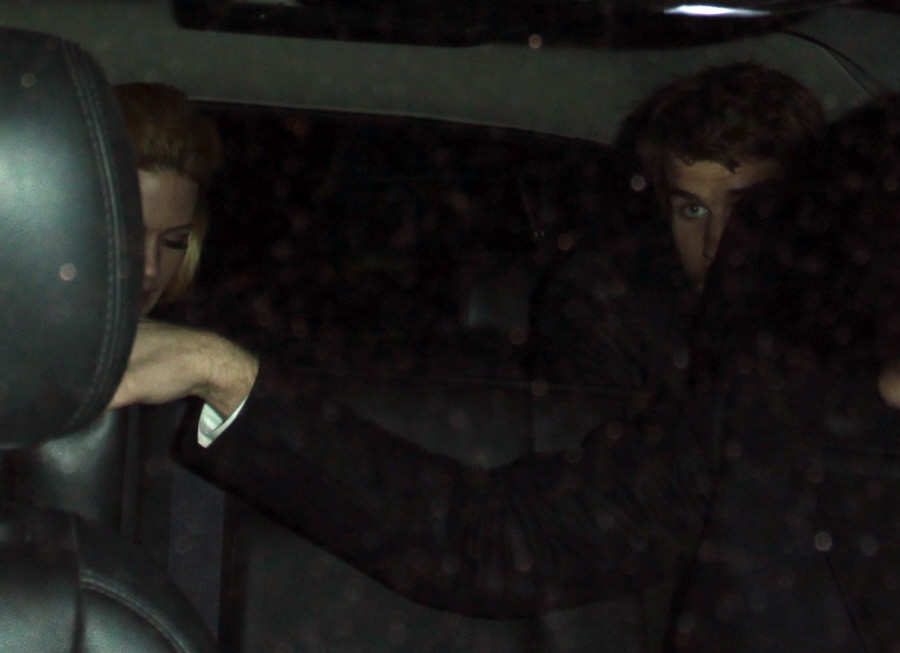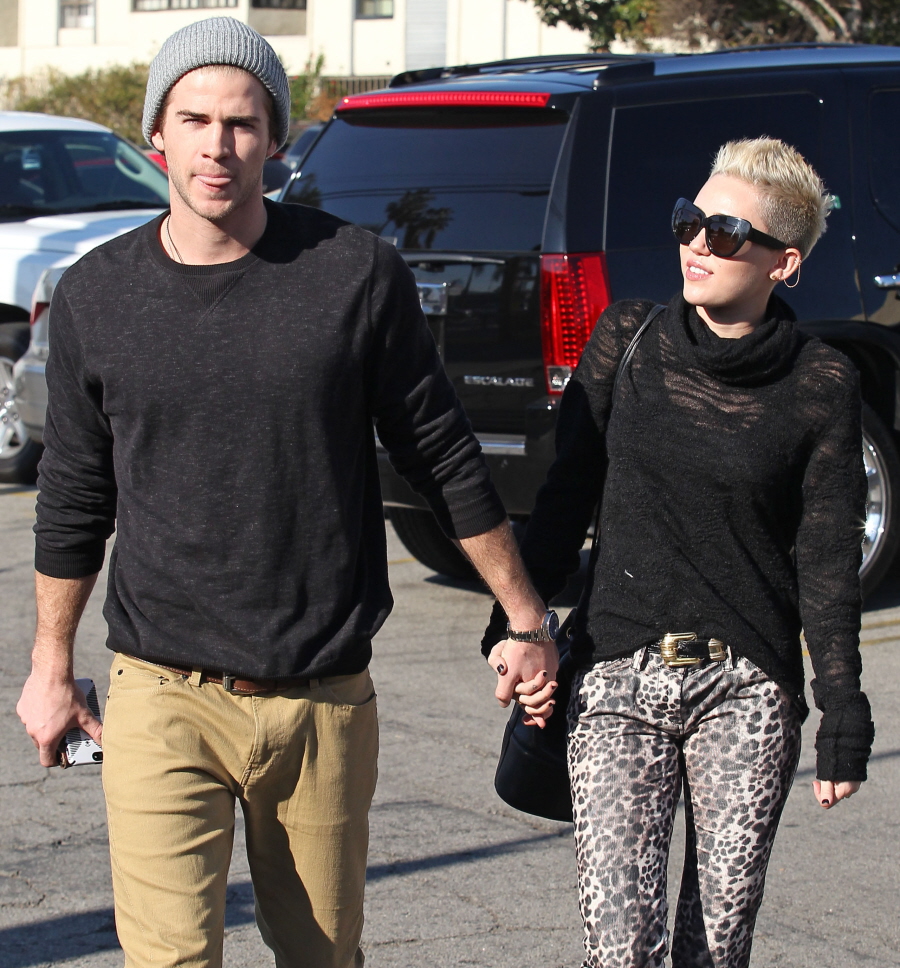 Photos courtesy of Fame/Flynet, WENN.