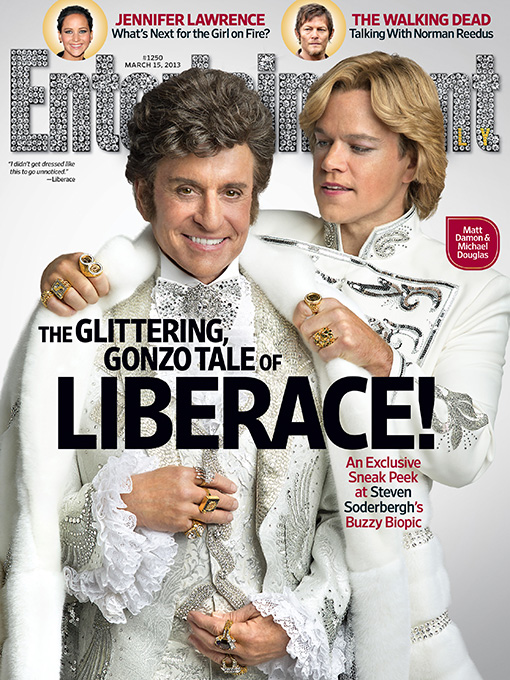 This is just a reminder that amid all the stories about The Kardashians, The Chelsea Handlers and The Shia LaBeoufs in this world there are people who have real, tangible talent doing great work to entertain us. (Also see: Tina Fey) So here we have a preview image on EW of the upcoming Liberace biopic, co-starring Michael Douglas as the late great showman and Matt Damon as his much younger lover. It's just amazing. There's so much going on here, and it gets me so excited for this movie that I don't know where to start. The fabulous costumes, the crazy wiglets, the tacky jewelry, Matt Damon! Can you imagine how awesome the set is going to look? The film is Beyond The Candelabra, a TV Movie for HBO directed by Steven Soderbergh. It's based on a book by Liberace's lover, Scott Thorson, played by Damon. In their EW interview, Damon and Douglas reveal that there were some sort-of explicit gay sex scenes that were hard to film.
Yes, that really is Michael Douglas and Matt Damon under the prosthetic makeup, wigs, and crystal-trimmed suits — all part of their costumes for Behind the Candelabra, the new Steven Soderbergh-directed HBO movie (airing May 26) about the stranger-than-fiction romance between Liberace (Douglas) and his young lover, Scott Thorson (Damon) from 1978 to 1982. In this week's issue, Damon and Douglas give a frank, funny interview about filming one of the weirdest, glitziest gay love stories ever put on film, one that required both actors to do things they'd never done before onscreen. Like, say, wearing a metallic thong — and nothing else. "Every Sunday night, this girl would come to my house and I would stand in my garage and I would hike my boxer briefs up into the crack of my a– and she would give me a spray tan," explains Damon, who spends plenty of the movie in tiny swimsuits, and wasn't too excited about his real-life wife seeing his bronzed backside. "We've been through three childbirths, we've been in the trenches, there are no secrets. But I really wish she didn't see that. That's too much."

Behind the Candelabra is based on Thorson's 1988 memoir about Liberace's over-the-top world of palatial houses, extravagant clothes, and secret affairs. (Liberace never publicly came out as gay before dying of AIDS in 1987.) It's a world that Douglas actually witnessed first-hand, since his father, actor Kirk Douglas, was once Liberace's neighbor in Palm Springs. "I remember meeting him just in passing, in his convertible with the top down — his hair not moving," says the actor, who also got advice from one of Liberace's close friends, Debbie Reynolds, who plays his mother in the film. "She just told me, '[Your voice] can never be too nasal.'" The movie is also Douglas' first role since his cancer diagnosis in 2010, and the actor tells EW that beating the disease and returning to acting has been therapeutic for him. "It was great to get back," he says. "It gave me a new appreciation for what I do, taking advantage of it."

As for their sex scenes together (and trust us, the movie has plenty), Damon and Douglas both say that shooting a moment of passion is always awkward, no matter who's involved. "The scene where I'm behind him and going at him, we did that in one take," recalls Damon, laughing. "We do it. Cut. There's a long pause. And then you just hear Steven go, "Well… I have no notes."

For more from Matt Damon and Michael Douglas on Behind the Candelabra, plus exclusive photos of the movie's costumes, sets, and supporting cast — you won't believe what Rob Lowe looks like! — pick up a copy of this week's Entertainment Weekly, on stands Friday, March 8.
The Daily Mail has some more details about the making of the film, as revealed in a press conference with the director and stars in January. Soderbergh admitted that the film was rejected by several studios for being "too gay." He also promised that the film would not resort to caricatures of either character or of their relationship. I'm so glad this story found a home on HBO and that I'm a subscriber! I'll also pick up this issue of EW for sure, if only for the photos. Gah I can't get enough of Matt Damon in a wig and makeup. Plus this has Rob Lowe in it! It's going to be epic.