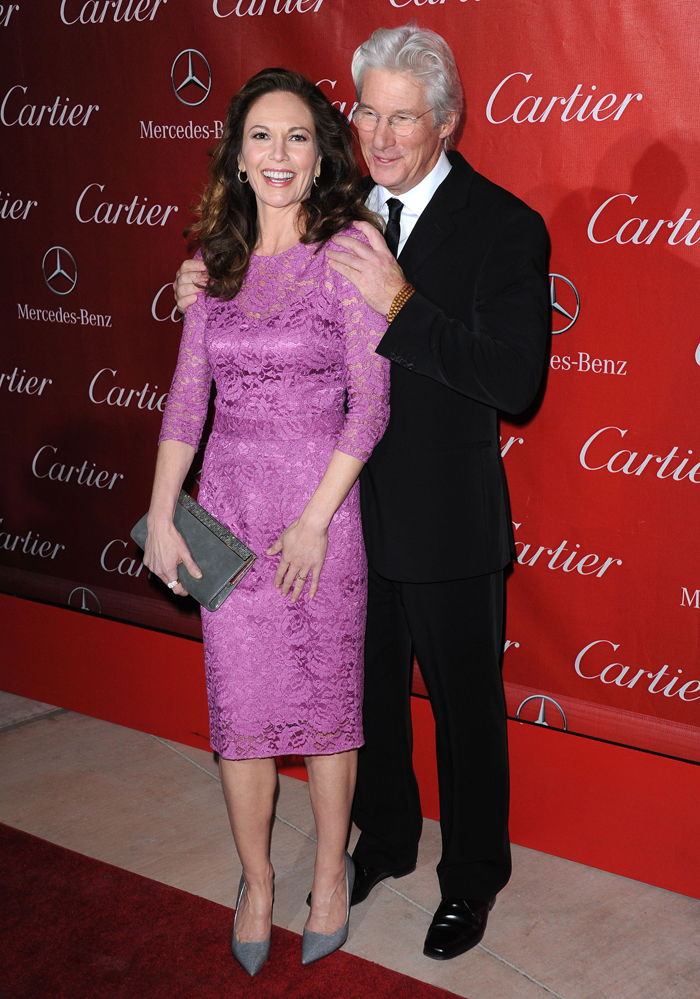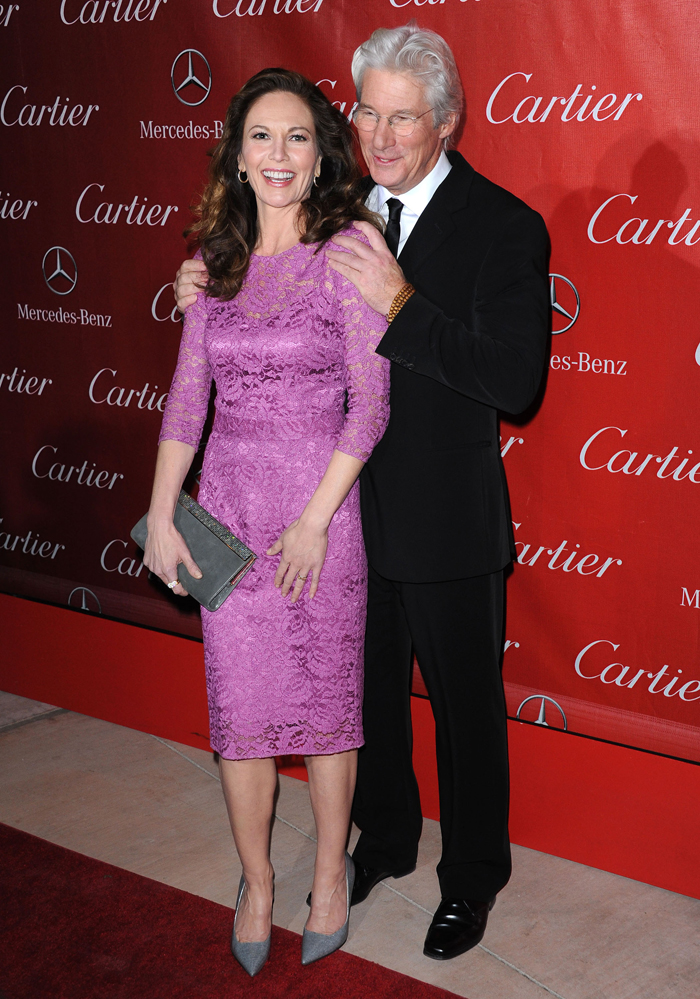 Ever since Diane Lane and Josh Brolin announced the demise of their marriage, I've been wondering exactly how many phone calls Diane has received from enterprising suitors. She's definitely a catch as a mature lady who looks phenomenal and hasn't ruined her face with plastic surgery or fillers. Now and according to a story in this week's Enquirer, we're learning about which dude can claim "first responder" status on the post-split scene. And as you can see from the above photo (from the Palm Springs film festival in January), there's plenty of chemistry to be found here.
In other words, ladies man Richard Gere is at it again, folks. We've already heard about the Page Six story that filled us in on the details of Gere's nasty habit of blatantly hitting on pretty married ladies right in front of their husbands. As it stands, Richard and Diane have a long-standing friendship and have starred together in Unfaithful and Nights in Rodanthe. If you were Richard's wife, Carey Lowell, would you be threatened by Richard rushing to aid Diane in her "damsel in distress" moment of need? I'd be jealous as hell, and the Enquirer says that Carey is pissed off because she wasn't even in town when Richard and Diane met up. Here are the details: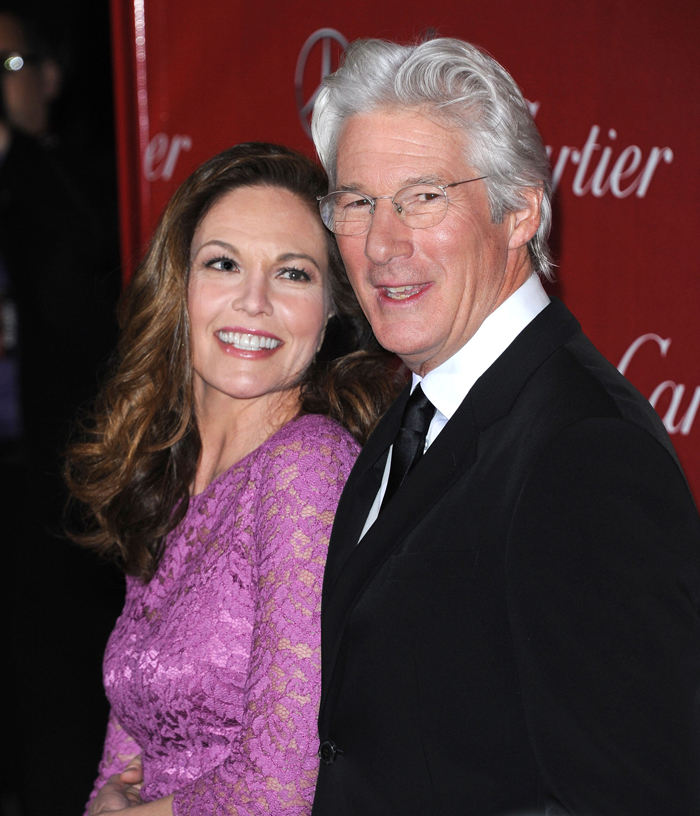 Skirt-chaser Richard Gere has infuriated his wife Carey Lowell by rushing to comfort gorgeous Diane Lane after her recent divorce announcment.

The handsome actor, 63, damaged his own shaky marriage by letting Diane — his co-star in the steamy 2008 film Unfaithful — to cry on his shoulder about her split from Josh Brolin, say sources. At the time, Gere was in Los Angeles for the Academy Awards without his wife.

"Carey is seething that Richard was the first to rush in and help a damsel in distress," revealed an insider. "She knows he enjoys playing that role and believes he flirts with every vulnerable woman he stumbles upon."

The couples are old friends. Josh and Diane even stayed at the bed and breakfast inn that Gere and his wife own in Bedford, N.Y. Still, "Carey doesn't think it's her husband's job to console Diane," said the insider.

In an explosive showdown, Richard was read the riot act by his 52-year-old wife. Carey eventually stormed out fot he room with Richard yelling after her that she was being paranoid for no reason, according to the source.

As the Enquirer reported late last year, the couple — who wed in 2002 and have a 13-year-old son together — had a huge dustup when Richard flirted with an attractive blonde in an East Hampton, N.Y. restaruant.

Althoug Gere's reps denied any problem at the time, our insider insists that Carey is fed up with Richard's roving eye — and his comforting Diane, 48, may be the final straw.

Concluded the insider: "I wouldn't be surprised if a divorce annoucement comes from Richard and Carey as well."
[From Enquirer, print edition, March 18, 2013]
If this story is true, this could actually be the end of Richard's marriage to Carey. He's such a flirt, and I wouldn't be surprised if he's already mentally envisioning himself with Diane. I don't know whether Diane sees Richard in any sense other than platonic, but you can guarantee that Richard definitely sees Diane naked in his own mind. And I sense another divorce filing in 3 … 2 ….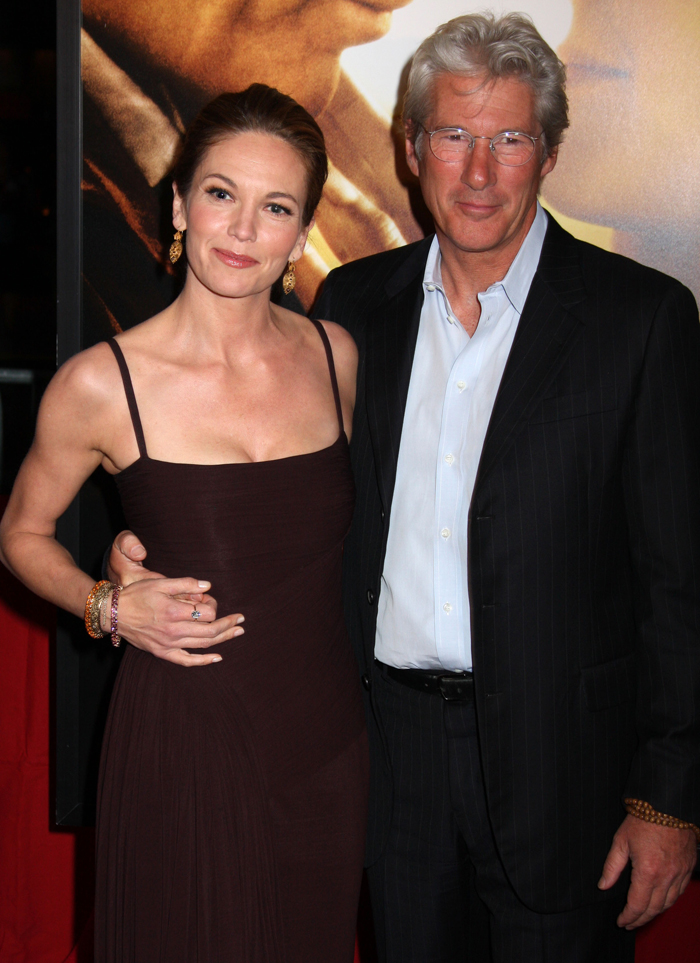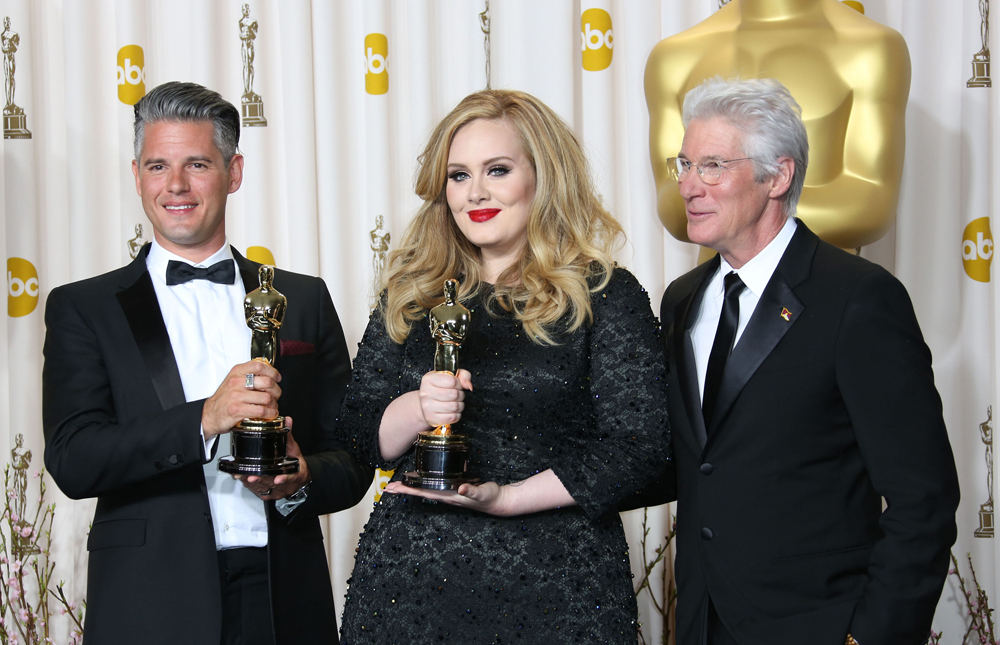 Photos courtesy of Fame/Flynet