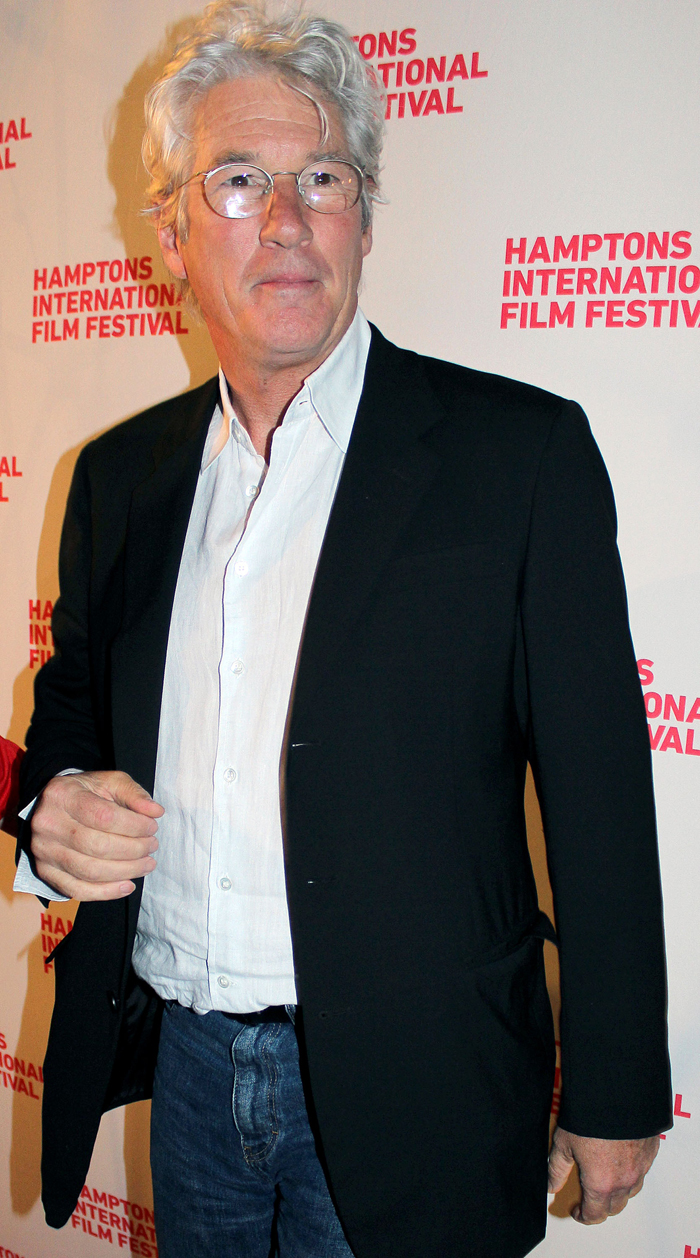 I still remember the first time I became aware of Richard Gere — from the pages of a mid-1980s HBO guide advertising Breathless. At the time, I was crushing on Harry Hamlin from Clash of the Titans as well as Rick Springfield, but I still thought Richard was kind of cute in a movie idol sort of way. Since then, I haven't really given the guy much thought other than his strange 4-year marriage to Cindy Crawford in the 1990s, Pretty Woman, and (of course) that terrible gerbil legend curated by Sylvester Stallone. Even if Sly made that up, it still kind of killed the Richard appeal for me. You know, animal cruelty and whatnot.
Richard has been laying pretty low in Hollywood these days aside from appearing in the occasional film and crapping all over Pretty Woman. (Although he will soon be appearing in an ensemble comedy called Movie 43 that stars Emma Stone and lots of other gorgeous ladies.) Speaking of which, Richard still loves the ladies even though he has been married to Carey Lowell since 2002. He apparently doesn't let his wedded status stop him from putting the moves on women in public. He even does it in front of their husbands and doesn't care if he causes a total scene. Here are some details from Page Six: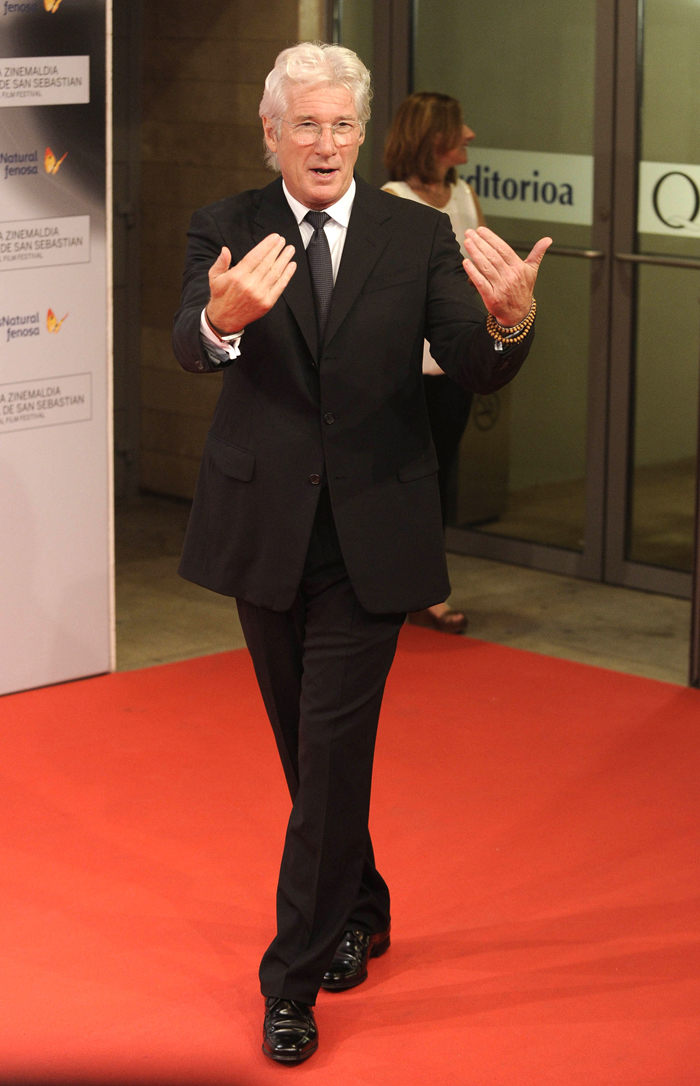 Richard Gere was told off by a diner at Nick & Toni's in East Hampton on Saturday night when he began chatting with the guy's gorgeous wife. When the hubby had enough, he told the star, "Get the [bleep] out of here" — but Gere still wouldn't stop gabbing in the blonde's ear.

Gere was spotted with a group of his agents at tony Nick & Toni's after picking up a lifetime achievement award at the Hamptons International Film Festival. But during dinner, a blonde at another table — where three couples were sharing a meal — seemed to catch his eye.

"He kept staring at this woman," an eyewitness says, to the point where "her husband seemed agitated by it." But Gere, who's married to actress Carey Lowell, didn't stop there — he got up and approached the strangers, spies say, to zero in on the blond beauty.

"He approached the other table," our witness says. "He didn't acknowledge anyone around her. He was leaning in and trying to talk to her, leaning into her ear."

The woman, our spy says, "was looking at [Gere] like, 'What are you doing here?' " When her hubby had enough, "He said, 'Hey, listen. Get the [bleep] out of here,' " according to our source.

But Gere didn't get the message. "He didn't leave," the spy says. "He just tilted his head to lean in. He bent back down to her. He didn't give a [bleep]. It was a bad situation."

Before things got more heated, Gere headed out, and the hubby headed outside to see that he was gone. The rest of Gere's group stayed for another half-hour, but, "There was tension in the room." After he left, the woman who caught his eye "was trying to make [her husband] calm down," the spy said. "It ruined their night."

A rep for Gere says: "Reality is, he was at a table with his agents and their wives. On his way out, he stopped to say hi to the people at that table, and joked with the people briefly before leaving."
[From Page Six]
Even if we give Gere the benefit of the doubt and just label him a "friendly guy" who likes to say hello to randoms, there's still no excuse for him blatantly hitting on a married woman and ignoring her husband when told to get lost. Is Richard just clueless as to the conventions of society, or does his ego override all possible displays of manners? Not to mention Richard's poor wife having to put up with this nonsense.
Here's Richard being a "friendly guy" over the past few months with the likes of Debra Winger, Laetitia Casta, and Susan Sarandon on the red carpet.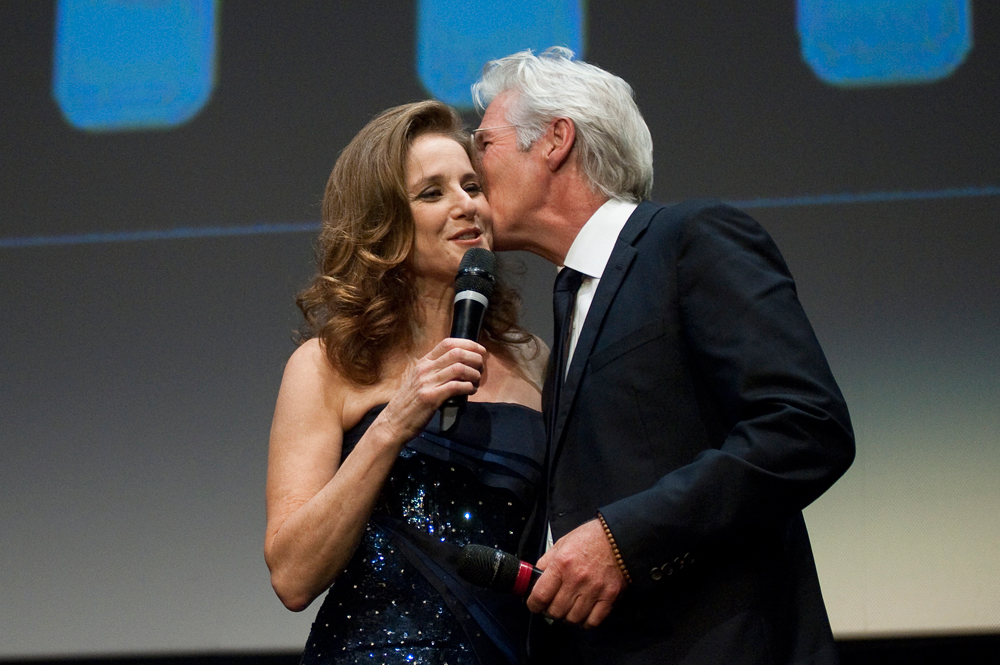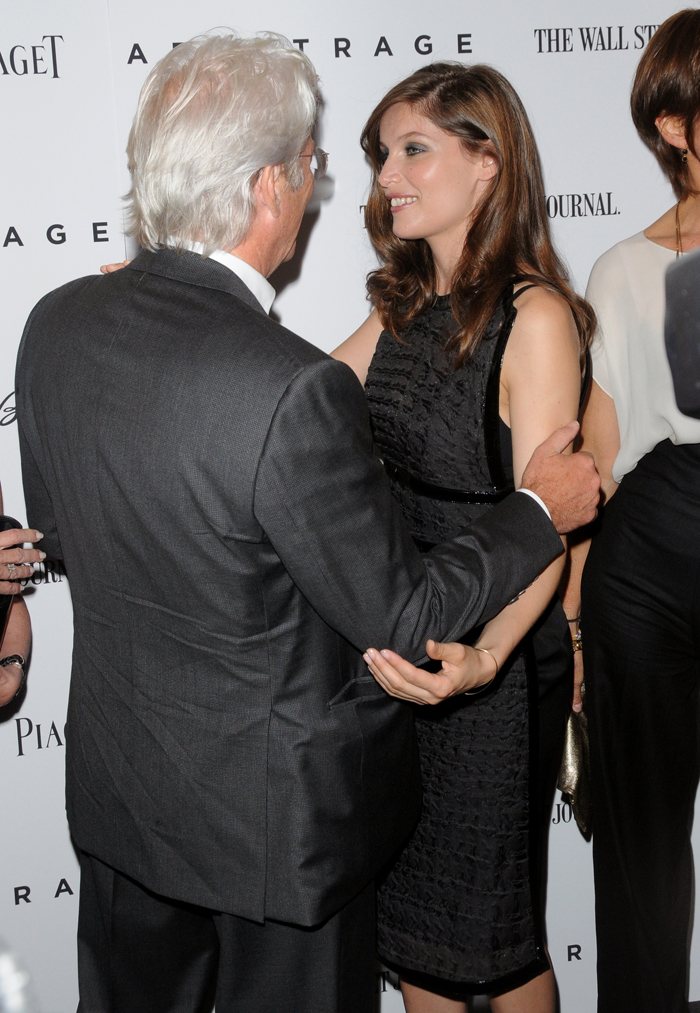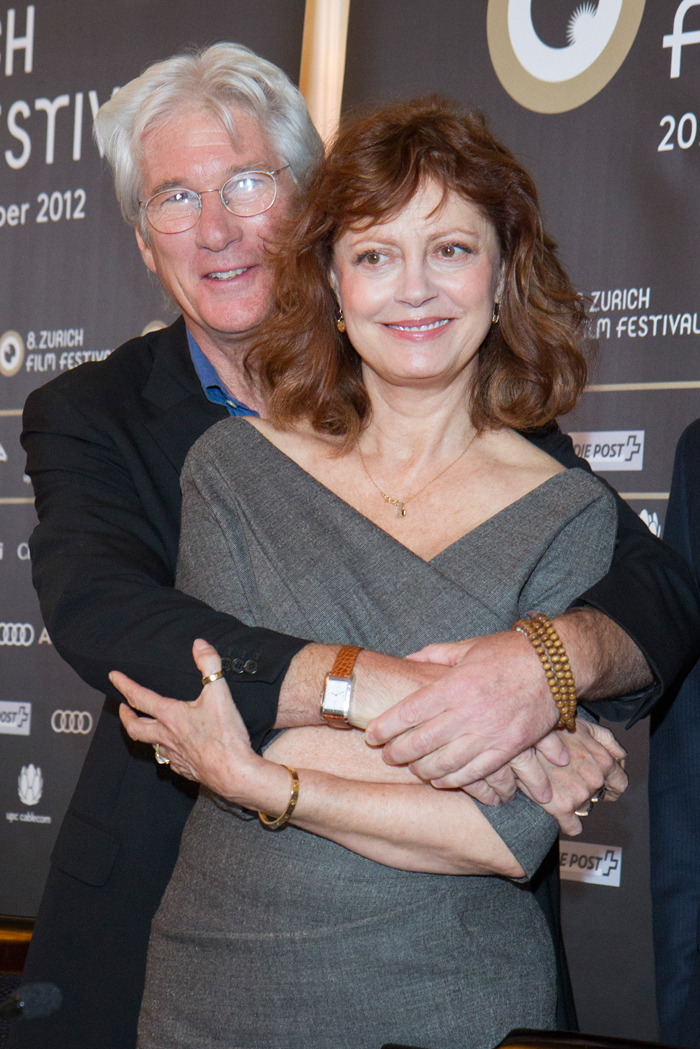 Photos courtesy of Fame/Flynet and WENN