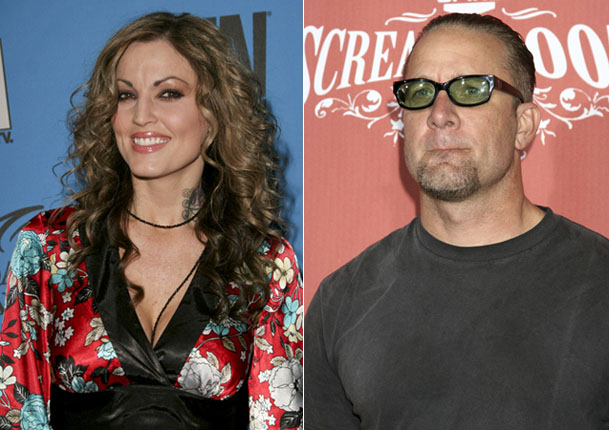 Popular porn star Janine Lindemulder has been sentenced to six months in federal prison on tax evasion charges. She pled guilty in August to not paying nearly $300,000 in taxes she owed the US government on her earnings. Lindemulder failed to make any federal tax payments for six consecutive years – from 2000 to 2006. She was sentenced on Monday to six months in federal prison and must report by March 10 to serve her term. She will also have to pay back all the money she owes to the government and once she's released from prison she'll have to spend up to six more months at a "federally operated residential community corrections center."
Lindemulder specializes in on-screen scenes with women and has recently appeared in adult films with Jenna Jameson. You may known her as the naughty nurse with the glove on Blink 182's album cover for "Enema of the State." She is also an ex wife of Jesse James, actress Sandra Bullock's current husband, and has a nearly five year-old daughter, Sunny, with James. James and Lindemulder broke up when she was seven months pregnant, with some reports claiming that James left Lindemulder for Bullock.
Last year James filed court papers seeking 50% custody of Sunny and alleging that Lindemulder was abusing the girl based on circumstantial evidence. Sunny was said to have cried out in her sleep "don't touch me" and to have had minor scratches and bruises that she blamed on "mommy's chair." The rumor at the time that James sought increased custody was that Bullock was behind it because she wanted to spend more time with Sunny.
Now that Sunny's mom has to spend six months in prison and up to six more months in another facility someone has to care for the girl and it may be James and Bullock.
Bullock is a step mother to James' two other children from his first marriage, Jesse James, Jr., 8, and Chandler James, 10. They live nearby with their mother, Karla. Bullock has previously said of James' children that she sees them as no different from biological children:
"I have children, amazing children. My love and my hopes for their future and their happiness, for their homework to be done and for them to know how smart and beautiful they are is no less than if they were my own biological children."
[From Fametastic]
Maybe she'll have Sunny around now too. It's sad for Sunny that her mom is going to have to go away for up to a year, but at least she has more family who will be there for her. If only Lindemulder had the sense to have paid her taxes she wouldn't be in this mess in the first place.
[thanks to Fark for the heads up on this story]
Lindemulder is shown on 1/13/07 at the AVN Awards. Credit: PRPhotos. James is shown at the Spike TV Scream Awards on 10/18/07. Credit: WENN. James and Bullock are shown below at the Vanity Fair Oscar Party on 3/5/06. Credit: Bauergriffin.